March 15, 2005
Warranty Conference,
Part Two:
Members of the AIAG detailed their effort to create an early warning system that uses new warranty data communications standards to improve product quality.
While the first morning of the Warranty Chain Management conference held earlier this month in San Francisco was helmed by representatives from the computer industry, the second morning had a decidedly automotive flavor.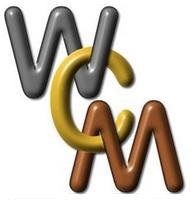 During an extended 100-minute keynote address, four members of the Automotive Industry Action Group spoke in turn from the podium, assisted by additional members who joined the panel during the question and answer session at the end.
The topic of discussion was an AIAG effort to define an early warning standard for the automotive industry that could help reduce warranty expenses and boost product quality by reducing the lag time between the instance when a pattern of failure is detected and when its cause is corrected.
It sounds so simple, but of course it's not. Representatives from a subset of 60 of the AIAG's 1,000 member companies have been meeting periodically for more than a year, as an outgrowth of earlier efforts to define best practices for TREAD Act compliance. They quickly zeroed in on warranty data communications as their first target for standardization, because warranty was something understood by virtually all of the AIAG's manufacturing members.
Early Warning Standards
Marianne Grant, director of Syncata Corp., chaired the panel and described the actual scope of the AIAG Early Warning Standards initiative. Besides being an outgrowth of the AIAG's TREAD Act work group, this new effort also leverages the work of a heavy equipment work group which was engaged in quality and warranty standardization initiatives for the benefit of that industry. And it leveraged the work of other industry associations representing dealers, parts makers, and other stakeholders in the warranty chain.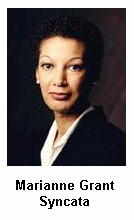 "You have to strive for balance in coverage," Grant told the audience. "So you want to make sure you have the dealer's voice, you have the manufacturer's voice, and you have all the supplier voices -- Tier One and all the other tiers as well. And you want the solution providers. But you don't need it to be too heavy with any one group, because you don't any want one group swaying the whole process."
Early on, the group decided to focus on warranty, essentially because it was something they all had in common. Grant said there was a belief that if they could communicate warranty data across the industry, then other types of aftermarket communications would naturally follow.
Grant said the group periodically holds large meetings during which it brainstorms and builds consensus around what needs to be done. Then it holds more frequent and smaller meetings at which the work actually gets done. Typically, during these smaller meetings, smaller working groups each tackle a discrete piece of the puzzle, such as parts removal issues.
Experienced Organizers
The AIAG, she said, has extensive expertise with project management, especially in regards to standards making, which the warranty group has heavily relied upon. The organization has its own staff, she said, as well as a roster of member company employees who have been "lent" to the AIAG for a specific purpose.
Through both open meetings and private discussions with some of the more bashful industry players, the early warning group has now put together a good overview of "how things work" as well as some theories about how things can be improved, Grant said. Next on the agenda is to put some of these ideas into practice.
Grant said that member manufacturers and suppliers may begin implementing some of the group's standards and formats in pilot form within the next four or five months, using software provided by solutions companies that have also been part of the definition process. "We're not talking about years away," she said. "We really want to do this quickly."
Kevin Mixer, research director for the automotive practice of AMR Research Inc., provided an overview of the automotive industry and the impetus behind the drive to standardize warranty data communications. He said that like Hewlett-Packard's call to action, as delivered by Bruno Duverge the previous morning, the AIAG's early warning initiative calls for collaboration, standardization, and benchmarking efforts. But while HP is focused on the information technology industry, the AIAG is aiming at automotive manufacturers.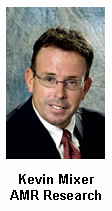 The need, Mixer said, is immense. In 2003 he said automotive manufacturers processed 100 million warranty claims, spending $200 million on the processing and more than $12 billion on the claims. Warranty expenses routinely consume 2%, 3%, or even 4% of a typical vehicle manufacturer's product revenue -- frequently more than they report as their net profit margin. And it's expected to get worse.
In the next three years, Mixer said, 420 new models are expected to be introduced into the North American market. "That means we are launching more product in the next five years than we have historically in the last 20," he said. It also means that product development cycles are shortening from their historical level of 36 months to as little as 12 to 18 months. And it means that automakers are looking to save on development costs by re-using designs and assemblies as frequently as possible from one model to the next.
Multiplying Recalls
The bottom line is that specific parts and modules are being tested and deployed faster and more widely across more nameplates and platforms than ever before. Therefore, if anything is missed in the rush to market, it could impact more vehicles than ever before. "When you leverage platforms across multiple product lines, and they fail, you have the potential to multiply your risk," Mixer said. If you use the same steering column in five different models, you've potentially multiplied your warranty risk five-fold should there be any problems in that module.
"No surprise: a lot of headlines last year -- 30.6 million vehicles were recalled in North America alone," Mixer said. "To put that in perspective, we built and sold 16.7 [million vehicles that year]." He added that the record volume of recalls is not at all a sign that quality is declining. In fact it's improving. What's happened is that problems have been replicated across multiple product lines.
At the same time, automotive designs have taken a decided shift towards more and more electronics. Mixer cited statistics showing that the percentage of a vehicle's production cost accounted for by electronics has grown from 22% in 1997 to 29-33% in 2005, and is expected to grow to 33-40% by 2010. "Vehicle manufacturers are looking to differentiate their products not with physical parts," Mixer said, "but with the tailoring of your vehicle to your needs, with your DVD, your CD, your surround, your passive restraints, your night vision -- all kinds of complexities and new technologies coming to enrich the vehicle and enrich the driving experience."
All this new technology inevitably results in warranty claims. One way to reduce their frequency is to re-engineer warranty systems so they provide an early warning to the manufacturer that a problem exists. That involves linking the warranty system with the product design system, so that one feeds data to the other. It also may involve links to suppliers who may have been involved in the manufacture of the problem part. If, in the old days it took 200 days for news about a pattern of failures to come back in from the field and reach people in a position to correct the problem, in a re-engineered system that lag time can be cut to 100 days. That means only half as many vehicles are produced before the problem is detected and corrected. And that, in turn, means fewer warranty claims and therefore less warranty expense. It also makes for happier customers who require less warranty service and experience fewer recalls.
Interestingly, Mixer said that when AMR Research surveys manufacturers pursuing early warning strategies, the reduction of warranty expenses ranks lower as a priority than the effort to reduce the number of parts failures and to cut the lag time between problem detection and correction. It also ranks lower than a reduction in the re-use of problematic designs in future products. But of course, if any of these efforts are successful, overall warranty expenses will decline along with the frequency of warranty claims.
Geographic Specialization
Robert Hornak, lead warranty systems analyst at General Motors Corp., spoke about the early warning standardization effort from a vehicle manufacturer's point of view. Increasingly, he said, GM is aligning itself so that specific locations will design certain types of vehicles for the whole company. Germany will take the lead in mid-sized passenger cars. Korea will take the lead in small cars. Australia will take the lead in rear wheel drive vehicles.
In most cases, this means that GM's traditional suppliers will also have to shift their geographic focus, or product quality could suffer. GM needs to better understand the capabilities of its suppliers, as well as the needs of its suppliers. "We have to work and play well with others," Hornak said.
One forum where GM has been able to work through issues of communications and product quality is the AIAG. "It gives us an opportunity to sit down and talk to each other," Hornak said. "We have a lot of common issues. It doesn't mean we agree on everything. It doesn't mean we talk about it. But when it comes to responding to something like the TREAD Act, or to a state government, or when we need a standard to talk with our suppliers, it gives us an opportunity to say, 'Here's something we can agree on -- that we've developed as a group.'"
Some subjects, Hornak said, are just too sensitive to talk about, such as what each automotive OEM is doing in terms of text analysis. Whichever manufacturer gets the emerging process of text mining to produce results will have a competitive advantage over the others, so of course they don't want to share their secrets in a public forum. But the exploitation of other new technologies are perfect for an open discussion, such as how manufacturers can leverage inexpensive digital photography to move around images of failed parts instead of the parts themselves. "Some problems can only be solved with photos," Hornak said, such as an investigation of a wire harness that's frayed by constant friction with another part.
Increasing Product Complexity

Krista Coy, quality system manager at the Metaldyne Company LLC, spoke about the need for a common early warning system from the point of view of an automotive supplier. Metaldyne manufactures parts for engines, transmissions, clutches, and wheel assemblies, among others. Its headquarters is near Detroit and a cluster of manufacturing locations are nearby in Ohio, Michigan, Ontario and Indiana. But it also manufactures in Japan and Mexico, in addition to numerous locations in Germany, Italy, Spain and the UK. The company was formed through a merger of three smaller suppliers, she said. So even within the company, data communications is a major undertaking.
Coy noted that some of the products that Metaldyne makes, such as connecting rods, are sold to multiple OEMs. Therefore, any news about a pattern of failures in such a component would be of interest to multiple OEMs. And while in the past Metaldyne was supplying simple parts and components, increasingly today it's providing more complex modules and assemblies. This potentially opens the company up to more warranty expense, she said, because it becomes easier for the OEMs to trace problems back to a given supplier if that single source provided, say, the entire drivetrain. She added that if in the future the OEMs push more warranty expenses back onto their suppliers, they also will have to give those suppliers an opportunity to learn from their mistakes -- to help them understand why a failure occurred, so it doesn't recur in the next generation.
"It's in all of our best interests to do what we can to identify the problem sooner," she said, so it can be corrected. "Along those same lines, we have to have better quality and improve our product continually, and successfully launch new products." Frequently, the attention that surrounds new product launches provides a good opportunity to sort problems out, because more resources are available at that stage. "But you just have to pay attention and you have to be reactive when these things occur."
The AIAG, she said, provides the forum for the creation of standards that will allow suppliers such as Metaldyne to communicate with multiple OEMs, and will in turn allow each OEM to communicate with multiple suppliers. For professionals such as herself involved in day-to-day warranty and quality issues, the AIAG provides a kind of escape, where they can step back from the constant "firefighting," she said, and concentrate on the big picture questions.
Data Communications Pioneers

Decades ago, the AIAG pioneered the development of Electronic Data Interchange (EDI) standards. In fact, AIAG work groups remain enmeshed to this day in EDI-related projects involving the United Nations, the American National Standards Institute, the standards makers of the Internet Engineering Task Force, and companies of all stripes working on document standards such as the Extensible Markup Language (XML). Now it's helping to define communications standards for the exchange of parts failure and warranty data.
"I don't know about you guys, but I know in our business there's just not a lot of people, and not a lot of money, and not a lot of time to do everything that needs to be done," Coy said. "So any way you can streamline the process and get the job done faster and better is in all of our best interests."
The key to success is increased communications using industry standards such as those developed by the AIAG. Manufacturers aren't going to replace all their legacy systems, but they might change the way those systems communicate. EDI was a set of standards that streamlined purchasing. The standards used for Early Warning Systems, or EWS, will streamline communications about products after they've been sold.
"The scope of these problems is huge," Coy said. There are numerous issues just with No Trouble Found diagnoses, she said. "That's probably a whole project in and of itself."
The panel concluded its presentation with plenty of time left over for a question and answer session. Jon Goldfarb, the warranty business and product development manager at MSX International Inc., asked the panel whether their early warning standards were using parts order data as a leading indicator. The reason, he suggested, why that might be a good idea is that frequently that data is available even before the warranty claim paperwork has been submitted by the service station.
Grant said that while most manufacturers are keeping the data, they're not yet making it part of their early warning systems. That could change, she said, as first they're convinced of the value of integrating it, and second as they're able to adapt their systems and processes accordingly.
Shift of Responsibility?
Paul Eison, a program manager at Carrier Transicold, asked the panel whether the shift of design and engineering work back to the Tier One suppliers was complicating their efforts to diagnose and correct problems. GM's Hornak said it was, but only in that it added another possibility to the list of who was responsible: the supplier, the OEM's engineering, or one of its manufacturing plant. Metaldyne's Coy said "absolutely, we get involved," in both the engineering and the problem resolution. Whether it be through conference calls, Web meetings, or the email exchange of digital photos, the supplier works with the OEM to resolve the problem through root cause analysis. "We can transfer that data back and forth pretty quickly," she added.
To help respond to a question from Entigo's chief technology officer Nick Shelness about the pro-active prevention of warranty incidents within the trucking industry, Charles Barnes, the assistant manager of warranty administration at Toyota Motor Manufacturing North America Inc. joined the panel. Barnes said the root cause of a part failure is rarely so simple that it can be assigned to one source, be it manufacturing, supplier, or design. "Many times, it's a cross between functions," he said. This is why Toyota emphasizes the problem-solving aspect of the post-failure investigation.
"All the warranted parts for vehicles manufactured in North America that end up being returned flow through the location where I am," Barnes said. "Sometimes, if the issue is critical enough, we'll bring suppliers in."
"When we have a field issue, there's really two parts to the story," he said. "Part One is the case data. Part Two is the testing of the actual part itself." He said anything that can be done to speed up that testing and investigation process is being done, including the use of digital cameras in the field to speed the collection of images. But even then, the parts themselves are collected for a more thorough review.
"The key point is to get to that root cause as quickly as possible," Barnes added. This means getting the information back to the correct people as rapidly as possible so that the issue at hand can be resolved and its recurrence can be prevented. But the goal is not to have the problem in the first place.
Hornak agreed. "Warranty is post-mortem. The patient's dead," he said. While a careful investigation of why the patient died might help to save the lives of others, the goal should be to prevent any incidents. But unfortunately, that's not as easy as it sounds.
"Right now, we're still in a very reactive mode," Mixer said. The use of predictive technology in warranty analysis is still in an initial phase. "Warranty tends to be a reactive response, not a predictive [one]."
This whole early warning effort, he noted, is designed more to facilitate the flow of information between OEMs and their suppliers than to improve communications with either dealers or customers. That may be the direction it heads in next, but right now it's not going there.
The AIAG has scheduled its next Early Warning Standards Warranty Conference for May 13 at the Burton Manor in Livonia MI. Details and online registrations are available at the AIAG Web site.