September 27, 2005
Warranty Management Conference:
If the WCM show in March drew heavily from Silicon Valley, last week's warranty show in Chicago attracted a mainly Midwestern crowd of manufacturers, who came to hear about the best practices of their peers. What they heard instead was lots about service and quality and other topics at the periphery of warranty.
By Ron Ezsak, Contributing Editor
For two beautiful summer days in Chicago last week, approximately one hundred twenty five industry representatives convened for the Warranty Management conference, which was the second event of the year dedicated to warranty. The conference offered fifteen presentations describing real world solutions applied to real challenges by the people who lead the transformation.
The International Quality & Productivity Center produced the event, perhaps not fully knowing what to expect. Tim Skala of IQPC said that during the final few days prior to the conference, registrations grew nearly fifty percent. And there didn't seem to be so much of that familiar second-day rush to the airport. By my count, there were 76 attendees at the second day's lunch, minus exhibitors and speakers, and 60 attendees who stayed until the closing curtain at 5 PM.
Midwestern Metal Bangers
Compared to the Warranty Chain Management event held in San Francisco at the beginning of March, this event seemed to have more of what I'd call Midwestern metal bangers -- the manufacturers of not only automobiles but also heavy equipment and home appliances. The Brunswick Boat Group was there. Kohler was there. So were representatives from Whirlpool, Toro, Caterpillar, Ford, Dura Automotive, and Delphi.
Meanwhile, some of the groups heavily represented in San Francisco were not in evidence in Chicago. Besides the speakers, there were few representatives from the computer industry. Hewlett-Packard sent only two people, one of whom was vice president of engineering Robin Hensley, who replaced Bruno Duverge as the first day's opening speaker. There were few if any representatives of the extended warranty or insurance industries. And there were only a pair of lawyers and no venture capitalists.
The venue was adequate. This particular hotel, the Crowne Plaza Chicago Metro, is located in a neighborhood known as the West Loop, not far from Greek Town. It may not have been as prestigious an address as something closer to the lake, but it's much closer to the highways and more convenient for trips to and from the airports. Still, the hotel was in the final phase of completing a total renovation, so one could still occasionally hear the jackhammers in the distance.
The conference was held all in one room on the ground floor, with lunch available upstairs. My guess is that not unlike the warranty conference last spring, it may still be too difficult for the producers of warranty conferences to determine how many people will feel this whole warranty thing is important enough to merit their attendance.
Informative and entertaining presentations were made by speakers representing consumer and high tech electronics, capital equipment, automotive and white goods companies. What I think was most interesting is how little warranty was actually discussed. Processes such as returns, capturing point-of-sale data such as date sold in lieu of warranty registrations, service dispatch, refurbishment versus replacement, supplier collaboration and of course the ubiquitous quality discussion were presented. There was also the expected emphasis upon the use of analytics as a fundamental contributor to improved operational performance. But there was not much about warranty specifically, which suggests that the warranty dialog remains immature.
Service and Returns
Day one was almost entirely about service and returns in consumer electronics and computers. Commingled within discussions of how labor rates in certain global geographies have necessitated service facility relocation and how leading retailers differ in their willingness to share information with their suppliers were talks about contact centers and entitlement. For a time I thought I had mistakenly walked into a customer relationship management conference, not a warranty conference. But I suspect that many companies who have gone down the CRM path have created a CRM context through which they view any interaction relating to the customer.
Throughout the first day's proceedings I sensed that each of the presenting companies pursued challenges on the periphery of warranty. Interesting and informative presentations emphasizing entitlement, repair, replacement quality, returns, fraud and even bar coding were discussed. But while the presentations included a great deal of valuable detail, they did not directly address warranty. In fact there were only some 30 references to warranty in all of the first day's presentations combined.
Meanwhile, for the most part the people in the audience were quite the opposite. Many of those listening to the presenters bore job titles such as warranty manager and warranty engineer, and were very heavily involved in the day-to-day warranty process. They understood the problem, and more importantly they understood there were no easy solutions. It seemed to be something of a disconnect, with the speakers talking about service facilities, call centers, and labor rates, and the attendees hoping to hear stories from the trenches of warranty processing and analysis.
Quality and Service
Day two brought presentations from some of the metal bangers, who addressed somewhat different challenges than their high-tech peers. This slate of speakers talked about Six Sigma in construction and mining equipment, analytics software applied to warranty analysis for pleasure boats, field service and dispatch for white goods, and the use of text analysis in automotive. They talked about the importance of dealer networks and supplier relationships - in fact, three of the second day speakers were themselves from automotive suppliers.
If service and returns were the themes of the first day, quality and service were the themes of the second day. Warranty was mentioned more frequently on the second day, but it still felt like something was missing. At times it almost seemed that warranty was being positioned as the consequence of lapses in quality. Warranty wasn't really discussed much as a discipline or a specialty of its own, which was all the more astonishing given that the audience was so heavily seeded with operational warranty specialists and engineers.
Does all this emphasis upon quality mean that the only meaningful mechanism to manage warranty is through quality? It seemed incomplete, during the presentation of how analytics were applied to claims data there was a brief reference made to the "legacy system" but that was it. We learned how modifying your approach to the identification of quality problems needs to be a measurable process. We learned how text mining is as useful for patent searches as it is for warranty analysis. We also heard how sending teams of experts representing different disciplines out to inspect a vehicle in the field can reveal the root cause of failures, and how the Japanese create a more integrated partnership with their suppliers, and how difficult it is for tier one automotive suppliers to make real sense and actionable value from domestic OEM warranty claim extracts.
More Sophisticated Dealerships?
Jose Salazar-Vior of Caterpillar Inc. talked extensively about his company's dealers, who seemed to be much more sophisticated and warranty-aware than their passenger car peers. While the passenger car OEMs and their suppliers complain about the low quality of data extracted from their warranty claims reports, Salazar said Cat enjoyed a great deal of interaction with its dealers in regards to warranty work. Perhaps their sophistication in warranty matters is a function of their size? Or perhaps its more a function of the size and cost of the vehicles they sell?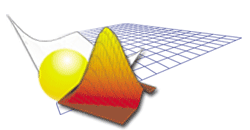 Conspicuously absent was any real discussion about warranty management as a financial issue. There was one exception to this: Michael Bellis of Delphi Electronics & Safety put one of the most challenging issues of warranty in his crosshairs when he related the discussion of predicting future rates of failure via a Weibull distribution to the provision of forecast information to the finance department. Other than that, the two days were focused upon engineering and service operations. Perhaps warranty has not yet arrived upon the senior executive's radar.
Dale Hagan, a warranty engineer from Dura Automotive Systems, closed out the conference with a supplier's view of the auto industry, including a comprehensive review of the major OEM's warranty systems. Faced with incompatibilities among the file formats used by the OEMs, he explained how Dura worked around these "roadblocks," how it used text mining to improve its root cause analysis capabilities, and how it is now working to encourage the OEMs to improve the quality of their warranty data.
Exhibitors in the Back
Representing the vendor community were PolyVista, SAS Institute, ServiceBench, and Tavant Technologies. They displayed their wares at the back of the ballroom in which the single track of panel discussions took place. Other than a brief word from the lunch sponsor Tavant, no other vendor-presented content was provided. However, throughout most of both days, Bill Roberts of SAS had the high-visibility job of introducing the speakers and fielding questions from the audience. Outside of these exhibitors, there was little if any representation from the warranty software or consulting professions.
Generally, vendors and service providers tend to overshadow the thought leadership they often contribute with an overt sales pitch. Not at this event. Most seemed pleased to not have had to sit through yet another sales pitch. But I noticed as did some with whom it was discussed, a lack of vision and a lot of rear view mirror, essentially the post mortem of a number of generally successful projects and process revisions.
I'm Not Alone
I was particularly impressed with those in attendance. With few exceptions, warranty people came to learn how other warranty people have solved similar challenges. "I'm not alone" was frequently expressed as each presentation reinforced the commonality of the challenges faced in very different industries.
One gentleman from the outdoor power industry suggested that the process that has lead companies to adopt an approach and or solution was of particular interest. That perspective was echoed during a lunch discussion that included staff from Cat, Delphi and HP, a good representation of the type and mix of companies in attendance. A very good suggestion was having scheduled moderated breakout sessions by industry or area of challenge as a featured activity of a future conference, this suggestion achieved an immediate consensus. My take is that in this early phase of dialog a more focused discussion by relevant industry or domain is desired.
But much like the absence of finance, so was the strategic discussion or the broader process definition. And therein lies the point, that while this conference was indeed valuable it lacked definition. This is not a criticism of IQPC or the presenters; to the contrary I think all involved did a very good job. It's an observation that a great deal more discussion is necessary to create a domain identity for warranty.
Perhaps some remember the Saturday Night Live TV comedy sketch from 1976 where the wife said "Shimmer is a floor wax," and her husband said "it's a dessert topping," and then a spokesman appears and says "Shimmer is both a floor wax and a dessert topping." While it seems implied that returns management, and quality, et al are directly related to warranty, they in and of themselves are not warranty. So let's continue the dialog and begin to connect the dots.
I'm confident the revelation will occur. How quickly will depend upon executive participation. So perhaps the vendor who is the lead sponsor of the next warranty conference can provide an award for the company who has the most executives in attendance and a special award for any company who sends their CFO.
---
Ron Ezsak has been helping domestic and international manufacturers improve their processes for twenty five years. Most recently he has been focused upon helping companies achieve strategic value by revising their warranty processes. Ron can be reached at betterwarranty@comcast.net