October 18, 2005
Longer Warranties:
Sometimes they boost sales and other times they just boost costs. Meanwhile, sometimes shortened warranties hurt a brand's image while other times the changes pass unnoticed. Why the difference?
Do warranties really matter? It's a rather silly question for a warranty newsletter to be asking, because if they didn't matter why would there be a newsletter about them? However, in several industry sectors, some of the best-known manufacturers have recently cut back on their warranties. Meanwhile, in other sectors a few manufacturers have found longer warranties to be a major sales boost.
A few months ago a major automotive manufacturer said they were reducing their powertrain warranties, because customers didn't seem to care much about them. A major computer manufacturer has recently reduced the warranties it provides on some low-end consumer models to only 90 days. And a major appliance manufacturer is shortening its warranties to one year.
In this column we'll tell you a tale of ten companies and their changing warranty stories. Some lengthened their warranties and gained market share, while others lengthened their warranties and found it didn't change much. Some shortened their warranties and found it didn't change much -- but wait, most people don't yet know about the cutbacks and therefore market perceptions may be changing very slowly. Or perhaps warranties really don't matter, or perhaps lower prices matter even more?
Warranty Sales Boost at Hyundai
Let's start with what is sure to become the textbook example of longer warranties helping sales. In 1998, Hyundai Motor America began covering their engines and transmissions with a 10-year/100,000-mile powertrain warranty, and five-year/60,000-mile coverage on the rest of the vehicle. Almost immediately, it changed customer perceptions. In the 12 preceding years, Hyundai vehicles imported into the United States were perceived to be inexpensive and poorly-made. And with those longer warranties, they were still perceived to be inexpensive and poorly-made. But at least they'd be fixed for free.
Then something miraculous happened. Hyundai boosted quality to such an extent that their cars didn't break down as much as other inexpensive brands. Quality, in fact, rose to levels more commonly seen at Honda or Toyota. And prices remained low. Slowly but surely, the brand image perception of Hyundai changed to inexpensive and well-made. And sales grew. And grew. According to a July 2005 article in Time magazine, U.S. unit sales were up 360% from 1998 to 2004. Worldwide, Hyundai has grown from 12th place in 1998 to 7th today, with a goal of hitting the top five by 2010.
Finbarr O'Neill, who as CEO of Hyundai Motor America was one of the prime architects of the lengthy warranty strategy, moved over to the CEO position at Mitsubishi Motors North America in 2003 and took his playbook with him. Almost immediately he lengthened Mitsubishi's powertrain warranties to 10 years or 100,000 miles. Distributors in other countries also lengthened their warranties. In Australia, for instance, Mitsubishi executives credited the longer warranties for helping them reduce their inventory from 5,000 vehicles in October 2004 to 700 by April 2005. It didn't reinvigorate the brand, but it sure did wonders for sales.
O'Neill resigned from Mitsubishi at the beginning of 2005, after only 16 months on the job, but the company he left behind now calls its vehicles the "best backed cars in the world," a phrase they have trademarked. Meanwhile, Hyundai still claims to have "America's best warranty," though in recent years it's reduced the transferability of said warranties to subsequent owners, and in 2002 Suzuki has joined the trend with its claims of having "America's #1 warranty."
Nobody Cares About Lengthy Warranties?
Which brings us to the curious case of DaimlerChrysler AG. Right about the time Finbarr O'Neill was changing the meaning of warranty at Hyundai, Chrysler Corp. was busy merging with Daimler-Benz AG. In 2001, as Hyundai was continuously breaking its own sales records, DaimlerChrysler instituted seven-year/100,000-mile powertrain warranties on its Chrysler, Dodge, and Jeep brands. It later cut those warranties back to seven years and 70,000 miles, but it compensated by allowing the warranties to be transferred to subsequent owners.
As with Hyundai, Mitsubishi, and Suzuki, Chrysler heavily promoted its lengthy warranties throughout 2003 and 2004. But then in May of this year, the company announced that customers didn't seem to care about lengthy powertrain warranties, so it was going back to three years or 36,000 miles. "We felt like if customers are not seeing that as a value added we felt we could direct that into others areas of the company like product development," a spokesman told the Reuters news agency.
We'd like to propose an alternative scenario, using DaimlerChrysler's own finances as evidence. Simply put, we'd suggest that lengthy warranties are very expensive when they're heavily used. At Hyundai, quality rose as warranties lengthened, so there was no long-term spike in claims. At Chrysler, warranties lengthened and quality stayed the same, so expenses did indeed increase. Here's a chart for the last ten quarters, going back to the beginning of 2003:
Figure 1
DaimlerChrysler AG
Warranty Claims & Accruals
Jan. 2003 to June 2005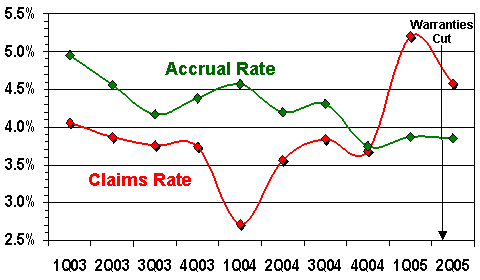 Source: Warranty Week from SEC data
As the chart shows, the lowest warranty claims rate reported by DaimlerChrysler in the past two-and-a-half years was 2.7%, which is actually slightly above the highest claims rate reported by Ford over the same period. General Motors has remained around 3%, give or take. In fact, during the first half of this year, DaimlerChrysler has spent more than 2.87 billion euros on warranty claims -- 46% more than GM and 76% more than Ford (assuming a $1.20 euro).
However, it's not proper to compare one company's warranty ratios to another's without also adjusting for differences in their accounting methodologies. Suffice it to say that among all manufacturers in all industries, anyone paying in excess of 5% of revenue to satisfy warranty claims has an expensive problem on their hands. Coincidentally, Chrysler went above 5% right around the time they decided that customers didn't care about lengthy warranties.
Warranty Cutbacks at Whirlpool and Electrolux
More recently, word has spread rather quietly that Whirlpool and Electrolux were reducing their warranties to one year, where they used to be two to ten years. While the top-to-bottom warranty was generally one year before, Whirlpool used to warrant specific components for much longer durations, such as a washing machine's outer tub for as long as ten years. Also on washing machines, belts and pulleys were covered for five years. Electronic control boards got two years. On Whirlpool refrigerators, meanwhile, the compressor and condenser got a five-year warranty, as did the electronic control system. So did the nylon-coated dish racks inside a Whirlpool dishwasher. Electrolux had similar policies on its brands. Instead, from now on everything gets just one year, top to bottom, be it a washing machine, refrigerator, or dishwasher.
The Whirlpool change becomes effective on Nov. 1 and also affects most KitchenAid, Roper, Estate and Inglis branded units. The Electrolux change is effective Jan. 1, 2006 and affects all Frigidaire, Frigidaire Gallery, Frigidaire Professional, White Westinghouse, Tappan, Gibson, and Kelvinator-branded appliances. Whirlpool has excepted some of its flagship KitchenAid line, and Electrolux has excepted some of its flagship Icon line from the warranty reductions. The warranty coverages on those brands will remain at five or even ten years for certain components.
These shifts are somewhat troubling, but they also suggests that manufacturers in several industries are beginning to position lengthy warranties as the mark of a premium brand. For even as DaimlerChrysler cut its Chrysler, Jeep, and Dodge brands back to three years, it kept the four-year warranties on Mercedes. And General Motors, as part of its "total value promise," in an effort to reposition Buick and Hummer as luxury brands, recently lengthened the warranties on those brands from three years to four. One would imagine that higher prices and longer warranties will increasingly become part of the luxury package, be it an automobile or an appliance.
Even in the computer business, there's something of an upper, lower, and middle class emerging in terms of warranty. Business computers typically get three years of warranty coverage. Until recently, one year of coverage was typical for the consumer models. But then Dell Inc. began selling some really low-end units such as the Dimension 2400, the Dimension 3000, and the Inspiron 1200 with only a 90-day product warranty, although it also sells extended warranties that can bring coverage back up to one, two, three, or even four years.
Computer Shopper reported in a September article that Dell had reduced to just 90 days its standard warranty on all its Dimension desktops and Inspiron notebooks, as well as its all-in-one printers, MP3 players, and handhelds. A Dell spokeswoman claimed the decision was based on customer feedback. "We know a lot of customers value paying less in exchange for a shorter warranty," the spokeswoman told the magazine. On the budget models, she said, customers figure, "'Why do I want to pay more for a system that I'll probably replace if it breaks, anyway?'" And, she added, most of the breakdowns happen within the first 90 days anyhow.
Time will tell whether 90-day warranties are viable in the home computer industry. Ninety days is fairly typical of the low end of the consumer electronics industry, where replacement is more common than repair. But despite the power of low prices, one would think that customer satisfaction would decline as warranties are shortened. Already, studies such as the TechnoMetrica Market Intelligence survey in September and the ChangeWave survey in late August, both cited in an Investor's Business Daily article last week, show Dell slipping in terms of brand preference. Business Week, in an October 2 article, cited the results of a University of Michigan survey as evidence that the ranks of frustrated Dell owners are growing.
Seagate Lengthens Warranties and Boosts Sales
Finally, we end with what looks like it's becoming another textbook example of the promotional power of lengthy warranties. In the October 17 edition of CRN, an article about Seagate Technology's new Barracuda 7200.9 drive included an endorsement from a Shorewood, Wisconsin-based system builder. "We like Seagate because their warranty is a big plus for them," said Tory Salchow, general manager of Milwaukee PC.
The CRN article then took a quick look at market shares. Quoting Seagate's own figures, CRN said Seagate had a 5% share of the high-capacity drive market at the end of 2003, compared to 24% in the first quarter of this year. Over the same period, Maxtor fell from 52% to 39%; Western Digital fell from 40% to 29%, and Hitachi grew from 4% to 9%.
Sales growth is one thing. Warranty expense is another. One would think that longer warranties would cost a company more than shorter warranties. One would think. Take a look at the chart below, with Seagate's July 2004 announcement of longer warranties marked by the black arrow. As soon as the announcement was made, the claims rate began to fall. The story here seems to be: warranties lengthened, sales soared, and warranty costs fell as a percentage of sales.
Figure 2
Seagate Technology
Warranty Claims & Accruals
Jan. 2003 to June 2005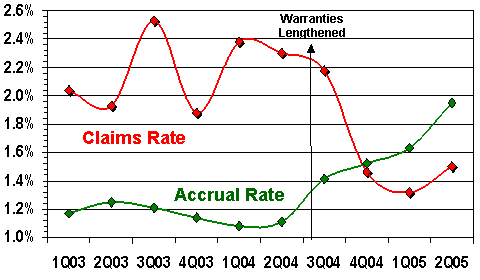 Source: Warranty Week from SEC data
On its Web site, Seagate has a special page to tout its five-year warranties. "It's one thing to say that you make the best hard drives in the world. It's another thing to back up such a bold statement. Now every Seagate internal hard drive for PCs, notebook computers and entry-level servers purchased from an authorized Seagate distributor and reseller will be covered under our unprecedented Five-Year Warranty," the page states. "The new Seagate five-year warranty reflects our dedication to not only bringing the newest technology and products to market first, but always ensuring the highest product dependability. Years of investments in R&D and industry-leading manufacturing processes, common design platforms, and advanced manufacturing allow us to deliver on our commitment to quality.".
For some reason, more than half the articles ever written about lengthy disk drive warranties have come from sources in India. Is it because competitive pressures are stronger there? Or is it because warranties seem to matter more in India than they do in the U.S.? Warranty Week has already had several spirited conversations about this topic with some of our subscribers who travel frequently between the countries. But to see what we mean, take a look at a December 2004 article in the Channel Times, India's premier IT magazine.
In that article, ACNielsen said that Seagate's market share in India had grown from 61% to 72.4% after the company introduced five-year warranties. There was no explicit link made between longer warranties and increased sales, but the article left a distinct impression. Besides, in an August 17, 2004 article, the magazine had made the link quite clear, with a lead sentence of "Seagate's recent five-year warranty announcement is doing wonders to its hard drive sales in Mumbai, with a survey of Lamington Road dealers revealing a rise in sales of as much as more than 60% in many cases."
It's difficult to prove that longer warranties alone helped Seagate gain market share, or sell more disk drives. It might be easier to prove a theory that because customers now perceive Seagate drives to be of higher quality -- because they equate longer warranties with higher quality -- they're now more likely to buy Seagate than either Maxtor, Hitachi, or Western Digital.
Meanwhile, just after the stock market closed Tuesday, Seagate announced that profits almost quintupled in the quarter ended September 30. Net income in what is the fiscal first quarter for the company grew to $272 million, or 54 cents per share, from $54 million, or 11 cents per share, in the year-earlier period. Meanwhile, revenue rose 34% to $2.09 billion from $1.56 billion a year ago, and that was actually a little below expectations.