December 6, 2005
Semiconductor Warranties:
In most industries, the consumer-facing brand name suffers most of the warranty cost, and their suppliers get off lightly. But with semiconductors, it's the production platform providers who are left holding the bag.
Semiconductor and printed circuit board manufacturers pay out an average of only 1.2% of product revenue to honor warranty claims. But that's far from the end of the story. In an interesting turn of events, those with the highest warranty costs are the makers of the chip-producing machinery, while those with the lowest expenses are those who make the chips themselves.
Warranty Week has gathered together the warranty expenditures reported by some 114 U.S.-based manufacturers of semiconductors, printed circuit boards, wafer fabricating equipment, and test equipment used for the production of semiconductors. As Figure 1 below illustrates, however, the vast majority of the warranty spending in this industry comes from perhaps a dozen firms.
Total Industry Spending
In the chart below, the total warranty spending by the 114 manufacturers added up to $243 million during both the second and third quarters of 2005, up slightly from $233 million in the first quarter. Spending during the equivalent nine months of 2004 totaled $661 million, so warranty claims are up almost 9% year to year. Meanwhile, warranty claims during the first nine months of 2003 were $620 million.
Warranty expenditures for Applied Materials, Honeywell, Novellus, and Agilent Technologies are labeled. KLA-Tencor is in orange. Cymer is teal. Lam Research is navy blue. Mattson Technology is pink. And Advanced Micro Devices is bright green. For those with the vision of a hawk, Credence Systems is portrayed in white, and Coherent Inc. is in lavender. We should note that in the case of Coherent and roughly 10 other manufacturers, we had to use placeholder estimates for the third quarter since the companies ended their fiscal years on or about Sept. 30, and won't be filing their annual reports until later this month.
Figure 1
Top U.S.-based Chip & Printed Circuit Board Makers
Product Warranty Claims
in $ Millions per Quarter
1Q 2003 to 3Q 2005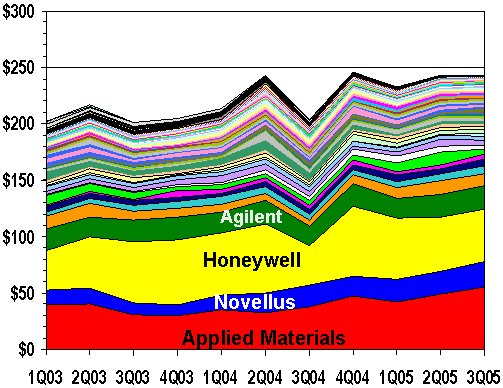 Source: Warranty Week from SEC data
The "peak," if one can use that term, came in the fourth quarter of 2004 when claims went to $246 million. It is, however, highly likely that 2005's fourth quarter will break that record, because as in other industries it seems as if companies usually "sweep up" their expenses towards the end of the year.
The other notable feature of the chart is how one company -- Honeywell International -- had lower expenses during the third quarter of 2004 and higher expenses during both the second and fourth quarters of the same year. Honeywell reported $61 million in claims for the second quarter of 2004 and $62 million during the fourth quarter. In between, the third quarter came in at $35 million. The time shifting of payments and reimbursements is the likely cause, Honeywell's quarterly warranty expenses have never been higher or lower than they were during this period, at least not since 2002.
This time shifting also had an effect on the two other industries in which we counted Honeywell as a warranty provider: aerospace and HVAC. However, both of those industries are somewhat larger in terms of warranty payouts, so it has a less noticeable effect. But in semiconductor warranties, Honeywell's time shifting helped to produce a noticeable trough in the industry totals -- the very apparent notch in the data from the third quarter a year ago. It interrupts what would otherwise have been a gradual upward slope.
Note that there was no growth in claims between the second quarters of 2004 and 2005. But there was a 19% jump between the third quarters of 2004 and 2005. It's not entirely the blame of Honeywell, but a single sizeable manufacturer can have a significant effect on industry totals. The same thing happened in aerospace and air conditioning when United Technologies reported a dip in claims. And as will be seen in a future column, the same thing happened with telecommunications equipment manufacturers.
"Supplier Recovery" in the Chip Industry
There also seems to be a radical difference in the warranty experience of semiconductor and printed circuit board production machinery manufacturers. Unlike in the automotive industry, suppliers seem to take a bigger hit than do the well-known customer-facing brand names. It's as if the semiconductor manufacturers, in their quest to ship zero defects, are pushing the cost of defects back upon their machinery and technology providers.
For instance, silicon manufacturing equipment suppliers such as Axcelis Technologies Inc. and Mattson Technology Inc. seem to suffer the highest warranty claims rates. Axcelis pays 4.5% of sales. And Mattson, because of the coincidence of rising claims and falling sales, paid out an astonishing 9.5% of revenue for warranty claims during the quarter ended Sept. 25. Another company called Cymer Inc., which provides the equipment that shines precision ultraviolet light upon semiconductors, currently pays out 6.7% of their revenue in warranty claims.
At the other end of the spectrum, if you'll pardon the pun, Advanced Micro Devices reports that 0.7% of revenue is paid out in warranty claims. ON Semiconductor Corp., which makes thousands of different kinds of components, reports 0.4% of sales is consumed by warranty claims. Atmel Corp., which makes chips for everything from cars to mobile phones, also reports only 0.4% of sales is consumer by warranty claims.
It's almost the exact opposite of the effect seen in industries such as passenger cars, personal computers, and home appliances. In those sectors, the brand names pay out 2% to 4% of sales for claims, while their suppliers typically pay out less than 1%. In fact, some of the companies we're talking about in this column are among those suppliers. It's just that in this particular industry, the suppliers have found a way to push warranty expenses back onto the suppliers of their production platforms.
Let's take a quick look at five of the better-known providers of semiconductors, printed circuit boards, production machinery, and test equipment. Seemingly missing from this analysis are premier chipmakers such as Intel Corp. and Micron Technology Inc., as well as board manufacturers such as Jabil Circuit Inc. and Solectron Corp. Either they have no warranty expenses or they have chosen not to bother reporting them. We suspect the latter.
We'll start the roundup with a look at Applied Materials, one of the largest providers of the systems and machinery that companies use to manufacture semiconductors. One would suspect by their position within the supply chain that as a provider of machinery to chipbuilders, they would have higher-than-average warranty expenses. As Figure 2 shows, this is indeed the case.
Figure 2
Applied Materials Inc.
Warranty Claims & Accruals
in % of Sales & $mil per Quarter
1Q 2003 to 3Q 2005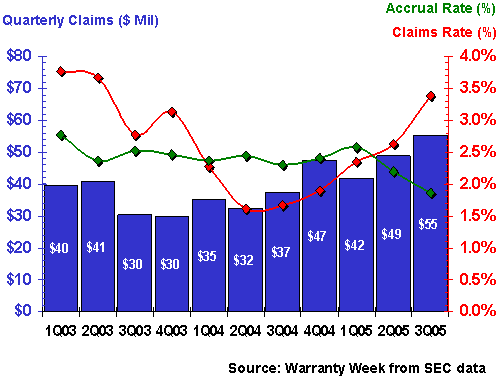 The claims and accrual rates turned in by Applied Materials over the past three years resemble those seen by Whirlpool or Hewlett-Packard or Ford Motor Co. Of course, there's nothing wrong with paying 2% to 4% of sales in warranty claims -- if you're a consumer-facing brand name. But when the actual chip manufacturers who use this machinery report little or no warranty expense, one wonders how the infrastructure suppliers were left holding the bag in this particular industry.
The same effect is seen at Novellus Systems, which describes itself as "a leading supplier of chemical vapor deposition (CVD), physical vapor deposition (PVD), electrochemical deposition (ECD), chemical mechanical planarization (CMP), and surface preparation equipment used in the manufacturing of semiconductors." One could almost suggest that the more sophisticated the machinery and the more complex the explanation, the higher the warranty expense.
Figure 3
Novellus Systems Inc.
Warranty Claims & Accruals
in % of Sales & $mil per Quarter
1Q 2003 to 3Q 2005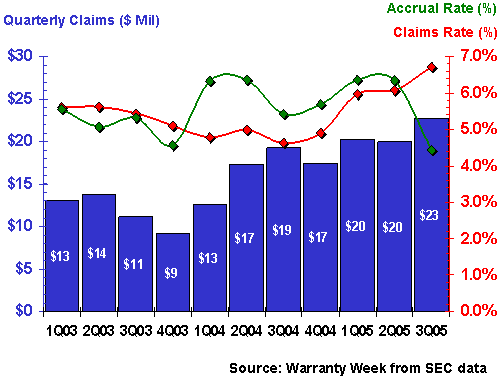 While Applied Materials gets away with 2% to 4% of sales being consumer by warranty claims, Novellus has been more in the 5% to 7% range during the past three years. And in fact, during the third quarter the company reported $22.7 million in claims on $339 million in sales, leading to a 6.7% claims rate. That would be high in any industry.
Agilent Technologies, a 1999 spin-off of Hewlett-Packard Co., is best known for its line of electronics test and measurement equipment. It's also something of the exception to the rule. One would think that as a provider of platforms and machinery to the actual semiconductor makers, Agilent would have the same levels of warranty spending as do platform providers such as Novellus and Applied Materials. As Figure 4 shows, this is not the case.
Figure 4
Agilent Technologies Inc.
Warranty Claims & Accruals
in % of Sales & $mil per Quarter
1Q 2003 to 3Q 2005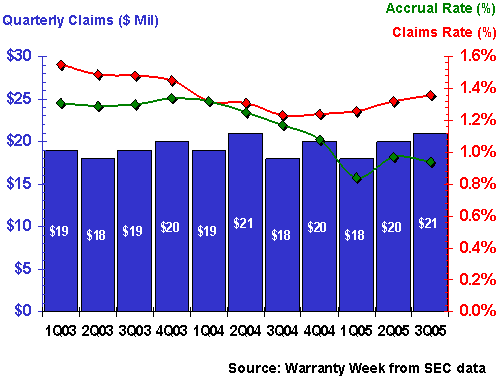 Agilent's warranty expenses as a percentage of sale actually drifted lower for seven quarters before beginning an upward drift for the last four quarters. Warranty claims during the period have remained within a range of $18 million to $21 million per quarter, which equates to between 1.2% and 1.6% of sales. This is about as flat as these curves get.
KLA-Tencor, meanwhile, is notable for exactly the opposite reason. Quarterly warranty claims for its semiconductor production platforms have ranged between $5.3 and $12.3 million, and between 1.2% and 4.4% of sales. If one looked at the data in Figure 5 a year ago, one would think the company was rather successfully slashing its warranty expenses. A year later, however, the trend is firmly upwards.
Figure 5
KLA-Tencor Corp.
Warranty Claims & Accruals
in % of Sales & $mil per Quarter
1Q 2003 to 3Q 2005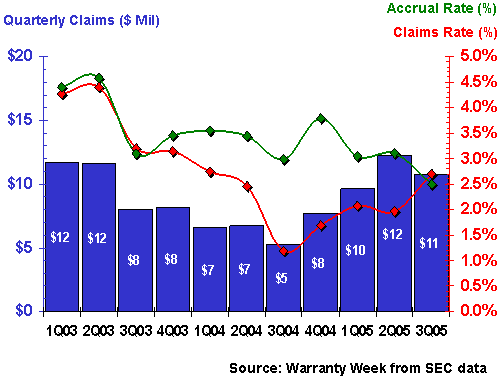 One would not be shocked if a year from now it's back up into the 4% range. Note that throughout the ups and downs of warranty claims (the red line), the company has kept warranty accruals (the green line) more or less constant as a percentage of sales. This implies that the company was fully aware that the dip wouldn't last.
Finally, we turn to AMD, the makers of a very popular alternative to the Intel Pentium family of microprocessors. In its financial statements over the past three years, AMD reports anywhere from 0.3% to 1.2% of sales being spent to honor warranty claims. It works out to somewhere between $4 million and $12 million per quarter, as shown by the blue bars in Figure 6. It's certainly not as much as any of the companies above, but it's not a trivial amount. Intel, meanwhile, used to state in early 2003 that its warranty spending was simply "not significant." Now it avoids even using the word warranty in its financial statements.
Figure 6
Advanced Micro Devices Inc.
Warranty Claims & Accruals
in % of Sales & $mil per Quarter
1Q 2003 to 3Q 2005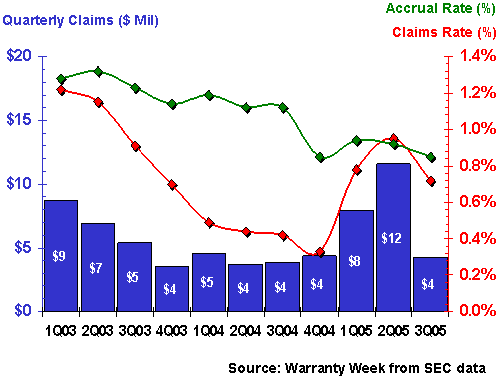 Actually, if Intel's warranty spending is so small that it's not even worth bothering to report it, that would support the theory we're advancing that in this particular industry it's the machinery makers who pay most of the claims. When there's a problem, the production platform is shut down and the bad chips are discarded. Because of the efforts of testing companies like Agilent, the bad chips rarely reach the likes of HP. So there are few claims sent back to the likes of AMD or Intel. But it's their suppliers -- the providers of the machinery that they use to make semiconductors -- that expend a not-insignificant percentage of their sales on warranty claims.