May 23, 2006
Warranty Compliance:
The list of companies reporting upon their warranty accounts is constantly changing as new companies begin complying with the new rules while old companies close down or get acquired. A handful of companies sometimes forget to include details about their warranty spending, while others simply disregard the rules.
The past five newsletters have presented warranty data for U.S.-based manufacturers in several different ways over several different years. This is the sixth and concluding piece of that report. Although it borders on overkill, the truth is that until 2003 there was absolutely no data like this available anywhere at any price. And now, here it is, all in one place: total warranty spending figures for both individual companies and entire industries.
First we want to wrap up this cycle of warranty reports with a quick look back at the past three years. A reader asked if we were going to provide totals for all manufacturers and/or all industries. In that vein, we've included pie charts on occasion for individual quarters and for entire years. But we've never run a chart for warranty claims by industry during all three years in which manufacturers were required to reveal what used to be closely-held secrets about their warranty spending.
This time out, there are 14 categories in the pie, though it's not a round pie. Instead, it's a rectangular pie, in which each industry is assigned a different color. So that similar industries are grouped together, we've assigned all the transportation categories shades of blue, while high-tech gets shades of red, and the building trades get shades of green.
No Double Counting
All companies reporting warranty expenses during 2003, 2004 or 2005 have been assigned to one and only one of the 14 categories, based upon the nature of their leading warranted product line. For instance, United Technologies and Honeywell International are counted as aerospace vendors (navy blue) rather than as either appliance makers (bright green) or semiconductor manufacturers (yellow). Eastman Kodak is in the medical equipment category (pink). General Electric is in the "other" category (gray), along with several other makers of turbines and power generating equipment. And American Standard is in the appliance category (because of Trane), while Masco and Fortune Brands are in the building materials and fixtures category (olive).
Figure 1 presents this data as percentages of 100%. Figure 2 presents it in dollar terms. It's the same data presented in different ways. Readers of the HTML Edition of Warranty Week are receiving the data in graphical form. Readers of the Plain Text Edition are receiving the actual numbers in table form. Those with access to the Web can click on the graphics below to see the actual numbers behind them. Those who are reading the text version can click on the links below the charts for Web access to the graphics.
Figure 1
Warranty Claims by Industry
As a Percent of Total
2003 to 2005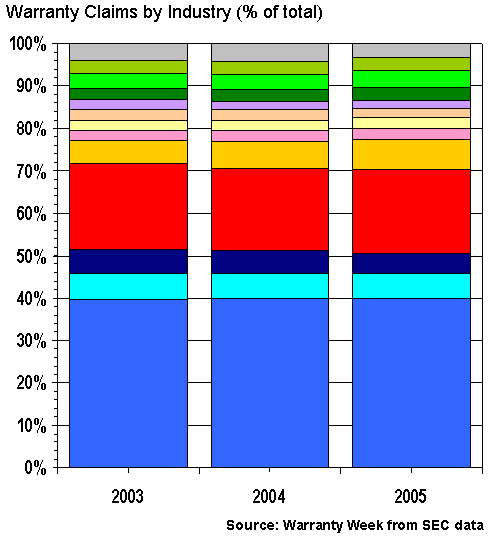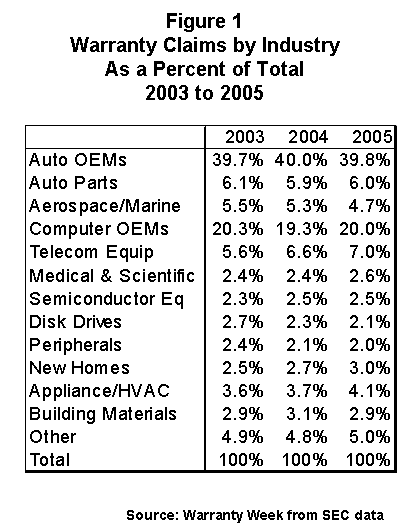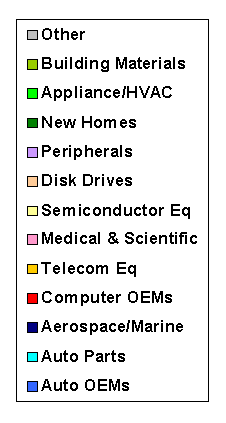 The automotive sector, including both OEMs and parts suppliers, has accounted for a more or less constant 46% of all warranty claims across all three years. The six high tech sectors, portrayed in shades of red, orange and yellow, accounted for 35% to 36% of the total over the same period.
The three building and furnishing categories accounted for another 9% to 10%. The balance of the 100% was accounted for by aerospace/marine, consumer electronics (not elsewhere counted), warranted apparel, sports equipment, electrical power generating equipment, and mining, pumping, and drilling equipment.
A Note About Consumer Electronics
Several U.S.-based computer companies are now becoming major manufacturers of digital music players and flat screen televisions. They are counted as computer vendors, however. Meanwhile, most audio and video equipment sold in the U.S. is now made by non-American companies, who do not report their warranty expenses to the SEC. That leaves behind some U.S.-based makers of jukeboxes, speakers, CB radios, and assorted other gadgets.
Imports are very important to the consumer electronics industry. Extended warranties are very important in the consumer electronics industry. But U.S.-based manufacturing is relatively rare. Rather than mislead readers into underestimating the true size of this sector of the warranty industry, we have rolled it all into the "other" category.
Figure 2
Warranty Claims by Industry
In $ Billions
2003 to 2005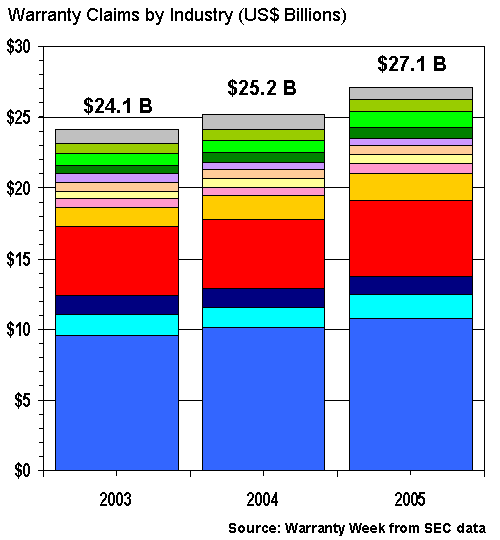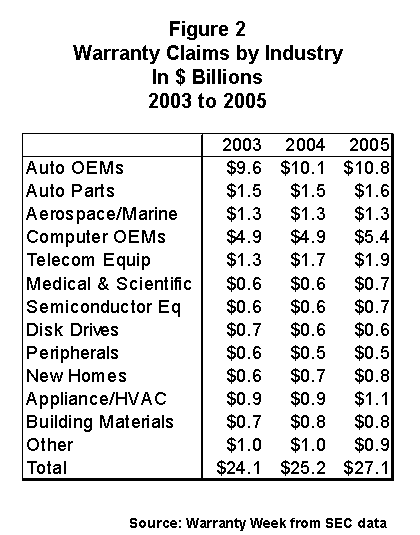 Warranty claims reported by all U.S.-based manufacturers added up to $24.1 billion in 2003, and $25.2 billion in 2004. For 2005, we're still waiting for reports from a few large manufacturers. So while we wait, we've inserted placeholder estimates of what they're likely to report, sooner or later. When those estimates are included, we're showing a $27.1 billion total for 2005, which represents an 8.1% increase from 2004.
Warranty claims were reported in one fashion or another by 834 companies in 2003; by 804 companies in 2004; and by 747 companies in 2005. A total of 713 companies reported at least some claims during all three years. As has been mentioned in previous newsletters, the average claims rate for all companies is 1.74% while the average accrual rate for all companies is 1.82%. These are the benchmarks for the percentage of product revenue spent on current claims, and set aside for future claims, respectively.
New Arrivals
And then there were all the new arrivals. There were twenty-one new arrivals in 2004, and 16 new arrivals in 2005. Not all were necessarily new companies. Some were existing companies who were among the last to hear that public companies had to make public disclosures about their warranty accounts. In fact, some first began reporting their warranty spending in 2005, and helpfully included year-ago data for 2004 as well. In these instances, we simply retroactively revise the totals.
Companies that first began reporting their warranty expenses in 2005 include:
Accuride Corp.
Amcol International Corp.
Dentsply International Inc.
Harsco Corp.
HyperSpace Communications Inc.
Jarden Corp.
LSI Logic Corp.
Newell Rubbermaid Inc.
Spansion Inc.
Walter Industries Inc.
The Warranty Departures
When a company is acquired, and both the target and the parent previously had their own separate warranty reserves, it is customary for the acquiring company to report the assumption of the target's reserves as an upwards change of estimate. Some companies bundle it in with all other changes of estimate. Others report separate figures for acquisitions of the reserves of others and for adjustments to their own reserves. There is no single right way to do it, apparently.
The acquired company will then cease reporting their own separate finances to the SEC, and therefore they won't be filing any more details about their warranty expenditures. Instead, the parent will report one set of net figures for all the product lines of the entire company, as do conglomerates such as United Technologies, Tyco International, and ITT Industries.
Unfortunately, companies that simply shut their doors also simply cease reporting their finances to the SEC, as do companies that are in serious turmoil because of accounting scandals or financial crises. The same goes for companies that are taken private by their management, or that are acquired by privately-held companies. They simply stop filing Form 10-Q and 10-K statements.
Companies that ceased reporting before the end of 2005 because of acquisitions, mergers, and liquidations include:
Advanced Fibre Communications Inc.
Alaris Medical Systems Inc.
Handspring Inc.
InVision Technologies Inc.
NPTest Holding Corp.
Oakwood Homes Corp.
Sealy Corp.
Storage Technology Corp.
TBC Corp.
York International Corp.
The largest warranty providers among them, Storage Technology and York International, were acquired by Sun Microsystems and Johnson Controls, respectively. A total of 75 companies have ceased reporting for one reason or another since warranty data collections began in 2003. About half were acquisitions and half went out of business.
There were also a handful of curious comings and goings that seemed to have more to do with the forgetfulness of the people writing the reports. For instance, International Game Technology reported their warranty expenditures in 2003, took 2004 and most of 2005 off, and then made a surprise report for the fourth quarter of 2005. Baxter International Inc. made 11 consecutive quarterly reports and then just stopped including warranty in the 10-K annual report for 2005 -- as if they simply forgot. It was the same story for LoJack Corp., ATMI Inc., and Intuitive Surgical Inc. They just simply ceased including their warranty expenditures in their most recent report after making 11 consecutive reports previously.
Late Filers
As this newsletter was being prepared for publication, we made one last check of all the late filers. And indeed, some such as Terex and Nortel have now caught up with all their previously missed deadlines. But that still leaves a total of 30 companies that have missed at least one quarterly or annual report filing deadline. Some are in bankruptcy; others are tangled up with accounting scandals. Others are simply taking some extra time to restate their past finances and/or straighten out their current finances.
Companies which as of today have still not filed the financial reports due for some portion of 2005 include:
Bausch & Lomb Inc.
Delphi Corp.
Dresser Inc. Global Power Equipment Group Inc.
InFocus Corp.
Navistar International Corp.
Simmons Bedding Co.
Terayon Communication Systems Inc.
Thermadyne Holdings Corp.
UTStarcom Inc.
At least a few of these companies are now making headlines because of product recalls and/or accounting irregularities. While all their troubles can't be blamed on warranty, we'd suggest that the chaos is contagious. If they can't keep track of sales and expenses, and if they can't successfully monitor product quality, it's no surprise they can't meet their SEC filing deadlines.
Making Up Their Own Rules
Finally, the FASB warranty reporting rule, embodied within the document entitled "Guarantor's Accounting and Disclosure Requirements for Guarantees, Including Indirect Guarantees of Indebtedness of Others," which is also known as FASB Interpretation No. 45 or simply as FIN 45, outlines the disclosures to be made by a guarantor "in its interim and annual financial statements." Note the use of the word and in that quotation. That phrasing would seem to imply that warranty disclosures must be made in both quarterly and annual reports, or in SEC terms, in both Form 10-Q and 10-K filings.
A total of 59 companies have chosen to disregard this clear language. Instead, they have unilaterally chosen to report just their annual warranty expenditures, in just their 10-K annual reports, disregarding their obligation to include this data in both "interim and annual financial statements." Companies which report upon their warranty expenses only once a year in this fashion include:
Black & Decker Corp.
Eaton Corp.
General Electric Co.
Illinois Tool Works Inc.
LSI Logic Corp.
Medtronic Inc.
Monaco Coach Corp.
Motorola Inc.
Sanmina-SCI Corp.
Textron Inc.