October 17, 2006
Automotive Warranty:
For some the trend is up, while for others warranty costs are falling. And those who make vehicles aimed at either summer or winter activities are seeing a seasonal pattern in their warranty costs.
Here's some news that you won't see in your local paper any time soon: warranty costs in the U.S.-based automotive industry are down in the first half of 2006. That's right, despite the soaring recalls and headlines screaming about rising warranty costs, the actual numbers are down.
Having compiled the warranty expenditures of some 130 different companies whose primary business is building vehicles or supplying vehicle makers with parts, Warranty Week has concluded that warranty costs are down by an ever-so-slight 0.4% for the first six months of 2006, from $6.25 billion in 2005 to $6.22 billion in 2006.
That's not really much of a decrease, but it comes after an 11.8% increase from the first halves of 2004 to 2005, and a smaller 5% gain from the first halves of 2003 to 2004, so it's notable nonetheless. But what's really notable is the 7.3% decline in General Motors' claims payments, which was more than enough to offset a 4.8% increase for Ford Motor Co. and a 2.6% increase for everybody else. GM paid out nearly $2.4 billion a year ago and just under $2.2 billion this year, and saw its claims rate fall from 3.0% to 2.5% of automotive revenue as a result. That is a massive change, and is more than enough to compensate for increases seen at some other major automotive warranty providers.
The overall decline is so tenuous, in fact, that it could be reversed by only one company that's yet to report. We're estimating that Navistar International, which has not filed a financial statement with the U.S. Securities and Exchange Commission for the past nine months, paid out $130 million for warranty claims during the first half, slightly less than it did a year ago. When they finally do file their Form 10-Q statements for the first half, if they report more than $157 million in claims paid, then the industry decrease disappears.
But enough about the big OEMs. Their stories were well-covered in the Top 100 roundup delivered in the September 26 issue of Warranty Week. This week, we're going to spotlight the warranty record of eight smaller automotive companies: two that are seeing their warranty costs steadily increase, two that are on a downward slope, and four that have seen their warranty claims rates oscillate in a seasonal pattern. The pictures tell the stories -- especially with the latter group -- better than any statistics could do.
In each chart below, the blue bars represent the dollar amounts paid out in claims per quarter, in millions. The red line illustrates the percentage of product revenue that such an amount represents. The green line reflects the percentage of current revenue put aside as accruals to finance future warranty claims.
Let's start off with a pair of declines. As seen in Figure 1, the amounts paid out per quarter by truck manufacturer Paccar Inc. have remained close to $60 million for the past ten quarters. But because of increasing sales, the percentage of revenue that these amounts represent have gradually decreased, from 2.2% at the beginning of 2004 to 1.8% in early 2005 and below 1.6% in the most recent quarter.
Figure 1
Paccar Inc.
Warranty Claims & Accruals,
2003-2006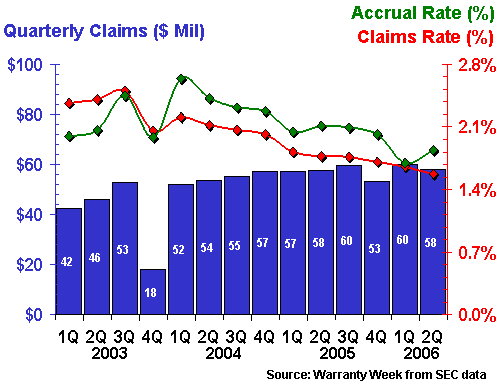 It's almost the same story at drivetrain supplier Dana Corp., which has paid out between $8 million and $14 million per quarter since 2004, but has seen its claims rate cut in half, from a high of 0.8% in early 2003 to a low of 0.4% in early 2005. The only damper on its story is the slight upward trend since then, with claims rising above 0.5% for each of the past three quarters.
Figure 2
Dana Corp.
Warranty Claims & Accruals,
2003-2006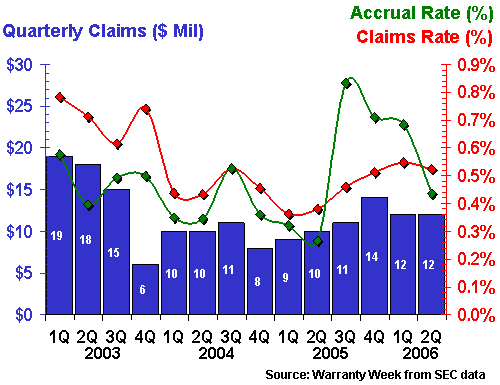 Then there are the increases. Everybody has been waiting to see some evidence of an improved supplier recovery process in the auto industry, and Visteon may be one of the first to show it. The Ford spin-off was at one point paying out only 0.06% of its revenue in warranty claims, at the same time its former parent was paying out 2.5%. Now, Ford is paying out 2.8% while Visteon is paying out 0.23% to 0.25%.
Is this proof that supplier recovery efforts have picked up? Historically, automotive suppliers as a group have paid out only 0.7% of their revenue in warranty claims, while their OEMs have hovered closer to 2.5%. Therefore, while Visteon is below average for a parts supplier, Ford is above average as an OEM. And Ford is up $95 million so far this year while everyone else is up $50 million. So the numbers don't yet support the premise that a shift is under way.
Figure 3
Visteon Corp.
Warranty Claims & Accruals,
2003-2006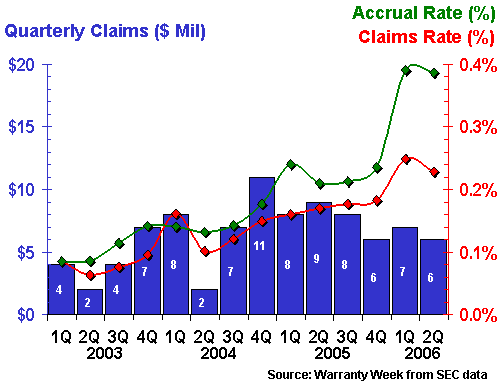 Another company that has turned in steadily increasing warranty costs is recreational vehicle maker and modular home builder Coachmen Industries. Warranty costs peaked during the first quarter of 2006, with a $9.9 million payout representing 6.1% of revenue. But it's as if the company saw it coming. As Figure 4 illustrates, accruals peaked at 6.1% exactly six months before, meaning that the company saw a need to set aside that percentage of its third quarter 2005 revenue to finance future warranty claims. When those claims did in fact materialize, the company had the money ready. Coachmen's warranty reserve, which stood at $10.8 million in June 2005, was at $13.4 million in June 2006.
Figure 4
Coachmen Industries Inc.
Warranty Claims & Accruals,
2003-2006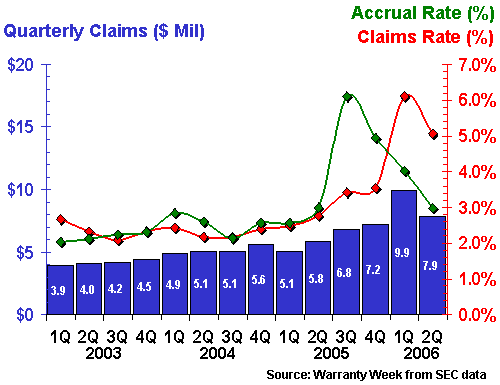 Now, let's shift the focus from upward and downward trends to four companies that have shown highly cyclical warranty spending patterns over the past two-and-a-half years. That's not surprising, given that they all manufacture highly seasonal products, which sell the best as the season starts and break the most as the season ends.
Let's start with two cold weather companies. Both Polaris Industries and Arctic Cat manufacture snowmobiles as well as all-terrain vehicles, and one would think that the seasonality of one would cancel out the effects of the other. But one would be wrong. Especially in the case of Polaris Industries in Figure 5, the winter peaks are getting higher and higher.
Figure 5
Polaris Industries Inc.
Warranty Claims & Accruals,
2003-2006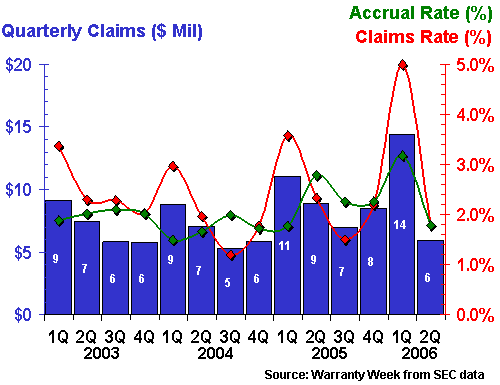 It's a little better for Arctic Cat, which is actually both flattening out its claims rate and cutting it from recent highs. Back in 2003, claims soared to 4.5% of product revenue, then quickly fell under 1.6%. But the peaks during each of the past three winters have trended downward: 2.5% in 2004; 1.8% in 2005; and 1.5% in 2006. And the non-winter claims rate seems to have settled into a more manageable 1.2% to 1.7% range.
Figure 6
Arctic Cat Inc.
Warranty Claims & Accruals,
2003-2006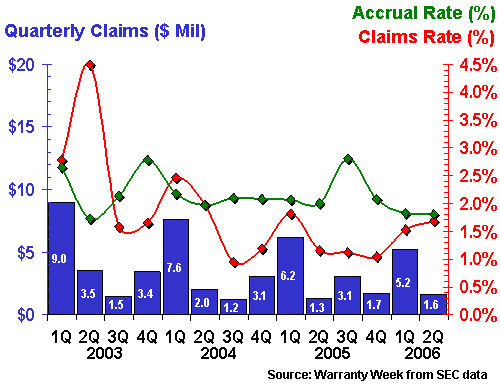 The ultimate summer vehicle would have to be a Harley-Davidson motorcycle, driven heavily in the warm months and put away for the winter. Sales patterns are also cyclical, driven as much by Harley's new model introduction schedule as by the weather.
As seen in Figure 7, Harley's warranty claims rate hits a peak during the summer and a valley during the winter. Well, it does most of the time. The peak wasn't all too high in 2004 and the valley wasn't very low in 2006. And in fact, claims have never been higher than they were in the spring of 2006. So perhaps what we're seeing is the beginning of an upward trend?
Figure 7
Harley-Davidson Inc.
Warranty Claims & Accruals,
2003-2006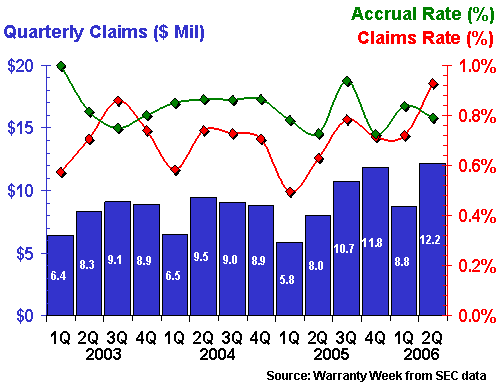 One wouldn't ordinarily think of lawn mowers as automobiles, unless one has seen the movie "The Straight Story," chronicling the interstate trip that Alvin Straight made on a lawn mower. He actually drove a 1966 John Deere 300 miles from Iowa to Wisconsin, with lots of eventful stops along the way.
We're not going to suggest lawn mowers as replacements for the family car, though it might be fun to see what a John Deere could do with a Harley engine on board. And we've already documented the seasonal nature of Deere & Company's warranty experience. So let's take a quick look at another lawn mower company: Toro.
Figure 8
Toro Co.
Warranty Claims & Accruals,
2003-2006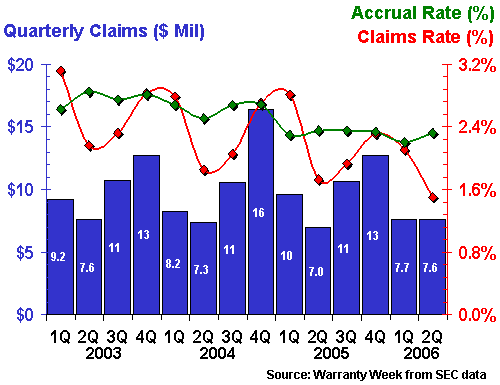 Ironically, one of Toro's most recent new model launches was of the Groundsmaster 7200, a machine that can convert "from mow to snow" with an optional attachment. But as Figure 8 suggests, Toro already sees its warranty claims rate peak during the coldest months. One might think that has more to do with a pattern of slow sales of lawn products while there's snow on the ground, but look again at the chart. Claims in dollars (the blue bars) actually peaks during the fourth quarter of each year, while the claims rate peaks one quarter later, when sales do indeed take a dip. The good news is that Toro's claims always fall back in the second quarter, and for three years running have been trending downwards as a percentage of revenue.