February 14, 2007
Warranty Conference Keynotes:
Globalization is already a major trend in warranty service provision, according to WCM Conference keynote speakers from Solectron and Lenovo. Next month, they'll tell the Conference that what's happened to them is what may happen to everyone else soon, as mobile phones and laptops amplify global demand for warranty service -- turning next week into next-day.
When warranty industry professionals gather in Tampa in four weeks to attend the Warranty Chain Management Conference, one of the major themes is likely to be the coming globalization of warranty services.
Basically, the levels of service that American customers have grown used to getting are the levels of service that customers in other countries will soon be demanding, according to WCM opening keynote speaker Steve Manning, senior vice president of global services at Solectron Corp.
"People in places like Dubai or Sudan want the same level of service they'd get in Chicago or Seattle," he told Warranty Week. Sounds unlikely? It's already happened in some of the industries that Solectron serves, such as mobile telephone handset repair services.
Worldwide Warranty Services Footprint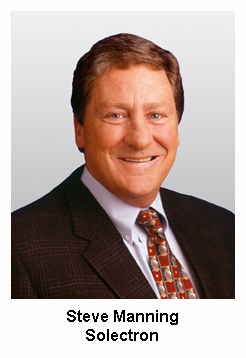 Solectron now operates repair centers in 20 locations, including eight in the Americas: Toronto; Louisville KY; Memphis TN; Raleigh NC: Austin TX; Milpitas CA; Chihuahua, Mexico; and São Paulo, Brazil; five in Europe: Warrington, England (near Manchester); Cwmcarn, Wales (near Cardiff); Rosmalen, Netherlands (near Eindhoven); Plzen, Czech Republic (between Munich and Prague); and Budapest; and seven in Asia/Pacific: Bangalore; Singapore; Sydney; Shanghai; Beijing; and two in Japan: Tokyo and Koriyama (three hours north of Tokyo).
Solectron's major customers for warranty repair services include the Lenovo Group Ltd. and Nokia Mobile Phones. Already, laptops repaired in Sydney have the same service delivery requirements as in Memphis. Mobile phone handsets are repaired or replaced just as quickly in Singapore as in Toronto. But what's surprising is that service in Bangalore is also now on par with the levels seen in Singapore.
"We have 30 storefronts that we operate [in Bangalore] where people walk in and get one- or two-hour service," Manning said. "Outside, it's a dirt street, with cows and bicycles. You wouldn't think the level of technology, and the demands for service -- well, it certainly isn't reflected in the surrounding area." But there are numerous small businesses in these towns being run on pencils, paper, candles, and cell phones.
Bypassing the Superhighways
What's happened is that in developing countries, laptop and mobile phone technologies have completely outflanked the usual infrastructures. All you need are a few hours of electricity a day to charge your laptop and phone batteries. You don't need a wired phone network, cable TV, electric lights, water pipes, railroads, or paved roads to make these technologies useful. All you need is a cell phone tower on the roof of a tall building and in the case of laptops, perhaps a wi-fi hotspot in the town square. So you have people whose homes never have and never will be passed by copper, fiber, iron, or asphalt suddenly demanding next-day or even same-day repairs of their notebooks and mobile phones.
"We're getting demands from the wireless customers before we get demands from the computing or telecom customers because in many cases, it's cheaper for a country to put a wireless network up than a wired network," he said. "And Nokia is very aggressively involved in developing countries, because they can get in early and amass a very large market share."
So what Manning plans to do at the WCM Conference is serve a warning to all warranty professionals that they ought to get ready for increasing demands for high levels of service in places that are nowhere near the capital cities of industrialized countries. He's not talking about second cities like Manchester and Lille; he's talking about getting ready to do business in places like Khartoum and Mysore.
"I look at what it takes to deliver service into not just developed metropolitan areas, but also developing countries and developing cities," Manning said. Because Nokia is a major customer, he said, he needs to plan for the spread of mobile phone technology to a whole list of places that haven't been on the map for warranty services. Meanwhile, all these places that were previously on the fringe now want to be treated like the top tier.
"Three or four years ago, if it took a week or so to get a service part to Moscow, everybody was OK with that. Now they want parts by 9:30 the next day," he said. "If you're a user of technology, especially if you're a transplanted user of technology, you've grown to have those expectations."
Mobile Phones Are Just the First to Go Global
Manning said that what he sees happening now with mobile phones is what he thinks will happen in a few years with computers and data communications gear. Next week will give way to next day. And those who cannot meet those demands will suffer.
"Once you get wireless working, you can start putting routers in place and computing in place," he said. "Once that infrastructure is installed, then the rest of the technologies that we deal with can start to acquire installed bases."
Manning came to Solectron in July 1999, when it acquired a company he was running called Sequel Inc. The company, which performed aftermarket service delivery for the disk drive industry, was itself spun off from Unisys 10 years before. Disk drive repairs led to diversifications into laptop and notebook computers, then Internet hardware, and eventually mobile telephone gear. In some respects, this is what's happening in reverse, as Solectron's customers seek to globalize their repair capabilities.
Manning said he hopes that at WCM, people from various industries can compare notes, not only among the high-tech fields that Solectron serves, but also into automotive, aerospace, and appliances. "I think some of the discussion that will evolve at this conference is exactly that: industries will start to compare our challenges to each other," he said. "The challenge faced by everybody, whether they're automotive, medical, or electronics, is that end user demands and requirements are increasing every day, and there's still a whole lot of pressure to do more with less as far as service delivery."
Meanwhile, in China, the Lenovo Group has for a long time been serving high-technology customers in cities far off the beaten track. At times, it uses the state railroad to deliver parts, as IBM did when its logistics network in China was referred to as the "Blue Express." So once again, millions of people who were bypassed by the wires and roads are getting used to high levels of service for their laptops and mobile phones.
Bill Owens, vice president of service and technical support at the Lenovo Group, will deliver the keynote speech on the second day of the WCM conference. And once again, his theme will be the globalization of warranty services.
Living With Globalization
Like Manning, he's lived with globalization, so he won't so much be predicting the future as he will be recounting recent history. Lenovo acquired the IBM Personal Computing Division in May 2005, roughly 21 years after launching itself as a consumer PC company in Beijing called Legend. Owens made the switch from IBM to Lenovo, and has been racking up the frequent flyer miles on trips across the Pacific ever since.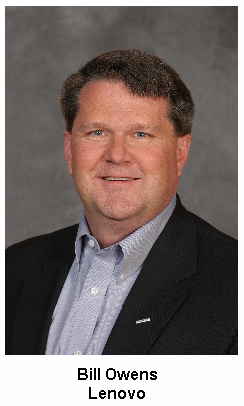 "What I want to do is take the opportunity to go through the do's and don'ts and some of the issues we've wrestled with over the last two years trying to integrate two companies together and trying to have a cohesive warranty management service and support process on the back end," he said.
Owens said he's been in the computer industry for 25 years -- the first 23 with IBM and the past two with Lenovo. He joined the IBM PC Division in early 1986, and spent most of the next 15 years in manufacturing and supply chain activities. For the past five years, he's specialized in service and tech support.
"I have worldwide responsibility for warranty operations -- everything from vendor management and third party management to warranty claims processing," Owens said. "On the technical support side, I have responsibility for all of the Web interfaces: anything on an e-support site, such as downloads, drivers, or BIOS. And I'm also responsible for worldwide customer complaint management."
So Smooth Nobody Noticed?
One of the goals of the IBM-to-Lenovo switchover was to have it go so well that most customers didn't even notice. Therefore, Lenovo outsourced the call centers to IBM, as well as the spare parts management. So externally, at least, it really seemed the same.
"We wanted to make sure it was a completely seamless transition," Owens said, "so that every aspect of service delivery was completely transparent to the customer." Therefore, there were to be no new processes and no new management systems forced upon the customer base.
So how did it go? "We think we did pretty well," Owens said. He kept a careful eye on the customer satisfaction stats coming out of independent monitors such as Technology Business Research, PC Magazine, and PC World. "Our goal was to hold our own," he said. "But we actually crept up into a little stronger position. Not that we were doing anything differently. I just think there was more focus, because people were watching to see if this was an area where we were going to stub our toe."
Owens said that during his keynote speech on March 15, he plans to talk in great detail about some of the challenges Lenovo and IBM faced. One of the major lessons learned, he said, is that integration isn't always possible. For instance, Lenovo in the U.S. is outsourcing numerous service-related tasks to IBM and others while Lenovo in China prefers to keep everything in-house. "They run their own call center. They do their own dispatch. They do their own parts redemption. Everything is internal," Owens said.
In a year or two, the whole company may be working on a consistent SAP-based IT infrastructure, but for now the IBM and Lenovo teams are still using whatever they had pre-merger. Right now, though, that's an impediment to any thoughts of deeper integration.
Another more basic challenge was making sure everyone was speaking the same language. Most of the Chinese staff have now become proficient at English, but still there are some differences in terminology.
"We spent a lot of time making sure our definitions were the same for failure rate, repair action, and what constitutes a warranty claim," Owens said. "And then there was a whole series of KPIs and SLAs [key performance indicators and service level agreements] around warranty management. We spent a lot of time trying to understand if we were comparing apples to apples."
The Devil Is in the Details
Owens said he suspects that what happens is that there's broad agreement about the top-level concepts such as failure and claim, but then the incompatibilities appear as things get more specific and detailed. And it's not so much to do with differences in language as it is about differences between companies. Even two companies based in Texas could find they're speaking different languages when it comes to warranty nomenclature.
"The way certain things were calculated were slightly different," he said, "even down to failure rate calculations, annualized failure rates at the component level, mean time to fail. So we had the quality teams and the development teams spent some time to make sure we had common definitions."
There were differences in customer bases, with IBM focused on large enterprises and Lenovo focused on consumers and small businesses. Therefore, their approaches to everything from spare parts management, supplier terms and conditions, and customer escalation processes were different.
And then there was the differences between English and Mandarin, or more specifically, between American English and Chinese English. For while the Chinese staff have made great strides in learning proper English grammar, they evidently haven't had much exposure to Southern expressions.
"I'm just a country boy from the mountains of North Carolina," Owens said. So one time in Beijing he told the chairman and all his VPs that he was "happier than a pig in mud." And of course, they all wanted to know more about the pig.
Also, the Chinese approach to problem solving relies heavily on slow and deliberate consensus-building, while the folks in Raleigh were more accustomed to following orders bellowed from the top.
The Meaning of Short Term
Their sense of time was also different. It wasn't just the 12- or 13-hour difference between Beijing and Raleigh -- that could be managed by scheduling conference calls in the evening and making heavy use of email. The bigger challenge was getting past the American focus on the next quarter versus the Chinese focus on the next three to five years.
Most importantly, Owens said that he found that warranty cannot be managed centrally on a global basis. Directions and goals can be set centrally, but they must be managed locally -- as close to the customer as possible.
"Make sure that your geographic teams are strong enough to carry the load," he said. "The worldwide role can be more about policy setting and top-line direction setting, but it shouldn't get bogged down in the day-to-day operations."
However, Owens also noted that IBM internally was working on these kinds of challenges even before Lenovo came along, because for years IBM has been manufacturing most of its ThinkPads at a factory in Shenzhen, just north of Hong Kong. In fact, of the 10,000 or so employees who switched from IBM to Lenovo two years ago, roughly half were already based in China, he said.
The approach that seems to work best, especially with services, is a combination of central and geographically distributed management, Owens said. Even when it was IBM, he had worldwide responsibilities while people under him had geographic responsibilities.
Over the next few weeks, we'll be previewing several other aspects of the WCM conference, which begins exactly four weeks from today (with a series of pre-show workshops and industry meetings on March 13). There's a whole track on globalization planned for Wednesday morning, as well as a closing panel discussion on globalization planned for Thursday afternoon. More details are available online at http://www.warrantyconference.com/