March 20, 2007
The Chief Warranty Officer:
Having detected something of a plateau in warranty activity, one speaker at the WCM Conference calls for the creation of a job position that cuts across the many departments with interests in warranty. Yet some top executives still see warranty as nothing but a cost that needs to be reduced, and pay little attention to its potential to increase customer loyalty or build a brand's image of quality. Perhaps that's why a warranty champion is needed?
During the opening session of the Warranty Chain Management Conference last week in Tampa, Joe Barkai, the practice director at Manufacturing Insights, an IDC company, shook up attendees with a 40-minute presentation that found fault with the way both manufacturers and software vendors approach warranty.
"Who really knows about it outside of our community?" he asked the packed auditorium at the Hyatt Regency. Most Chief Executive Officers still treat warranty as a cost that needs to be reduced. Even at companies that "get it," he said, the CEOs frequently set a percentage goal for warranty cost cutting. They don't often tell their shareholders that warranty is an investment in customer loyalty and market share maintenance.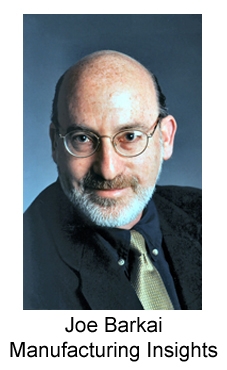 Barkai began his presentation by noting that the U.S.-based warranty industry is expected to report around $29 billion in claims cost for 2006. "This is a huge amount," he said. "This is the size of a small country," naming Jordan (2006 GDP: $28.89 billion), Paraguay (2006 GDP: $30.64 billion), and Uruguay (2006 GDP: $36.56 billion) as examples.
"It's a large economy," Barkai said, "and it's an economy in trouble."
The signs of trouble are everywhere, he suggested. Last March, Barkai brought the results of a survey with him to the WCM Conference in Las Vegas which found that less than 20% of the companies that responded were recovering sufficient amounts from their suppliers to compensate for what he called "adverse quality," also known as product failures which generate warranty costs for the OEM. Around 59% estimated they recovered 39% or less of what they thought they were due, while 21% didn't have an answer to the question.
When prompted later during a Q&A session, Barkai suggested that the top reason for this might be a kind of unwillingness by many OEMs to inflict some of their own pain upon their suppliers. In the auto business, for instance, several major suppliers are already in bankruptcy, and any further increases in their costs could deliver a knockout punch from which they would not recover. So the general lack of supplier recovery success stories may have little to do with transaction processing or data format incompatibilities and lots to do with a lack of will.
This year, Barkai told the WCM gathering that in a survey conducted in the past few weeks (and done so partially through the pages of Warranty Week), he focused more on awareness. Specifically, he found that both the engineering and information technology departments are only slightly familiar with the whole warranty process. Awareness was found to be highest in the quality department, followed by finance, operations, and manufacturing.
Tracking Warranty Awareness
In the following chart, the dark blue bar tracks the percentage of responses that said a given department was "very aware" of warranty. The light blue bars track the percentage of responses that said a given department was "not aware at all." The violet bars track those who were said to be "quite aware," and the light yellow bars track responses of "somewhat aware."
As the chart shows, almost 85% of the respondents said their quality departments were "quite aware," or "very aware" of warranty. Somewhere between 70% and 80% of the respondents gave the same rankings to their finance, operations, and manufacturing departments. But the respondents ranked less than 70% of their engineering departments that way, and in fact the majority of IT departments were said to be only "somewhat aware" or "not aware at all."
Figure 1
Warranty Awareness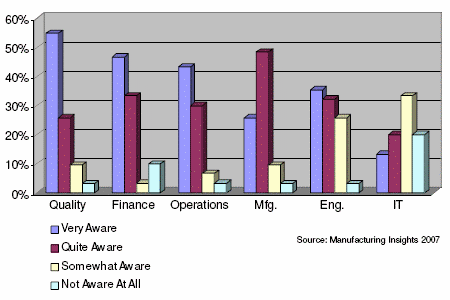 "It's not on the top of their agenda," Barkai said. "It's not something that keeps them awake at night." Indeed, he also asked respondents to rank the importance of warranty management to their company's top executives. Half said they thought it was very important to their top executives, but 40% said it was only somewhat important, and 10% said it was not important at all. This contrasts with the rankings assigned by the survey respondents themselves, of whom 73% said warranty was "very important" to them and the rest said it was "somewhat important."
None of the respondents said that warranty was of no importance to them, but then again, why would people with that mindset be filling out a warranty survey in the first place? Why would they be reading Warranty Week? And why would they travel to Tampa to attend a warranty conference?
It's highly likely that the people responding to Barkai's surveys, like the wider readership of Warranty Week and indeed the typical WCM attendee who heard him discuss the results, are among those who "get it." And conversely, perhaps those who don't care about analytics or supplier recovery or indeed warranty in general are still among those who never thought of it as a brand building opportunity. To them, it's still merely a cost that needs to be reduced.
Barkai cautioned that the results of this survey were far from statistically valid, primarily because those who responded were self-selected. They chose to participate, and many chose to do so after clicking on a link in Warranty Week. It's like asking readers of a financial publication if they care about Wall Street, or asking readers of the sports section if they care about college basketball.
However, not all the questions were about the respondents only. Some of the most revealing questions asked respondents how they thought others in their companies viewed warranty. And by their responses, many of the survey participants reported that they believed warranty was less important to their superiors than it was to them personally. There's a widely-held belief across the warranty community that warranty remains neglected and overlooked outside of this community, except when someone in the executive suite cites it as a cost that needs to be cut.
In the responses Barkai's survey collected, "everybody feels that warranty is very important or somewhat important, but they don't think their executives see it the same way," he noted. "Again, it's a testimonial of how well the corner office really understands warranty issues."
Warranty Tool Rankings
The next couple of questions asked what companies were doing about warranty, in terms of installing different types of warranty software tools. Last year, 37% of the respondents said their budgets for warranty software tools were increasing, while 52% said it was about the same (the rest said they didn't know). This year, almost half said their budgets were increasing, while only 45% said it would remain the same, and only 6% said they didn't know. So the picture is getting a little brighter for warranty software tools.
At least, Barkai noted with relief, "no one said the budget was decreasing." But he still said it was a bit of a mixed message, with half seeing their warranty tools budgets increase and half seeing them stay the same. In addition, he noted that he didn't ask the respondents if they thought these amounts were adequate, whether they were growing or staying the same. Perhaps that's a topic to explore in a survey next year?
Next, Barkai's survey focused in on what specific types of warranty software tools are actually being purchased or are at least under consideration. Here, the news was somewhat brighter. Around 60% of the respondents said they had already implemented some kind of warranty transaction processing system, while another 30% said they were in the process of doing so. Only 10% were still in an evaluation phase, and none said they had no plans at all in this category.
Figure 2
Status of Warranty Tool Implementations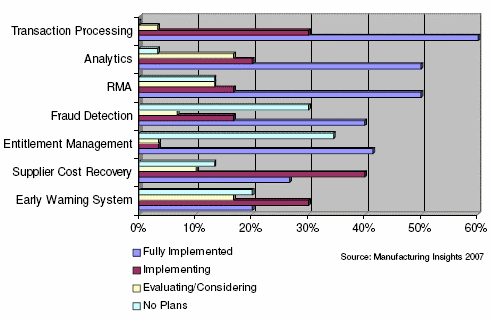 However, that was really the only category out of the seven Barkai cited that was in such good shape. Only half said they had implemented a warranty analytics or return merchandise authorization package. Another 20% said they were in the process of implementing analytics, and 16% said they were implementing an RMA package. The rest were either still in evaluations or said they had no plans in these areas.
Just over 40% said they had implemented an entitlement management package, and just under 40% said they had implemented a fraud detection capability. But almost as sizeable numbers -- 34% for entitlement management and 30% for fraud detection -- said they had no plans to even consider such tools. Given the heavy interest shown later in the WCM agenda for efforts to detect and reduce warranty fraud, the size of this "no" response is somewhat surprising.
With supplier cost recovery software and early warning system software, 40% and 30%, respectively, said they were in the process of implementing, though only 26% and 20% had already done so. The good news here was that less than 20% said their companies had no plans to implement these tools.
Preaching to the Choir?
"I suspect that part of the reason is the exposure that events like this are giving to the situation," he told the WCM attendees. "I remember last year and the year before, we talked a lot about supplier cost recovery. And whether it was us or something else, we see companies actually going and implementing supplier cost recovery systems, because their obligations need to be transferred down the value chain.
"Early warning systems are always an interesting topic in our conferences," he continued, "and, I don't know if this is a surprise or not, but it does not seem that most companies believe they are there, nor are many companies working on it."
Overall, Barkai said, the results suggest that the industry is still in a relatively young state, and that different tools are being installed at different rates. "It's a very uneven landscape," he said. "The way I would characterize this is we have many laggards and very few leaders, and they're all over the place."
Most people have warranty transaction processing systems or soon will, while most have at least some interest in analytics. And he said he sees "cautious" interest in early warning systems. Fraud detection and entitlement management, he said, are still relatively low priorities. So some of these are done, and some are on the way. But what he doesn't see yet is any kind of enthusiasm building for doing so.
Is the Choir Losing Interest?
"I don't know if this is a kind of call for action yet, but we seem to be losing some interest in this entire topic," he said. Last year, he asked survey respondents if they saw increasing, decreasing, or the same level of awareness in warranty as they did two years before. Just over half said higher, and 25% said the same, while only 10% said lower.
In the 2007 survey, nobody said lower, but the balance shifted to 40% higher and 50% the same (the rest said they didn't know). This, Barkai suggested, might be the canary in the coalmine, signaling that perhaps priorities are beginning to shift elsewhere now that the transactional challenge of warranty is more or less done (or will be soon). But there wasn't really enough data, and the sample size wasn't large enough, to reach any firm conclusions.
However, when he compares these results to the anecdotal evidence he's gathered through conversations with manufacturing executives, Barkai said he does see more evidence that a shift is under way. "The truth is that CEOs don't really see warranty as a priority," he said. Instead, many see warranty as an exposure or a liability that needs to be reduced, and not as an opportunity that needs to be exploited. "CEOs are really concerned about growth and market share. They look at top-line growth before they look at expenses. And again, this is a broad statement. Obviously, some are busy with cutting costs. But as a CEO, [they see] their role as more about the top line and growing and protecting market share -- not cutting expenses."
Barkai said it's still difficult for CEOs to see warranty as any kind of opportunity for their companies. They don't see the brand-building opportunities of warranty, nor do they see it as an opportunity to impress customers with their service capabilities. It's simply a cost of doing business -- one they wish was smaller.
Fixing Quality vs. Exploiting Warranty
Ironically, one shortcut method they see of doing this is to "fix quality," Barkai said, which in theory should reduce warranty claims and therefore lower warranty costs. There's a belief that warranty is simply the result of adverse quality, so if you fix the former, you fix the latter too. Whatever still gets through is very transactional: a product fails, it's brought back, it's fixed, and the manufacturer pays.
"Fixing the root cause is the priority," he said. And the root cause of high warranty costs is taken to be low quality. "This is the view in many corner offices," he concluded.
Warranty tool vendors aren't helping much to make the case to upper management, though. Barkai said they still sell "technology-driven point solutions," so it's no wonder the sales cycles and implementations still take so long. They tend to lead with the product, to describe its features -- its "cool stuff" rather than the value proposition it provides. And even if they can somehow speed up the sales cycle or implementation phase, it still takes a long time for results to actually appear, because of the lag time between new product sales and warranty repairs.
Barkai flashed a few warranty software vendors' diagrams on the screen, saying one looked complicated and other was just plain "scary." While he conceded that warranty was a very complex topic that touches upon numerous parts of a company, he said the tools vendors aren't making it any easier to understand. And while the IT department might understand the block diagrams and architectures of the software, they don't really understand the warranty process.
Many potential customers, he suggested, are therefore being scared away before they ever begin serious product evaluations and are retreating back into their homegrown Excel-based tools, which work well enough if all you want to do is pay claims in a timely manner. And, we might add, they're typically not paying for airfare and a hotel in Tampa to get a closer look.
Islands of Success
It's not so much that Barkai stood up and said there have been no successes. In fact, he readily conceded that the rest of the two days of WCM conference programming would be filled with warranty success stories. "But they tend to be very isolated. And they tend to be kept within this community. And what we need to do is get these stories out of this community to the corner office, to the CIO's office, to the CFO's office."
How can this be done? If they won't go to warranty conferences and they don't read warranty newsletters, how will they ever hear that there's more to warranty than the cost of adverse quality?
"Have you ever considered developing the role of a 'Chief Warranty Officer'?" Barkai asked the attendees. "It could be part of being a Chief Quality Officer. I don't really care. But someone has to articulate a message that talks about the warranty-satisfaction-loyalty connection. Right now it's all fragmented. Warranty is indeed a quality window. But it's also part of the customer relationship. It's part of maintaining loyalty to the brand and it's about maintaining market share."
But does the CEO typically make this connection? Barkai said he doesn't see it happening within too many companies. A Chief Warranty Officer could be what's needed: somebody making the case internally for warranty as more than merely a cost that needs to be reduced. Indeed, what about all the calls from customers who are having trouble with installation, assembly, or use of a product? Such data gleaned from the call center may rarely rise to the level of a warranty claim, but that kind of feedback could prove invaluable to those designing the next generation of a product.
"As a long-term strategy, you have to make warranty an integral part of the product design," Barkai advised. "Warranty is not an afterthought. It's not what happens after. It's part of the product design. Some companies are really good at writing warranty goals into their product. If I'm the designer, engineer, or product manager, I should have warranty goals as far as failure rates, cost, or frequency. If I don't meet them, then it's my head. Few companies do that, but they are the companies that tend to excel in quality."
Needed: A Warranty Champion
In response to a question from the audience, Barkai said it's probably a more realistic scenario for warranty to become part of the wider job description of a Chief Quality Officer, rather than to hope for the creation of a post as single-minded as that of a Chief Warranty Officer. "The point being, you need to elevate it so that someone can see across the silos, and across the fragmented landscape, and put warranty on the front burner."
However, at the same time he cautioned that quality is frequently inward-looking, examining product failures from the point of view of engineering, design, and manufacturing. Warranty also looks outward, at the customer and the repair organizations that deliver service to that customer. Engineering and manufacturing don't usually have any market-facing role, he said. "The role of the Chief Warranty Officer would be to provide this porthole, as it were -- this window to the external world."