June 12, 2007
Warranty Reserves by Industry:
Longer warranties usually mean larger reserves. And in industries where warranties are getting longer, the ratio between claims and reserves is growing. But in some sectors, the need for earnings may be forcing companies to live with more risk and smaller reserves.
In theory, manufacturers are supposed to set aside at the time of sale enough funds to pay all warranty claims expected over the life of the product. In practice, they set aside whatever they can afford.
In theory, if a product carries a 12-month warranty, the accrual added into the warranty reserve at the time of sale should be equal to the amount expected to be spent on claims over the subsequent 12 months. If the warranty is three years long, the accrual should be equal to 36 months of expected claims.
In practice, just under half of all manufacturers now maintain a warranty reserve equal to between 10 and 24 months of claims -- or 10 to 24 times the amount of claims paid per month. A little over a quarter keep less than 10 months of capacity in their reserve, while around a quarter keep a balance of more than 24 months of capacity.
Sharpening Their Accuracy
Over the years, more and more manufacturers have fallen into the 10-to-24-month range, suggesting that this is indeed the "normal" range. Back in 2003, only 34% of manufacturers fell within these bounds. Last year, 47% did so. All the while, the average for all manufacturers has remained very close to 17 months, as depicted in Figure 1.
Figure 1
All US-Based Manufacturers:
Warranty Reserve Capacity, 2003 to 2006
(in Months of Claims)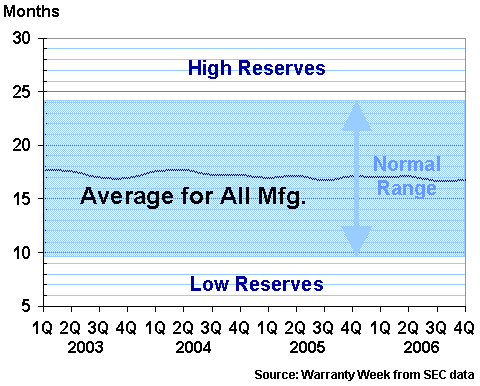 This is a weighted average, meaning that all the warranty reserve balances are added together, and then that total is divided by the most recent figure for claims paid per month by all manufacturers. So the fortunes of General Motors, Hewlett-Packard, Ford, Dell, and other very large warranty providers carries much more weight than all the small and medium-sized companies.
Back in the April 11 newsletter, we detailed all the typical claims rates seen for different warranty-providing industries over the past four years. In this issue, we're going to detail all the corresponding warranty reserve balances.
The claims rate, because it is calculated by dividing claims paid by sales made, is useful for making comparisons across industries and product lines. It doesn't matter if a sedan is $20,000 and a radio is $50. What matters is the percentage of that revenue that's spent on warranty work. Likewise, it doesn't matter if your revenue is a billion dollars or a half a million. What matters is the percentage spent on warranty.
Most companies provide separate figures for total revenue and product revenue. Unfortunately, some of their products may not carry warranties, which leads to an understatement of the claims rate. For instance, all of the chemicals and raw materials sold by a manufacturer are typically not covered by a product warranty. It might be counted as product revenue, though it's not warranted product revenue.
A warranty reserve capacity ratio may therefore be even more useful as a benchmark. It measures the size of a reserve not in dollars, but instead as a multiple of claims paid. If your warranty reserve balance is $5 million and you're paying out $500,000 a month in claims, your warranty reserve capacity is 10 months. If your balance is $30,000 and you're paying out $1,500 a month, your capacity is 20 months.
Since 2003, American manufacturers have been required to report their warranty reserve balance on a quarterly basis. They also report the net amount of claims paid over a certain number of months. Therefore, both of the figures required to calculate a reserve capacity are reported by each manufacturer. There's no ambiguity surrounding what is and what isn't in the reserve.
Longer Warranties Mean Higher Capacity
Different industries accrue at different rates, depending on what they expect to come their way in the form of warranty claims. The longer the typical warranty in a given industry, the higher the reserve capacity. Some of the longest warranties can be found in the aerospace and HVAC industries. Therefore, it's no surprise to find them above the 24-month level. Conversely, some of the shortest warranties are found in consumer electronics and semiconductors. And they're two of the industries most likely to see their average reserve capacity drop below 10 months.
In Figures 2 through 8, we've grouped together numerous industries and product types in packs of three to five at a time. Figures 2 to 4 cover transportation vehicles. Figures 5 and 6 cover electronics, computers, and other high-tech products. Figures 7 and 8 cover all the materials and machines used in the building trades.
In Figure 2, it's clear that the aerospace industry accrues warranty funds at a far higher rate than other industries. Back in 2003, the industry held reserves equal to more than three years' worth of claims, which is only to be expected when parts of commercial aircraft carry warranties up to 12 years long.
Boat manufacturers, meanwhile, keep their reserve levels closer to 18 months, while automobile manufacturers stick closer to 20 months. While their warranties are typically longer than that, we suspect that some warranties expire on mileage or usage long before their time is up. Others expire when the product is sold or traded in. We suspect that the warranty providers factor this into their accrual calculations.
Figure 2
Air, Auto & Boat Manufacturers:
Warranty Reserve Capacity, 2003 to 2006
(in Months of Claims)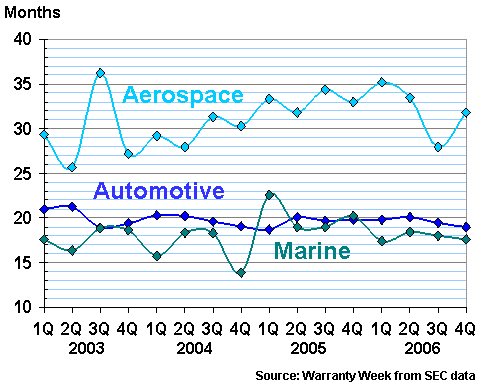 Notice how flat the line is for auto. We suspect this is a sign that auto manufacturers are typically very good at predicting future warranty claims, and adjusting their reserve balance to reflect those predictions. As claims rise or fall, so does the reserve balance, keeping its capacity at a close-to-constant rate.
In Figures 3 and 4, we're diving a little deeper into the automotive industry, splitting the world of wheeled vehicles into 10 smaller units. All 10 segments managed to keep their reserve capacities below 24 months over the past four years, although three were below 10 months in 2003.
Figure 3
Automotive Manufacturers:
Warranty Reserve Capacity, 2003 to 2006
(in Months of Claims)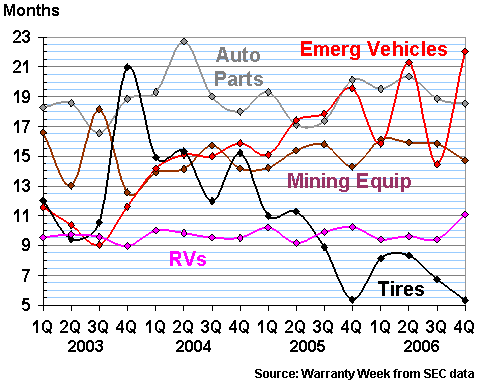 Notice that in 2006, only the tire segment fell appreciably below the 10-month level. This is caused in large part by Goodyear Tire & Rubber Company, which has allowed its reserves to dwindle to unusually low levels. Even though its reserve is as large as it's ever been, claims are also being paid at a high level. But don't worry. The $3 million a month the company paid out in claims last year was well below a quarter-percent of total product revenue.
Notice also that the recreational vehicle segment remains stubbornly close to the 10-month level. This may be a sign that the companies in the RV segment are more accustomed to keeping their reserve capacity as small as possible without getting reckless. Given that their typical claims rates are relatively high, there's far less margin for error.
No Link Between Claims Rate and Reserve Capacity?
If tires have a low claims rate and RVs have a high claims rate, then why are their warranty capacities both among the lowest? It must mean that there's no correlation between the claims rate and the warranty capacity. Instead, we think the latter ratio is a good indicator of a company's tolerance for risk. Obviously, both tire and RV makers are both comfortable with rather thin cushions to shield them against spikes in claims. The difference is that while Goodyear's claims rate is at 0.2%, the RV makers are closer to 3% or 4%. So for them, a claims spike is going to be followed by a massive hit to earnings.
In Figure 4, only the bus segment falls below the 10-month level, and it does so in only one quarter. Most of the five segments, in fact, are bunched up around the 16-to-18-month level, which of course is the neighborhood of the average for all manufacturers.
Figure 4
Automotive Manufacturers:
Warranty Reserve Capacity, 2003 to 2006
(in Months of Claims)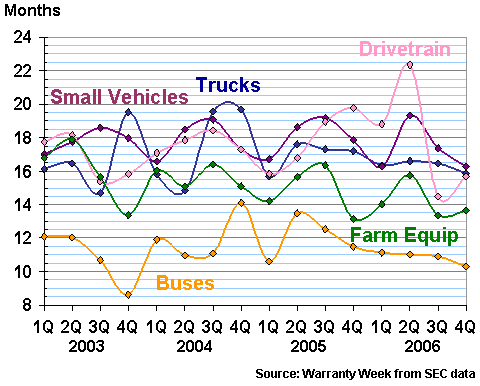 Figures 5 and 6 detail seven sectors of the wider electronics industry. Notice how consumer electronics, semiconductors/PCBs, and medical/scientific equipment are the only sectors to dip below 10 months, though the story in telecom equipment is one long decline in reserve capacity.
If telecom equipment warranties were getting shorter in their duration, one might assume that manufacturers in that sector are reducing their reserve capacity in response. However, since those warranties are not generally getting shorter, some other factor must be at work. Could it be that telecom manufacturers are learning to live with more risk as time goes by? And could that have something to do with their need for earnings growth?
Figure 5
Electronics Manufacturers:
Warranty Reserve Capacity, 2003 to 2006
(in Months of Claims)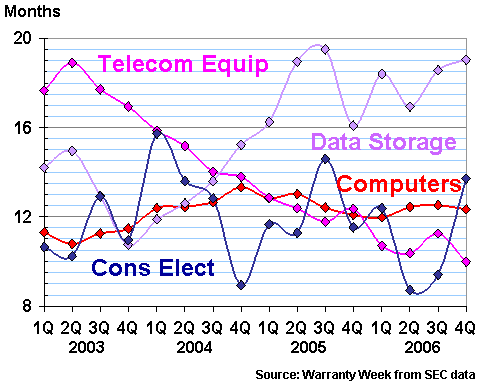 It may be a similar story for medical/scientific equipment and semiconductor manufacturers. In 2003 and 2004, warranties averaged one year and so did reserve capacity. The dips in 2005 and 2006 may have less to do with changes in warranty duration and more to do with the need to boost earnings by keeping reserves at a low level.
In contrast, computer manufacturers are keeping their reserve capacity close to one year, which is close to the average warranty duration. In disk drives, warranties are getting longer and reserve capacity is rising. Peripherals took a dip in 2005, but have otherwise remained between 12 and 18 months. So in these sectors, at least, companies are adjusting their warranty reserve capacity to match business conditions, rather than to make their numbers.
Figure 6
Electronics Manufacturers:
Warranty Reserve Capacity, 2003 to 2006
(in Months of Claims)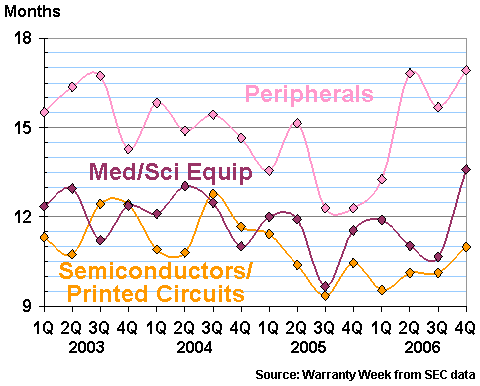 In the building trades, some warranties are very long while others are very short. For instance, the major appliances and heating/cooling systems may carry five- or even 15-year warranties in some cases. That's why their warranty capacities tend to remain close to the 24-month level. The volatility is more a factor of the seasonality and unpredictability of claims. Typically, their warranty reserve balances remain little changed over the course of a year, even as claims rise and fall.
Figure 7
The Building Trades:
Warranty Reserve Capacity, 2003 to 2006
(in Months of Claims)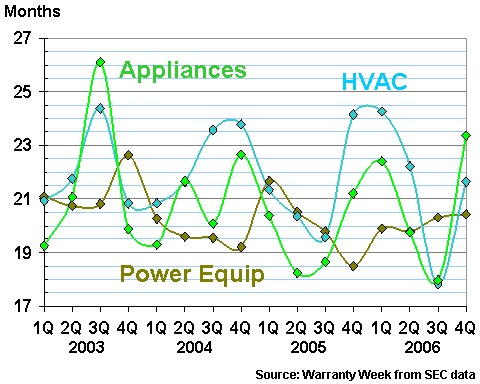 We placed the three high-capacity sectors into Figure 7 and the three low-capacity sectors into Figure 8. as with all these charts, the vertical scale has been reduced to make the curves as pronounced as possible. So what might at first seem like erratic behavior is actually much more consistent. For instance, the HVAC industry, as seasonal and volatile as it is, has kept its reserve capacity within the 18-to-24-month range for all of the last four years.
Figure 8
The Building Trades:
Warranty Reserve Capacity, 2003 to 2006
(in Months of Claims)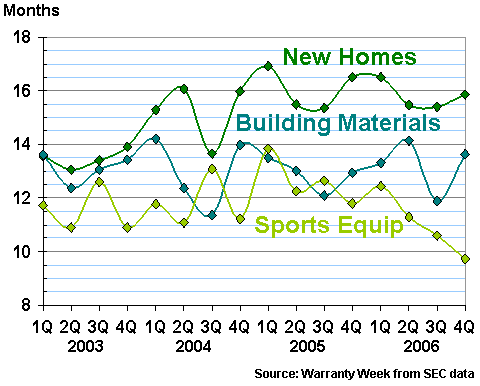 We only threw sports equipment and power generating equipment into these last two charts because frankly they fit less well into the vehicle or electronics groups. Turbines and generators have longer warranties than most products, and this is reflected in the sector's close-to-20-month average warranty capacity. Sports equipment, meanwhile, stayed close to 12 months for three years before beginning a sustained decline in 2006. It would be interesting to see if this had more to do with the shortening of warranties or shortfalls in earnings.
Making Your Numbers
The warranty numbers reported by manufacturers only begin to make sense when they're compared to other metrics. It's like the price of a stock. It's just a dollar figure until it's compared to another metric such as earnings per share (which of course is a ratio in itself). A stock whose current price is four times annual earnings per share is different from one whose P/E multiple is 400, even if they're both selling for the same dollar amount. And a penny stock with good earnings may be a better prospect than a Dow Jones Industrial company that's barely breaking even.
And like that price/earnings multiple, in warranty metrics there's an average and a typical range, which is different for each industry and/or product line. There's a typical range for the claims rate, and there's a typical range for the reserve capacity. What we're saying here is that after four years of reporting and refining their warranty metrics, manufacturers seem to have settled into a typical capacity range of 10 to 24 months, with an average of 17 months. Anyone far above that range either has very long warranties or very risk-averse managers. Anyone below that range either has very short warranties or daredevil managers.