June 26, 2007
Institute of Warranty Chain Management:
The time has come for companies in the warranty industry to write a check to fund the launch of warranty management training and certification services. If the fundraising goes well, individual memberships are set to follow by year's end.
The Institute of Warranty Chain Management has announced the signing of three founding sponsors and the possibility of signing at least two more in the weeks ahead.
Glen Griffiths, president of the iWCM, said each of these "seed sponsors" is expected to provide $10,000 to $15,000, which would qualify them for the middle-tier "Gold" level of sponsorship. But, he added, there is an urgent need to find several more sponsors in order to fund the launch of warranty management training and certification course.
"Basically, we want to put an appeal out there for companies to come forward on sponsorship," Griffiths told Warranty Week. "We've approached the individuals who were at the last conference who expressed that their companies might be interested in sponsorship. That's the first pass. We have two companies signed up for sponsorship [SAS Institute and Fulcrum Analytics]. They've actually given us money already. And we have two other companies that we're in discussions with, that expressed an interest [4CS and Pcubed]."
Volunteer Webmasters Appointed
SigmaQuest Inc., a business intelligence and solutions provider that is focused on helping manufacturers reduce warranty costs, has agreed to take on the task of improving and operating the iWCM Web site. As such, it is donating its time and skills to the iWCM, and will be counted as another founding sponsor.
"That's effectively virtual money for us, providing us capability and resources that they're paying for," Griffiths noted. "That's good, because it reduces the running cost for the organization."
Interestingly, each of these five companies are providing services and/or software to the manufacturers and retailers who in turn issue product warranties and/or sell extended warranties to their customers. They're not actually issuing product warranties themselves. However, Griffiths said some of those manufacturers and some retailers that sell extended warranties will be the target of this next sponsorship recruitment effort.
"The first year, we need more like $200,000 operational in order to put the training together," Griffiths said. To meet that goal, they'll need to attract at least 15 or 20 more sponsors. Can they do it? Griffiths said he hopes so. "If we look at the size of this industry, there definitely is a large amount of companies that have significant investments in the warranty space. I think the challenge for these companies is to decide whether they want to wait for the institute to emerge, and then reap the benefits of it once it's there," he said.
"And then there are the companies I would consider to be leading advocates of moving the industry forward faster," he added. "Really, the tradeoff for a company is what is the cost-benefit for them. Do they want to invest up front so they can get training and education quicker? Do they want a good Web site where they can go to get research papers and various other information? Without sponsorship, it will just basically take us a lot longer."
Sponsor Letter
The iWCM is now circulating a sponsorship proposal letter to interested parties. In addition to asking for money, it also provides an update on recent activity and explains some of the benefits of sponsorship:
Following a "call to action" at the 2006 Warranty Chain Management conference, a cross-industry charter team composed of representatives from several major manufacturers, subject matter experts and service providers met to define the mission, objectives and structure for the Institute. The Institute is now incorporated and the charter team has been replaced by a formal board structure.

iWCM offers a central point where Warranty professionals and business executives from multiple industries can access information on warranty-related events, process developments and improvements and learn about companies offering their services to the warranty community. It is a non-profit and independent Institute -- not associated with any parent organization -- and is chartered to fulfill its stated mission:



To advance the Warranty management profession and global Warranty industry by providing a unified voice for advocacy and leadership.
To drive industry capability through disciplines such as standards development, formal education and certification and via access to resources of all kinds in the area of Warranty Chain Management.
Griffiths said he sees this letter as "a call to action for companies across the warranty industry that want to see an acceleration of the establishment of an effective institute. We're ready now. It's time to step up and actually make this happen."
Cost vs. Benefit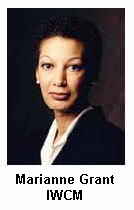 Marianne Grant, vice president of the iWCM and chairman of its funding and membership committee, said the benefits that accrue to sponsors will depend in large part on the level of their financial commitment. "We have three levels: Silver, Gold, and Platinum," Grant said. A Silver-level sponsorship involves a pledge of between $5,000 and $10,000 per year. The Gold level ranges from there up to $20,000, and the Platinum level starts at $20,000 per year.
Sponsors at all three levels will receive recognition on the iWCM Web site, Grant added. Platinum sponsors may also include a company logo and a hotlink on the Web page. She said Platinum sponsors also will receive 50 complimentary memberships. Gold sponsors will receive 20 complimentary memberships. Additional memberships above those levels will be discounted 15%. [Don't laugh: some of the largest warranty providers employ literally hundreds of warranty managers and analysts around the world.]
Silver sponsors don't get the free memberships, but they do qualify for the discount. Gold and Platinum sponsors also will be offered discounts on the iWCM education and certification programs expected to launch next year.
Individual memberships are not yet being accepted, Grant said. However, Griffiths said the target price level now under discussion within the iWCM will be $125 for individual memberships. Grant said that individual memberships will open once the iWCM has the corporate sponsorships in place, which will in turn fund the launch of services that will appeal to the target audience.
"When membership is available, it will include access to our Web site and resource center, it will include some privileges in terms of fees for training, and it will also include a subscription to the quarterly newsletter that we hope to publish," she said. "We think it's important for both our seed sponsors and in the future corporate sponsors that may join later, as well as our individual members, to see this as an organization that has some weight to it. So we don't want to pre-launch, particularly with individual memberships, before we have some of that in place. But to get there, we really do need those seed sponsorships."
Individual Memberships By Year's End?
If all goes well, Grant suggested, membership could open in the fall. The training and certification program should open in the winter. Before either can happen, the iWCM needs to have its Web site up and running, and equipped to handle signups for both. Grant said she would also like to see the first few white papers available on the Web site by then, so that passers-by will see a functional representation of the institute.
"It is a professional organization," Grant added. "And one of its primary objectives is to have in place a strong training and certification program for warranty professionals. So one of the reasons that we are waiting to open our full membership is that we want to be sure we have a good representative component of that in place, so that people are immediately receiving value from the organization."
Griffiths said now that the iWCM has approached all of the individuals and companies that expressed an interest at the WCM Conference three months ago in Tampa, "the next stage for us is to go out to a broader set of companies seeking support from them. But one of the hardest things is to find out who are the right people in the company to approach who can fund this sort of activity."
"What I'm looking for is companies that are in the warranty industry and would benefit from having a good core of warranty expertise," he added. "So we're putting out an appeal to all companies that would benefit from having a professional body of people that are experienced in warranty." And it's not just an appeal to American companies. He said the institute is keen to attract both members and sponsors from European and Asian companies, and will also recruit among the pool of warranty professionals from U.S. companies who are based offshore.
Griffiths said he is almost finished working through a list of 75 or 80 names of people who told him in Tampa that they want to contribute their time to the iWCM. "Now we're looking at what particular skill sets they have and how we can best use their skills to build the institute. We've pretty much fleshed out the organizational structure of the institute -- the committees, looking at what appointments we needed -- and we're individually approaching the first bunch of people who expressed an interest," he said.
"It's taken a little bit longer than we had hoped," Griffiths said, "because we had lots of volunteers, but we really had to understand where best their skills were aligned. I think when we went out and asked people if they wanted to help, we didn't ask the right set of questions first, which are 'what are you really interested in doing?' and 'what skills have you got?' That will result in a more effective building of the councils and committees."
The list draws heavily from people working in the electronics and automotive industries, as well as a few from the aerospace and homebuilding industries, Griffiths said. There are also names on the list representing some of the tool vendors, service providers, and consultants who work in the warranty and extended warranty space. But so far, not much interest has arisen from manufacturers of appliances, sports equipment, or medical devices, though Griffiths hopes this changes as the institute takes on a more definite shape.
Plans for WCM in San Diego
Meanwhile, the next Warranty Chain Management Conference has been scheduled for March 4-6, 2008 at the Hyatt Regency Mission Bay Spa & Marina (formerly the Hyatt Regency Islandia), in San Diego.
Glen Griffiths said he is now discussing the possibility of conference registration discounts being offered to iWCM members. He's discussing such a proposal with WCM Conference director Alison Griffiths, who happens to also be his wife. But even with this built-in family connection, the institute and the WCM Conference remain separate entities.
Griffiths said the goal is for the iWCM to offer the first one or two modules of a certification program during the opening day of WCM. "We're looking at 'Warranty 101' and possibly one other," he said. "And then we're looking to open membership towards the latter part of this year," for both individuals and companies.
Seed sponsors may also be offered a chance to have training modules offered at their offices for their employees, he added, although no firm schedule has yet been announced for this. But, he noted, "that will be one of the key benefits that may attract some of the bigger companies, like the HPs and the IBMs, that might be interested in that type of benefit."
Casting a Wide Net
Marianne Grant, who is in charge of both the sponsor and member recruitment efforts, said this call for action is going out far beyond the automotive industry that she knows so well (from her work with Snap-on Business Systems and the Automotive Industry Action Group) and the computer business that functions as Glen Griffiths' day job (he is HP's director of global engineering and technology services).
"We're looking to attract organizations that either are manufacturers or other kinds of companies that actually offer warranties to consumers -- so in other words they have a business around offering and managing warranties -- or companies that provide services to organizations that do that," Grant said. "That could include all kinds of services: legal, consulting, software -- any kind of solution or service provider."
She also suggested that third party administrators (of both OEM and extended warranties) and even educational institutions that have an interest in warranty may want to join. "We're looking anywhere where people have an interest in or are dealing with warranty," Grant said. "And we'd like both the membership and the sponsorship pool to be as broad as possible, both in terms of industry and discipline and also in terms of location."
"This organization was born from the wishes of the community around warranty," she added. "Discussions were held both this year and last year around the Warranty Chain Management Conference. As a result of those, a large number of people stepped forward and said they would be interested in this organization, and would be interested in helping to get it started and to maintain it. So it really is a groundswell initiative. It isn't something that has been invented from the air."
Plans for the iWCM Web Site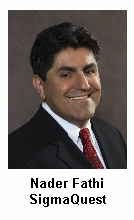 Nader Fathi, CEO of SigmaQuest, said his company decided to donate its time rather than its money because he knows how crucial a good Web site can be. "We met Glen Griffiths and the iWCM team at the show in Tampa," he said. "So when Glen was asking who can do what, we said we have a pretty savvy Web team here, and we agreed to volunteer to contribute our resources and our team to help put the iWCM Web site together and to maintain it."
The Web site team's kickoff planning meeting will occur this week, Fathi said. "It needs a lot of work. But we are ready for it." Already, there's a list of requirements and a rough draft of how the team will meet those requirements, but it's still a little soon to talk about specifics, he said. If all goes well, though, something should be ready to go by late July. As for when it actually goes live, that will be up to the iWCM to decide.
Fathi said it was simply a matter of looking at what the iWCM needed and what SigmaQuest could best provide. And the Web site turned out to be the best fit. He said he's quite aware of the ongoing nature of the commitment, and is prepared to meet the requirements for timely updates. SigmaQuest's external marketing department already includes both writers and Web programmers, and they stand ready to donate a portion of their time to the iWCM task.
"It's not just writing a check. This is more of a day-to-day activity," he noted. "We'll probably write a check as well, but we believe this is a very important initiative that Glen is driving. We are very strong believers in warranty chain management. And this is something we want to be involved with.
"When we discussed it internally, we decided we wanted to have more of a hands-on role," Fathi added. "Writing a check is much easier. But it's more reactive than pro-active. This allows us to be very involved, and to be a really big part of what this group is trying to accomplish."
Won't Be a Static Web Site
Years ago, when companies first put together their Web sites, they would frequently hire outside designers who would do an incredible job putting the initial pages together. But then their job was done, until they were rehired to refresh and update the site. As a result, there are lots of great-looking but not-current Web sites out there. Even today, there are plenty of companies that can broadcast press releases worldwide on the various wire services, but they can't get it posted on their own Web sites for weeks or even months.
Fathi said that won't happen with the iWCM Web site. SigmaQuest is on board for not just the design and launch, but also the ongoing operational and maintenance tasks. "You need to be able to turn around and update the content of the Web site on very short notice," he said. In fact, that's why SigmaQuest brought its Web development team internal almost four years ago -- so it could refresh the site's content in a more timely manner. "We believe this is very important to our core business," he said.
Readers interested in finding out more about either corporate or individual memberships may contact any of the iWCM board members, including Glen Griffiths at glen.griffiths@iwcm.org and Marianne Grant at marianne.grant@iwcm.org.