September 12, 2008
Off-Road Vehicle Warranties:
As might be expected, companies selling vehicles closely linked to summer recreation and the growing season show a cyclical pattern in their warranty claims. Those more identified with construction equipment, however, show no cyclical pattern, though several have seen recent rises in warranty costs.
In the half-year to June 30, the warranty claims of all U.S.-based automotive OEMs are up somewhat, but so are product sales, so on balance the claims rate per dollar of sales is relatively unchanged at 2.5% of revenue.
Accruals, meanwhile -- the percentage of current revenue set aside to finance future warranty claims -- is actually down from 2.4% last year to 2.2% this year, suggesting quality improvements or at least wishful thinking about future cost reductions.
General Motors Corp., by far the largest warranty provider of any kind in the U.S., has seen its claims rate jump from 2.5% in June 2007 to 3.3% at the midpoint of 2008. Yet it cut its accrual rate from 2.9% to 2.7% during the same period, which in large part accounted for the movement of the industry averages mentioned above. In addition, Ford finally sold the Land Rover and Jaguar nameplates to Tata Motors, which removed those higher-than-average warranty costs from its books and reduced its overall need for warranty funds.
Not Just Cars & Pickups
In the process of sorting all 800 or so manufacturers into industry categories, Warranty Week has included in the "automotive OEM" sector not only those companies making passenger cars and light trucks, but also companies making other types of vehicles.
At the small end of the scale, that includes not only motorcycles and golf carts, but also forklifts and riding lawn mowers. At the large end of the scale, it includes not only highway trucks but also construction vehicles, fire engines, and farm equipment.
Three times this year, we've taken deeper dives into the automotive category. The July 10 newsletter looked primarily at the auto parts suppliers and at Navistar. The January 31 newsletter looked primarily at the five-year picture for 2003 through 2007 as well as a closer look at Caterpillar and the parts suppliers. And the March 12 newsletter looked specifically at the accounting treatment Ford is giving to the warranty expenses of Land Rover and Jaguar in the months before their sale was finalized.
This time around, we propose to look less at the on-road and consumer segments and more at the off-road and vocational segments. Among the 43 automotive OEMs are several that specialize in not only the manufacture of lawn and farm equipment, but also vehicles designed for winter snow. And in the construction industry, several of the major players have made significant acquisitions that has altered their warranty spending patterns. Frequently these companies get lost amid all the talk about Ford and GM and their parts suppliers.
Caterpillar Consistency
When we last checked in with Caterpillar, 2007 warranty costs had jumped upwards from 2006 levels, which in turn were somewhat below the 2003-2005 trend line. These trend lines are useful because a quick glance at the 5-1/2-year picture can help a person see if current warranty costs are above or below what's "normal" for each company.
In Caterpillar's case, we're happy to report that both claims and accrual rates during the past six quarters have remained within a narrow range of 2.1% to 2.6%. As is obvious in Figure 1 below, this is the typical range for the company, making 2006 and the end of 2004 something of an aberration.
Figure 1
Caterpillar Inc.
Warranty Claims & Accrual Rates, 2003-2008
(in $ Mil & percentage of product sales)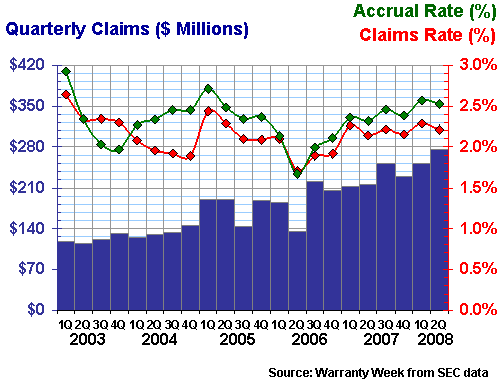 The change for Caterpillar in the past year has been slight. After taking into account product sales increases, the claims rate has gone up by only 0.1% and the accrual rate has increased by 0.2%. In a word, then, Caterpillar's warranty profile is stable. And it's remained within the "normal" range.
We can't compare one company against another, because each may have their own way of counting warranty expenses. But we can compare a company to itself over time, and we can then reach conclusions about which are seeing stable, increasing, or decreasing warranty costs. And in the case of increasing or decreasing warranty costs, we can look for possible reasons in terms of changes in the product line or structure of the company.
Acquisitions & New Product Launches
When a new product family is first launched, manufacturers typically increase their accruals just in case something goes wrong and repair costs soar. When a company is acquired, its warranty costs are blended in with the existing product line. Or, as in the example of Ford and Jaguar/Land Rover, when a division is sold its warranty funds are removed from the pool.
In the case of Terex Corp., acquisitions were made but they were not large enough to explain the obvious upturn portrayed below in Figure 2. Terex acquired Superior Highwall Miners Inc. in late 2007 and acquired A.S.V. Inc. in early 2008. But neither company ever generated enough warranty expenses to account for the rise seen on the books of Terex in the first half of 2008. A.S.V., for instance, reported $3.8 million in claims in all of 2007 and $4.6 million in all of 2006. Break that down into quarters and its difficult to see how they could account for the big jump seen in the past three quarters.
Figure 2
Terex Corp.
Warranty Claims & Accrual Rates, 2003-2008
(in $ Mil & percentage of product sales)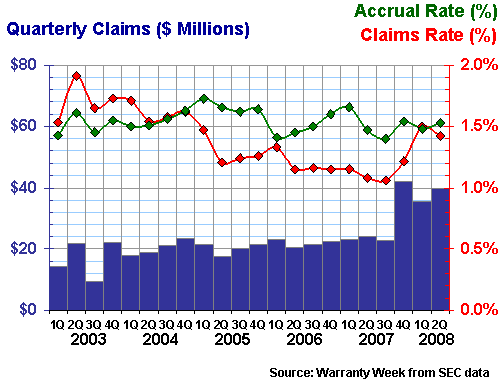 In contrast, the rise in claims for Oshkosh Corp. that are portrayed in Figure 3 can be explained by acquisitions. Oshkosh acquired JLG Industries Inc. at the end of 2006. Before it was acquired, JLG reported $10.7 million in 2006 claims, and $12.9 million in 2005 claims. So if the former JLG operations are now generating $4 or $5 million in claims per quarter, that would explain the sudden jump in 2007 claims that's continued into the first half of 2008.
Figure 3
Oshkosh Corp.
Warranty Claims & Accrual Rates, 2003-2008
(in $ Mil & percentage of product sales)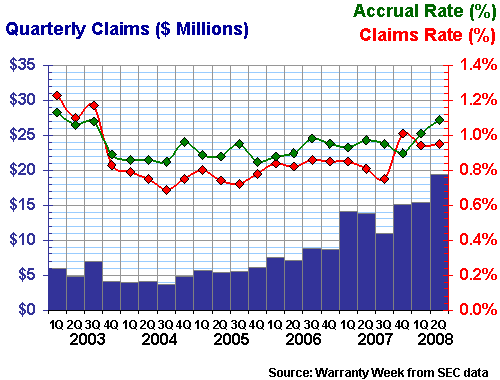 It's difficult to pin the rise in warranty costs on any acquisition, because each company reports only one set of numbers for all its product lines. And while Oshkosh saw a rise in 2008, the acquisition took place in late 2006, and the 2007 record seems to be within the "normal" range. Also, for most of 2003 the company's warranty costs were substantially higher, and that had nothing to do with JLG.
Astec Industries has turned in a more or less stable warranty record for the past five years, though its most recent claims and accrual rates are the highest they've been in two years.
Figure 4
Astec Industries Inc.
Warranty Claims & Accrual Rates, 2003-2008
(in $ Mil & percentage of product sales)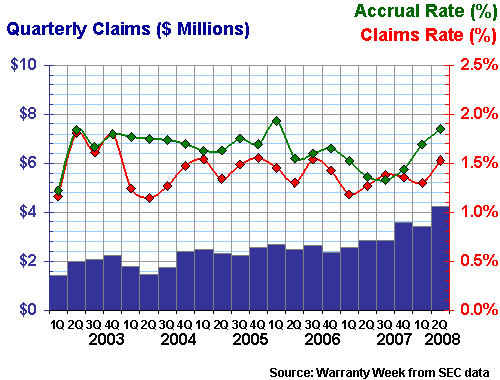 In the middle of 2007, Astec acquired Peterson Inc., makers of wood chippers, horizontal grinders and blower trucks. It's impossible to tell if Peterson is the source of the recent upturn in warranty expenses, because it was family-owned and never reported warranty expenses. However, the purchase price for the company was a little over $21 million, so it is possible that the company was generating the kinds of costs that could account for the rise. Notice here that the claims and accrual rates seen in 2008 are within the "normal" range seen in 2003-2007.
NACCO Industries, however, shows a quite noticeable upward departure from the "normal" range in 2008. It can't be explained by acquisitions, because there weren't any sizeable ones. And it's uncertain whether the rise came from NACCO's Hyster and Yale forklift lines of business or its Hamilton Beach and Proctor Silex home appliance operations. All the company said in its financial statements was that there were "higher warranty costs in the Americas and Europe."
Figure 5
NACCO Industries Inc.
Warranty Claims & Accrual Rates, 2003-2008
(in $ Mil & percentage of product sales)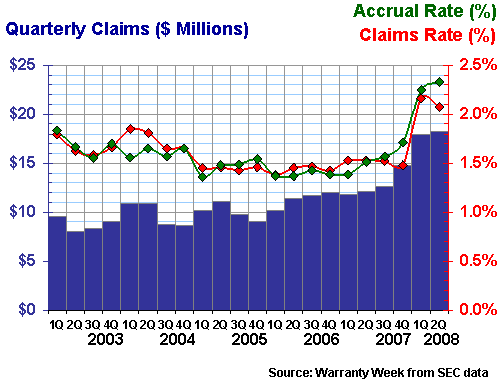 Despite appearances, the data for Deere portrayed in Figure 6 is stable and consistent. Except for the one-quarter anomaly in early 2006, the company has turned in a rather predictable annual pattern for a company whose products are so closely linked to the growing season. Sales are great in the spring and summer, which lowers the claims rate significantly. And then when the cold months hit, sales slow and repairs soar.
Every first quarter, claims hit a high, and every second quarter (or occasionally the third quarter) they hit a trough. Even the 2006 peak of 3.4% seen in the claims rate occurred during the winter quarter. And the most recent low of 1.5% was reported for the spring of 2008.
Figure 6
Deere & Co.
Warranty Claims & Accrual Rates, 2003-2008
(in $ Mil & percentage of product sales)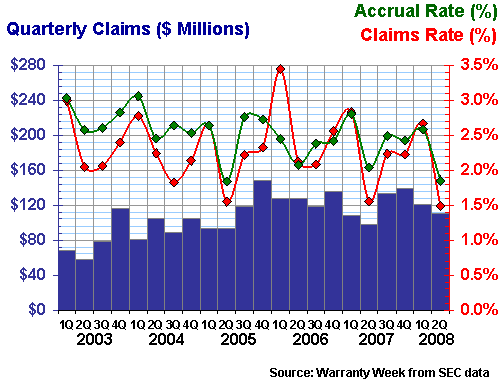 It's worth noting that sales for all six of the companies profiled so far are up in 2008, compared to 2007. So unlike the residential homebuilding business, which is clearly in recession, in at least the construction vehicle and equipment industry there hasn't yet been much of a slowdown. That in itself is something of an anomaly. Revenue in the building and building materials segments are down, but revenue in the building vehicles segment is not.
At Briggs & Stratton and Toro, however, sales are down ever so slightly in 2008. That doesn't show up in the charts in Figures 7 and 8, though. But what does show up is again the same kind of seasonal pattern turned in by Deere, though not in the same quarter of the year. For Briggs & Stratton, the peaks come in the third quarter and the troughs come in the second quarter. For Toro, the peaks come in the first quarter and the troughs come in the second quarter.
Figure 7
Briggs & Stratton Corp.
Warranty Claims & Accrual Rates, 2003-2008
(in $ Mil & percentage of product sales)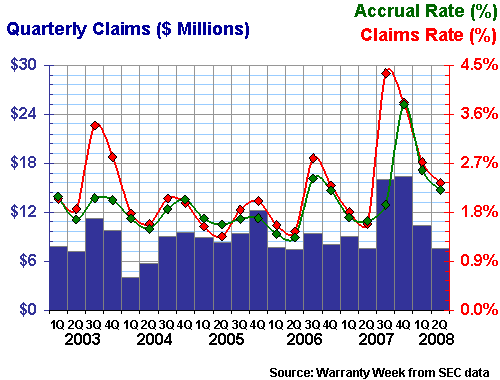 This difference may have something to do with the fiscal years of the companies, however. Deere and Toro end their fiscal years on October 31, so what we're transposing into the fourth calendar quarter are really the months of August, September, and October. And what we're calling the first calendar quarter are the reports that cover the months of November, December, and January.
Briggs and Stratton, meanwhile, ends its fiscal year at the end of June, so its fiscal fourth quarter corresponds to the calendar second quarter. In other words, warranty claims rates are lowest in the period when the fiscal year is ending, and the pressure is on to close the books with an upturn in sales.
Figure 8
Toro Co.
Warranty Claims & Accrual Rates, 2003-2008
(in $ Mil & percentage of product sales)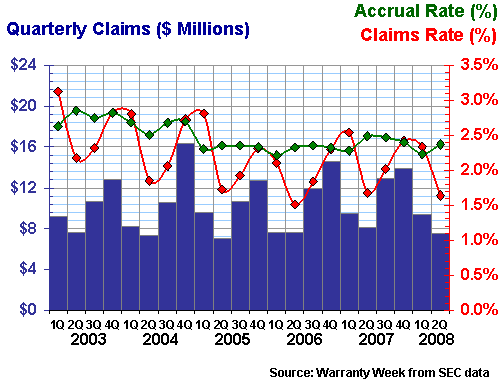 So what's the opposite of lawn, garden, and farm equipment? It has to be something related to ice, snow, and cold. And indeed, within the list of automotive OEMs are two that specialize in winter vehicles: Polaris Industries Inc. and Arctic Cat Inc.
Figure 9
Polaris Industries Inc.
Warranty Claims & Accrual Rates, 2003-2008
(in $ Mil & percentage of product sales)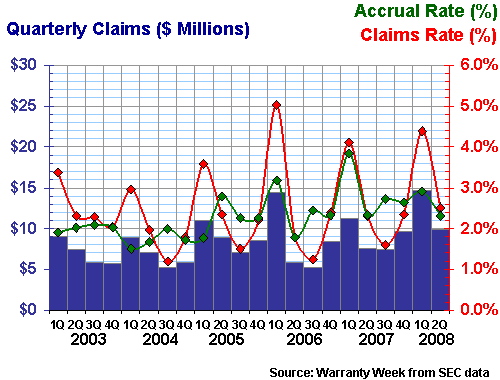 Actually, while both companies are known for their snowmobiles, both also make all-terrain vehicles (ATVs) that are more adapted to summers outdoors. And perhaps that's why both charts show peaks in the winter and troughs in the summer (a winter-oriented company should show the opposite).
Figure 10
Arctic Cat Inc.
Warranty Claims & Accrual Rates, 2003-2008
(in $ Mil & percentage of product sales)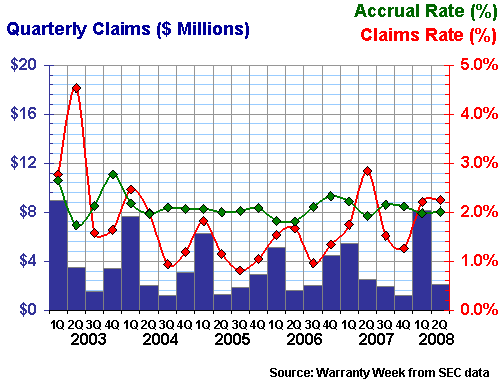 Before we conclude, go back and look at the figures of Toro and Arctic Cat, and compare them to the other three seasonal companies. Never mind the red lines for claims rates. Notice how the lines for the accrual rates in green are more or less steady, despite the oscillations of the claims rate.
Proportional to Sales
What these companies are doing is maintaining accrual rates that are very proportional to sales. Whether it's winter or summer, and whether sales are soaring or falling, they're always setting aside around 2% or 2.5% of revenue to finance future warranty claims.
In contrast, accruals at Deere are usually a little bit ahead of claims, and at Briggs & Stratton they're usually a little behind. In other words, it's not so much a constant percentage of revenue that's set aside as it is an amount somehow related to claims. Deere sets the money aside just before the repair bills come in, while Briggs & Stratton pays out first and then replenishes the warranty reserve.
At Polaris, accrual rates seem to have a little seasonal pattern of their own, which in the strictest sense would mean that the products sold in the second quarter are more reliable than those sold in the first.