October 9, 2008
Telecom Equipment Warranties:
Claims are up slightly and accruals are down slightly, as are total warranty reserves. But within the telecom sector are a handful of companies that have seen warranty costs fall significantly in the past five years.
With all the recent turmoil in the financial sector, we thought it might be a good time to find a sector that's already been through a boom and bust. Telecom equipment, following the breakup of the Bell System, the globalization of communications, and the commercialization of the Internet, had at least a decade of good years before the bubble burst. But eight years later, it's still here and doing fine.
Warranty Week last took a deep dive into telecom equipment warranties in the Dec. 20, 2005 newsletter, although some of the leading data communications companies were part of the June 27, 2008 newsletter on product warranty trends in the computer industry. So the following deep dive is long overdue.
Claims paid by the 91 manufacturers included in the telecom category increased from $949 million in the first half of 2007 to $958 million in the first half of 2008. But sales increased a little faster, so the claims rate as a percentage of sales went up only slightly, from 1.56% to 1.57%.
Accruals actually shrank in the half-year, from $943 million in 2007 to $938 million in 2008. But again, because sales increased, the accrual rate as a percentage of sales went down slightly from 1.58% to 1.57%.
Collectively, the 91 telecom manufacturers held $1.76 billion in their warranty reserve funds as of June 30, 2007. By the end of June 2008, that number had fallen to $1.66 billion -- a 5.6% decrease.
Warranty Cost Cutting
In the following roundup, we've chosen seven telecom equipment companies that have cut their warranty costs over the past five years, plus one company that was headed in that direction until very recently. UTStarcom Inc. is the only telecom company profiled below that also made it into the top 100 warranty providers list included in the September 5 newsletter. Of the others, Motorola, Nortel, and Garmin are seeing increasing warranty costs, while Cisco, Netgear, Juniper, and 3Com are seeing falling warranty costs.
UTStarcom made it onto all three of the top ten decline lists in that September 5 newsletter -- the only large warranty provider company to do so. Its claims rate was down by 40%; its accrual rate fell 53%; and its warranty reserve fund balance decreased by 34%. We thought we'd start off by showing you in pictures what that looks like.
Figure 1
UTStarcom Inc.
Warranty Claims & Accrual Rates, 2003-2008
(in $ Mil & percentage of product sales)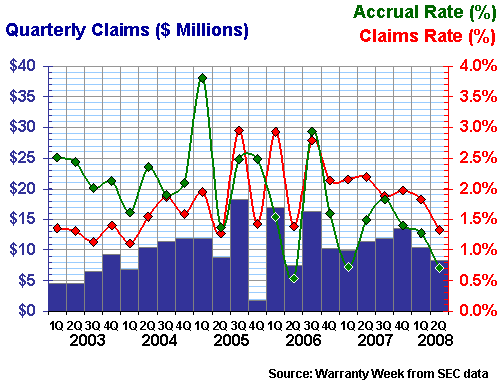 Some of the volatility seen in 2005 and 2006 came from problems UTStarcom reported with its asynchronous digital subscriber line (ADSL) products as well as with its GEPON and NetRing fiber-optic product lines. As Figure 1 suggests, those problems are now behind it, and both 2007 and 2008 have seen a return to the "normal" baseline seen in 2003 and 2004. Gross profits are also now back to where they should be: 44% in the first half of 2008 versus 37% in the first half of 2007.
Epidemic Defects?
Powerwave Technologies supplies wireless carriers with telecom equipment such as antennas, boosters, combiners, filters, repeaters, and amplifiers. Starting out in 1985 as Milcom International, the company at first focused on analog wireless networks and later digital networks. Over the years it has acquired amplifier operations from such notables as Hewlett-Packard and Ericsson, and has also acquired smaller companies such as LGP Allgon, Kaval Wireless, Remec Inc., Filtronic Wireless, and Toracomm Ltd.
In Figure 2, it is clear the company suffered from what it calls an "epidemic defect" that caused warranty expenses to soar. After keeping its warranty claims rate within a range of 0.5% to 1.5% for more than two years, suddenly the claims rate jumped to 2.5% and then peaked at 3.05%. But then just as suddenly, it fell back below 1.5% this past summer.
Accruals also rose, but never surpassed 1.9% during the whole episode. Back in 2003, however, the accrual rate briefly topped 2.1%. Warranty reserves, meanwhile, have been allowed to fall from $35 million in June 2007 to $20 million in June 2008.
Figure 2
Powerwave Technologies Inc.
Warranty Claims & Accrual Rates, 2003-2008
(in $ Mil & percentage of product sales)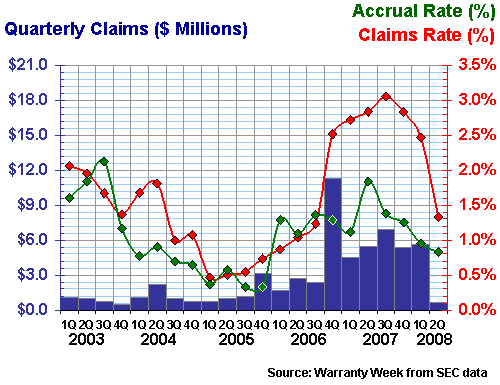 Tellabs manufactures both wireless and wireline systems, for both telephone and cable TV companies. Verizon, BellSouth, Ericsson, AT&T, NTT Communications, Telstra of Australia, Telekom Malaysia, Telkom South Africa and Telecom Italia are among its customers.
Although both its claims and accrual rates have jumped around over the years, in 2008 at least, the company is enjoying relatively low warranty costs. Claims have remained between 0.4% and 0.7% of product revenue, while accruals are now at an all-time low of 0.13%. In the second quarter of 2008, Tellabs set aside only $500,000 to cover $372 million in product sales, versus $4 million in accruals to cover $469 million in product sales in the year-ago quarter.
Figure 3
Tellabs Inc.
Warranty Claims & Accrual Rates, 2003-2008
(in $ Mil & percentage of product sales)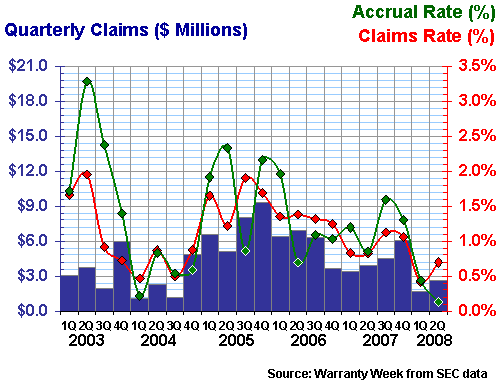 Claims paid in the first halves of the past two years fell from $7.3 million in 2007 to $4.3 million in 2008. Accruals made during the same periods fell from $8.9 million to $2.3 million. Tellabs' warranty reserves fell from $46.6 in June 2007 to $44.6 million in June 2008.
Telecom & Medical
RadiSys is one of those companies that could just as easily fit into the medical equipment industry as it does into the telecom industry. Product lines include both ultrasound machines and Internet routers, and customers include both Nortel Networks and Philips Medical.
Warranty costs have trended downwards through most of the past four years, although they've crept back up in the first half of 2008. Since the very noticeable bump in early 2004, both the claims and accrual rates have touched 1%, although they're up to 1.2% and 1.6%, respectively, in the second quarter of 2008. The company's warranty reserve has also grown, from $2.1 million in June 2007 to $3.2 million in June 2008.
Figure 4
RadiSys Corp.
Warranty Claims & Accrual Rates, 2003-2008
(in $ Mil & percentage of product sales)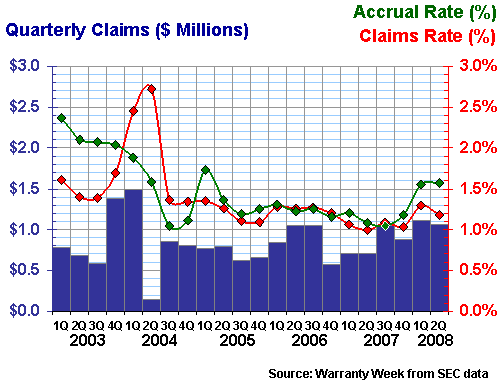 Our next two companies have managed to cut their warranty costs by incredible amounts. ADC Telecommunications, in fact, has yet to make any warranty accruals in 2008, even though claims have totaled $900,000 during the first half of 2008.
ADC is focused on manufacturing equipment for broadband networks that can simultaneously deliver television, telephone, and Internet services. It actually got its start in 1935 making electronic devices designed to test hearing, and spent the 1960s making power supplies and magnetic amplifiers for the space program.
In 1983, ADC shifted its focus to the regional Bell operating companies, and has since then diversified into the private network business as well. Major customers include AT&T, the Bank of England, Bloomberg, British Telecom, China Telecom, Cingular, Citicorp, Comcast, Dell, Deutsche Telekom, Ford, GlaxoSmithKline, Hong Kong Telecom, HSBC, JPMorgan Chase, the Mayo Clinic, Morgan Stanley, NBC, Sprint Nextel, Reliance Infocom, Rolls Royce, Qwest, T-Mobile, and Verizon.
Quarterly Estimates from Annual Data
In Figure 5 below, warranty costs are estimated for the quarters of 2003 through 2005, because at that time the company detailed its warranty expenses only once a year, in its annual report. But since 2006, the company has released those details quarterly.
In the most recent half-year, ADC has cut its claims rate exactly in half, from 0.28% in 2007 to 0.14% in 2008. Its accrual rate has fallen by, well, 100%, from 0.2% to 0%. The warranty reserve has shrunk by $1 million over the same time period, to its June 2008 balance of $8.1 million.
Figure 5
ADC Telecommunications Inc.
Warranty Claims & Accrual Rates, 2003-2008
(in $ Mil & percentage of product sales)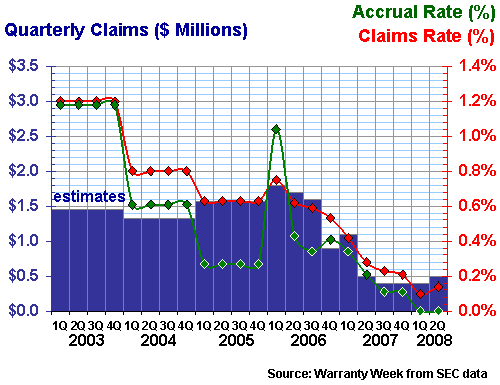 Avanex has seen its warranty costs fall even faster over the past few years, from above 5% in 2003 to almost 0% in 2008. It's hard to see in Figure 6 below, but the most recent claims rate was 0.2% while the accrual rate was 0.1%.
Avanex is focused on the fiber-optic business, including the network transmission, multiplexing, amplification, switching, and routing functions. In the fiscal year ended June 30, 2008, claims costs fell from $906,000 to $444,000, and the claims rate fell from 0.6% to 0.2%. Sales, however, also fell slightly.
Incredibly, the company's total warranty accrual in the most recent fiscal year was only $197,000, and only $49,250 of that was made in the January-to-June period. In the same six-month period last year, Avanex set aside $926,000 to cover future warranty claims. It's therefore no surprise that warranty reserves have shrank over the same period by almost a third, from $873,000 to $626,000.
Figure 6
Avanex Corp.
Warranty Claims & Accrual Rates, 2003-2008
(in $ Mil & percentage of product sales)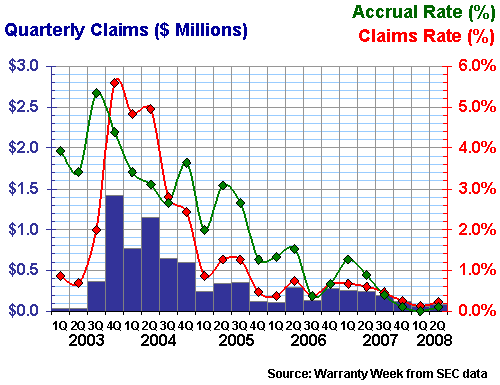 Concurrent Computer Corp. has also seen a massive decline in its warranty costs over the past five years. Once it had a claims rate equal to 5.2% of product revenue, but most recently it paid out only 0.6% of product revenue. Accruals have undergone a similar but not as massive decline, falling from a peak of 2.2% to the current 0.3%.
Despite its name, Concurrent is now focused primarily on the video-on-demand segment of the cable TV industry. Its Media Hawk product line delivers video-on-demand services to 26 million subscribers in 26 different countries. But it's also a supplier to Lockheed Martin, which developed the Aegis weapon system for the U.S. Navy fleet.
As Figure 7 suggests, warranty costs in the first half of 2008 are up a slight bit from the same period in 2007. The June 2007 claims rate was 0.5% and the June 2007 accrual rate was 0.4%. By June of this year, the claims rate had climbed to 0.6%, though the accrual rate fell back to 0.3%. Over the same period, warranty reserves shrank from $343,000 to $198,000.
Figure 7
Concurrent Computer Corp.
Warranty Claims & Accrual Rates, 2003-2008
(in $ Mil & percentage of product sales)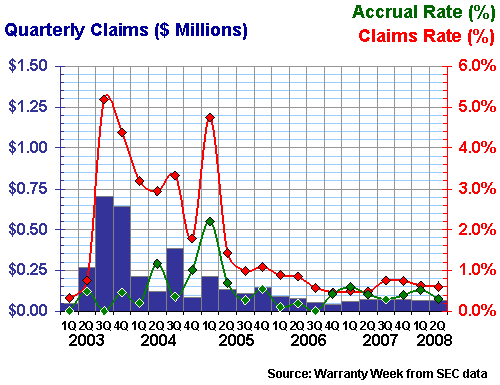 Finally, we present the curious case of Sycamore Networks. The company sells very large and expensive optical switching systems to large network operators. Its customer list includes Sprint, Nokia Siemens, Vodafone, NTT Communications, Telkom South Africa, Telstra Australia, the U.S. Department of Defense, and the Federal Aviation Administration.
Because the company sells relatively few units at relatively high prices, the defect rate and therefore the warranty cost varies tremendously from one quarter to the next. In 2003 and early 2004, claims rates ranged from 5% to 7%, but the accrual rate has usually stayed close to 2%.
The claims rate fell as low as 1% at times in the years 2005 to 2007, and twice fell close to 0%. But then something happened. In the fiscal year ended July 31, 2008, claims more than quadrupled to $2.765 million, from $629,000 the year before. As Figure 8 illustrates, most of that increase came in the months of February, March, and April, which we're charting as the second calendar quarter.
Figure 8
Sycamore Networks Inc.
Warranty Claims & Accrual Rates, 2003-2008
(in $ Mil & percentage of product sales)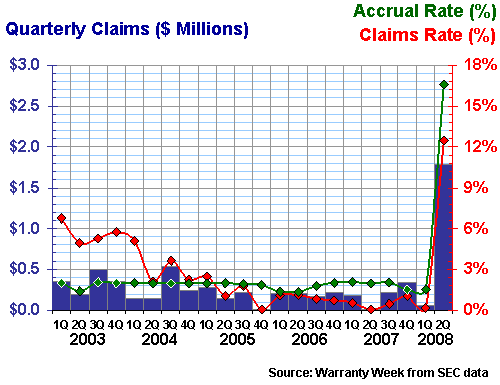 There were barely any claims in the second quarter of 2007 -- only $17,000 total. But then in the second quarter of 2008, claims topped $1.78 million -- a ten-fold increase. Compared to sales of $14.3 million, that represented nearly 12.5% of revenue. Accruals rose even more sharply, to $2.37 million or 16.6% of revenue. But strangely enough, neither the most recent annual report nor the most recent quarterly report makes any mention of these dangerously elevated percentages nor any causes for them.