November 6, 2008
Warranty Software:
SigmaQuest debuts a new root cause analysis module that helps manufacturers reduce the scope of product recalls and cut warranty costs. It's also priced by the month and uses a Web interface to reduce the cost, time and effort needed to begin using it.
We've remarked before how automotive and high-tech manufacturers face some of the same warranty pressures, with the well-known and consumer-facing brands frequently left holding the bag when it comes time to pay for product failures. A supplier provides some inexpensive part that's out of spec, and the resulting failures cost the OEM multiple times as much. Or an OEM cuts costs by switching to another supplier with lower prices, only to find out too late that the lower quality ends up costing more in repairs and replacements.

Last month, SigmaQuest Inc. hosted a Webinar during which supplier-OEM lawsuits were a major topic. SigmaQuest president and CEO Nader Fathi said many of those disputes come down to elevated warranty claims, and who's at fault. Sometimes, the part is bad, and the supplier is at fault. But other times, the part is within spec while the OEM's design is at fault. And sometimes, he said, the tests that were done were poorly designed and could not detect the defect.
The Cost of Quality
Either way, the argument over who's at fault is likely to devolve into a fight over who's financially responsible. Companies that thought they'd be saving money by outsourcing some of their supply chain end up paying more than they planned, because they're the ones facing angry customers demanding warranty repairs or replacements. In addition, besides the measurable costs, they have to consider that the long-term damage to their brand image may be greater than the repair or recall costs, because of poor word-of-mouth and lost future sales.
SigmaQuest, a sponsor of this newsletter, sells a Web-based product quality management solution called SigmaSure, which is designed to provide manufacturers with a root-cause analysis engine that can improve product quality and raise customer satisfaction. Major customers include Applied Biosystems Inc.; Brocade Communications Systems Inc.; Cisco Systems Inc.; Honeywell International Inc.; Motorola Inc.; Network Appliance Inc.; Nortel Networks Corp.; Palm Inc.; Panasonic Corp.; Plantronics Inc.; St. Jude Medical Inc.; and Tyco International Ltd.
Last week, the company launched a new SigmaSure module called Process Flow Visualization, which as its name implies provides customers with a graphical views of the data coming in from all phases of product development, including actions taken by suppliers who might be located half a world away.
Skipped Tests Cause Recall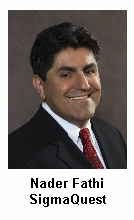 Fathi spoke with Warranty Week about the origins of the new module, which is already in use at eight companies following extensive beta testing. "About a year-and-a-half ago, a customer came to us," he said, adding that he was not at liberty to name this particular customer, except to say that they are a major electronics manufacturer. "They wanted us to help them somehow be able to flag if one of their contract manufacturers was skipping tests. And they were very vague about this."
Fathi said the customer asked SigmaQuest if it would be possible to put some kind of security code into the test data that SigmaSure routinely collects from test equipment, making it possible to detect if the tests were changed or skipped. SigmaQuest said yes, it could be done, but asked why was that so important?
"The further along we got, of course under many non-disclosure agreements, we found out they were having a major recall," Fathi said. A supplier was the suspected source of the problem, but the OEM needed proof. "They had sent somebody to visit their contract manufacturer in China, and they found out that their contract manufacturer was skipping tests. And they were doing this to save money and get this product out to the market faster."
Ironically, it was the OEM that was pressuring the supplier to work faster and ship more units. But the supplier's factory was already working three shifts to meet demand. So they decided to gamble on meeting their quotas by cutting out some time-consuming steps such as X-ray tests. Who'd know if they didn't test every piece? Had there been no problem, probably nobody would have ever noticed.
Had there been no problem, however, there wouldn't be a story to tell and SigmaQuest wouldn't have a new module on the market. Fathi said the unnamed OEM eventually figured it out by examining the failed products and noticing that most of them had the types of failures that should have been detected during an automated X-ray inspection. Their logical conclusion? The products probably hadn't been tested.
Automated Test Data
In partnership with Agilent Technologies, SigmaQuest created a set of application programming interfaces that could automatically collect data from test equipment. The SigmaProbe API is integrated with all the major types of Agilent test equipment, including in-circuit tests, X-ray inspections, and optical inspection.
"So this is one machine talking to another machine," Fathi said. "The fact that we are embedded in the test program means that as soon as a board goes from one stage to the next, we know who was the operator, what was the serial number, the building, the location, and the timestamp." Those records are digitally signed, so they can't be altered later without leaving behind evidence of the tampering.
This aspect of the product is expected to have a general appeal to electronics manufacturers, as well as a specific appeal to medical equipment manufacturers, Fathi said. And it may even have applications outside of manufacturing. "Although it's very manufacturing-focused," he said, "you can think about it as [applicable to] any time-based data where you need this kind of a flow and process-checking." He added that SigmaQuest has filed a patent application for some of the technology built into the new module.
"SigmaQuest has built this concept of a device history record," he said, "where each time a certain serial number is touched, a record is created. Of course, for medical equipment, that's a must-have. If the FDA [U.S. Food and Drug Administration] comes to audit a factory, they need to have a DHR [Device History Record] chart showing records by device of where it has been, who touched it, what type of repair was done, how many times it was tested, and so on."
The Sentinel Initiative
Fathi said the company is now getting ready to make a major play for new business in the medical device field, because in May 2008 the FDA launched something called the Sentinel Initiative, which would give the agency an early warning of product defects and safety problems by allowing it to probe and monitor the manufacturing process. The resulting Sentinel System would enable the FDA to query multiple, existing data sources, such as electronic health record systems and medical claims databases, for information about medical devices. It would allow the FDA to query data sources at remote locations and to perform data mining activities, strengthening the agency's ability to monitor the performance of a product throughout its entire life cycle.
Other industries have similar requirements, Fathi said, for instance the aviation and automotive industries. If a module within an aviation product proves to be a safety risk, regulators at the Federal Aviation Administration will want to know where else a similar module might be in use. If that question can't be answered, a widespread grounding of possibly affected planes is highly likely. And in the automotive industry, the inability of manufacturers and regulators to detect patterns of failure in SUV tires a decade ago led to the passage of the TREAD Act, which required automakers to submit quarterly reports on product failures, accidents, deaths, and injuries to the National Highway Traffic Safety Administration.
SigmaQuest is suggesting to medical equipment manufacturers that they be more proactive, and put an infrastructure in place that will allow them to track product quality much more closely. The problem, Fathi said, is that many of the systems envisioned to provide that kind of information will be home-grown custom applications that pump data into an Excel spreadsheet. That makes it hard to quickly look for trends or patterns, especially when there's lots of data. But it does simplify the task of generating reports.
It very much echoes the comments of software vendors during the early days of the TREAD Act: if you design your system just to produce the required reports, you'll gain little besides compliance. But if you change your processes to provide yourself with an early warning, and oh by the way to also run those quarterly reports, you'll achieve compliance and reduce your failure rate and warranty cost, while raising your product quality and customer satisfaction levels as well.
Bird's Eye View
Fathi said SigmaQuest's new Process Visualization Software module allows a company to get what he calls a "bird's eye view" of not only what is happening in the factory, but also what's happening with suppliers before the sale and what's happening out in the field after the sale. It gives them a way to quickly navigate through a large volume of data, looking for the root cause of a problem.
"You can do this remotely," Fathi said, "sitting in California, looking at your factory in China. You don't have to go out there to watch this unit move from step to step." He said SigmaQuest also is pitching its "software as a service" modules to manufacturers of fuel cells, batteries and solar panels, some of which have factories and/or suppliers in China.
In the past several years, there have been numerous examples where suppliers provided parts that later proved to be defective, causing massive and well-publicized product recalls or at least soaring warranty costs, with costs measured in the hundreds of millions of dollars. Fathi cited the examples of the failure-prone Microsoft Xbox 360 game consoles, the overheating laptop batteries made by Sony, and the defective defibrillators made by Guidant -- none of which, he added, were SigmaQuest customers.
In each of these three cases, the post mortem analysis found some of the same problems: costs needed to be cut, production needed to be sped up, design flaws were missed, and inspection tests were skipped. But ultimately, the cost of the resulting failures easily surpassed any money saved by cutting corners.
Now there are several major laptop companies suffering from problems with graphics cards made by Nvidia Corp. Fathi said he's now working with one of those laptop makers to figure out which units are affected and what they can do about it. Again, he said he wasn't at liberty to say which company it was, but news reports have named Apple, Dell and HP as being among the companies affected. So far, Nvidia has reserved $196 million to cover its costs.
Drill Back Up
Fathi said this episode illustrates another advantage of the new visualization module. "Customers tell us they need to be able to drill down to the root cause," Fathi said. But sometimes, they also need to be able to drill back up, to see where else a given part from a known bad lot might have been used. If that can't be done and the problem can't be isolated to a narrow list of models or serial numbers, the recall will need to be much wider than necessary.
"That's what keeps these companies up at night," he said. "They need to have global visibility, because supply chain is getting further and further away. They need to be able to dive in to the root cause very rapidly. And they need to be able to drill up. They need to be able to find out where all these systems are, so they can recall them quickly, while they're still sitting on a shelf."
Furthermore, in the medical equipment field, there's usually a "three strike rule" in effect, under which a product that fails the same test three times must be discarded. There shouldn't be a fourth test. This module would allow a manufacturer to confirm that such a rule is being followed, and if not, it could help an inspector track down precisely which units should have been discarded.
Software As A Service
The Process Flow Visualization module is available now as an online offering with prices starting at $5,750 a month. It also is slated to be available as a bundle with other SigmaQuest SigmaSure offerings in 2009.
"Customers don't have to do almost anything" to begin using the module, Fathi said, "because we already have their data. All we do is give them a license to use this module, and voila, they can see what's happening with their processes."
Fathi said he thinks customers prefer this software as a service model, with monthly charges, to the old-style software licensing model, which usually means a big up-front licensing charge. But it's not so much the cost difference as the ease and speed of implementation, he said, that makes it more attractive.
"We see a lot of companies that were thinking about building something internally, or going and buying some very expensive software for their servers," he said, "and they see that with SigmaQuest they can go and get started."
One of the downsides for SigmaQuest is that it's also easier to shut off software as a service, he said, which increases the pressure on the company to keep the module current and constantly available. But that can also work to reassure prospective customers that they won't be locked in even if they're dissatisfied. "They like we have some skin in the game," he said.
In general, Fathi said, SigmaQuest's biggest competitor are those companies that think they can save even more by developing something internally. But then again, he mentioned one Silicon Valley company that spent six years and some $40 million trying to build something in-house. Now they need to keep spending money on maintenance.
And though it's a tough time to be selling software, he's hoping it's a good time to be selling software that can help a manufacturer cut costs. Fathi said there are two really important things to remember in this market:
Hang onto your customers, and make sure they don't have an issue with recalls or product quality, and
Remember that every dollar saved on warranty equals three dollars in sales.
"People get it," Fathi said. "It's much harder to sell than to save."