November 13, 2008
General Motors' Warranties:
The world's largest automaker is running out of cash, and if a government loan doesn't come through soon, bankruptcy may follow. As the largest U.S.-based warranty provider, GM's fortunes may have a Lehman-like ripple effect throughout the entire manufacturing sector. Then again, maybe a court-supervised opportunity to reorganize is just what the company needs?
With its merger possibilities waning and the chances of a government bailout diminished, General Motors Corp. may be mere months away from having to seek protection from its creditors. And while the company pays out an enormous amount of money in warranty claims, these aren't the costs that are dragging it down. Still, what would the effect of a bankruptcy be on these warranty payments?
Automotive OEMs, including those making passenger cars, motorcycles, heavy trucks and construction equipment, have reported $8.8 billion in claims paid during the first nine months of 2008, up from $8.45 billion in the same period of 2007. GM and Ford accounted for roughly a third of those payments.
However, while warranted product sales are way down in the third quarter for passenger car makers such as Ford and GM, the downturn isn't industry-wide. Yes, the financial panic has decimated sales of motorcycles, passenger cars, light trucks, and recreational vehicles, but the downturn has yet to impact the makers of commercial vehicles. So the blame is squarely on the consumer, who seems to have stopped shopping two months ago, right around the time that Lehman Brothers declared bankruptcy.
Commercial Sales Increases
For the most part, makers of larger vehicles saw sales increases during the third quarter, including Caterpillar Inc. (+14%); Deere & Co. (+18%); Navistar (+36%); and Paccar Inc. (+7.6%). Product sales at Federal Signal and Textron were down, but they're more or less the only exceptions among large OEMs.
As this newsletter goes to press, only one major automotive OEM had yet to file its latest financial report with the U.S. Securities and Exchange Commission. Oshkosh Corp., makers of fire trucks, garbage trucks, and other large vehicles, was not expected to release its annual report for another week or two. But its figures are not expected to move the following totals and averages by a large amount.
As of Sept. 30, 2008, the other 43 OEMs were averaging a claims payout of 2.6% of product sales, up significantly from the 2.3% claims rate seen on Sept. 30, 2007. Much of that can be traced to GM.
The OEMs reported only $7.7 billion in accruals made during the first nine months of 2008, a sharp decrease from the $8.6 billion reported during the first nine months of 2007. Again, much of that can be traced to GM.
The claims rate increase and the accrual rate decrease are closely linked to the fortunes of GM. The company's worldwide automotive sales were down 13% in the third quarter. Less units sold means less set aside to pay future claims, hence a $391 million decrease in net accruals. And because the claims rate compares last year's sales to this year's revenue, it always goes up when sales are falling.
To find an indicator that shouldn't be as affected by sales changes, one must look to the accrual rate. Normally, unless product quality has changed, a manufacturer will put aside the same percentage of sales this year as it did last year.
As of Sept. 30, the 43 OEMs were setting aside an average of 2.2% of sales in warranty accruals. This was actually down a bit from the 2.4% rate seen at the same point the year before. Does that mean quality is increasing? Or is it simply one of those accounting anomalies that will reverse itself by year's end?
Also, the auto OEMs allowed their collective warranty reserves to shrink considerably, from $19.1 billion a year ago to $17.7 billion as of Sept. 30, 2008. Some of that comes from reduced sales, and some probably comes from optimism about reduced future costs. And fully $471 million came from GM's own reduction in reserves.
Overall, this is not a hopeful time for the automotive industry. Even relatively solid companies such as Oshkosh and Caterpillar have seen their stock prices decline to unbelievably low levels as investors prepare for the worst. And the worst, according to the popular press, might include multiple bankruptcies and liquidations, to be followed by the loss of multiple millions of jobs.
Bailout or Bankruptcy?
By far the biggest U.S.-based warranty provider is General Motors, which by itself accounts for almost 16% of all warranty claims and more than 23% of all warranty reserves reported by all U.S. manufacturers in all industries. Just today, shares of GM closed below $3 a share for the first time in half a century, as investors anxiously await for news of a government bailout -- or if that doesn't come fast enough, perhaps a bankruptcy filing.
The stock is now down an astonishing 90% from its late 2007 high, and even that price is barely one-third of where the stock was at its peak a decade ago. Common shareholders would likely lose 100% of their investment were a bankruptcy to happen, but that doesn't mean the company will disappear completely. On the contrary, if GM were to file for protection from its creditors while it reorganizes under Chapter 11 of the U.S. Bankruptcy Code, it could emerge a stronger company.
Warranties would continue to be honored throughout a bankruptcy proceeding, though payments might be slowed because of the additional steps required to get a judge's approval to pay the bills. But as of Sept. 30, GM held more than $9 billion in its warranty reserve fund, and if one assumes the company has managed its accruals correctly, this is supposed to be a sufficient amount to pay the claims on all vehicles already sold.
In Figure 1 below, it's clear that claims have begun to creep higher, both in dollar terms and as a percentage of sales. Accruals have also turned upwards, but they remain at a lower level than claims. One of the inevitable outcomes of this has been a 5% shrinkage of the firm's warranty reserve fund, from $9.5 billion a year ago to the current $9 billion level.
Figure 1
General Motors Corp.
Warranty Claims & Accrual Rates, 2003-2008
(in $ Mil & percentage of product sales)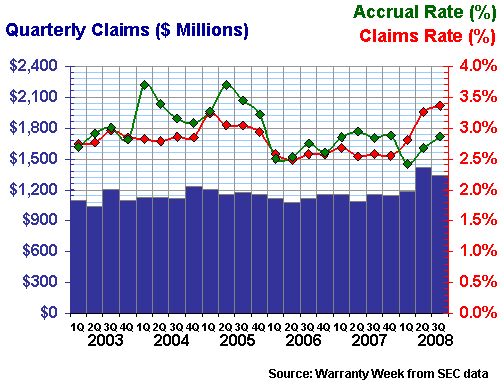 If sales remain depressed, the claims rate will probably go higher still, as the company has to pay for repairs on last year's cars. And as some of the vehicles enter their fourth and fifth years under warranty, thanks to the lengthening of warranty durations in the U.S. and Canada, the rate may go higher still. But again, if GM has done its accruals correctly, provisions should have been made to finance those costs at the time of sale.
No More Claims Paid?
It wouldn't be the first time a car company went bankrupt, and it wouldn't be the first time a large company did. One need look back no further than September to see the ramifications of the Lehman Brothers filing. That singular event seems to have set off the worldwide financial panic, as other companies realized their funds were trapped in a bankruptcy proceeding that was likely to be long and incredibly complex. Even innocent companies such as Alcoa Inc. found some of their assets frozen, even though it relied on Lehman to be merely the custodian of investment shares it owned in a mining company. While it's highly likely Alcoa will get those shares back someday, it's been two months and counting.
On the other hand, if GM were to file for liquidation under Chapter 7 of the bankruptcy code, its warranties would go down with it. But then again, there's $9 billion that's been reserved to pay claims, and that amount is supposed to be sufficient to pay each and every claim until all the warranties have expired on time, mileage, or resale. The main problem when British automaker MG Rover collapsed three years ago was the utter lack of funds to pay warranty claims, or anything else for that matter. That company went under, laid off all its employees, closed its doors, and took its warranties with it to the bottom. That's not the likely course for GM.
If GM were to file for a Chapter 11 reorganization, it might lose some credibility with customers, but if it continued to honor warranties its credibility would slowly return over time. Think of the Chrysler bailout and the K cars of 25 years ago, and the reassuring presence of Lee Iacocca as the company returned from the brink. It would be damaging for any of the Detroit Three to now declare bankruptcy, but it would not be impossible for any that did so to reorganize and ultimately to emerge as stronger companies.
If there were to be a petition for a Chapter 11 reorganization filed by GM, its relationships with its suppliers and creditors would be a matter for the bankruptcy court to manage. But the currently high level of uncertainty would probably decrease during reorganization, because at that point the company would be eligible for something called debtor-in-possession financing. Even Circuit City Stores was able to secure debtor-in-possession financing after its recent bankruptcy filing, but not until after it filed.
A Chance to Reorganize?
If a theoretical bankruptcy filing were to be packaged not as a collapse but as a chance to reorganize, it might actually benefit the company in the long run. GM already has the quality story to tell. But it has some very high health care and pension costs that its foreign competitors do not. Ultimately, the bankruptcy court would be able to modify both supplier and labor contracts, and the U.S. government might be forced to take over GM's pension costs, as it did following the demise of the railroads and the asbestos companies.
For the current U.S. government, therefore, it might actually be cheaper to bail out GM now with some timely loans, before any bankruptcy proceeding. But anyone looking for the current administration to pick the most sensible cost-benefit analysis need look no further than the demise of Lehman Brothers. Had the U.S. government done for that financial company what it did earlier in the year for Bear Stearns, Freddie Mac and Fannie Mae (and did later that week for AIG), there might not have been such a mammoth global panic and we probably wouldn't even be talking about the merits of a bailout of the automakers. Sure, GM saw auto sales fall 7.6% in the second quarter and saw almost no sales growth in the first quarter, but it wasn't until the pundits foolishly heralded the coming of the Great Depression, Part Two in mid-September that consumers stopped consuming.
With GM, it's incredibly sad to now hear the "let them fail" talk coming out of the mouths of some of those same pundits who welcomed the bailouts of banks and insurance companies, but it's equally sad to hear local politicians predict "three million jobs to be lost" following a bankruptcy filing. Both are extreme positions. And while a bankruptcy wouldn't be good for business, it also wouldn't be the end of business.
Delphi Survives Its Bankruptcy Filing
For evidence, one need look no further than the next snapshot. Delphi Corp. filed for Chapter 11 protection in October 2005 and is likely to emerge from its reorganization either later this year or early next year. Its bankruptcy judge approved the broad outline of Delphi's reorganization plan in January, but some details have yet to be worked out with certain creditors.
In Figure 2 below, it is difficult to spot any ill effects of the bankruptcy proceedings upon the company. Yes, its accrual rate went a bit erratic in 2006 and 2007, but that might have happened anyway. And the fact that it did fluctuate goes to show that the bankruptcy court's supervision doesn't make warranty claims payments or accrual allocations impossible to process.
Figure 2
Delphi Corp.
Warranty Claims & Accrual Rates, 2003-2008
(in $ Mil & percentage of product sales)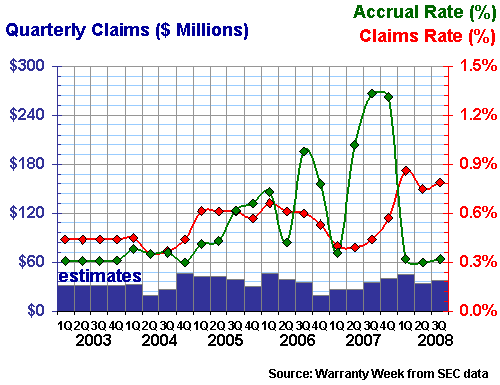 Part of those increased accruals, in fact, probably went towards the $112 million payment Delphi recently made to its largest customer and former parent company, which of course is GM. That payment settled all outstanding disputes between Delphi and GM, and was listed in the financial statements as "GM warranty forgiveness."
The point is, though, that Delphi continued to do business with GM throughout its Chapter 11 period. And while ultimately the warranty settlement was negotiated and agreed to by the court, the payment was made and business continued. Now all Delphi has to do is settle all the remaining loose ends in its debtor-in-possession financing.
Supplier-OEM Lawsuits
Navistar didn't have to file for bankruptcy protection, but for a long while it was unable to file its financial statements on time with the U.S. Securities and Exchange Commission. And it remains embroiled in a warranty dispute with Ford over its light truck diesel engines, which Ford claims are generating excessive warranty claims that Navistar should be paying. The two sides continue to pursue lawsuits against each other, but they also continue to do business.
Eventually, the companies will have to settle, and the amount owed to Ford may be as much as $500 million, Navistar estimates. But in the mean time, Navistar has stopped making accruals for the engines that it sells to Ford, and has stopped paying claims for those engines, preferring to wait for the final settlement.
In Figure 3 below, much of the decline in claims and accrual rates seen since 2007 is attributable to this stoppage of payments to Ford. The claims rate has dropped from 3.4% to 2.5%, and the accrual rate has dropped from 2.2% to 1.4%. And in the past year, Navistar's warranty reserve has contracted from $715 million to $570 million in size.
Figure 3
Navistar International Corp.
Warranty Claims & Accrual Rates, 2003-2008
(in $ Mil & percentage of product sales)
What's not shown, however, is the 36% sales gain Navistar enjoyed in the third quarter for its manufactured products, or the 33% increase in sales seen in the second quarter. Sales were down 6% in the first quarter, but ever since the company has been growing quickly. And Ford is still a customer, although it has indicated its intent to find another diesel engine supplier, perhaps internally.
The Cost of Acquisitions
At first glance, the data reported by Ingersoll-Rand, as detailed in Figure 4 below, would seem to indicate some crisis of quality. The company's claims rate has jumped from 0.9% to 1.5% in the past year, while its accrual rate has gone from 1.1% to 1.6%. The amount of claims paid doubled in the second quarter and nearly doubled again in the third quarter.
Figure 4
Ingersoll-Rand Co.
Warranty Claims & Accrual Rates, 2003-2008
(in $ Mil & percentage of product sales)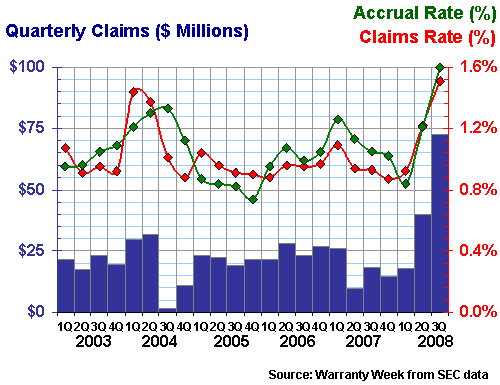 What the chart doesn't show is Ingersoll-Rand's $9.6 billion acquisition of Trane Inc. in June. That immediately drove up warranty costs for the second quarter, and did so again in the third quarter. And since Trane is in a warranty-intensive industry (heating and cooling), the new "normal" for Ingersoll-Rand -- a blending of its old and its new businesses, is likely to be in the 1.5% to 2% range from now on.
It's happened to Johnson Controls, Seagate, and numerous other manufacturers that acquired a large company with much higher warranty costs. For a while, the new costs are added to the old costs, until the acquiring company can put some of its best practices to work and bring costs back down.
Motor Home Sales Declines
The final chart we want to show you is Spartan Motors, makers of motor homes, mine-resistant military vehicles and fire trucks. The data in Figure 5 is quite erratic, but it seemed to follow an annual pattern where the third quarter was always the peak for the year. That is, until this year, when the company broke the pattern and turned in an 0.6% claims rate that was its second-lowest in the past six years.
Figure 5
Spartan Motors Inc.
Warranty Claims & Accrual Rates, 2003-2008
(in $ Mil & percentage of product sales)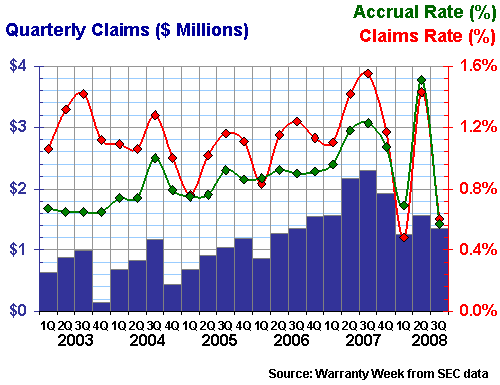 Sales, meanwhile, are up 60% in the third quarter and are up 57% for the first nine months of 2008. Much of that growth comes from the military vehicle line of business, because sales of motor home chassis are actually down by almost 50% in 2008.
This is what makes Spartan Motors different than most of its competitors, who rely more heavily on sales of recreational vehicles. Companies such as Thor Industries Inc., Coachmen Industries Inc., Winnebago Industries Inc., Fleetwood Enterprises Inc., and Monaco Coach Corp. have seen sales plummet and warranty costs soar.
The latter two, in fact, have reported 2008 claims rates more than 90% higher than in 2007. At Fleetwood, sales are down 44% while accruals are up 59%. At Monaco Coach, accruals are also up by 94% (and that can't be blamed on sales declines). At Winnebago, meanwhile, accruals are up by only 19% though sales are down by more than 64%.
Bottom line, if you think things are bad for passenger car sales, it's worse for RV sales. In fact, there are ten automotive OEMs that have seen bigger third quarter sales declines than either Ford or GM. But there are nine OEMs that have not seen sales declines in 2008, and Spartan Motors is at the top of that list.