March 1, 2010
Vehicle Shopper Survey:
Buyers in 2010 will take more time, do more research, and ask more questions. But these "tire kickers" may also be the best prospects for sales of add-ons such as extended warranties and other vehicle protection services, according to a survey being released this week at the WCM Conference.
As hundreds of warranty professionals head for the sixth annual Warranty Chain Management Conference in Los Angeles this week, the big question is whether the downturn in manufacturing and retail sales is finally over.
The fifth annual WCM Conference last March took place the same week as the stock market hit bottom, but it wasn't until much later that retailers, homebuilders, auto dealers and electronics manufacturers began to see any improvements. Many are still waiting.
That demand didn't simply disappear. Some say 2010 will see a bit of a surge in sales, because there's now a tremendous pent-up demand for durable goods whose purchases were postponed in 2008 and 2009. The Fulcrum Warranty Solutions division Fulcrum Analytics Inc., a longtime sponsor of this newsletter, has attempted to document this outlook with a brief survey conducted last month, in which it asked consumers whether they'd postponed major purchases and whether, and how, they might now go shopping.
Shopping Patterns in 2010
In a Wednesday morning WCM presentation entitled, "What Are They Thinking? In-Market Shoppers for Luxury Auto and Power Sports Speak Their Minds About How They Will Make Purchase Decisions in 2010," Paul Swenson, president of Fulcrum's Warranty Solutions division, and Tara Piazza, Fulcrum's vice president of customer research, will detail the findings of the survey.
In a bit of an advance peek, Piazza told Warranty Week that the results of the survey suggest that shoppers in 2010 will take a more careful approach to buying than they did before, and that they will place a premium on protection for those purchases. That means not only more emphasis on product warranties and service contracts, but also more attention paid to attributes such as quality, reliability, brand image, and the financial health of the manufacturer.
Piazza said the survey was conducted online during the week of February 5 to 12. The number of respondents in each of the four target groups -- buyers of luxury cars, motorcycles, motorized watercraft, and all-terrain vehicles -- was 150 per group. Respondents were asked a series of 24 questions, with the typical time to completion being around six minutes.
Brand Names Considered
Luxury autos were defined as passenger cars with a sticker price above $45,000. The primary brands under consideration were BMW, Lexus, Audi and Mercedes. Motorcycle brands under consideration by buyers included Honda, Harley-Davidson, Yamaha, Kawasaki, Suzuki and BMW.
Motorized watercraft included speedboats, jet skis, fishing boats, and anything else fitted with a motor and used in the water. Brands included Sea-Doo, Yamaha, Honda, Kawasaki, Polaris, Suzuki, and BMW. ATV brands included Honda, Yamaha, Kawasaki, Polaris, and Suzuki.
Almost half the motorcycle and boat buyers said they'd spend a month or more on the purchase process. Around a third said they were taking longer to make their buying decision than they did before. Fulcrum found that those who shop for over a month will visit more dealers, do more research, solicit more opinions, test drive more, and are more likely to hold out for a great deal on price. And, paradoxically, they're also the most receptive to extended warranties.
Style, price, quality and safety were some of the factors found to be weighing most heavily on the purchase decision. But once the field was narrowed, attention turned to how the purchase can be protected, through the add-on of items such as anti-theft systems, rustproofing, fabric protection, and pre-paid maintenance programs.
Warranty Importance
Product warranties and service contracts were also on the minds of shoppers. In one question, Fulcrum asked respondents which warranty-related factors would weigh the most on their purchasing decision. As can be seen in Figure 1, the length of the manufacturer's warranty was the top factor for luxury car, motorcycle and ATV buyers. All three groups also selected the coverage of the manufacturer's warranty as the second most important warranty-related factor.
In contrast, the breadth of coverage of the manufacturer's warranty was the top factor for watercraft, with 37% selecting that factor. Second was the availability of an extended warranty that featured full coverage, which carried weight for 36% of boat buyers.
The availability of an extended warranty that covered just major repairs was the least frequently cited factor for all four groups. Full coverage plans were preferred by all groups, although Piazza noted that respondents weren't given any details about what would be included in each type of plan.
Figure 1
The Importance of Warranty-Related Factors
When Making a Purchase Decision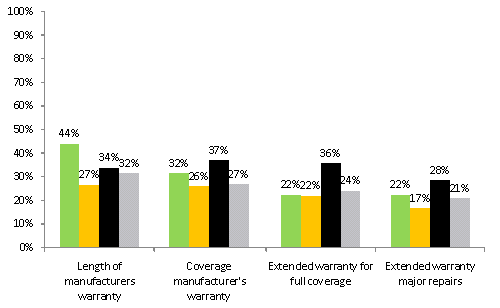 Source: Fulcrum Analytics
So why was the duration of the manufacturer's warranty such an important factor? Piazza suggested that perhaps it had something to do with the fact that the survey was conducted during a week when the Toyota recall headlines really began to become a big story. "And it made me wonder if people were feeling any kind of vulnerability with their vehicles," she said. Perhaps they were thinking that just in case, an extra year or two of coverage could come in handy one day?
That fear may have influenced the clear preference expressed for "full" service contracts as opposed to powertrain-only plans. After all, who could have predicted that problems with floor mats or accelerator pedals would turn into such a major recall for Toyota? In other words, while out-of-pocket transmission or engine repairs may be expensive, buyers won't achieve "peace of mind" until they know the little stuff is covered too.
With watercraft, Piazza said, it's not so much the length of the coverage as the breadth of the coverage that resonates with buyers. "I think it's fairly obvious with the motor boats, that [the elevated importance of] the extent of the coverage would make sense, because there might be a greater number of things that can go wrong with a boat," she said. "In part, it's because of the nature of the vehicle. And in part, it's the environmental factors that might play into the boats longevity."
At the same time, people shopping for the bone-shaking ATVs didn't seem to subscribe to the protection theory, assigning lower importance to extended warranties than did the boat shoppers. Ironically, ATV buyers were the most likely to give weight to the financial stability of the manufacturer they selected. But service contracts? That's not their style.
Protective Services
And then there were a series of questions asked about add-on services, devices and treatments that generally protected the purchase (or the purchaser) in some way. As can be seen in Figure 2, anti-theft alarms and navigational software were both given high marks by luxury auto buyers. Anti-theft alarms were appealing to 66% of the luxury auto buyers, while navigational software was appealing to 64% of that group. Ten other "protective" offers were also listed, such as fabric protection and suspension enhancements, but none scored as high within this group.
Figure 2
Protective Services of Interest
(If the Pricing Is Reasonable)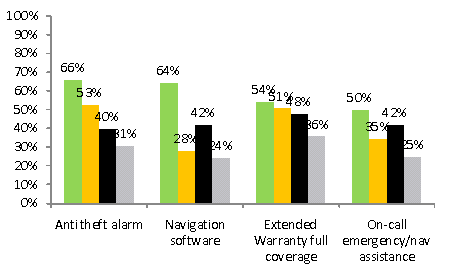 Source: Fulcrum Analytics
Among these "protective" options, the availability of extended warranties was more appealing to the boat and ATV shoppers, while the motorcyclists liked extended warranties more than they did the navigational software or anti-theft alarms.
Among more than a dozen "protective" options on their list, watercraft buyers cited extended warranties 48% of the time, a score exceeded only by the desire to purchase some type of tarp or protective cover for the unit. Only 40% said they wanted an anti-theft alarm on their boat. Even paint protection (42%) and winterization services (46%) scored higher.
The ATV buyers preferred protective features more specific to their vehicles, such as skid plates and winches. Third on their list was "engine performance enhancements," valued by 40% of respondents. Of the 15 "protective" options on their list, extended warranty came in sixth at 36%. However, anti-theft alarms (31%) and navigation software (24%) ranked even lower.
Motorcycle shoppers were given a list of 13 "protective" options. Extended warranties, at 51%, came in third overall, behind protective helmets (53%) and anti-theft alarms (53%). Navigation software (28%) came in third from the bottom.
Reasonably Priced Add-ons?
Price seemed to be a controlling factor, Piazza said. She said respondents were told to assume that the pricing for each type of add-on was "reasonable," but there still seemed to be a lingering bias among buyers that the price of anti-theft systems and navigational software would be "more reasonable" than it would be for extended warranties.
"I think they're less cautious about these kinds of investments because of the perceived price tag," she said. Other questions asked respondents what they thought was a reasonable price for each protective option, and Piazza said extended warranties were always perceived as being towards the high end of the scale.
As for luxury car buyers, extended warranties came in third out of 12 protective options on their list, exceeded by anti-theft alarms (66%) and navigation software (64%). Piazza said many of these buyers may prefer to self-insure their repair bills, but they'll pay to prevent a theft. So they won't buy an extended warranty but they will buy an alarm. And they'll pay for OnStar-style services that seem to fit well into their luxury lifestyle.
Amazingly, the OnStar-style emergency and navigational assistance services has much less appeal to motorcycle and ATV buyers. One could understand why they might not want a fragile Garmin hand-held strapped to their handlebars, but a "panic button" and/or crash assistance? That would seem to be a natural.
Once again, Piazza said price is a factor, or more specifically, affordability. Only 35% of ATV buyers listed incomes over $75,000, as opposed to 73% of luxury car buyers, 63% of boat buyers, and 40% of motorcycle buyers.
Asking for Directions?
Or maybe it's just another manifestation of the alleged reluctance of males to ask for directions? Two-thirds of the motorcycle and 54% of the ATV buyers were male, while 52% of the luxury auto shoppers were female.
Also, Piazza suggested that the typical ATV buyer might be looking forward to putting some wear and tear on their vehicles. They expect to beat them up on weekends, not to wax and buff them and make them look pretty. Indeed, only 26% of ATV shoppers gave any heed to buying a paint protection service, and only 21% listed fabric protection as an important service. And speaking of daredevils, only 38% of the ATV group valued protective helmets, gloves or goggles, as opposed to 53% of motorcycle shoppers.
Secondarily, Piazza suggested that the usefulness of OnStar-like services are still not very well understood. The Garmin-like navigational devices, they seem to understand, as evidenced by the appeal expressed for navigation software. "But the emergency aspect of it, I think it's still a new concept that's not entirely grasped," she said. "I don't think every automobile brand offers it, and I don't think that people have come to feel that it's a necessity. Most people are driving around with their cell phones, and they may not be willing to pay extra for something they feel a cell phone can handle."
However, Piazza said the people who were shopping for a month or more tended to value OnStar-like services more than shoppers who'd been looking for a month or less. Also, those with household incomes above $50,000 seemed to value OnStar-like service more than those who reported lower incomes.
What's a Reasonable Price?
Fulcrum's survey also asked respondents what they considered to be a reasonable price for an extended warranty. The answers that came back were perhaps the most shocking of all. We omitted the answers of those who responded "$50 or less" from Figure 3 below, but incredibly this was the answer of 18% of the motorcycle, 10% of the boat, 8% of the ATV, and 5% of the luxury auto buyers.
Figure 3
What Is a Reasonable Price for a
"Full" Extended Warranty?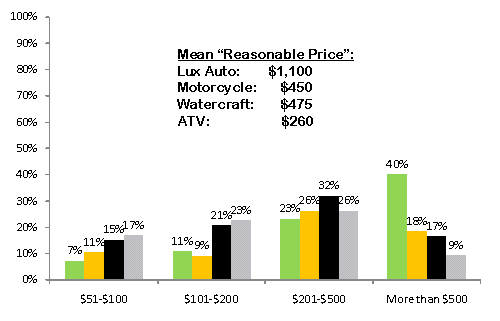 Source: Fulcrum Analytics
Piazza said she thinks many of the people who picked the very low prices were answering based on how much extra they'd be willing to add to a monthly finance payment for an extended warranty.
"One uncertainty I has is whether people were thinking that this was a one-time charge, versus an ongoing program that they would pay for and renew," she said. In fact, some people did say $50 a month. "But most people just put in a dollar amount, without specifically saying 'per month.' So that may be the reason why the data looks strange."
That at least seems to make more sense than someone buying a $45,000 car and expecting an extended warranty to be only $50 extra. That's the price of an extra cupholder, not a vehicle service contract.
And in fact, the mean prices that people selected do seem to be more realistic as well as more reasonable. The average price deemed to be "reasonable" for a service contract on a luxury auto was $1,100. For a boat, it was $475. Motorcycle buyers said $450 was reasonable. And the "just give me the keys" ATV buyers said $260 was reasonable.
Catering to the Cautious Buyers
Fulcrum also asked questions about whether buyers had delayed their purchases, whether it had taken longer to make their final choice, and whether they expected to keep their vehicles longer than before. About a third of the answers came back "yes," but it was especially true of first-time buyers.
Fulcrum therefore suggests that dealers be on the lookout for those "tire kickers." They are likely to be consumers that have already delayed their purchase, may be slow to buy, but really are interested in making a purchase. And though they're the most cost-conscious, they're also the most interested in protecting their purchase. Therefore, dealers should view add-ons such as extended warranties, navigation software, on-call assistance, and vehicle covers as among the best up-selling opportunities for 2010.