June 23, 2011
Warranty Reserves vs. Accruals, Part Two:
A handful of computer, electronics and data networking companies have gotten very good at controlling their warranty funds, both in terms of how much they set aside and how much they keep on hand. Others just take their best guess and hope it all turns out well.
Now that annual totals for all 14 warranty-issuing industry segments have been charted in detail for the years 2003 to 2010, spanning the newsletters published between April 1 and June 9, 2011, it's time to look at the key ratios of individual companies in the high-tech electronics industries.
The thing about warranty metrics is that while some represent what happens to your company and to your products, some represent what you think will happen, or what you think is appropriate.
For instance, the warranty reserve balance is basically accruals minus claims. However, the accrual rate is decided by a company's own finance team. Therefore, by manipulating the accrual rate, a company can raise or lower its warranty reserve balance, and adjust the ratio between claims and reserves.
Warranty Marksmanship
So in a way, an external observer can rate the "marksmanship" of a company's finance team by how well they control the metrics they are able to control. And with eight years of warranty data now in hand, each "target" is now quite full of holes. Some of the holes are in tight groupings, while other seem almost randomly distributed.
In the following six charts, we're tracking the warranty "marksmanship" of the top three warranty providers in each of six industries. On the horizontal axis, we're charting each company's accrual rate, calculating a percentage by dividing each period's accrual total by the corresponding product sales total.
This measures the company's expectations for its future warranty costs, as a percentage of sales. For instance, if a company sells a product for $1,000 and always sets aside $20 per unit to finance future warranty claims, its accrual rate would be 2.0% of sales. If the price of the product is cut to $800 but accruals remain at $20 per unit, the accrual rate would rise to 2.5%. If the price remained the same but accruals were increased to $30 per unit, the new accrual rate would be 3.0%. And so on.
On the vertical axis, we're taking the closing balance in each company's warranty reserve fund, and dividing it by the monthly total for claims payments at the end of each quarter. This measures the capacity of that reserve fund to pay claims, expressed in months. For instance, if a warranty reserve fund holds $12 million and the company is paying out $2 million a month in warranty claims, the reserve capacity is six months. If claims rise to $3 million a month but the reserve balance remains at $12 million, the reserve capacity would fall to four months.
Choosing Accuracy
A company chooses the amount it considers to be sufficient to hold in warranty reserve, by increasing or decreasing its accrual rate. But if claims rise and reserves don't, then the company is setting itself up sooner or later for a negative earnings event, where net income has to be cut because additional funds have to be allocated. Conversely, if the reserves are more than able to cover future claims, then funds are sitting idle when they could be added to net income.
It's been more than five years since Warranty Week has made these comparisons, which is partly a simple oversight and partly a product of the tremendous amount of calculations involved. Each of the charts below contains 32 accrual rate measurements per company (four quarters per year over eight years), and 32 reserve capacity measurements per company, with four companies per chart. So that's a total of 256 calculations per chart.
On each chart, the intersection of the blue lines represents the average for all U.S.-based manufacturers at the end of 2010. The average accrual rate for the 517 manufacturers that have so far published their 2010 warranty expenses was 1.39%. Their average reserve capacity stood at 16.7 months, based on $33.661 billion in reserves measured at year's end and a rate of $2.014 billion in claims payments per month in December 2010.
In Figure 1, we've charted the top four computer manufacturers, Hewlett-Packard Co., Apple Inc., Dell Inc. and IBM Corp. What's surprising is that although they're each producing similar products, their accrual rates over the past eight years have ranged from 0.7% of product revenue to 5.2%. Even Apple, which with the left-most grouping of the four has the lowest accrual rates, has seen fit to adjust its accrual rates over the period from 0.7% to 2.8%.
Figure 1
Warranty Reserves vs. Accruals
Top Three Mfg. in the Computer Industry
(in months of claims & % of sales, 2003-2010)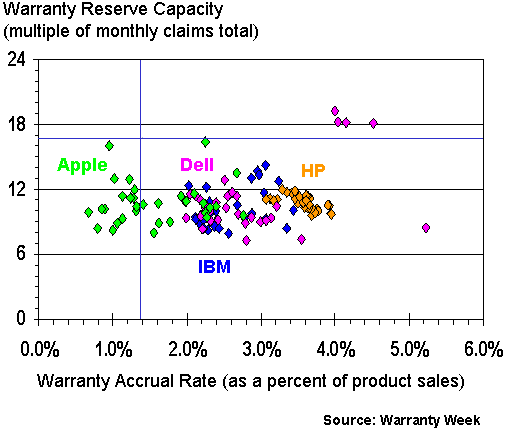 What's not surprising is how the reserve capacities have remained so close to 12 months. Dell and Apple have on occasion allowed their reserves to grow to above-average capacities, but this had more to do with temporary decreases in claims than with sustained increases in the ratio between claims and reserves.
Notice the very tight grouping of the HP data. This is what we mean by "warranty marksmanship." It was hard to spot in last week's newsletter, which covered the automotive and homebuilding industries. Cummins, Johnson Controls and Whirlpool were the best examples of companies that had expert aim, but even their groupings were more diffuse than HP's.
Missed the Target?
Is this a good thing? That's hard to say. For instance, one reason Ford Motor Co. no longer had such a tight grouping was the fact that it's rather successfully raised its product reliability and cut its warranty costs in the past few years. That resulted in a horizontal scattering of its data, which if viewed instead as a time series would look quite an accomplishment. Back in 2003-2008 its accrual rate was near 2.5%. Now it's below 1.5%.
The thing is, we're measuring marksmanship on two axes. And while a horizontal diffusion isn't such a bad thing if it's caused by reduced warranty costs, an excessive vertical diffusion is a sign that a company's financial planners aren't so accurate. Sometimes they have more reserves than their warranties require, and sometimes less.
In Figure 2, we see three companies that cluster around 24 months while their accrual rates vary. And then there's SanDisk Corp., which exhibits both horizontal and vertical chaos with its warranty data. Is that unfair? Note that there are only 28 data points for the company, because in four quarters its reserve capacity exceeded 100 months. Either we charted the data logarithmically, or we set the cutoff at 60 months.
Figure 2
Warranty Reserves vs. Accruals
Top Three Mfg. in Data Storage
(in months of claims & % of sales, 2003-2010)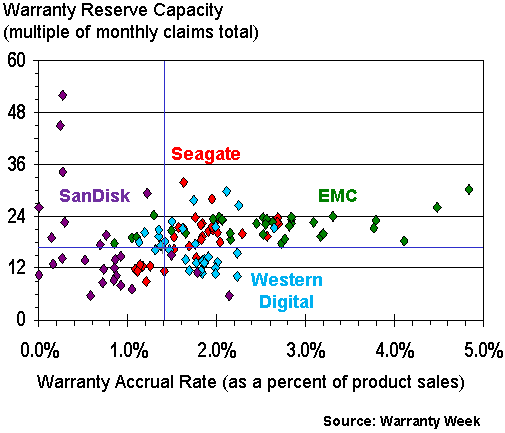 EMC, we note, has accrual rates all the way out to 4.8%. However, the good news is that these extremes were reached in 2005 and 2006. The accrual rate has steadily declined ever since, and actually briefly dipped below one percent last year. Like we said, if there was a way to show the change over time, these charts would be even more revealing.
In Figure 3, we're charting four of the top U.S.-based makers of telecom equipment and data communications gear. It's actually a bit hard to see the Cisco data underneath the Motorola data, because there are so many data points clustered around two percent and nine months. But this is a good thing, showing that Cisco, and to a lesser extent Motorola, are very good at carefully controlling their warranty budgets.
Figure 3
Warranty Reserves vs. Accruals
Top Three Mfg. in Telecom Equipment
(in months of claims & % of sales, 2003-2010)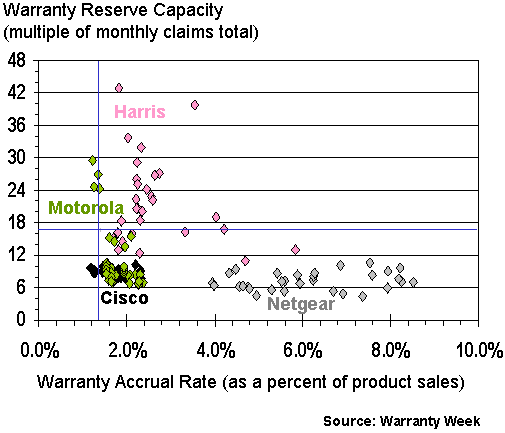 We should not that the Motorola data is for both Motorola Inc. and its successor, Motorola Solutions Inc. We didn't want to clutter the chart with additional data for the spin-off Motorola Mobility Holdings Inc., but in general its data points would have been slightly to the right and above the Motorola Solutions cluster.
Naturally High Warranty Costs?
Two things deserve mention. First, Netgear Inc. has much higher than average accrual rates, and they occur over a much wider range than is typical. But its reserve capacity remains carefully controlled (a horizontal spread). And it just seems, as with Cummins, Palm, Lexmark, and a few other manufacturers, that high warranty costs just naturally come with the product line. It's not a crisis unless it used to be better.
Second, Harris Corp. has data all over the place, both vertically and horizontally. But what you don't see are the two occasions where its accrual rate went over 10%, and the one occasion where its warranty reserve capacity rose above 20 years. We omitted those three data points to make it easier to see the patterns of the rest.
Among the manufacturers of semiconductors, printed circuit boards, and the equipment used to make them, there remains a very distinct split within the industry. As we've noted before, companies such as Novellus Systems seem to have much higher warranty costs than the companies that use their machinery to make actual end user products. And this is quite noticeable in Figure 4.
Figure 4
Warranty Reserves vs. Accruals
Top Three Mfg. in the Chip Industry
(in months of claims & % of sales, 2003-2010)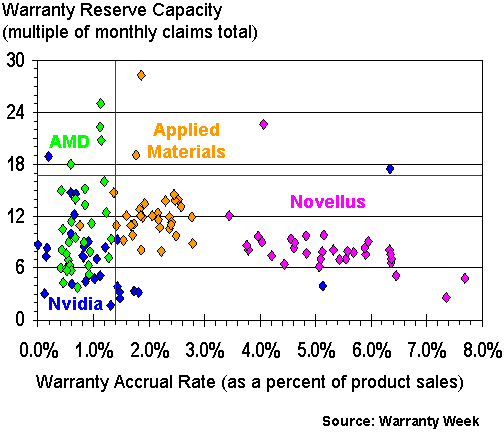 However, while Novellus Systems seems to be part of that small group of companies that's learned to live with high warranty costs, we should add that its accrual rate has never before been as low as it was in 2009-2010. So again, if only there were a way to turn this data into a time series. Any ideas?
Oh, and we should note that the Nvidia data omits four data points that were clearly off the scale. On three occasions during its graphics board fiasco, its accrual rate went over 20%. And on one occasion, right after it made an unusually huge accrual at the end of 2008, its reserve capacity soared to 49 months.
Lasers & Radiation
In the medical and scientific equipment field, as we've noted in previous newsletters, virtually any machinery that involves lasers or radiation seems to also attract unusually high warranty costs. We can see that in Figure 5 through the data points of Varian Medical Systems Inc., which on one occasion back in 2003 raised its accrual rate as high as 4.3%. But it's also been as low as 2.3%, which we're happy to report happened late in 2010. Also, notice how the reserve capacity has remained close to either side of 12 months over the entire time series.
Figure 5
Warranty Reserves vs. Accruals
Top Three Mfg. in Medical Equipment
(in months of claims & % of sales, 2003-2010)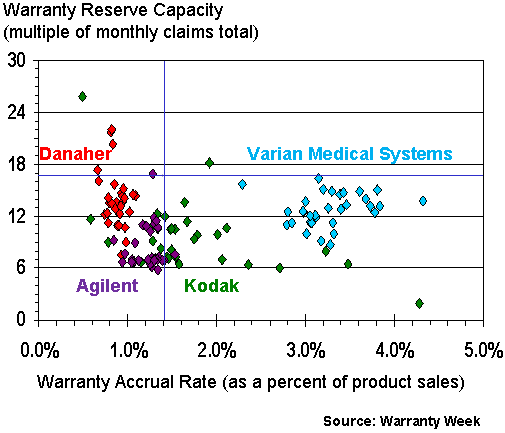 Danaher Corp., in contrast, has kept its accrual rate at a near-constant 0.9% level for the past eight years, but has allowed the ratio between reserves and monthly claims to fluctuate up and down. It's much the same story for Agilent Technologies Inc., which has stuck close to 1.2% for accruals but has allowed the reserve capacity to fluctuate. Then again, the extremes of these fluctuations are nothing compared to SanDisk and Harris Corp.
Finally, we have a chart for consumer electronics, or at least the small portion of the CE marketplace that doesn't involve imports. Next week we'll take a look at some of the European and Japanese companies that dominate this market. This week, we have manufacturers of game consoles, hi-fi speakers, navigation equipment, and radar detectors.
Figure 6
Warranty Reserves vs. Accruals
Top Three Mfg. in Consumer Electronics
(in months of claims & % of sales, 2003-2010)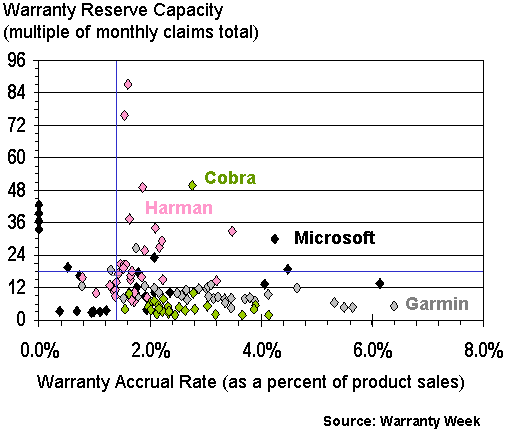 In Figure 5, there were no outlying data points omitted. But in Figure 6, we had to eliminate data points at both extremes. That's because Microsoft, until failures of its Xbox 360 became an international news story, typically kept $10 million or more in its warranty reserve fund against virtually no reported claims. But then in mid-2007, after the crisis began, its reserve fund balance soared past $850 million and its accrual rate hit 16%.
Harman International Industries Inc. also had a quarter in which it reported no claims. And since the formula for reserve capacity is reserves divided by monthly claims paid, the product of dividing by zero is an infinite number.
Most of the company's other data points cluster around 1.8% and 12 months. But there is some vertical diffusion to be seen, which suggests that perhaps there's a timing issue with some of its claims -- payments in some quarters are much larger than either the quarter before or the quarter after. And it's not a seasonal pattern either: three of the claims peaks came in the fourth quarters of their respective years, but two came in the second and one each came in the first and third quarters.
The Warranty Marksmen
Cobra Electronics Corp., except for that one outlying point that we chose to serve as the label (because of the crowded conditions below it), seems to always keep its reserve capacity below a year while adjusting its accrual rate up and down. Were it not for the fact that accruals have ranged from two to four percent, we might even call them "warranty marksmen."
But as was seen in previous charts, this is a skill where you know it when you see it. HP has it. Cisco has it. Maybe even Danaher and Agilent have it. These companies have shown over the past eight years that they can accurately set their accrual rates to fit their warranty costs, and can also manage their reserve balance to reflect a reasonable multiple of their claims payments.