July 14, 2011
International Warranty Costs:
What you make matters more than where you make it. As in the U.S., the makers of appliances, computers and telecom gear have significant warranty costs. But for most consumer electronics manufacturers, warranty is not such a significant burden.
European and Japanese manufacturers sometimes also report their warranty expenses, though not as frequently as most of their American competitors. Every year, as the Fourth of July and Canada Day celebrations clear out the offices of our North American subscribers, we usually take a look at some warranty providers based overseas.
Having gotten the warranty reports of the top worldwide automakers out of the way in the July 7 newsletter, it's now time for us to turn our attention to nine international companies in the appliance, computer and consumer electronics industries.
Two are based in Sweden. One is in Finland. One is in Germany. One is in France. And four are based in Japan. The two Swedish companies keep their accounts in kronor. The other three European companies use euro. And the Japanese companies use yen. But as we'll see, that adds only minor complications to our analyses. When it comes to warranty, it seems to matter less where you are, because what you make matters more.
Because of the mix of currencies, national accounting systems and industries, we're not going to present industry totals or averages, and we're not going to compare the companies directly with each other. Instead, we'll present a series of nine snapshots, and some general observations.
Journey to Scandinavia
Let's begin in Scandinavia, with an appliance company that has a major presence not only across Europe, but also in North America. In fact, Electrolux is the second-largest appliance maker in the world, after Whirlpool. It controls brand names such as Frigidaire, Eureka, Tappan, Gibson, Atlas, Kelvinator, Philco, White-Westinghouse, Molteni, and many more.
The company traces its roots back to 1918, when the Swedish companies Elektromekaniska and Lux merged and began selling vacuum cleaners. The product line then widened to include refrigerators and floor polishers, while the sales effort widened across Europe, the U.S.A., and Australia. The company now claims to sell 40 million appliances a year in some 150 countries worldwide.
In Figure 1, we've left the quarterly claims data in Swedish kronor, while the claims rate and accrual rate are expressed as a percentage of total sales revenue. Currently, the Swedish kronor is worth about 15.4 U.S. cents, so the company's 2010 claims total of 921 million Skr is roughly equal to US$142 million.
Figure 1
Electrolux AB
Warranty Claims & Accrual Rates, 2003-2010
(as a percentage of product revenue)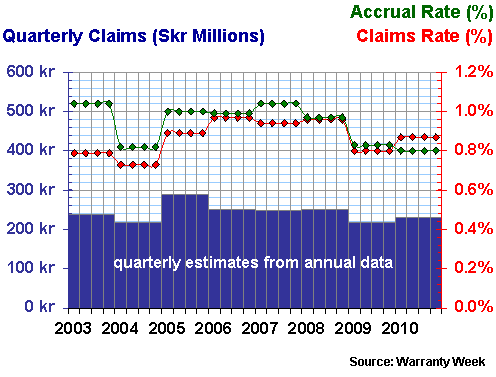 We've taken the 921 million Skr annual total and chopped it into four equal pieces of 230 million Skr for each of the quarters of calendar 2010. This is to make it fit into the format used for all the American warranty providers.
Likewise, we've set the claims and accrual rates to remain constant across the entire calendar year, which we know of course is not what really happens. For instance, take a look back at Figure 6 in the June 2 newsletter for a snapshot of Whirlpool, which reveals at least four peaks or canyons that would have been smoothed over had we used only annual data.
Remarkably Unremarkable
Still, what's remarkable about the Electrolux data is how unremarkable it is. Neither claims nor accrual rates ever veer very far above or below a narrow range, and even the quarterly claims payment estimates are fairly flat.
Compare and contrast the flatness of that data to the severe slope in the data of Figure 2. LM Ericsson cut its warranty expenses by huge percentages in the years 2003 to 2007, and is now in its fourth consecutive year of low and stable warranty costs.
Figure 2
LM Ericsson Telephone Co.
Warranty Claims & Accrual Rates, 2003-2010
(as a percentage of product revenue)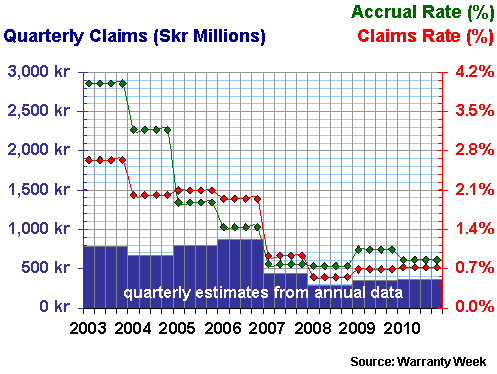 Again, the claims payments are expressed in Swedish kronor. But for Ericsson, the bill is a bit higher. The 1.47 billion Skr that Ericsson paid out in 2010 was equivalent to US$226 million -- roughly what Boeing or Ingersoll-Rand pay out in warranty claims per year. The Electrolux warranty bill is closer to what Jarden or Western Digital pay out in a year.
The claims and accrual rates, however, are expressed as a percentage of sales. And very few companies can afford to set aside four percent of revenue for warranty costs, as Ericsson was doing in 2003. Fortunately, over the next three years sales grew while warranty costs remained constant, so the percentages dropped. And then in 2007 sales grew a little bit but warranty costs dropped a lot.
In 2008, sales peaked, but fortunately warranty costs stayed about the same. Ericsson's claims rate hasn't been above one percent in four years, and its accrual rate exceeded that level only once since 2007.
Ericsson is in a 50/50 joint venture with Sony to manufacture mobile phones and other mobile communication devices. A snapshot of Sony's recent warranty expenses can be seen below in Figure 6. However, no warranty data is available for the joint venture. Therefore, most of what Ericsson did report as warranty expenses probably came from network infrastructure equipment rather than from handsets sold to consumers.
Nokia Mobile Phones
Nokia, however, reported that roughly 69% of its 2010 sales came from mobile phones, smartphones, and mobile devices that attach to laptops. Therefore, the majority of the warranty expenses seen in Figure 3 are likely to have come from sales to consumers, as opposed to sales to carriers and network operators. However, Nokia also has a joint venture, this one with Siemens, to manufacture network equipment for carriers.
For Nokia by itself, claims payments peaked in 2008, but the claims rate as a percentage of sales didn't peak until 2009. And last year, it returned back to the level it was in 2003, after having gradually risen from 2006 to 2009.
Figure 3
Nokia Corp.
Warranty Claims & Accrual Rates, 2003-2010
(as a percentage of product revenue)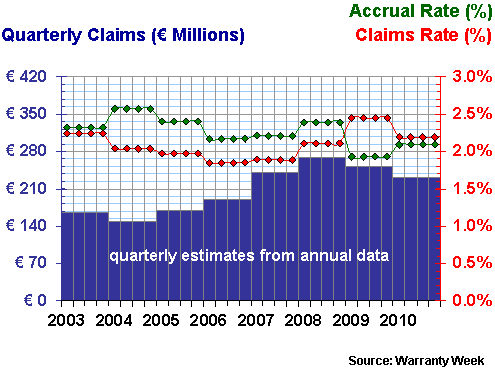 As with Electrolux, there's really nothing to get excited about in this chart. Nokia has problems, to be sure, but warranty costs aren't among them. Sales are rising and warranty costs are falling. The only thing we could find to get worried about is the removal of €43 million last year from the reserve fund, which reduced its year-end balance to €928 million -- its lowest level since before warranty expense reporting began in 2003.
Increasing Warranty Costs
The snapshots for the next two manufacturers are somewhat troubling. Both Siemens and Alcatel-Lucent have increased their accrual rates in recent years. And for Alcatel-Lucent, at least, it was done because of rising claims rates.
Siemens, unlike the other four European companies, ends its fiscal year on September 30. So the warranty data in Figure 4 is actually almost ten months old now. But it's the latest that's available, because Siemens discontinued its quarterly updates and switched to annual updates beginning with its fiscal year 2007.
Figure 4
Siemens AG
Warranty Claims & Accrual Rates, 2003-2010
(as a percentage of product revenue)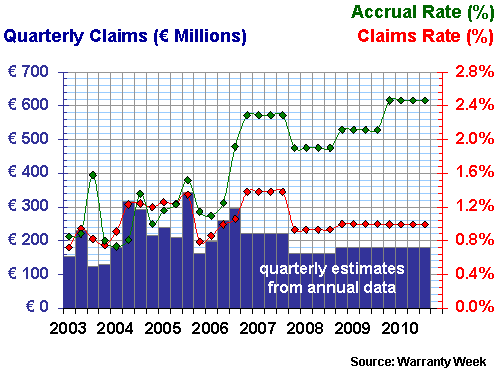 In the fiscal year ended Sept. 30, 2010, Siemens raised its accrual rate to 2.5%, even though its claims rate remained at one percent for the second year in a row. Or to put it another way, they set aside €1.8 billion in accruals to pay for €718 million in claims. Most peculiar. And this is the fourth year in a row that accruals greatly exceeded claims.
At Alcatel-Lucent, however, there does indeed seem to be a need for increased accruals. Both claims and accrual rates have risen for the past three years, and at 3.6% and 4.9%, respectively, both have never been higher.
As can be seen in Figure 5, Alcatel-Lucent also switched to an annual warranty expense disclosure format in 2007. From 2003 to 2006, it released its warranty expense reports twice a year. Lucent Technologies Inc., the company it acquired in late 2006, had until then been following the quarterly format required of all U.S.-based companies.
Figure 5
Alcatel-Lucent
Warranty Claims & Accrual Rates, 2003-2010
(as a percentage of product revenue)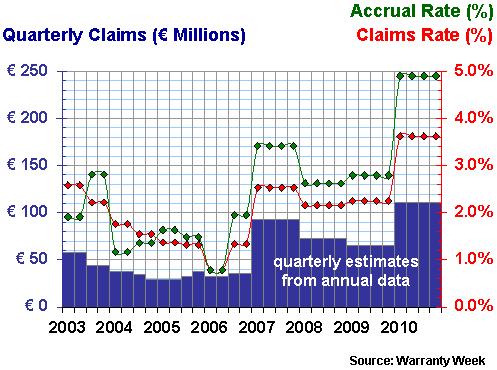 There are very few companies that can afford to set aside 4.9% of their product revenue to finance expected warranty claims. Alcatel-Lucent, we hope, is one of them. Network product revenue was up in 2010 and the operating loss the unit suffered in 2009 became an operating profit in 2010. But still, €600 million is a lot of money for a company with €12.25 billion in non-service revenue to set aside.
There were, however, nearly €200 million in warranty reversals last year, triggered when customers replaced some of their installed products sooner than expected, and before their warranties had expired. Still, the company had to pay €443 million in warranty claims, and at 3.6% that was the company's highest claims rate ever reported.
Low and Going Lower
Among the four Japanese companies profiled below, the warranty news seems to be all good. All four reported lower claims rates in their most recent fiscal years, and for three of them those percentages represented the lowest claims rates they had ever reported.
Let's start with Sony. The laptop and consumer electronics manufacturer reported ¥37 billion in claims paid and ¥49 billion in accruals made in the year ended March 31, 2011. That's approximately US$439 million in claims and US$585 million in accruals at prevailing exchange rates. And compared to Sony's hardware revenue, it represents a claims rate of 0.75% and an accrual rate of one percent.
Figure 6
Sony Corp.
Warranty Claims & Accrual Rates, 2003-2011
(as a percentage of product revenue)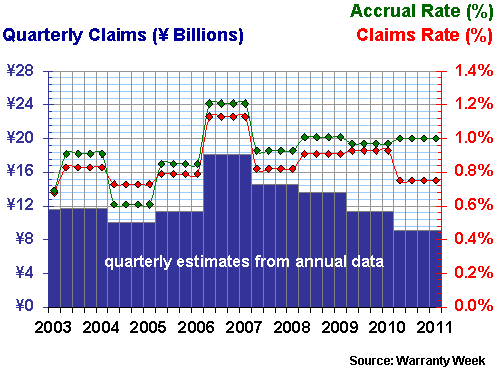 It was the third consecutive year of more or less steady accrual rates for Sony. And it was the lowest claims rate the company reported since the fiscal year ended in March 2005.
Panasonic, meanwhile, got its claims rate back down to 0.4% in its most recent fiscal year, tying the record set in the fiscal year ended in March 2008. At 0.55%, Panasonic's accrual rate is back down to levels last seen in 2005 and 2006.
Figure 7
Panasonic Corp.
Warranty Claims & Accrual Rates, 2003-2011
(as a percentage of product revenue)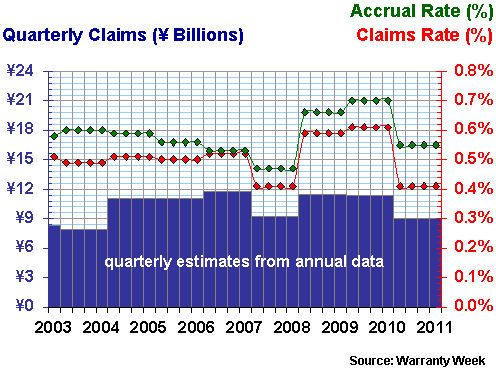 In truth, the snapshots of Sony and Panasonic are about as unremarkable as those of Electrolux and Nokia. Panasonic had a recession-related upturn in warranty costs in 2008-2009, but that's behind it now. Sony had a bump in fiscal 2007, but that's over now as well.
Celebrating Cost Reductions
The folks at Hitachi, meanwhile, should find some colleagues at Ericsson willing to break out their best bottle of Akvavit, proposing a toast to the success of their warranty cost-cutting efforts. As can be seen in Figure 8, Hitachi's claims rate has been on a downward course for at least seven years, while its accrual rate ended the most recent fiscal year at 0.25%.
Figure 8
Hitachi Ltd.
Warranty Claims & Accrual Rates, 2003-2011
(as a percentage of product revenue)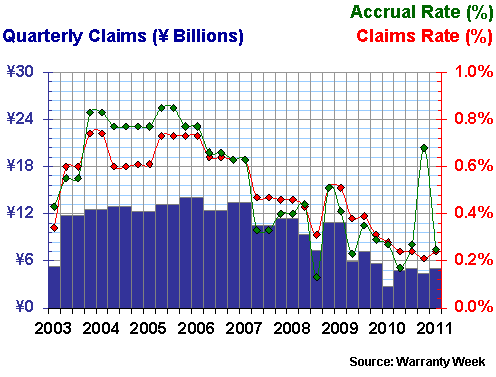 Readers should not that like Alcatel-Lucent, Hitachi used to make its warranty expense reports twice a year, which is why the data points come in pairs for the years 2003 to 2007. But unlike Alcatel-Lucent, which changed to an annual format after acquiring Lucent, Hitachi changed to a quarterly format in 2008.
Finally, we turn to camera and office equipment maker Canon Inc. Unlike many of its Japanese peers, which end their fiscal years in March, Canon follows the calendar year. And like most of the European companies we've already profiled, Canon provides just annual updates of its warranty expenses.
In Figure 9, we can see that Canon's most recent claims and accrual rates are significantly lower than either was during the years 2007 to 2009. But they're really only returning to the range they were in for the years 2003 to 2006.
Figure 9
Canon Inc.
Warranty Claims & Accrual Rates, 2003-2010
(as a percentage of product revenue)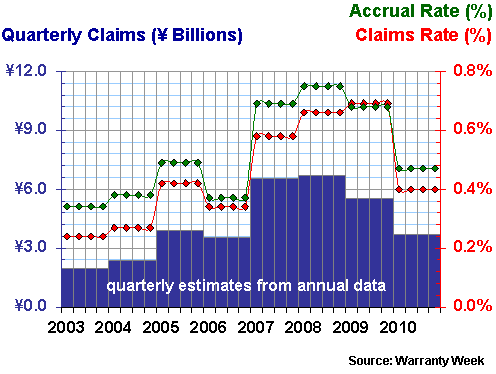 In calendar 2010, Canon reported ¥15 billion in claims paid and ¥18 billion in accruals made -- the equivalent of US$177 million and US$212 million, respectively. But compared to total revenue, both are less than half a percent.
What You Make, Not Where You're From
Forget the currencies and the nationalities for a second. Look at the percentages and the industries. The appliance and telecom equipment companies report claims and accrual rates at or above one percent. The consumer electronics companies report well under one percent rates. Sony's rates would be there too if not for its computer operations, we suspect.
Last week, we showed how claims and accrual rates for several of the top worldwide automotive OEMs seem to be converging, although Honda Motor Co. seems to always have the lowest costs. This week, we've shown how some of the world's biggest consumer electronics companies seem to always have the lowest costs. And that, we'd suggest, is proof of the theory that product warranty isn't as big a pain for the top consumer electronics companies as it seems to be for the appliance, computer and passenger car makers.