July 28, 2011
Farming & Mining Equipment Warranties:
Some of the companies whose heavy duty equipment is used to move the earth exhibit an annual pattern closely tied to the growing season. Others have seen the same recessionary rise in claims costs as the passenger car companies. But a few have been able to consistently reduce their warranty expenses across all cycles, both astronomical and economic.
While we've covered the warranty expenses of the car companies extensively in recent months, we've more or less skipped over the makers of heavy equipment used in the mining, construction, and farming industries.
One reader requested some coverage of mining equipment companies, and another asked for agricultural equipment companies. So rather than cover those separately, we're covering both at once. What we have this week is a series of snapshots of nine companies engaged in the provision of equipment used to dig the earth, tend to crops or care for grass lawns.
Wisconsin Connection
Manitowoc is the name of a town and a river in eastern Wisconsin, and is also home to the Manitowoc Company Inc. Originally started as a shipbuilding company more than a century ago, the company is now a major producer of cranes and boom trucks used in the construction industry. It has sold its shipbuilding and ship repair interests to an Italian company. A food service division also makes ice machines and other restaurant equipment.
As can be seen in Figure 1, Manitowoc recently exhibited the recession-related rise in warranty costs. But it started later than most (early 2009) and didn't begin to get back to normal until this year.
Figure 1
Manitowoc Company Inc.
Warranty Claims & Accrual Rates, 2003-2011
(as a percentage of product revenue)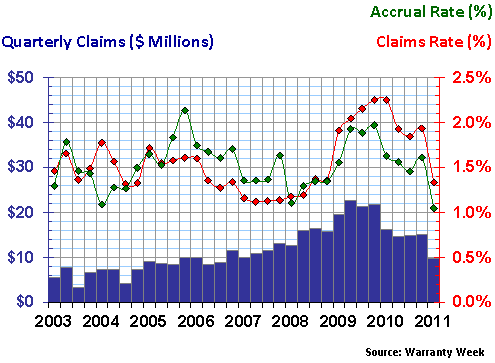 Notice that the totals for claims paid per quarter in dollars (the blue bars) really did rise in 2009 and fall in 2010. That means the rises in rates weren't merely caused by falling sales. There was also an actual increase in claims paid.
Another distinguishing feature is the way the company's claims and accrual rates closely track each other. For the past few years Manitowoc's claims rate has exceeded its accrual rate (reducing reserves) but in previous years accruals exceeded claims (increasing reserves).
Another Wisconsin Company
Joy Global takes its name from Joseph Joy, who launched a coal mining equipment business in 1919. It was originally located outside Pittsburgh, but eventually was merged with companies based in Milwaukee, Wisconsin, which is where its headquarters is today.
In terms of warranty expense, Joy Global saw a brief spike in 2010, but has generally kept its claims and accrual rates far below the levels they saw in 2003 and 2004. In Figure 2, one can see the company's claims rate in early 2011 falling to levels it hasn't seen since 2006.
Figure 2
Joy Global Inc.
Warranty Claims & Accrual Rates, 2003-2011
(as a percentage of product revenue)
Bucyrus International is another company that takes its name from its home town -- in this case, Bucyrus, Ohio. The company specializes in mining and construction equipment, tracing its roots back to 1880. However, it also eventually moved its headquarters to Wisconsin.
Farewell, Bucyrus
We're presenting a warranty snapshot of the company here almost as a going away present. Bucyrus was acquired by Caterpillar earlier this month and will soon cease publishing its own separate financial statements.
Figure 3
Bucyrus International Inc.
Warranty Claims & Accrual Rates, 2003-2011
(as a percentage of product revenue)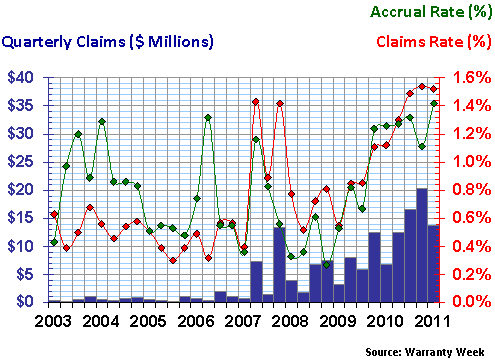 As Figure 3 illustrates, the company's warranty costs have been rising for most of the past three years. And in early 2011, both its claims and accrual rates were at their highest levels ever. However, keep in mind that 1.55% isn't such a high peak for as company such as this. Both Manitowoc and Joy Global also have exceeded that level at times.
Also, keep in mind that before being acquired by Caterpillar, Bucyrus went through a series of mergers of its own, which accounts for the rise in quarterly claims payments (the blue bars) from the under-$2 million levels of 2003-2006 to the over-$10 million levels of 2007-2011.
Diverse Sales
Now, all that warranty expense will be folded into Caterpillar, whose warranty snapshot can be seen in Figure 4. Caterpillar is by far the most diverse company we're profiling this week, having extensive operations not only in mining, construction and agricultural equipment but also in on-highway truck engines and even diesel generators. Its equipment is also used in forestry and landscaping applications. And of course it's selling that equipment worldwide.
Caterpillar is also the first of the companies we're profiling to take its name from its products rather than from its home town or founder. Early customers of the firm, then called the Holt Manufacturing Co., remarked that its tractors moved like a caterpillar, and the name stuck.
Caterpillar, like many manufacturing companies affected by the recession, saw a noticeable bump in its warranty costs in 2009. But unlike, let's say, Manitowoc, it kept its accrual rates steady while claims rates soared. However, like Manitowoc, the rise in the blue bars suggests that the increase in claims wasn't completely caused by a fall in sales. There was also an upward trend in claims paid per quarter from 2003 to 2009.
Figure 4
Caterpillar Inc.
Warranty Claims & Accrual Rates, 2003-2011
(as a percentage of product revenue)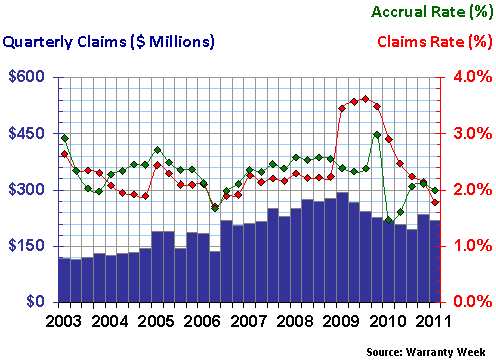 The 1.8% claims rate seen for Caterpillar in early 2011 is the lowest level for that warranty metric since 2006. The most recent 2.0% accrual rate was bested in 2010, 2006, and 2003, with 1.5% being its lowest level ever. From this point forward, as the Bucyrus acquisition is absorbed, the rates will likely stay the same but the quarterly totals will rise by about a tenth.
Car Company Link
Terex, our next snapshot, actually sold its mining division to Bucyrus last year, but it continues to make construction equipment that's also used in mining applications. And ironically, given how the warranty expenses reported by the passenger car companies usually overshadow all the truck-building OEMs in the automotive industry, Terex is a spin-off of the General Motors Corp.
GM invented the name Terex, joining the Latin words for earth (terra) and king (rex). Because of a court ruling, GM had to discontinue the manufacture and sale of the off-highway trucks made under the Euclid brand name. It took a while, but by 1988 Terex was an independent company.
In warranty terms, Terex has produced an unusually steady pair of key warranty ratios all the way from 2003 to 2008. But then, as can be seen in Figure 5, the recession caused both claims and accruals to rise in 2009.
Figure 5
Terex Corp.
Warranty Claims & Accrual Rates, 2003-2011
(as a percentage of product revenue)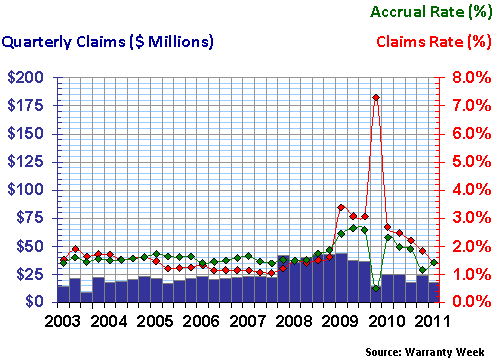 The most interesting anomaly in Figure 5 is the spike in claims during the final quarter of 2009, in which the company reported paying $14.2 million in claims on only $194 million in sales. At the same time, it set aside only $1.0 million in accruals. So the claims rate spiked and the accrual rate cratered. But both metrics quickly reverted to the trend lines formed in 2009 and 2010.
Agricultural Focus
With Deere & Co., we're turning a little bit more away from the mining and construction segments and more towards the agriculture and landscaping segments. These are the businesses in which John Deere, the company's founder, first entered in 1837.
Deere began making plows for farmers, and eventually added farm tractors to the product line. But over the years its product line has extended to wagons, bicycles, snowmobiles, and even chainsaws. And it continues to manufacture lawn mowers and snow blowers aimed at consumers through retail sales.
Deere's warranty expenses seem to follow a highly seasonal pattern, with the claims rate peaking in the fourth quarter of each year. However, look at the blue bars. They're much less cyclical, suggesting that it's the annual rise and fall of sales, rather than claims, that's producing the bounciness of the red line.
Figure 6
Deere & Co.
Warranty Claims & Accrual Rates, 2003-2011
(as a percentage of product revenue)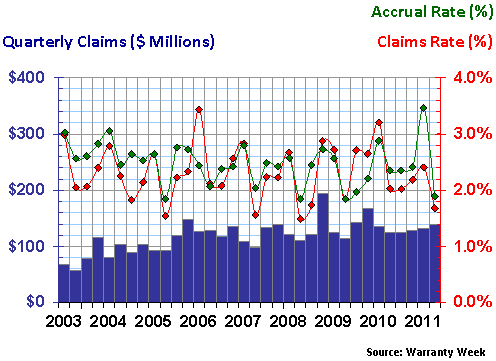 There was a big bump, however, in Deere's accrual rate at the end of 2010. In the quarter that included November, December, and January 2011, for some reason the company set aside $191 million in accruals, more than ever before. And in response, its accrual rate spiked to 3.5%, its highest level ever. But then in the very next quarter, accruals fell back to $158 million, and as spring sales rose, the accrual rate fell back to 1.9%.
Another Car Company Link
AGCO Corp. is, as its name suggests, an agricultural company. But that's not where the name comes from. It's actually a spin-off from a German company named Deutz AG, whose founder Nikolaus August Otto invented the internal combustion engine and who hired people with names like Daimler, Maybach and Bugatti, who went on to found their own automotive companies. And the spin-off was first called Allis-Gleaner Corp., which was later shortened to AGCO.
AGCO makes farm equipment -- harvesters, tractors, foragers, sprayers, planters, etc. As the pattern in Figure 7 suggests, the company's warranty expenses have remained relatively stable over the past eight years. There was a one-quarter elevation in AGCO's claims rate, but it fell below 2.5% again in the next quarter. Back in 2005 AGCO's accrual rate was once above 2.5%, but again that was short-lived.
Figure 7
AGCO Corp.
Warranty Claims & Accrual Rates, 2003-2011
(as a percentage of product revenue)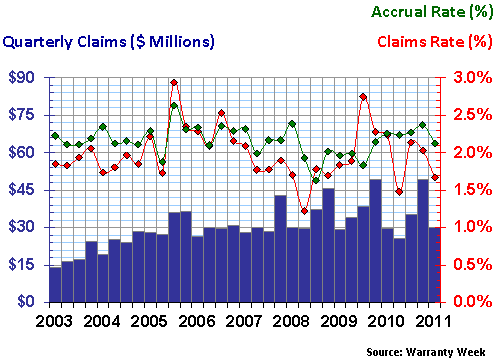 And then we have a pair of companies specializing in lawn equipment. Toro concentrates on professional lawn equipment for parks, golf courses, etc., while Briggs & Stratton concentrates on engines for lawn mowers. But both are more diverse than that, with Toro venturing into snow blowers and Briggs & Stratton into boat engines.
Toro used to make engines for the Bull Tractor Co. (Get it? Toro is the bull in Spanish.) But then it acquired Lawn Boy and other lawn care equipment companies and changed its focus.
Both Toro and Briggs & Stratton exhibit the same kind of seasonality as Deere. If it were present in the AGCO chart we'd say it's a marker for an equipment company whose products are closely tied to the growing season. But there's only a slight bit of seasonality to the AGCO numbers, and only then in the past four years, and only in the fourth calendar quarter of each year.
At Toro, claims always peak in the fiscal quarter that includes August, September, and October. At Briggs & Stratton, the peak comes in the quarter that includes July, August and September. In other words, the new equipment typically needs repairs towards the end of the growing season, or at least that's the time its customers can find the time to take it out of service for warranty work.
Figure 8
Toro Co.
Warranty Claims & Accrual Rates, 2003-2011
(as a percentage of product revenue)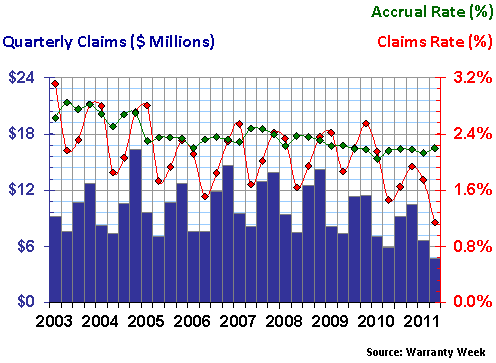 The Toro chart exhibits an encouraging pattern of lower claims rate peaks and decreasing accrual rates. In fact, the 1.1% claims rate reported for the quarter ended April 29, 2011, was its lowest ever.
For Briggs & Stratton, the direction of the pattern is less conclusive. In fact, the highest claims and accrual rates came in the second half of 2007. But the lowest came in 2005 and 2006. Then again, the last few years have been less volatile.
Figure 9
Briggs & Stratton Corp.
Warranty Claims & Accrual Rates, 2003-2011
(as a percentage of product revenue)
In addition, the company is based in Wisconsin, as are three others we've profiled this week: Manitowoc, Bucyrus, and Joy Global. Toro is based in Minnesota, while Deere and Cat are headquartered in Illinois. AGCO is in Georgia, and Terex is in Connecticut.
So there you have it: Nine companies whose equipment moves the earth, for mining, for construction, for agriculture, and for landscaping. And while the patterns are seasonal for three of them, for the other six the big bumps seem to have more to do with the recession and its effect on sales.
Next week, on August 4, we have one more special request to honor, from a reader that asked for some coverage of sports equipment product warranties. And then we're going to take two weeks off for summer holidays, returning with a new newsletter on August 25.