March 28, 2013
Computer Warranty Report:
In terms of streamlining the warranty process so it can be as efficient as possible while making more reliable products, computer manufacturers and their suppliers are doing a great job. But at the same time, they went from spending the least on warranty in 2009 to the most ever in 2012. How can both statements be true?
Warranty expenses are up. Warranty expenses are down. Actually, after looking at the brand new 2012 data, they're both up and down, depending on what metrics are being examined.
In the computer industry, warranty providers are spending more than ever on their product warranties. But they've never spent less as a percentage of revenue. The reason? Sales are rising faster than expenses, because warranty providers are making better products that cost less to repair, and they're spending less on claims processing.
Great Combination
It's a great combination: Sales are up and expense rates are down. And those expense rates have been falling for an entire decade -- even during the recent recession, when sales plummeted as customers collectively hit the pause button.
Let's start with a look at the warranty claims reported by U.S.-based companies in four industry segments. Since early 2003, we've been tracking 24 companies we classified as computer OEMs; 42 companies that manufacture disk drives or other data storage systems; 158 makers of semiconductors and printed circuit boards; and 87 computer peripherals manufacturers.
Not all are still in business. In fact, only 139 of the companies reported paying any warranty claims or making any warranty accruals in 2012. The rest have either gone out of business, have been acquired, or have gone private.
For each of these companies, we tracked the warranty metrics they reported in the four quarters and/or the fiscal year that ended during a particular calendar year. In other words, when a fiscal year doesn't quite map to a calendar year, we selected the four quarters to count as a calendar year.
Therefore, if a company's fiscal year ended at the end of October, the quarters ended in January, April, July and October were counted. If a company's fiscal year ended in June, the quarters ended in March and June from one fiscal year, and September and December from the following fiscal year, were counted as a particular calendar year. This is particularly important in the computer industry, because neither the fiscal years used by Apple, Dell nor HP follow the calendar year.
Warranty Claims Are Up
In Figure 1, it's clear that several industry segments saw huge jumps in warranty claims payments. The computer OEMs saw a 13% increase to $6.044 billion. And the data storage companies saw an even larger 19% jump, to $782 million in 2012.
Figure 1
Warranty in the Computer Industry
Claims Paid by U.S.-based Companies
(in US$ millions, 2003-2012)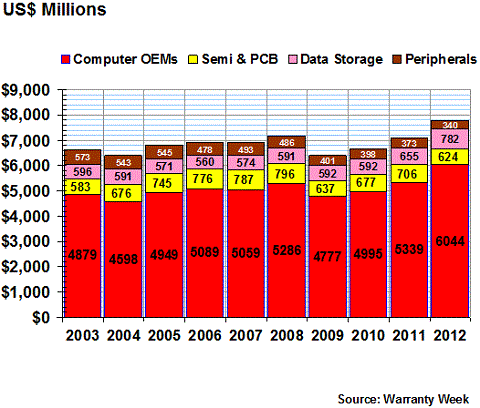 The computer industry total was $7.79 billion for the OEMs and their suppliers. This figure was up more than 10% from 2012, reflecting the success that Apple Inc. is having with its iPhone as well as a general improvement in product sales for the others.
Of the 26 computer, data storage, peripherals and semiconductor companies that made it into the Top 100 warranty provider list covered in the March 14 newsletter, 15 saw product sales revenue gains, including double-digit percentage increases by Apple; Seagate Technology; Western Digital Corp.; Lam Research Corp.; and Nvidia Corp. And more sales means more units, which means more repairs, and more warranty claims.
Warranty Accruals Are Up
The flipside is warranty accruals. These are the amounts that companies set aside as products are sold, in order to fund future warranty work. They more or less should rise and fall in parallel with sales unless there's been a change in product reliability or repair cost. And so, for instance, Lam Research saw sales rise 47%, and saw accruals rise 52%.
At Apple, however, sales rose 17% while accruals rose 31%. This is a sign that the company expects either more frequent repairs or more costly repairs in the future. But at both Western Digital and Seagate, sales rose much faster than accruals, a signal that both companies expect future warranty expenses to decline.
Overall, the manufacturers covered by Figure 2 increased their warranty accruals by about 4% in 2012, to a level of $7.983 billion. About four-fifths of that came from the computer OEMs, and about one-fifth came from their suppliers.
Also notable is the fact that warranty accruals in 2012 set a new high mark. Last year's figures were only slightly above 2008's; this year there is no doubt that warranty expenses are setting new records in the computer industry.
Figure 2
Warranty in the Computer Industry
Accruals Made by U.S.-based Companies
(in US$ millions, 2003-2012)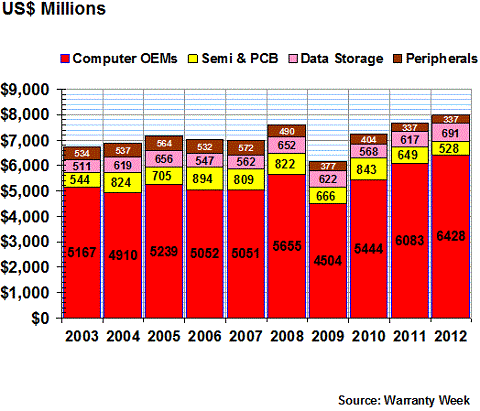 The fastest-rising segments were data storage (+12%) and computer OEMs (+5.7%), while semiconductor accruals were down by -19% and peripherals were unchanged. The year 2006 remains the all-time peak for accruals in the semiconductor industry, while the peak for peripherals came in 2007. But for data storage and computer OEMs, 2012 set new records.
Warranty Reserves Are Up
It's the same story in Figure 3, which tracks the year-ending warranty reserve balances of all the companies in the computer industry. The OEMs and the disk drive companies set new heights, while the peripherals and semiconductor companies are still below their peaks.
Overall, the computer industry companies had $7.8 billion in their warranty reserve funds at the end of 2012, up 3.2% from the 2011 total. Computer OEMs and data storage companies saw larger-than-average gains, while semiconductor and peripheral companies saw declines.
Figure 3
Warranty in the Computer Industry
Reserves Held by U.S.-based Companies
(in US$ millions, 2003-2012)
Among the companies that were in the Top 100 list two weeks ago, we saw big increases in warranty reserve balances at Apple, Lam Research, NetApp, and Western Digital. Conversely, there were big annual decreases in reserve balances at Seagate, Nvidia, Advanced Micro Devices Inc., and Applied Materials Inc. Some were reacting to changes in sales volumes; others were reacting to changes in product reliability or expected repair costs.
Notice that for all three metrics -- claims, accruals, and reserves, the minimum levels for the industry as a whole came in 2009. During that recessionary year, claims came in at $6.4 billion, accruals at $6.2 billion, and reserves also at $6.2 billion. And now, only four years later, all three metrics are at their highest levels of the past decade.
As we shall see in Figures 6 through 8, however, that's not as bad as it sounds, because sales have been rising faster than expenses. So even though there are more claims, it's spread across more products, and the rate at which those products require warranty work is actually lower than ever.
Yes, it's a recovery, but things aren't simply going back to the way they were. Manufacturers are working smarter and are reducing expense rates by making better products that cost less to repair or replace. One must look at both the pure dollar charts in Figures 1 to 3 as well as the expense vs. sales charts in Figures 6 to 8 in order to get the full picture.
Warranty Accruals "Market Share"
But before we go there, let's take a bit of a detour. In Figures 4 and 5, we're going to show the accruals data in a slightly different way. Imagine the annual totals for the computer OEMs and the data storage companies in Figure 2 each represent 100% of the "market share" for accruals in those industries.
They don't, of course, for two reasons. First, there are importers that aren't part of the statistics. And second, some of the products they're accruing for aren't computers (e.g. Apple's iPhones and iPods).
But let's look at the accrual totals for these two segments for the past 10 years. In Figure 4, we're tracking the top six U.S.-based computer OEMs, including Palm which is now part of HP, and Sun Microsystems which is now part of Oracle Corp. And it's pretty clear that Apple has been the one that changed the most in the past few years.
Figure 4
U.S.-based Computer OEMs
Accruals Made per Year
(as a % share of the totals in Figure 2)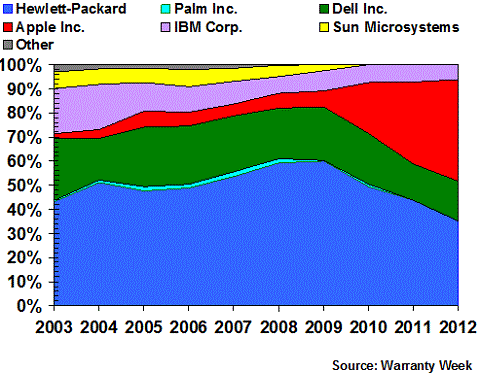 Apple slowly increased its share of the OEMs' accruals from 2% back in 2003 to 7% in 2009. But then the iPod, iPhone and iPad took off, and Apple's overall share grew to 21% in 2010; 34% in 2011; and 42% in 2012. HP, the former number-one, dropped to 35% in 2012, while Dell was a distant third at 17%. IBM, which before it sold its PC line of business to Lenovo accounted for close to 20% of the industry's accruals, dropped to only 6% in 2012.
In the data storage industry, Maxtor was acquired by Seagate and Storage Tek was acquired by Oracle. We should note that Oracle continues to decline to disclose its warranty expenses, despite these acquisitions. So although we know that both Sun and Storage Tek continue to pay warranty claims and make warranty accruals, we have no data to include in these charts.
Figure 5
U.S.-based Data Storage Companies
Accruals Made per Year
(as a % share of the totals in Figure 2)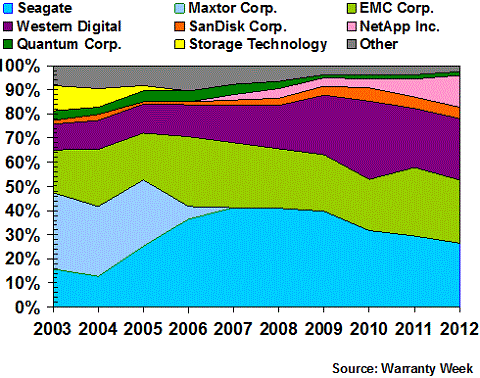 With the data storage companies, one can see the emergence of NetApp Inc., which began reporting its warranty expenses in 2007 and accounted for up to 13% of the industry total by 2012. Seagate/Maxtor's share continues to decline, while Western Digital grows and EMC remains about the same.
Expense Rates Are Down
Of course, the other metric we're not including is product sales revenue. Of course Apple's share of warranty accruals is rising; its product sales are soaring as well. And as we noted above, Western Digital saw a big jump in product sales revenue but a much smaller increase in warranty accruals.
In Figures 6 through 8, we're taking sales into account, and dividing each industry segment's total claims payments and total warranty accruals by the segment's total warranted hardware sales revenue. This results in a pair of lines representing the warranty claims rate (in red) and the warranty accrual rate (in green).
In all three charts, to differing degrees, we see industry segments that are reducing their warranty expenses as a percentage of revenue. In Figure 6, we see the computer OEMs, who in the third quarter of 2012 were able to get both their warranty claims and accrual rates below two percent for the first time. In comparison, back in 2003, both metrics were above 3.5%.
Figure 6
U.S.-based Computer OEMs
Average Warranty Claims & Accrual Rates
(as a % of product sales, 2003-2012)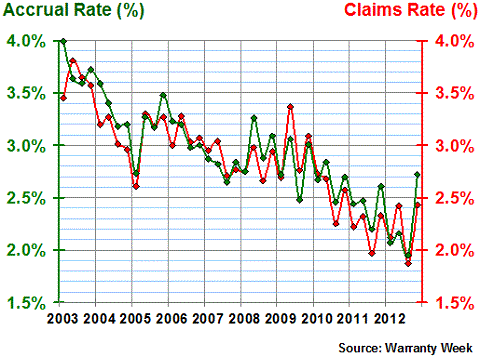 Similarly, the data storage companies have been able to cut their claims and accrual rates significantly over the past decade, though there seems to be more oscillations in the data of Figure 7 than there is in Figure 6.
Back in 2003 to 2005, data storage vendors were spending 2.0% to 2.5% of their hardware revenue on warranty. Now, it's more like 1.0% to 1.5%. And if we could go back to Figures 1 and 2 for a moment, this means that while they're spending more dollars, it's a smaller percentage of sales. In other words, revenue is rising faster than expenses. And that implies a better product, with lower repair costs.
Figure 7
U.S.-based Data Storage Companies
Average Warranty Claims & Accrual Rates
(as a % of product sales, 2003-2012)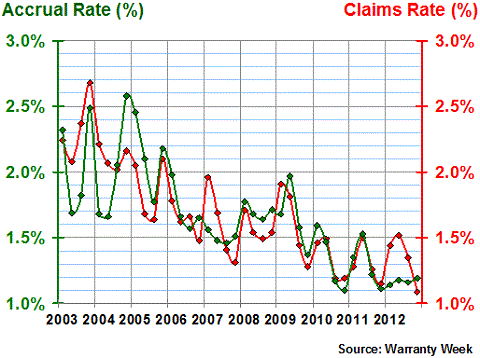 The semiconductor and printed circuit board companies are also enjoying some record low expense rates in recent years, although once again there are lots of oscillations around the downward trend. Back in 2003-2005 they spent around one percent of revenue on warranty. Now, they're in a range of 0.5% to 0.8%. However, as Figures 1 and 2 showed, their overall spending on warranty is rising and falling as well, with no clear trend.
Figure 8
U.S.-based Semiconductor & Printed Circuit Board Makers
Average Warranty Claims & Accrual Rates
(as a % of product sales, 2003-2012)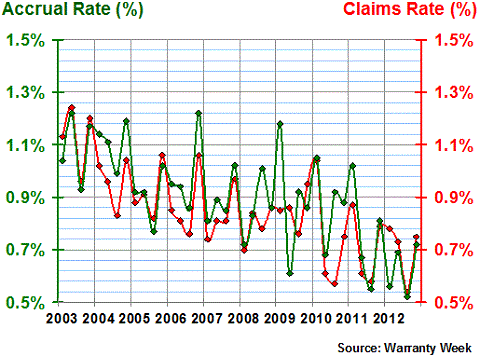 We're not including trend lines for computer peripherals because frankly, there is no clear trend at all in that data. A year ago, in the April 12, 2012 newsletter, we wrote that the claims and accrual rates of the peripherals companies were lowest in 2003-2006, highest in 2007-2009, and were midway between those extremes in 2010 and 2011.
And they're still there in the middle in 2012, turning in a year's worth of data points ranging from a low of 0.9% in the second quarter to a high of 1.3% in the fourth quarter -- right in the middle of their ten-year range. Unlike the other three industry segments detailed above, there seems to be no sustained upwards or downward trend for warranty costs within the peripherals segment.
Tenth Annual Product Warranty Reports
As we begin to wrap up our annual survey of U.S.-based warranty providers, here are some links to the online editions of all the previous parts of this series: