April 18, 2013
New Home Warranties:
Sales are rising and so are some warranty expenses. Builders and their suppliers, slammed by the recession, are getting back to normal. But who is figuring out their accruals per home and why are they doing it so badly?
What you see in warranty data depends on how you look at it. By itself, the tables of warranty expense figures that manufacturers wedge into the notes of their annual reports don't say much. It's not until you combine them and compare them with something else that the trends become clear.
Each year since 2003, we have totaled up the warranty claims, accruals, and reserves reported by the U.S.-based homebuilders and the makers of building materials. In the past decade, we've followed some 47 homebuilders and 95 of their suppliers.
Warranty Cost per Home Sold
For those homebuilders, we've also tracked their home sales revenue and the number of homes sold. But rather than using that additional data to calculate the average selling price of their homes, we used it to figure out how much warranty cost each company has per dollar earned or per home sold.
First, however, we need to report the basic warranty metrics. As external observers, these are all we get: figures for net claims paid, net accruals made, and the beginning and ending balance in the warranty reserve fund. We don't get figures per city or per state, and we don't know how much warranty expense is being offset by reimbursements from suppliers and contractors.
In Figure 1, the total amount of claims reported paid by all of the companies in each of these two industry segments is detailed. Last year, the homebuilders paid $289 million in claims, down about 10% from their 2011 total. The makers of building materials paid out $602 million, about 3% less than in 2011.
Figure 1
Warranty in the Homebuilding Industry
Claims Paid by U.S.-based Companies
(in US$ millions, 2003-2012)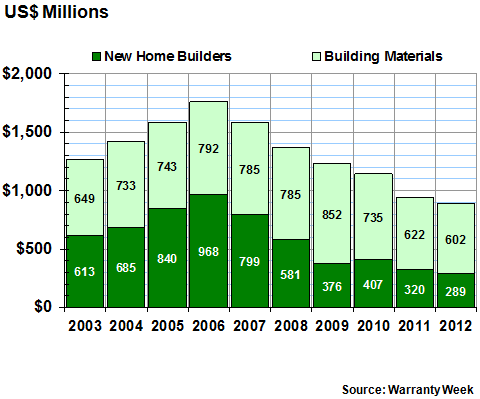 Unlike in the automotive and electronics industries, where suppliers sell mostly to other manufacturers and only partly to end users, a large percentage of the building materials are sold either to consumers or to contractors working on existing homes. In other words, their warranties are issued to somebody other than a builder. Therefore, in this industry it's not possible to separate the "OEMs" from the suppliers, because there is so much remodeling and repair activities that also need new doors, windows, flooring, fixtures and furniture, in addition to the new construction.
Not Just OEMs and Suppliers
Some of the largest makers of building materials, in fact, are the owners of well-known consumer brands. Stanley Black & Decker has Kwikset, Pfister, DeWalt, and Bostitch, just to name a few. Mohawk Industries Inc. owns numerous brands in the flooring and carpeting sectors. Pentair Ltd. is huge in the backyard pool equipment business. Masco Corp. owns Peerless and Delta Faucet, Behr paint, as well as brand names in cabinets, windows and doors. Sherwin-Williams Co. even has a chain of thousands of paint retail locations.
So while they're all supplying hardware, tools, fixtures and furniture, they're supplying the goods to consumers through retailers, as well as to contractors working on renovations. Some of these companies have private label agreements with Sears, Home Depot, Lowe's and others. So the builders are not their primary customers, as could be said of most of the circuit board makers and parts suppliers in the computer and automotive industries.
However, we can still make some comparisons. Note that back in 2007, the new home builders paid out more than the makers of building materials. But in the five years since, the homebuilders' total dropped precipitously while the building material claims totals kept increasing until 2009. We'd suggest this is a reflection of the severe drop in new home sales, which in turn produced a boom in remodeling until the recession took hold in that sector as well.
Also notice that the industry totals for both segments are smallest in 2012. Despite the recent news that new home sales are once again back to 2008 levels, you wouldn't see it here. Despite that small increase in 2010 homebuilder claims payments, the trend has been down since 2006.
At Last, Rising Accruals Again
It's much the same story with warranty accruals. However, our 47 homebuilders and 95 suppliers set aside the most money a bit earlier, in 2005, and also hit bottom in 2011 rather than last year. Given how warranty accruals are more closely tied to revenue than claims are, this may be a sign that a sales recovery is under way.
In 2012, homebuilders accrued $245 million, up about 11% from 2011 totals. It was also the first year in which accruals rose, after six years of declines. And for the makers of building materials, their 8% rise in 2012 was the first accrual increase seen since 2006-2007.
Figure 2
Warranty in the Homebuilding Industry
Accruals Made by U.S.-based Companies
(in US$ millions, 2003-2012)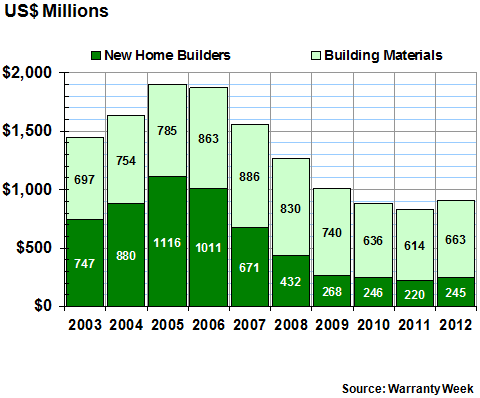 Accruals are made at the time a product is sold, and claims are paid some time later, after the product needs warranty work. In a time of increasing sales, accruals might easily exceed claims, as a manufacturer prepares for escalating costs in the future. Conversely, in a time of falling sales, claims would typically exceed accruals, as the greater number of older products already in the field need more repairs than the ones just sold.
This in turn helps explain the rise and fall in warranty reserves. When sales are growing, accruals exceed claims, and the reserve fund balance rises. When a recession strikes, the reserve fund balance falls.
Peaks and Valleys
In Figure 3, it would look as if the peak came in 2006 or 2007. And indeed, that is precisely when the sale of new homes hit the heights, right before some of the mortgage providers began to report increasing financial trouble.
For the builders, reserves peaked at $1.346 billion in 2006. For suppliers, the peak came in 2007, at a level of $1.075 billion. This also follows the expected pattern, where the consumer-facing homebuilding companies see sales fall first, and then they cut back on building materials.
Figure 3
Warranty in the Homebuilding Industry
Reserves Held by U.S.-based Companies
(in US$ millions, 2003-2012)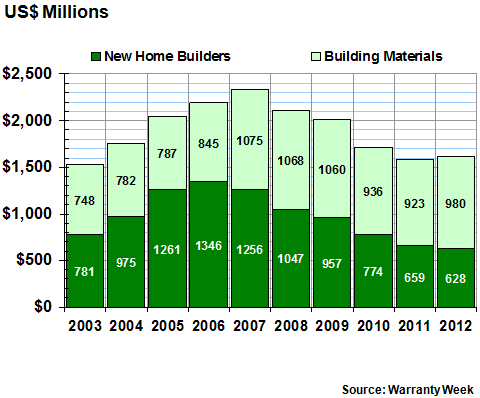 Homebuilders cut their reserves for the sixth year in a row in 2012, by about 5% from 2011 totals. Their suppliers, however, increased their warranty reserves by about 6%, to $980 million at the end of last year. Note also that the suppliers never let their reserves decline by all that much, even during the 2008-2011 slowdown.
Figures 1 to 3 measure just the dollar volume for these three key warranty metrics. Figures 4 and 5 combine the amount of claims and accruals with sales revenue, to calculate what percentage of a product's price is going towards warranty expenses. For the record, sales for the building material makers were up by only 1.2% in 2012. But home sales for the builders we track were up a whopping 27% in 2012, driven by big gains at D.R. Horton Inc., Lennar Corp., and Hovnanian Enterprises Inc., among others
Warranty Cost per Dollar Earned
In Figure 4, we can see that the 47 homebuilders saw their claims rate peak at nearly 1.9% in early 2010. In fact, that was the top of a rise that began in 2006 and which didn't end until last year. Though there's a seasonal rhythm to the data, it does look like the builders are only now getting back to normal.
A quick look back at Figure 1 suggests that the claims total was half as large in 2010 as it was in 2006 or 2007. So it couldn't have been caused by a spike in claims cost. The reason the claims rate rose is that claims fell by half while sales fell by more than half.
Figure 4
New Home Builders
Average Warranty Claims & Accrual Rates
(as a % of product sales, 2003-2012)
It's easy enough to track this contraction as well. Just the top 10 homebuilders sold 378,000 homes in 2005 and 388,000 in 2006. In 2011, they bottomed out at 120,000 homes sold. We'll put those numbers to work in Figures 6 through 8, however.
Small Changes in Accrual Rates
What we wanted to point out in Figure 4 is that the accrual rate didn't rise or fall by much over the past decade. That's because if the accrual rate is closely tied to the sales rate, then it shouldn't rise or fall at all unless there's been a change in product reliability or repair cost. And that just hasn't happened to any large degree in the homebuilding industry.
And while the homebuilders have kept their average accrual rate between 0.8% and 1.1% since 2003, their suppliers have kept it mostly within a range of 0.7% to 0.9%. Figure 5 again shows the recessionary spike in 2009 and 2010, and a claims rate that once again has returned to normal in 2012.
Figure 5
Building Materials Suppliers
Average Warranty Claims & Accrual Rates
(as a % of product sales, 2003-2012)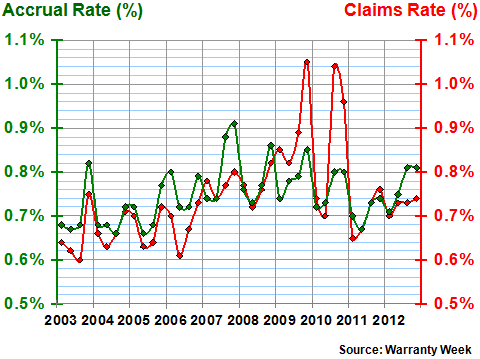 Figures 4 and 5 measure claims and accruals against sales revenue. In Figures 6 through 8, we're going to measure just accruals for just the homebuilders, and will compare it to homes sold for each of them.
So that the data is more readable, each of the three charts contains just three homebuilders apiece. The lines represent the amount each of them set aside every time they sold a home over the 40 quarters between the beginning of 2003 and the end of 2012. The figures were calculated by dividing the quarterly accrual total for each company by the number of homes they closed during that quarter.
The Flatter the Line
In Figure 6 we see an almost level reading for D.R. Horton, which almost always sets aside about $1,000 for each home it sold, though in early 2006 that average accrual rate per unit went as high as $1,726. Still, this is the most orderly and regular accrual rate in the entire industry.
We also see a slowly declining accrual level for Lennar. Problems with mold, moisture, and Chinese drywall odors were more of a problem years ago, and so the company set aside as much as $4,864 per home back in 2004, compared to around $2,400 to $2,600 in recent years.
Meritage Homes Corp., meanwhile, managed to spent the beginning of the decade below, the middle of the decade above, and the end of the decade right about at its $2,000-per-unit accrual rate.
Figure 6
New Home Builders
Accruals Made per Unit Sold
(in US Dollars, 2003-2012)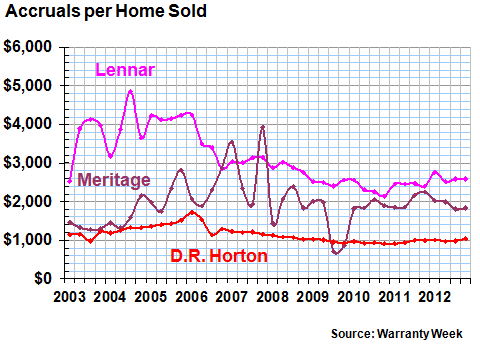 And those are the most dependable of the bunch. There are important differences between the builders in terms of locations served, the size and price of the homes they build, and numerous other factors. However, these factors don't change all that rapidly. So something else must be driving the changes in accrual rates per home.
In Figures 7 and 8, we cannot begin to conceive of what factors might be causing such chaos with accrual rates. KB Home, for instance, made absolutely no accruals in the fourth quarter of 2007, despite selling more than 8,000 homes. That suggests all 8,000 homes were perfect, and were expected to generate absolutely no warranty expenses.
Luxury Home Premium
Toll Brothers, however, isn't as chaotic as the others. The company builds luxury homes that cost more to buy, and more to repair. So the company set aside between $4,000 and $5,000 per unit sold in 2003-2007, and between $3,000 and $4,000 per unit sold in 2008-2012.
But what caused it to accrue more than $5,500 per home sold in mid-2008? It couldn't have been the recession. If sales fall, so do accruals. So if accruals per unit rise, it says more about the quality and expected warranty cost of those units.
And then there's PulteGroup Inc. Admittedly, the data before 2009 doesn't include figures for Centex Corp., which Pulte acquired that year. But twice the company has accrued more than $4,000 per home and twice they accrued less than $900 per home. Are we to be persuaded that this was done as the company detected massive changes in product quality or repair costs? Or is their accrual methodology more complex?
Figure 7
New Home Builders
Accruals Made per Unit Sold
(in US Dollars, 2003-2012)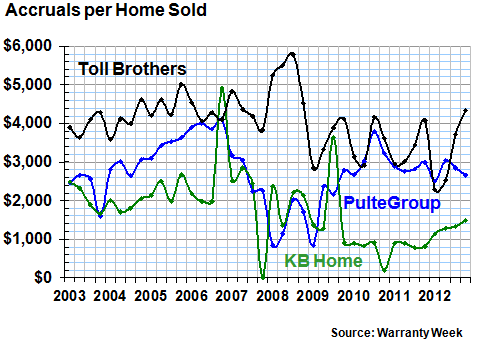 Finally, we have the three most chaotic accrual track records of all. Hovnanian and Beazer Homes must have a proprietary algorithm that helps the companies figure out how much to accrue per home sold. Sometimes it's $0 per home. Other times it's $15,000 per home.
Seasonal Variations
It may not be fair to lump in NVR Inc. with them, but this is the only one of the three charts that could hold its $1,750-to-$6,620 range for accruals per home sold. Also, by the look of the company's accrual data, it seems as if the warranty work on homes the company sells late in the year is expected to cost more than on homes it sells early in the year. Is this another take on the old joke to avoid buying a Buick made late in the afternoon on a Friday?
Figure 8
New Home Builders
Accruals Made per Unit Sold
(in US Dollars, 2003-2012)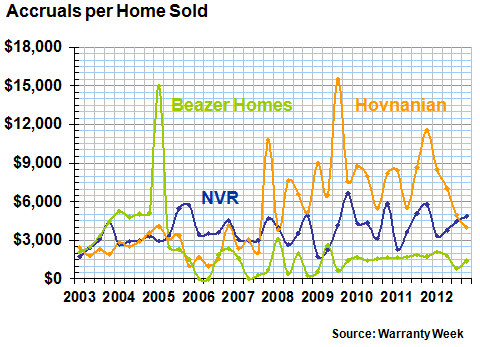 Were it not for D.R. Horton showing us how it's done, we'd simply say that this is the way it is. But if D.R. Horton can do it right, why can't the others? It's simple: you figure out how much the warranty costs for the new homes you sell, and then every time you sell another one, you set exactly that much aside.
The car companies can do it. The computer companies can do it. The appliance companies can do it. Why can't the homebuilders do their accruals right?
Tenth Annual Product Warranty Reports
As we begin to wrap up our annual survey of U.S.-based warranty providers, here are some links to the online editions of all the previous parts of this series: