May 9, 2013
Aerospace Warranty Report:
While a huge increase in Boeing's warranty costs is driving up the average for aerospace OEMs, the suppliers of avionics, jet engines, spare parts and other aircraft components are seeing their lowest warranty expense rates of the past decade.
When it comes to warranty, the aerospace industry is not like others. First, there is a huge amount of paperwork associated with airworthiness. Second, preventative maintenance is a priority, and failure is not an option.
To keep their jets in the air, many airlines will frequently swap out a part before they know if it's really broken. Because an airplane stuck on the ground is so costly, the repaired jet will probably have left the airport before the airline even determines if the replaced part was under warranty. And if it was, the customer is going to be the entity writing up the claim.
In recent years, the worldwide civil aviation industry has sent more than $1.2 billion worth of claims paperwork to U.S.-based aerospace manufacturers. Since 2003, we've been tracking roughly 92 such manufacturers, of which all but nine are suppliers.
We've collected annual and quarterly figures for claims paid, accruals made, and for the warranty reserve balance left at the end of each financial period. And we've also collected corresponding revenue information, so we can calculate the percentage of sales each company is expending on its warranty program.
Claims Up Slightly
Let's start with warranty claims. The 92 U.S.-based manufacturers that we're tracking in the aerospace industry saw only the slightest increase in claims payments in 2012, compared with 2011. The industry saw claims payments rise from $1.216 billion in 2011 to $1.234 billion in 2013 -- a rise of only 1.5%. However, the increased payload wasn't distributed evenly: The nine aerospace OEMs saw claims jump by 14%, while their 83 suppliers saw a 9% decline in claims.
Figure 1
Warranty in the Aerospace Sector
Claims Paid by U.S.-based Companies
(in US$ millions, 2003-2012)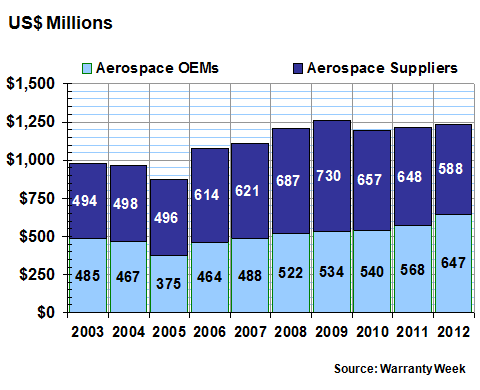 Notice that the 2012 claims total for the whole industry is still not quite back to where it was in 2009. Last year did, however, set a new high for just the OEMs, with $647 million in claims paid by those nine companies. Most of that was due to a $46 million rise in claims payments by Boeing Co., but the $27 million rise in claims for Textron Inc. also contributed. Further down the list, General Dynamics Corp. saw only a $2 million rise, while Raytheon Co. saw only a $1 million rise in claims payments.
Aerospace Acquisitions
At the same time, the $588 million paid by the 83 aerospace suppliers in 2012 was lower than all the annual totals seen for that segment during the previous six years. The major reasons for this drop include a $37 decrease in claims payments by Honeywell International Inc., and the acquisition of Goodrich Corp. by United Technologies Corp.
The reason that this acquisition matters so much is the way we count United Technologies in the overall industry totals. We can't split a conglomerate's warranty expenses in half, or in thirds, simply because it's in two or three completely unrelated lines of business. However, each company reports only their total expenses, company-wide, and worldwide. So we have to find one and only one category to place it in.
United Technologies' major warranty expense-producing units include Carrier HVAC, Otis elevators, and both Pratt & Whitney jet engines and Sikorsky helicopters. Therefore, it could fit into any of three of our industry categories: appliances/HVAC, building materials, or aerospace.
However, even with the new addition of the Goodrich revenue, aerospace still counts for less than half the company's total revenue. And if we make some assumptions about the relative levels of warranty expense that arise from HVAC products vs. aerospace products, we can safely assume that the latter accounts for much less than half the company's total warranty claims.
Therefore, rather than distort the aerospace industry totals by including all of United Technologies in this week's tabulations, we're going to include it in next week's HVAC totals. The net effect is that for this week, we have Goodrich's totals for only the first quarter of 2012, then nothing. That probably accounts for as much of a drop in the totals as was reported by Honeywell.
The other changes among the top warranty providers were less severe. FMC Technologies Inc., which is another company engaged in both aerospace and non-aerospace lines of business, saw total claims rise by $8 million. L-3 Communications Corp., an avionics and surveillance company, saw a $2 million increase in claims. And Rockwell Collins Inc., another avionics company, saw a $2 million drop.
Huge Rise in Warranty Accruals
With warranty accruals, the big news was again Boeing. As can be seen in Figure 2, the accruals total for the OEMs nearly doubled in 2012, thanks primarily to a $446 million increase in accruals reported by Boeing. We don't know the cause of that massive increase -- the Boeing 787 Dreamliner wasn't officially grounded until early 2013 -- but we sure can see the effect.
Figure 2
Warranty in the Aerospace Sector
Accruals Made by U.S.-based Companies
(in US$ millions, 2003-2012)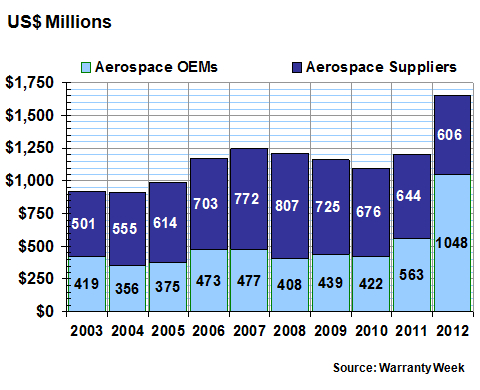 The big jump in 2012 accruals wasn't entirely Boeing-related, however. Textron saw a $32 million increase, while Rockwell Collins saw a $15 million rise. On the flip side, the acquisition of Goodrich probably took at least $40 million away from the total, while FMC Technologies cut its accruals by $12 million. All the other year-to-year changes were much smaller.
Notice, however, that 2012 saw the fourth consecutive annual decrease in accruals by the aerospace suppliers. Their biggest year was 2008. And they've been cutting accruals ever since. As we will see in Figure 6, this is the major reason that they continue to reduce their warranty expenses as a percentage of revenue.
Not Like Autos or PCs?
One thing we didn't see was a situation where the OEMs pay the bulk of the warranty costs while their suppliers get off lightly, as was found in the computer and passenger car industries. We also didn't see a shift from one group to the other over time. Basically, the aerospace OEMs and suppliers are splitting warranty claims and accruals 50/50, or maybe on occasion 60/40, but in those cases it's the suppliers paying 60% and the OEMs paying the 40%.
Our third major warranty metric is the balance left in the warranty reserve funds at the end of each calendar year. It's not strictly determined by adding accruals and subtracting claims, because there are other factors such as foreign exchange fluctuations that can also have an effect on the ending balance.
In addition, there are the occasions where a company discovers that its past estimates of warranty cost have been too high or too low. It then has to make an adjustment up or down. The only major increase was at Boeing, which added $163 million to cover its previous low estimates.
But there were also several pleasant surprises, where companies discovered their previous estimates were too high. These companies then were able to take some of the unused funds out of their reserves. Beneficiaries included Honeywell (-$20 million), Harris Corp. (-$8 million), Textron (-$7 million), and General Dynamics (-$7 million).
New Record for Warranty Reserves
The net effect of these and other changes was for aerospace warranty reserves to rise to a new record of $3.276 billion at the end of 2012. And that in turn was the net result of a $551 million increase in reserves by the aerospace OEMs and a -$197 million decrease by the aerospace suppliers from 2011 to 2012.
Figure 3
Warranty in the Aerospace Sector
Reserves Held by U.S.-based Companies
(in US$ millions, 2003-2012)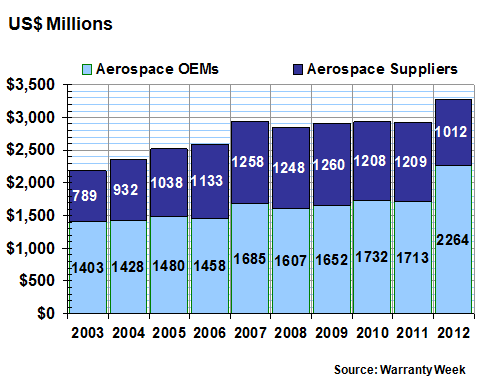 By far, the biggest increase in reserves was seen at Boeing (+$526 million). But General Dynamics also increased its reserves by +$26 million. On the downside, the acquisition of Goodrich took away at least -$152 million from the year-ending balance, though Rockwell Collins (-$21 million) and Harris (-$18 million) also contributed their own reserve reductions.
Surprisingly, it was only with warranty reserves that the OEMs ever went over 50% of the total. While with claims and accruals the larger group was always the suppliers, with reserves the larger group was always the OEMs. In fact, after Boeing's increase, the ratio in 2012 almost hit 70/30.
The OEMs' share of reserves has always been greater because their liability is always greater. It's not that they'll pay out more per year, but they will pay for more years. Sometimes the fuselage gets as much as a 12-year warranty. So as a multiple of claims cost, their typical warranty reserve is about the same size as four years of claims payments. The suppliers' warranty commitments are typically much shorter. Therefore, their reserves are usually equal to only a year-and-a-half's claims payments on average.
Expenses Compared to Product Sales
The other metric we collect is product revenue. With it, we can take the dollar figures detailed above and recast them as a percentage of revenue. Also, depending on whether product sales are changing faster or slower than warranty expenses, we can see whether the trend is upwards or downwards.
In Figure 4, we've taken the aerospace OEM data from Figures 1 & 2 and divided it by the corresponding product revenue totals for each of the past ten years. The red line is claims divided by sales, while the green line is accruals divided by sales.
Sadly, the trend it shows is upwards, at least for the past year. From late 2006 until the middle of 2011, aerospace OEMs were able to keep their average accrual rate between 0.7% and 0.9%. But then it began to rise, and continued doing so straight through the end of 2012. In the ten years we've been tracking aerospace warranty expenses, their average accrual rate has never been higher than it was during the second half of last year.
Figure 4
U.S.-based Aerospace OEMs
Average Warranty Claims & Accrual Rates
(as a % of product sales, 2003-2012)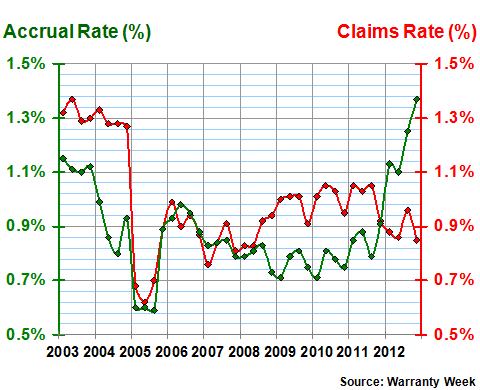 The average claims rate of the aerospace OEMs, meanwhile, fell in 2012 back to the range it was in during the years 2006 to 2008. This is no doubt linked to the recent economic slowdown, which saw sales fall faster than claims, and therefore a corresponding rise in the percentages. But claims rates were much higher in 2003 and 2004.
Boeing Caused the Increase
Before we get carried away with industry trends, the truth is that much of the recent rise in accrual rates can be traced back to just the activities of Boeing. It is by far the largest of the U.S.-based aerospace OEMs (Airbus, Bombardier and Embraer are non-U.S.). And it also had a bad year in terms of warranty expenses. Therefore, the industry category that it dominates also had a bad year.
In fact, in Figure 5 below, we've charted the warranty expense rates of just Boeing over the past decade. And like the chart in Figure 4, the claims rate was much higher in 2003 and 2004, while the accrual rate was never higher than it was in 2012. In fact, the accrual rate has been soaring since the end of 2011.
Figure 5
Boeing Company
Average Warranty Claims & Accrual Rates
(as a % of commercial sales, 2003-2012)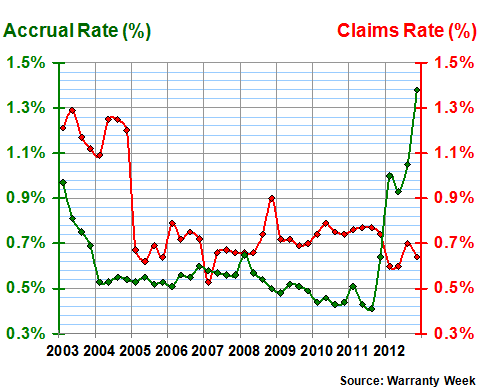 Boeing's annual report doesn't include a reason for the rise in accruals. And unlike the claims rate, which can be months or even years out of sync with sales, the accrual rate should always be the same, unless there's been a change in the need for warranty work or the average cost per repair. So the only way an accrual rate can triple in 15 months is if something is really wrong with the products being sold.
As we mentioned, the Boeing 787 Dreamliner wasn't officially grounded until January 2013, because of fires traced to some of its batteries. Now, after months of effort (and expense), the plane is once again back in the air. However, the problems suggested by the spike seen in Figure 5 began in October 2011, more than a year before that grounding.
For the aerospace suppliers, it's quite the opposite story. As can be seen in Figure 6, both their claims and accrual rates hit new lows in 2012 -- the culmination of a 10-year trend. Both metrics hit their all-time low level of 0.66% in the third quarter of 2012, then rose ever so slightly in the fourth quarter. But they're still both below 0.7%.
Figure 6
U.S.-based Aerospace Parts Suppliers
Average Warranty Claims & Accrual Rates
(as a % of product sales, 2003-2012)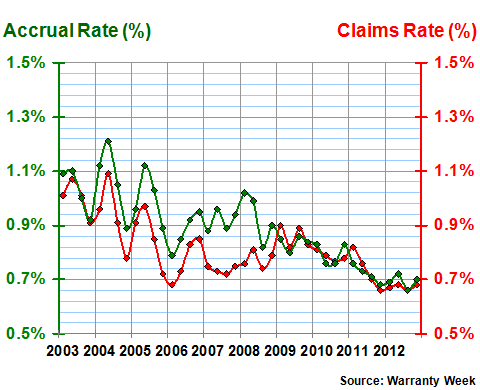 This steady stream of cost-cutting persisted even as sales fell. At least within our list, aerospace suppliers saw their annual revenue decrease by about 4% to about $85 billion in 2012. In contrast, the aerospace OEMs saw more than a 23% increase in revenue.
We mention this because normally, rising revenue helps to mask rising warranty expenses in the same way that falling revenue usually exposes them. However, in 2012 suppliers such as FLIR Systems Inc., John Bean Technologies Corp., and Moog Inc. were able to reduce their claims and accrual rates significantly, in spite of sales declines. So for them and the other suppliers to achieve record low expense rates even though sales fell is a remarkable story in warranty cost reduction.
Tenth Annual Product Warranty Reports
As we begin to wrap up our annual survey of U.S.-based warranty providers, here are some links to the online editions of all the previous parts of this series: