May 21, 2015
New Home & RV Warranty Report:
Put a home on wheels and its warranty costs rise. While the warranties on traditional site-built homes typically cost the builder about one percent of selling price, the warranty cost of mobile homes is somewhat higher. And the warranty cost of modular, prefabricated homes may be highest of all.
When you put wheels on a house and drive it around at highway speeds, it's no surprise there are some warranty claims. But when you build the pieces of a house in a factory and drop them off by truck, there will be even more warranty claims. Traditional homes, which are built at a specific site from the ground up, have the lowest warranty costs of all.
Usually, we compare the warranty expenses of the site-built home companies to the expenses of their suppliers (fixtures, furniture, and building materials), as we did in last year's new home warranty report. This year, however, we're going to change it up a bit, and compare the warranty expenses of two types of homes: 1) site-built homes, and 2) other more mobile types of homes, including recreational vehicles, factory-manufactured homes, modular homes, and of course mobile homes.
There are 48 builders of site-built homes that have reported their warranty expenses in their financial statements. Market leaders in this category include D.R. Horton Inc.; KB Home; Lennar Corp.; NVR Inc.; PulteGroup Inc.; and Toll Brothers Inc. Then there are numerous other builders that are privately-held and family-owned businesses that do not report their financials publicly. At one point, we estimated that the warranty reporters we follow controlled between a quarter and a third of the overall U.S. market.
The RV and manufactured home segment is a little harder to define. On the one hand, there are manufacturers of recreational vehicles that have engines and steering wheels. On the other hand, there are manufacturers of mobile homes that might have wheels and a tow hitch, but are only occasionally moved. Some of the double-wide units could never be moved. And then there are homes that are manufactured in pieces at a factory, transported to the building site on the back of a truck, and finally assembled there. And there's lots of overlaps and hybrids between these types.
RV Market Leaders
In this instance, we're looking at 21 manufacturers, including RV market leaders such as Thor Industries Inc.; Winnebago Industries Inc.; Skyline Corp.; and Spartan Motors Inc.; as well as automotive parts suppliers such as Drew Industries Inc.; Euramax Holdings Inc.; and Actuant Corp.; which count the RV manufacturers as their customers.
However, we're not including Navistar International Corp., which from 2009 to 2013 was the owner of Monaco Coach Corp., a major RV manufacturer that went bankrupt during the financial crisis. If we did, Navistar's truck and bus warranty expenses, not to mention its diesel engine warranty expenses, would radically overshadow the RV data.
In Figure 1, the warranty claims payments of the site-built home companies are in green. The claims payments of Thor, Winnebago and the other RV and mobile home manufacturers are in blue-green.
Figure 1
Worldwide Warranty Claims of
U.S.-based New Home Builders
(claims paid in US$ millions, 2003-2014)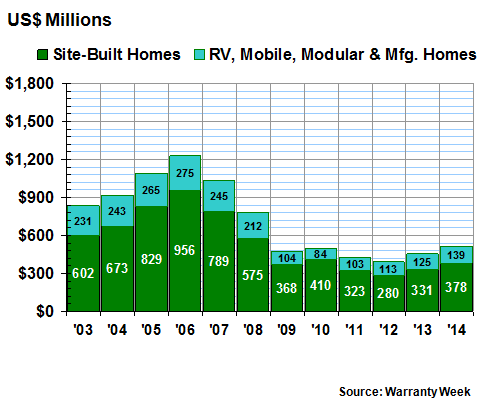 We formatted the chart this way to make it easier to see the effect of the financial crisis on these groups. Both the site-built homes and the RV & manufactured homes saw their claims peak in 2006, before falling for multiple years afterwards. The site-built homes hit bottom in 2012, while the RV & manufactured homes hit bottom in 2010.
The good news, if rising expenses can ever be called good news, is that claims payments for both the site-built and the mobile home groups were up in 2014. Site-built home companies paid out 14% more in 2014 than they did in 2013, while the mobile home companies paid out 11% more. For the site-built home companies, it was the second consecutive annual increase, while for the mobile home companies it was the fourth increase in a row.
The reason we can say it's good news is because the increase in expenses is not the result of another warranty crisis, as was the case in 2009-2012 when the odors given off by Chinese drywall became a major issue for homebuilders. This time, it's the result of increased sales, which increases expenses, hopefully proportionally. And indeed, there was a 20% increase in new home closing revenue last year. So sales are actually rising a bit faster than claims, which is even more good news.
Warranty Accruals
In Figure 2, which tracks warranty accruals, it's clear that the good news crosses over to this warranty metric as well. Last year saw the third annual increase in a row for the site-built group, and the fifth annual increase in accruals for the RV/mfg. home group.
Figure 2
Worldwide Warranty Accruals of
U.S.-based New Home Builders
(accruals made in US$ millions, 2003-2014)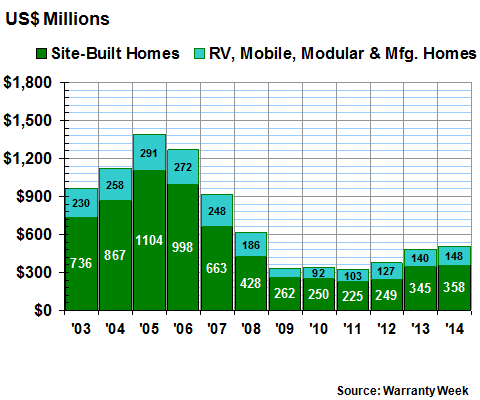 Note also that the peak for the site-built and the RV/mfg. home groups came in 2005 -- a year earlier for accruals than for claims (Figure 1). This is in keeping with the nature of warranty accounting. You set the money aside when the expense becomes likely, and then you spend the money on repairs when the claims actually are filed. So there would naturally be some lag time between accruals and claims.
Also, accruals are more tightly coupled to sales, because the money is set aside when a home is sold. If no homes are sold (and this was almost the case in the bleak year of 2009) then no accruals are made. But even if there are no new sales, claims may still arise from past-year sales. So once again, there's a lag time.
Speaking of no sales, the financial crisis hit two industries particularly hard: sales of new vehicles, and sales of new homes. Multiply those together, and you have a devastating downturn in sales of new vehicle-homes. In 2008-2009, numerous large RV manufacturers collapsed, including All American Group Inc.; Featherlite Inc.; Fleetwood Enterprises Inc.; Kingsley Coach Inc.; Monaco Coach; National R.V. Holdings Inc.; and Rexhall Industries Inc. And for those that remained in business, sales declines of 40% to 50% from 2008 to 2009 were not unusual.
Extended Warranties vs. Manufacturer's Warranties
In fact, even though it wasn't much of an issue at the time, the RV industry proved that extended warranties are more dependable than manufacturer's warranties. When the manufacturers collapsed, RV dealers were left with stock they couldn't sell, because the manufacturer's warranties were null and void. However, some dealers decided to give away "free" extended warranties, backed by insurance, which remained in force despite the financial crisis.
Even with passenger cars, extended warranties were more dependable than manufacturer's warranties during the crisis. The U.S. government backed the warranties of GM and Chrysler during their respective bankruptcies. But when smaller manufacturers such as Saab left the business, their manufacturer's warranties went with them into the afterlife. However, buyers who purchased extended warranties received uninterrupted coverage.
With site-built homes, there's no such thing as an extended warranty. There are service contracts sold by companies such as American Home Shield that are popularly known as home warranties, but they cover the appliances and heating/cooling systems, not the walls and foundation. There are builders who contract with third parties such as 2-10 Home Buyers Warranty to administer their new home warranties, but this is an outsourcing arrangement, not a longer warranty. And in Canada, there are insurance-like entities such as Tarion that are willing to step in and pay claims if the builder goes bankrupt. But there aren't service contracts that add years to the end of a builder's warranty, the way vehicle service contracts do for the automakers.
Therefore, in the U.S., for the most part, the builder's new home warranty is only as good as the builder. Unfortunately, there were numerous builders that went out of business during the financial crisis, leaving their customers without any warranty coverage at all. And there was really no option for the homeowners besides paying out of pocket for their repairs (unless their homeowners insurance policies could somehow be twisted into use).
Warranty Reserves
Our third warranty metric is the balance left in the warranty reserve funds of our 48 site-built home companies and 21 RV/manufactured home companies. Once again, the trend is clear for the site-built and RV/mfg. home groups. Reserve balances peaked in 2005-2006, then declined steadily until hitting bottom in 2009 (for RV/mobile home) and 2012 (for site-built homes).
Figure 3
Worldwide Warranty Reserves of
U.S.-based New Home Builders
(reserves held in US$ millions, 2003-2014)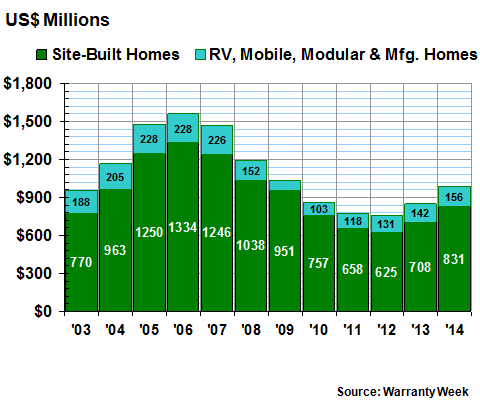 Again, the good news is that balances continue to grow in recent years. Last year saw the second straight annual increase for the site-built home companies, and the fifth consecutive annual increase for the RV/mfg. home group. The more time that's added to these annual charts, the more certain is the shape of the data: a boom, followed by a bust, followed by a recovery.
By the way, most of the site-built home companies seem to be trying to maintain their warranty reserves at a level equal to 18 to 24 months of claims payments. In other words, were they to cease building homes at any point in time, their reserve fund would theoretically hold enough funds to pay claims on already-sold units for another year-and-a-half to two years.
Over the past 12 years, however, this ratio has fluctuated from 6 to 36 months for several builders, and has jumped above 60 months for two: Toll Brothers and KB Home. However, it's not the balance that's fluctuating in this ratio as much as it's the monthly claims cost. If we ignore those anomalies, the long-term average remains close to 24 months.
Warranty Expense Rates
When we look at just site-built homes, we can also measure the accruals made per unit sold. Usually, each builder sets aside roughly $2,500 per new home sold. But that varies tremendously from one builder to the next, as was detailed in the December 18, 2014 newsletter.
This week, however, we're looking at both site-built and mobile homes, which in warranty terms are like apples and oranges. So we have to keep them separated. And we can't really calculate accruals per unit sold, because some units have wheels and engines and others have basements and garages. So we'll calculate expense rates not per unit, but per dollar.
In Figure 4, we're calculating warranty expense rates for just the 48 site-built companies. Some build luxury homes while others build townhouses, and a few also dabble in prefabricated or factory-built product lines. Together, the members of this group built about 135,000 homes in 2014, up from around 124,000 in 2013.
As can be seen in the data below, their accrual rates have remained a bit below one percent of revenue, while their claims rates have been above that level in recent years. The average claims rate, which was somewhat below the average accrual rate from 2003 to 2006, was significantly higher than it from 2007 to 2012. However, since mid-2013 the group's claims and accrual rates have been both close together and below one percent.
Figure 4
All U.S.-based Site-Built Homes
Average Warranty Claims & Accrual Rates
(as a % of selling price, 2003-2014)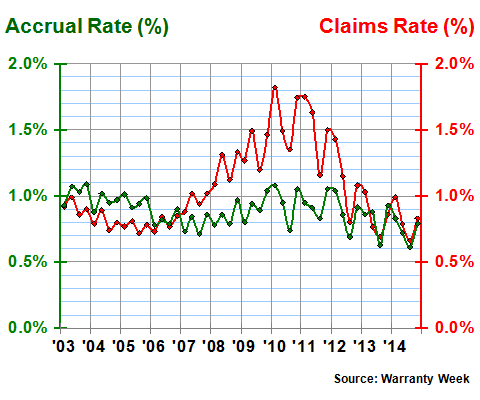 The accrual rate reflects the amount the builders set aside to pay claims. So when it declines, builders are in effect saying they don't expect to pay much for warranty work. And in the third quarter of 2014, the average accrual rate of the site-built home companies fell to a new record low of 0.6%. It's been as high as 1.1%, in 2003 and again in 2010. So this reflects a radically new and optimistic outlook for these builders (though there are still seasonal oscillations in the averages).

In Figure 5, we're taking the average of all the RV, modular, manufactured home, and mobile home companies together. By the looks of the sudden drop in rates in 2009, we suspect that after the recession knocked out many of the weaker RV competitors, those left behind must have been selling a more reliable product. For while from 2003 to 2008 their warranty expenses were generally between two and three percent, from 2009 until 2014 they've been between one and two percent.

Figure 5
All U.S.-based RV & Manufactured Homes
Average Warranty Claims & Accrual Rates
(as a % of selling price, 2003-2014)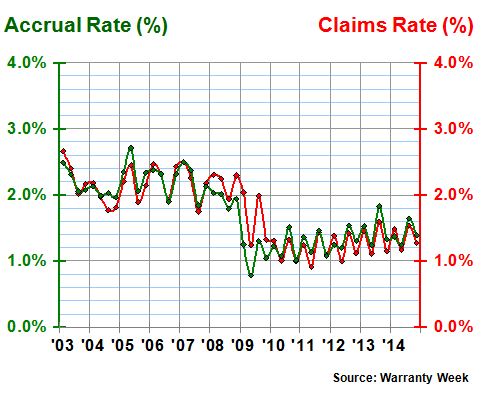 Long term, the average warranty expense rate for the RV manufacturers is around 1.7%. For the site-built home companies, it's around 1.0%. The point is, the site-built home group has never averaged above two percent, while the RV group did so until some of the high-cost competitors were knocked out of business.
It's therefore fair to say that when it comes to warranties, homes on wheels have a higher cost structure than site-built homes. We'd say that the site-built homes were on the low side except we've seen in recent weeks that certain segments of both the semiconductor and medical equipment industries have average warranty expense rates that have always been well below one percent.
What About Modular Homes?
We're tempted to say the expense rates for the modular, factory-manufactured home business is somewhere between the two extremes of truly mobile RVs and truly immobile site-built homes, but in looking at a few leading prefab companies, we realize that this may not be true. In fact, some of the prefab companies seem to have the highest costs of all.
Skyline Corp., which has evolved from a manufacturer of house trailers and mobile homes into a company that makes factory-built and modular housing that looks just like a site-built home, has warranty expense rates that average around three percent.
Cavco Industries Inc., which acquired the manufactured housing portion of the Fleetwood Enterprises operation in 2009, has since then gotten its warranty expense rates under control, and down below three percent. But they're still above average for their group.
Even the relatively young manufacturer Deer Valley Corp., which began building modular homes in 2004, has struggled to keep its warranty expense rates below five percent. Therefore, on the basis of these three examples, we would suggest that the warranty expense rates seen for manufactured homes are two to five times as high as those for site-built homes.
There aren't enough companies to make a valid comparison, let alone a chart. But just on the record of these three prefab housing companies, we'd suggest that they tend to have higher warranty expense rates than either the RV manufacturers or the site-built home companies.