June 18, 2015
Sports Equipment Warranty Report:
The makers of ATVs, jet skis, snowmobiles, and other sports vehicles are very serious about reducing their warranty expenses. But the makers of hockey sticks, helmets, camping gear and other equipment aren't. So for one side of the sports industry, warranty costs are dropping. But for the other, costs remain the same.
The way we define the term sports equipment is rather wide. It's a fairly diverse list, including not only vehicles such as motorcycles, snowmobiles and boats, but also products such as golf clubs, camping gear, handguns, helmets, baseball cards, luggage, watches, pens, and video game consoles.
In this, our latest attempt at analyzing the warranty costs of sports equipment manufacturers, we began with a list of 51 companies that are in some way involved in the manufacture of warranted products used in sports, entertainment, exercise, or leisure activities, as well as a few manufacturers of travel and luxury goods that happen to carry warranties.
We searched for a way to organize the companies, and came up with this: on the one hand there are the vehicles, and on the other hand there's everything else. However, buried within that latter category is a problem: sports equipment includes games, and games includes video games. However, Microsoft Corp., as the only U.S.-based maker of video game consoles, had such a huge warranty expense problem a few years ago that it overwhelmed the rest of the industry.
Sports Equipment and Vehicles
So we set Microsoft off on its own, placed 13 companies into the sports vehicle category, and kept the remaining 37 companies in the sports equipment category. Top sports vehicle makers included Harley-Davidson Inc.; Polaris Industries Inc.; Arctic Cat Inc.; Brunswick Corp.; and Toro Co. (for its golf course and sports field management products). Top sports equipment makers included Jarden Corp.; Johnson Outdoors Inc.; Nautilus Inc.; Callaway Golf Co.; Smith & Wesson Holding Corp.; Taser International Inc.; Movado Group Inc.; and Signet Jewelers Ltd.
The reason for including luggage, watches, pens, and jewelry here is simple: where else would they fit? They're not appliances, and except for the Apple watches, they're not really electronics either. Last year we discontinued use of the "other" category in our warranty reports and placed every company into at least one industry. And when we got to assigning Movado and Signet to a category, this one seemed to make the most sense.
The reason for setting Microsoft off on its own becomes apparent with a quick glance at Figure 1. Here we're tracking the claims payments of the 51 companies over the past 12 years. But in some of those years, such as during the three years from 2007 to 2009, Microsoft's Xbox 360 accounted for half the claims paid by the whole group. And in other years, such as 2013 and 2014, Microsoft reported no claims at all.
Figure 1
Worldwide Warranty Claims of
U.S.-based Sports Equipment Makers
(claims paid in US$ millions, 2003-2014)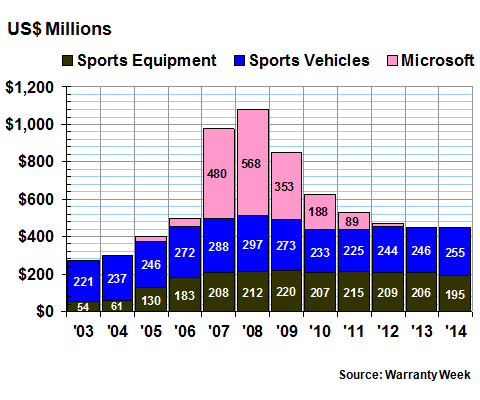 With the chart drawn this way, however, it's relatively easy to look past Microsoft for the trends in the claims payments of the other 50 companies. The sports vehicle makers spent $255 million on warranty claims last year, about $10 million more than in 2013. The sports equipment makers spent $195 million, down $11 million. And those two groups have been roughly equal in size for the past few years.
Not counting Microsoft, the industry's annual claims total has remained within a range of $450 to $500 million for most of the past decade. Meanwhile, sales have slowly risen, meaning that the expense as a percentage of sales has slowly declined. But also, there have been some notable departures from the list, such as Easton-Bell Sports Inc., which was taken private and ceased reporting its financials at the end of 2013, and Cybex International Inc., which was taken private at the start of 2013.
Relatively speaking, Signet Jewelers saw one of the largest increases in claims payments, jumping from $5.0 million in 2013 to $8.2 million in 2014, thanks to its acquisition of Zale Corp. But in dollar terms, the biggest jump was seen at Harley-Davidson, which saw its claims payments rise from $64 million in 2013 to $74 million in 2014. Other big jumps in claims payments were seen at Polaris Industries and Johnson Outdoors.
Brunswick was the big cost-cutter last year, with its boat, bowling and exercise equipment warranty claims falling by $9 million to $55 million. Other companies reducing claims payments significantly included Jarden; Daktronics Inc.; Callaway Golf; International Game Technology; and Smith & Wesson.
Warranty Accruals Remain Steady
Warranty accruals are usually the mirror image of claims, except when a manufacturing crisis strikes. When that happens, a company typically sets aside a huge pile of money that they then spend over the next few years. In Figure 2, we can see the results of the Xbox 360 crisis of mid-2007, during which Microsoft set aside a massive amount of accruals. That was when the company realized the extent of the problem, and therefore when it set aside enough funds to pay for it. In Figure 1 we can see that the funds were actually spent over the following five years, until all the defective units were either fixed or were out of warranty.
But again, it's obvious from a quick glance at this chart why Microsoft had to be set off on its own. In 2007, it accounted for more than 70% of the entire sports and entertainment industry's warranty accruals. And then in 2013 and 2014 it made no reports at all.
Figure 2
Worldwide Warranty Accruals of
U.S.-based Sports Equipment Makers
(accruals made in US$ millions, 2003-2014)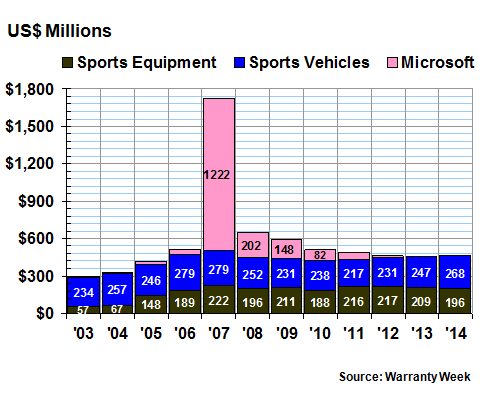 On a net basis, the industry's accruals changed very little last year. The sports vehicle makers raised their accruals by $21 million while the sports equipment companies cut their accruals by $13 million, for a net increase of $8 million. Again, outside of Microsoft, the industry's track record with this warranty metric has also been relatively stable since 2006, with the total generally remaining close to $450 million.
However, that stability at the top masks some big changes by individual companies. More so than claims, warranty accruals are under the control of the company's financial executives, who raise and lower the amounts based on their future expectations. So when a company makes a big change in its accruals, it is signaling that it foresees a big change in its repair costs or failure rate.
Hexcel Corp., for instance, raised its warranty accruals from $2.5 million in 2013 to more than $10 million in 2014. The company was silent in its annual report as to the reason behind this big change. However, most of the company's composites, coatings and materials go into industrial and aerospace applications, with only a small amount used for sports equipment such as skis, snowboards, tennis racquets, golf shafts, hockey sticks, fishing rods and surfboards.
Arctic Cat raised its accruals from $17 million in 2013 to $24 million in 2014. Daktronics raised its accruals from $11 to $14 million during the same time period. Sales did not keep up, so both of these changes were quality issues.
In contrast, sales rose faster than accruals at Polaris; Harley-Davidson; Toro; and Signet Jewelers. This suggests that product quality is increasing, and the expense rate is dropping, even if the actual expense as measured in dollars is rising.
Reductions in accruals weren't as easy to find, but there were three that dared to cut their totals in half last year: Smith & Wesson; Compass Diversified Holdings; and International Game Technology. All three also saw big reductions in claims payments. But all three also saw declines in sales volumes. So it's unclear which catalyst the companies were reacting to: rising quality or falling sales.
Warranty Reserves Also Stable
As with Figures 1 and 2, in Figure 3 Microsoft has a massive effect on the industry's warranty reserves in 2007. But this effect fades over time as the money is spent, and disappears entirely when Microsoft stops reporting its warranty expenses.
In 2014, the warranty reserve fund balance of the 50 other sports companies totaled $557 million, up $27 million from the end of 2013. But most of that came from the sports equipment companies -- the sports vehicle makers saw only a $4 million increase in their balance.
Figure 3
Worldwide Warranty Reserves of
U.S.-based Sports Equipment Makers
(reserves held in US$ millions, 2003-2014)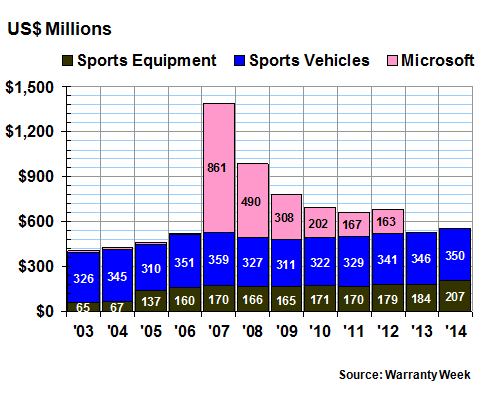 Hexcel saw one of the biggest proportional increases in warranty reserves, with its balance jumping from $4.5 million at the end of 2013 to $11.3 million at the end of 2014. That's no surprise, given that it quadrupled its accruals too. Meanwhile, Nautilus and Arctic Cat raised their reserves by about a third each. And then there were a handful of smaller increases at companies such as Harley-Davidson, Collectors Universe Inc., and Tumi Holdings Inc.
Major warranty reserve reductions were much more common. Compass Diversified Holdings cut its reserves in half. Taser International and Smith & Wesson reduced their reserves by about a third. Brunswick reduced its warranty reserves by $10 million, but proportionally that was less than a tenth of its total. And then Toro and Jarden reduced their warranty reserves ever so slightly.
The Microsoft Effect
As can be seen in Figure 4, that $1.2 billion Microsoft set aside in 2007 drove its accrual rate into orbit. Comparing the accruals made against the revenues of just the Entertainment and Devices Division (the only division making warranted hardware at the time) produces an accrual rate of 16%, meaning that the company was forced to set aside nearly a sixth of its game console revenue to finance the Xbox repair and replacement bills it expected.
And then at the end of its fiscal year in June 2012, it ceased reporting any warranty expenses at all. So that's a second good reason to keep the company separate. First, its suddenly high expense rates would have skewed the entire industry in one direction. And then secondly, its growing amount of hardware revenue (e.g. the Surface tablets and the smartphones) balanced against no reported warranty expenses would have skewed the averages in the other direction.
Figure 4
Microsoft Corp. (Entertainment and Devices Division)
Average Warranty Claims & Accrual Rates
(as a % of sales revenue, 2003-2014)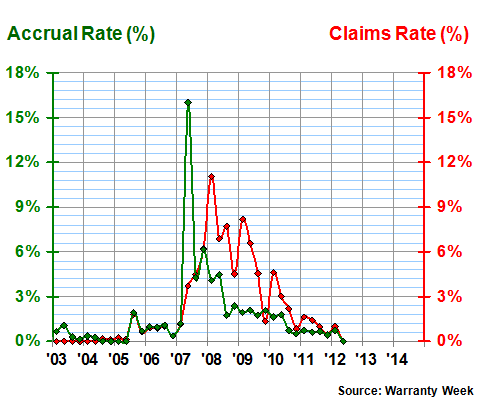 On the sports equipment side, warranty expense rates have been stable for roughly seven years. As can be seen in Figure 5, both their average claims rate and accrual rate have been highly seasonal, but have generally remained between 1.0% and 1.5% since 2008.
Mergers & Acquisitions
Again, we've lost visibility for a few industry members when their companies were taken private, particularly some of the best-known helmet makers such as Riddell and Bell Sports. We've also lost visibility of A.T. Cross Company, one of the best-known makers of writing instruments, along with Oakley Inc., the famous manufacturer of sunglasses. And we've lost a host of others to mergers and acquisitions, including Adams Golf Inc.; Cybex International Inc.; GolfGear International Inc.; Huffy Corp.; LaCrosse Footwear Inc.; Omnova Solutions Inc.; and Remington Arms Co. Inc.
But that hasn't seemed to have much of an effect on the industry averages. And more importantly, there doesn't seem to be any effort under way to reduce warranty expense rates within the remaining companies in this group, unlike what we've found in other industries.
Figure 5
Sports Equipment Manufacturers
Average Warranty Claims & Accrual Rates
(as a % of sales revenue, 2003-2014)
Despite the overall flatness of the averages, some of the individual companies did manage to reduce their warranty expense rates. Callaway Golf cut its claims rate from 0.9% to 0.7%, and cut its accrual rate from 0.7% to 0.6%. Nautilus saw its claims rate fall from 0.8% to 0.6%, but boosted its accrual rate from 0.5% to 0.8%.
Smith & Wesson, meanwhile, seems to have decided to stop reporting its quarterly claims and accrual totals after the end of its most recent year. But in that most recent annual report, its claims rate fell from 0.9% to 0.8%, while its accrual rate fell from 1.3% to 0.6%.
Taser International saw a small rise in its claims rate, but cut its accrual rate drastically, from 1.2% to 0.4%. Much the same thing happened at Signet Jewelers, with a rising claims rate and a falling accrual rate. However, this is likely linked to its acquisition of the Zales Jewelers retail chain in early 2014, which also added nearly $29 million to its warranty reserves.
Low Expense Rates = Low Priority?
Generally, the members of this group keep their warranty expense rates below one percent. Jarden is the major exception, but we suspect that this is caused by warranty expenses arising from the company's line of kitchen appliances, not its sports equipment lines of business. However, Johnson Outdoors also has above-average warranty expense rates, so perhaps camping gear generates more claims than is believed?
We know for sure that vehicles generate a lot of warranty expenses, be they large or small. In general, the vehicle makers of all shapes and sizes are very serious about warranty cost reduction efforts. However, these sports vehicle makers aren't paying out as much as some of the truck or passenger car manufacturers do. Arctic Cat, Brunswick, and Toro all have claims rates near two percent, and only Arctic Cat has an accrual rate significantly above that level.
In Figure 6, in fact, we can see that the group has been reducing its average claims and accrual rates steadily since 2009. In the spring of 2014, their average claims rate fell below 1.2% for the first time, while their accrual rate dropped to 1.3%. From one year to the next, there seems to be a strong seasonal oscillation in the averages, as could be expected from a product line with strong sales in the spring, heavy usage in the summer, and lots of repairs in the fall and winter. But still, the averages in the spring of 2014 were lower than they were in preceding springs.
Figure 6
Sports Vehicle Manufacturers
Average Warranty Claims & Accrual Rates
(as a % of sales revenue, 2003-2014)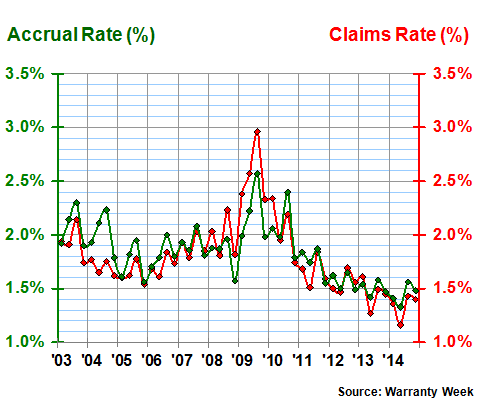 Among the sports vehicle makers, only Arctic Cat saw a big increase in expense rates. Its claims rate rose from 1.8% to 2.1%, while its accrual rate jumped from 2.5% to 3.8%. Such a big jump in accruals is virtually a prediction that something's expected to happen. But of course the company never says exactly what.
Predicting Future Expense Rates
Meanwhile, Harley-Davidson and Toro saw small increases in their claims rates, but cut their accrual rates anyhow. When a company does that, it is essentially saying that it's not worried about past sales and old claims data, and is instead focused on future sales, higher product reliability, and hopefully lower warranty expenses.
Compass Diversified Holdings, which makes parts for bicycles, ATVs and motorcycles, reduced its claims payments from $7.3 to $2.4 million, which cut its claims rate from 0.7% to 0.2%. It also reduced its accruals, and that expense rate dropped from 0.7% to 0.3%.
The boat companies also saw a big drop in expense rates. Brunswick cut its claims rate from 2.2% to 1.8%, though its accrual rate remained at 2.1%. Marine Products Corp. kept its claims rate at 0.9%, but cut its accrual rate from 1.5% to 1.1%.
In a nutshell, then, the status of sports, entertainment and leisure equipment warranty expense rates is as follows: The sports vehicle makers are quite successfully reducing their warranty expenses. For the non-vehicle equipment makers, warranty expense have remained about the same. And for Microsoft, the Xbox warranty crisis is over.