August 6, 2015
International Aircraft Warranties:
The bigger the plane, the higher the price, and the lower the warranty expense rate as a percentage of that average selling price. The products of the top seven aircraft manufacturers in the world can basically be ranked in size order, with the largest paying under 0.4% on warranties and the smallest paying 4% or more on warranties.
There seems to be an inverse relationship between the size of an airplane and its warranty expense rates. Basically, the bigger the aircraft, the lower its claims and accrual rates. The smaller the aircraft, the higher its claims and accrual rates.
This undoubtedly has much to do with the price of the product. If the product is a massive Airbus A380-900 with space for 900 seats, the price is going to be upwards of $438 million. And even if the need for warranty work averages $1 or $2 million per unit over the life of its warranties, the expense rate is still going to end up being well below half of one percent of the price of the product.
At the other extreme, if you have a $200,000 Cessna 172 single engine private plane, you can easily expect $4,000 in warranty work over the life of its product warranty. And that's going to equate to a two percent warranty expense rate.
Largest to Smallest Airplanes
Let's go through the civilian airplane industry two times -- first with four international companies ranked from largest to smallest, and then again with three American companies ranked from smallest to largest. The inverse relationship seems to be present in both cases.
We will use approximate prices for representative models in each manufacturer's product line, to illustrate how much warranty expense the company expects. For instance, if a company is currently setting aside one percent of its revenue as warranty accruals, and if a jet's list price is $100 million, then it must be expecting an average of $1 million per unit in warranty expenses.
It may be more and it may be less, but that's the best approximation an external observer can make. Companies never break out their accruals by product line or model number. And of course, they never say how much more they're accruing for their newer products than they do for their mature products.
Also, keep in mind that with the larger planes, as with the larger trucks, each component manufacturer might issue separate warranties for their contributions (avionics, engines, interiors, etc.). So in the comparisons below, particularly with the big commercial jets, we may be counting just the warranty expense of the airframe maker -- not the warranty expense of the complete product.
We'll start with the Airbus Group, formerly known as the European Aeronautic Defence and Space Company, and the parent company of the aircraft manufacturer Airbus SAS. In 2014, the company reported total revenues of 60.7 billion euro, of which about 41.5 billion euro came from commercial aircraft. Warranty claims totaled 189 million euro, while accruals were 110 million euro.
As can be seen in Figure 1 below, this translates into a claims rate of 0.5% and an accrual rate of 0.3% for 2014. In 2013, the claims rate was a little lower, but the accrual rate was closer to its historical average of 0.4%.
Figure 1
Airbus Group
Average Warranty Claims & Accrual Rates
(as a % of product sales, 2003-2014)
Notice that the company's accrual rate spiked in 2011 and 2012, and then its claims rate rose in 2013 and 2014. It's as if the company was predicting that rise in claims by increasing its accruals beforehand. And indeed, this is the way warranty is supposed to work: when you can reasonably predict the size of the expense, you set aside the accruals to pay for it. And then when the bill comes due, you pay it out of reserves and charge it as a claims payment.
We've stretched the annual Airbus expense rate averages over the four quarters of each year, creating a step-like look to the data, because later on we're going to use the same format to display companies that report their data quarterly. It's highly unlikely that Airbus kept its expense rates the same over the course of an entire year, but let's pretend they did.
What we're saying is that from 2003 to 2010 the company kept its claims rate close to 0.2% and its accrual rate close to 0.4%. Then for two years it raised its accrual rate, followed by two years of increased claims. Because of the drop-off in accruals seen in 2013 and 2014, we'd predict that in 2015 the company expects claims to return to the baseline average once again.
Expecting Escalating Expenses?
Embraer, on the other hand, seems to have predicted a spike in expenses that never arrived. Over the past dozen years, the Brazilian aircraft manufacturer has kept its claims and accrual rates relatively close to their 1.7% long-term average, except for a big jump in accruals in 2011 and a big dip in claims in 2010.
Usually, when a company raises its accrual rate as high as Embraer did in 2011, it's because it expects claims to soar soon afterwards. But that never happened. In calendar 2012 through 2014, the company's claims rate never went above 1.4%.
Figure 2
Embraer S.A.
Average Warranty Claims & Accrual Rates
(as a % of product sales, 2003-2014)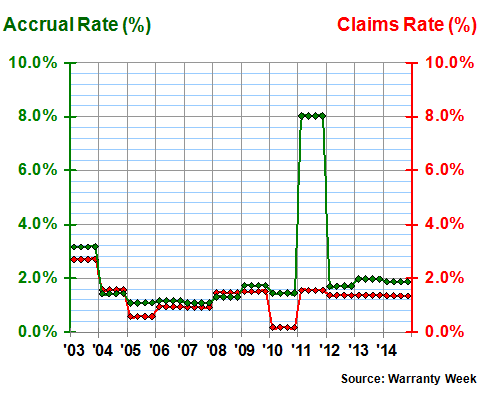 Embraer has positioned itself at the small end of the passenger airline market with such offerings as the 100-seat Embraer 190 favored by companies such as JetBlue Airways Corp. The price is around $32 million per unit, so if the long-term average expense rate is really 1.7%, as the data in Figure 2 suggests, then we're talking about $550,000 in warranty expenses over the life of the aircraft's warranty. That's only a third as much as a great big Airbus, but it's a higher percentage of the unit price.
Smaller Regional Jets
Our third example is a Canadian company that competes at the small end of the passenger jet industry. Bombardier Inc. is the parent company of Bombardier Aerospace, makers of the 50-seat CRJ 200 regional jets favored by American Airlines Inc., and of the Learjets favored by tycoons everywhere.
In Figure 3, we see a company that has steadily reduced its warranty expenses over the past dozen years. Granted, there are other lines of business besides passenger jets, and external observers cannot tell which division or product line accounts for the most or the least warranty expense. However, more than half of its $20.1 billion in 2014 revenue came from aircraft, so it's highly likely that the downward trend seen in Figure 3 is also the trend within Bombardier Aerospace.
Figure 3
Bombardier Inc.
Average Warranty Claims & Accrual Rates
(as a % of product sales, 2003-2014)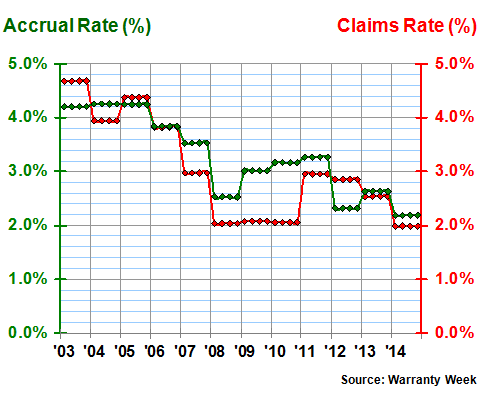 Bombardier's long-term average warranty expense rate is a little over three percent, so for a $21 million regional jet we're talking about $660,000 or so in warranty expenses over the life of its warranty. However, keep in mind that this average is really just the compromise between the relatively high four percent rates of 2003 to 2006 and the more modest two percent rates of recent years.
So really, what's more likely is that the company's warranty expense per unit has fallen from a level of $900,000 per unit a decade ago to $400,000 or less now. That's an amazing achievement for a manufacturing company -- to cut its warranty expense rates in half and keep them low. And it's the only example of a warranty cost-cutter among our six companies profiled this week.
Small Jets With High Expense Rates
In Figure 4, we have only a partial picture for the French manufacturer Dassault Aviation, makers of the Falcon business jet as well as the Mirage and Rafale fighter aircraft, because the company did not begin reporting its warranty expenses until 2007. Its Falcon jets tend to be on the large end of the spectrum, for instance the model 900 and the model 2000 each seats 19 passengers. Pricing tends to be in the $25 to $42 million range, though the Falcon 7X can cost anywhere up to $57 million.
The lowest warranty expense rate in Figure 4 is the 1.3% claims rate the company reported in 2007 (spending 30 million euro on 2.35 billion euro in Falcon jet sales). The highest is an incredible 9.3% accrual rate in 2013 (setting aside 296 million euro against 3.19 billion in Falcon jet sales). We don't have any data for 2003 to 2006, but the data we do have places Dassault Aviation as having the costliest warranties in the industry.
Figure 4
Dassault Aviation
Average Warranty Claims & Accrual Rates
(as a % of product sales, 2007-2014)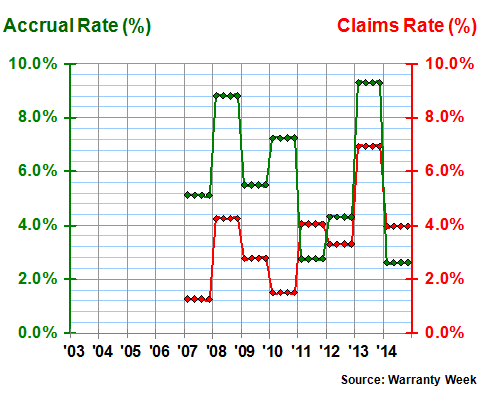 Dassault, like Airbus, Boeing, and General Dynamics, also has a significant military equipment business. In 2014, it accounted for more than 30% of the company's total revenue. However, in most cases these military products are either sold without a warranty or the government actually pays for the warranty as part of the contract. That's how, for instance, Lockheed Martin Corp. reported no warranty expenses at all on $36 billion in hardware sales to military customers last year.
Next we switch back to the Americans, but this time we'll work up from the smallest to the largest aircraft. And that also means, by virtue of our inverse relationship between the size of an airplane and its warranty expense rates, that we're going from highest to lowest.
Diverse Product Lines
Textron Inc., like Bombardier, makes much more than just airplanes. Not only does it own Bell Helicopter, but also it manufactures lawn care equipment and golf carts. The Textron Aviation segment accounts for only a quarter to a third of the parent company's total revenue. So we can't say that all or even any of the expense rate increases seen in Figure 5 come from airplanes.
Figure 5
Textron Inc.
Average Warranty Claims & Accrual Rates
(as a % of product sales, 2003-2014)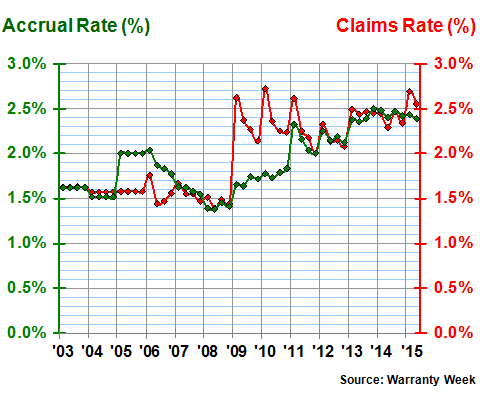 Still, Textron Aviation is now the owner of the Cessna, Beechcraft, and Hawker brand names, so it is the market leader in small propeller-driven planes as well as light business jets. We already looked at a $200,000 Cessna propeller plane, so let's look now at an $8 million Cessna Citation business jet.
With Textron's long-term average warranty expense rate of 1.9%, we'd be expecting around $150,000 in warranty expenses on such an aircraft. But if we base our estimate on the company's 2003 expense rates, we'd be expecting only $130,000 in warranty expense. And if we used the 2015 expense rate average of 2.5%, we'd have to budget for $200,000.
Smaller Planes Have Higher Expense Rates
The point is, the smaller planes, such as those manufactured by Textron and Bombardier, have smaller expenses but higher expense rates. The larger planes, such as those made by Airbus, have larger expenses but lower expense rates, because we're comparing the expense to the price of the plane.
By the way, because the three American companies now report their warranty expenses quarterly, their warranty data looks a bit more volatile than the others. It's not. It's an optical illusion. While in Figures 1 to 3 we have 12 pairs of percentages, in Figures 6 and 7 we have 50 pairs of measurements. Actually, the most volatile chart of all is the one that contains the least amount of data: Figure 4.
We should also note that the main reason Figure 5 goes from smooth to volatile is the fact that Textron converted from reporting its warranty expenses only once a year to reporting those expenses quarterly in 2006. Therefore, we have three pairs of annual data spread over the first 12 quarters and 38 pairs of quarterly expense rates spread over the remaining 9-1/2 years. And the annual portion looks much more stable than the quarterly portion. But again, this is merely an optical illusion.
In Figure 6, we're looking at General Dynamics Corp., the owners of Gulfstream Aerospace Corp., makers of business jets such as the 18-seat G550. Price is only $57 million, so why not get two? That way, you'll still have one available if the other one is in the shop.
In Figure 6 we see a company that's spending roughly 1.4% of its revenue on warranty work, so our G550's warranty is likely to work out to roughly $800,000 per unit. That's much more than a Learjet or a Cessna Citation, but it's actually a lower percentage of the unit price of the aircraft. And the G550 has more seats.
Figure 6
General Dynamics Corp.
Average Warranty Claims & Accrual Rates
(as a % of product sales, 2003-2014)
Finally, we have the world's first- or second-largest aircraft manufacturer, depending on the timing of the count, the largest American exporter of any kind, and the twelfth-largest U.S.-based warranty provider: Boeing Commercial Airplanes, a division of Boeing Co. Its current product line ranges from a $57 million 737-600 with room for 132 passengers to a $350 million 747-8 Intercontinental with room for 467 passengers.
In Figure 7, we see a company whose warranty expense rates are once again below their long-term average of 0.7% in 2015, after spending the previous three years above the baseline. In fact, the 0.5% claims rate the company reported for the first half of 2015 was its lowest ever.
Figure 7
Boeing Co.
Average Warranty Claims & Accrual Rates
(as a % of product sales, 2003-2014)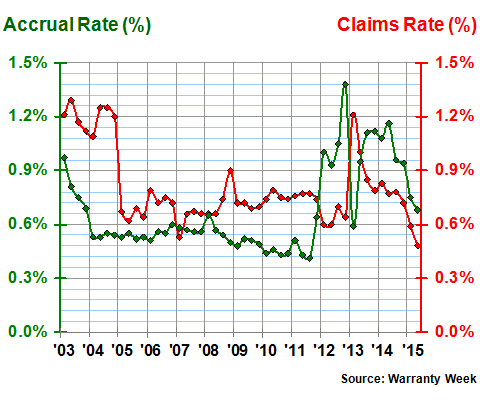 Our long-term dream, after Warranty Week goes public and its stock is worth more than Apple's, is to buy a pair of Boeing 747-400s for $240 million each and fly them around the world (using the second one as a backup in case of delays). According to Figure 7, we're going to have to expect around $1.7 million worth of warranty work per jumbo jet, though that cost could fall to $1.1 million if the currently low claims rates remain on the low side.
Larger Planes Have Lower Expense Rates
That's about the same warranty expense as our Airbus A380, in spite of its higher sticker price. And that's because while 0.5% is a new record low warranty expense rate for Boeing, 0.3% is the long-term average at Airbus. It doesn't mean one plane is better than the other. It simply means that the world's two largest commercial plane manufacturers both have somewhat low warranty expense rates, typically below one percent.
And then Embraer at 1.7% and Gulfstream at 1.4% are in the middle, both in terms of the typical size of their aircraft and in terms of the warranty expense rates they exhibit. At the top in expense rates but at the bottom in cabin seating specs are Bombardier, Dassault, and Textron, whose small and midsize aircraft end up costing upwards of two percent of selling price for warranty coverage.
Therefore, with these seven examples, covering most of the world's recreational, business, and commercial aircraft, we find the following pattern: The bigger and more expensive the aircraft, the lower its claims and accrual rates. The smaller and less expensive the aircraft, the higher its claims and accrual rates. But that's mainly because there's a much greater range in selling price than there is in warranty cost per unit.