July 28, 2016
Solar Equipment Warranties:
While product warranties that last for one or two decades are reassuring to buyers, they're not worth much unless funds are available to pay claims. That means betting on young startup companies eventually becoming old industry veterans. But who knows how reliable a system installed now will be in 10 or 20 years, and how much it will cost to repair or replace?
The solar energy equipment market is growing fast and that growth is attracting more competitors and more manufacturing capacity, forcing product prices to fall rapidly. New market entrants with unknown brand names are reassuring customers that their equipment is built to last, issuing 10-, 25- or even 30-year product warranties as a mark of their expected longevity and reliability.
But are these warranties really built to last? Are the companies issuing them to customers actually setting aside enough money to pay claims in two or three decades? And what happens if the fierce competition forces some of them to go out of business?
In general, what we're finding is that most of the manufacturers are financing their very long warranties properly, while most of the installers are playing for the short term, hoping that the manufacturers will be there to pay at least the cost of replacement parts. And if not, well, let's hope they can work something out.
Warranty Stress Test
We devised a sort of stress test for solar warranties, taking a look at the amount of cash they have on hand in the warranty reserve fund, and also looking at that balance in terms of how many months of warranty claims it would pay for at current rates of spending.
If the funds would last for 300 months, given current claims rates, that's 25 years and therefore the liabilities of these long-term warranties are fully financed. But if they'd last for only 100 months, that's barely eight years, so that wouldn't fully fund a 25-year liability. Then again, if the company is growing rapidly, and prices are falling rapidly, nobody will notice in 10 or 20 years that warranty liabilities were under-funded way back in 2016.
However, there's also such a thing as over-accruing. We found that one company briefly held enough reserves to pay claims for 12,000 months, and another held almost 24,000 months of reserves. Unless they're plotting to take the market by storm with thousand-year warranties, that's a bit much.
But here's the central problem: none of the nine companies we're following have been financing warranty expenses since 2003. Four started in 2004, and one started in 2005. The rest have even less experience than that. And they really don't know what failure rates will look like in decades to come, nor do they have a good grip on repair or replacement costs in the year 2025 or beyond. So even the ones that are good at it are guessing.
Let's start with a pair of American companies. First Solar Inc. is based in Tempe, Arizona, and SunPower Corp. is based in San Jose, California. Both are among the veterans when it comes to warranty financing, publishing quarterly expense data going back to 2004.
In all the charts that follow, we're making two modifications to the data. First, the warranty reserve balance, expressed as a multiple of the number of months of claims it would finance, is plotted on the right side in a logarithmic scale. Second, in cases where the amount of claims paid in a given period was $0, the resulting multiple would be infinite, so we've capped it at 3,000 months to keep the measurements realistic.
Four times in 48 quarters, First Solar has reported paying no warranty claims, but it hasn't happened since 2008. This is good, because it gives the company some real data about actual failure rates and repair costs, rather than extrapolations based on accelerated lifespan tests. And you can see in Figure 1 how since 2010 the company has gradually raised both the amount of funds it keeps in reserve and the multiple that amount represents of its monthly claims cost.
Figure 1
First Solar Inc.
Warranty Reserves, 2003-2015
(in US$ & months of claims paid)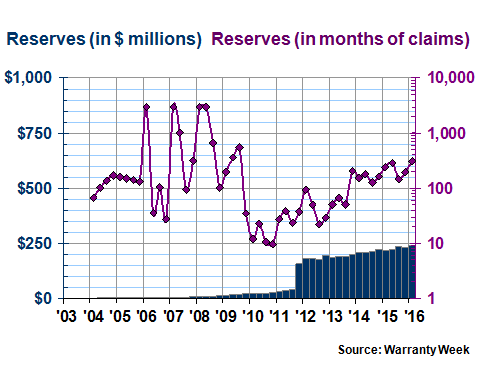 In 2015 and at the outset of 2016, the company is keeping roughly 220 to 240 months of claims cost in its reserve fund, which is almost exactly 20 years. First Solar typically warrants that its installations will produce at least 97% of their labeled power output rating during the first year, with the warranty coverage reducing by 0.7% every year thereafter throughout the 25-year warranty period. Until 2014, it warranted that its solar modules would produce at least 90% of their labeled power output rating during the first 10 years, and at least 80% of their labeled power output rating during the following 15 years.
So while these warranties tend to be very long, they're also slowly depreciating. Or to put it another way, they anticipate a gradual degradation of the equipment over time. And given the pace of technological innovation, the replacement units in the year 2025 or beyond are likely to be both much smaller and much less costly than current models.
SunPower
SunPower had no claims for most of its first three years of warranty expense reporting. In Figure 2 we see the company's reserves-to-claims ratio maxing out at 3,000 months in nine of their first 12 quarterly reports, because there were no claims to be paid during those periods.
But then claims did begin to come in, and the company kept its reserves equal to multiple years' worth of claims. In 2007 and 2008 the reserves averaged four years. In 2009 and 2010 the ratio was closer to 10 years. Since 2014 it's been closer to 12 years.
Figure 2
SunPower Corp.
Warranty Reserves, 2003-2015
(in US$ & months of claims paid)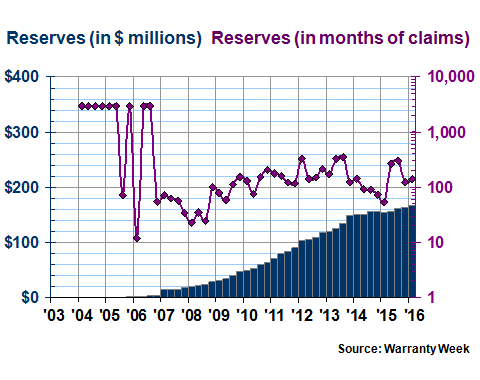 SunPower provides a 25-year product warranty for defects in the materials and workmanship of its solar panels. The company warrants that its panels will provide 95% of their minimum peak power rating for the first five years, degrading by no more than 0.4% per year for the following 20 years, so the power output at the end of 25 years will be at least 87% of the panel's minimum peak power rating.
In addition, SunPower provides a system output performance warranty separately from the standard solar panel product warranty, and gives the former only to those customers who also purchase an operations and maintenance service contract. And, it says, those O&M service contracts actually help it identify and correct potential issues before they have a significant impact on system performance. In other words, it's a true service contract, where the ongoing service actually prevents claims, rather than just paying them.
Trina Solar
Trina Solar Ltd., though it's based in China about halfway between Shanghai and Nanjing, and is incorporated in the Cayman Islands, sells its stock in New York (Ticker: TSL), and files its annual reports with the U.S. Securities and Exchange Commission.
In Figure 3 below, the ratio between reserves and claims is artificially set to 3,000 months for six years because the company reported paying no claims from 2004 through 2009. But then the claims did began arriving, and in 2010 the company found itself keeping 2,229 months, or nearly 186 years of reserves on hand. But this was more a function of very low claims rates, rather than very high reserve levels.
As the product line matured and claims rose to more realistic levels, the ratio fell to a more realistic 32 years in 2011, and to 12 years in 2012. But then it became absurd again, rising to 131 years in 2013 and 509 years in 2014. It fell back to 854 months in 2015 -- 71 years.
Figure 3
Trina Solar Ltd.
Warranty Reserves, 2003-2015
(in US$ & months of claims paid)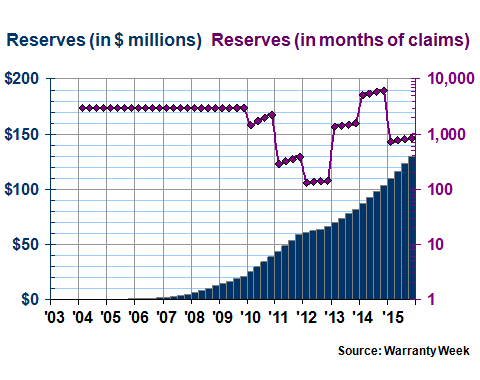 Trina Solar provides a 10-year warranty for defects in material and workmanship and a 25-year minimum power output warranty, which guarantees that photovoltaic module power output will not decrease by more than 0.7% per year after the first year of service.
But the company also admits that it doesn't really know how much these warranties will end up costing it. "We only began to sell PV modules in November 2004. Although we conduct accelerated reliability testing of our PV modules, our PV modules have not been and cannot be tested in an environment simulating the 25-year warranty period. As a result, we may be subject to unexpected warranty expense and associated harm to our financial results for as long as 25 years after the sale of our products."
Canadian Solar
Canadian Solar Inc., based in southwestern Ontario, trades its stock on the NASDAQ exchange (Ticker: CSIQ), and reports its warranty expenses in dollars to the SEC. But it does so only once a year, which is why the data in Figure 4 looks a bit like some classical musical notations.
For its first two annual reports, Canadian Solar said it paid no claims, so we've set the ceiling for 2004 and 2005 to 3,000 months. But then in 2006, as it began to pay claims, its ratio between warranty reserves and claims stood at 12 years. And then, things got a bit absurd. In 2007 the ratio was 333 years. In 2008 it surpassed a millennium. In 2009 it was again over a century, though in the five years since 2011 the ratio has averaged a more realistic 29 years.
Figure 4
Canadian Solar Inc.
Warranty Reserves, 2003-2015
(in US$ & months of claims paid)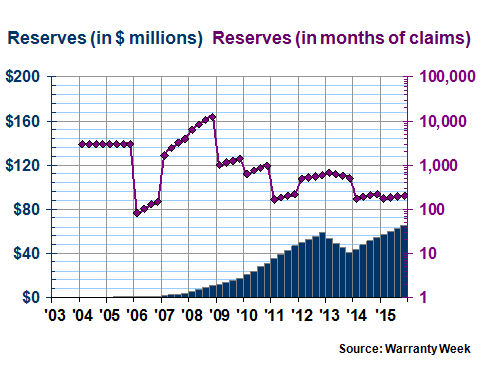 Canadian Solar's warranty against defects in materials and workmanship runs for 10 years. In addition, it has a series of performance warranties that last for up to 30 years. So its warranty reserves appear to fully fund those predicted liabilities.
However, the company also signals a note of caution in its annual report. "Due to the long warranty period, we bear the risk of extensive warranty claims long after we have shipped our products and recognized revenue... Any increase in the defect rate of our products would require us to increase our warranty reserves and would have a corresponding negative impact on our results of operations.
"Although we conduct quality testing and inspection of our solar module products, our solar module products have not been and cannot be tested in an environment simulating the up-to-25-year warranty periods. In particular, unknown issues may surface after extended use... As a result, we may be subject to unexpected warranty costs and associated harm to our financial results as long as 25 years after the sale of our products."
ReneSola
ReneSola Ltd. is another British-Chinese company whose stock trades in New York. But its main offices are closer to Shanghai, and its alleged headquarters is in Tortola, one of the largest and loveliest of the British Virgin Islands. Its stock trades under the symbol of SOL on the New York Stock Exchange.
ReneSola didn't begin publishing its annual warranty expenses until 2011, so we have only five years of data to work with in Figure 5. Over that period, the ratio between the company's reserves and claims has ranged from 24 years in 2014 to an astonishing 1900 years in 2015. The reason for this is simple: while reserves grew to $36 million by the end of 2015, claims totaled only $18,000 for the entire year. And with a claims rate of only 0.001%, absurd multiples result.
Figure 5
ReneSola Ltd.
Warranty Reserves, 2003-2015
(in US$ & months of claims paid)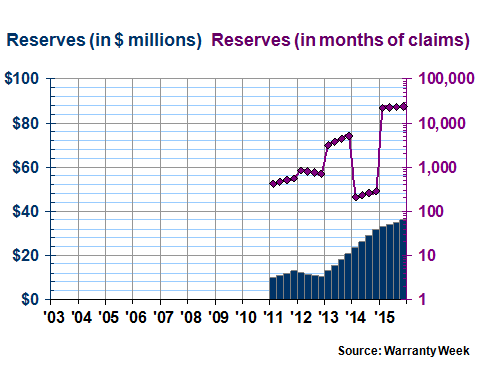 ReneSola provides two-year warranties for its solar modules against defects in materials and workmanship. And then it warrants the minimum power output for up to 20 years following the date of sale. "As a result of the long warranty periods, we bear the risk of extensive warranty claims long after we have sold our products and recognized revenues," the company notes in its annual report.
"We have been required to make assumptions regarding the durability and reliability of our solar modules. Our assumptions could prove to be materially different from the actual performance of our solar modules, causing us to incur substantial expense to repair or replace defective solar modules in the future... If our warranty provisions turn out to be inadequate, we may have to incur substantial expense to repair or replace defective products in the future... Any increase in the defect rate of our products would cause us to increase the amount of our warranty reserves and have a correspondingly negative impact on our operating results. Furthermore, widespread product failures may damage our market reputation, reduce our market share and cause our sales to decline."
The Warranty Chain
So far, we've been looking primarily at the solar panel manufacturers. But there are other types of components in the resulting systems, and the systems are not always sold to end users or installed by the manufacturers themselves. So there are both supplier relationships and contractor relationships that complicate the warranty picture.
In the June 16 newsletter, one of the new companies we profiled was Enphase Energy Inc., which manufactures the micro-inverter, an essential part of many small residential solar energy systems. In most installations, one inverter changes the direct current generated by multiple solar panels into the alternating current used by most household electrical appliances and machinery. But with the micro-inverter, each panel can get its own inverter. That can result in more power.
The point is, Enphase partners with the system designers and installers, which pass through its product warranties to the end user customers. And they also pass through the product warranties and the performance warranties of the solar panel manufacturers, such as those listed above. The designers and installers put the parts and components together into a complete system, and provide their own separate warranties on their workmanship, for which they are liable.
In Figure 6, we see a reserves-to-claims ratio that for the past six years has varied from two to nine years while averaging only five years. This demonstrates a very high level of confidence in the reliability and longevity of the company's micro-inverters, whose warranties last much longer than five years.
Figure 6
Enphase Energy Inc.
Warranty Reserves, 2003-2015
(in US$ & months of claims paid)
Enphase offers a 25-year product warranty on its latest models and a 15-year warranty on its first- and second-generation micro-inverters. Meanwhile, if it were to cease operations today, its warranty reserves, at current levels of claims payments, would last for a bit over four years.
"While we offer warranties of up to 25 years, our micro-inverters have only been in use since mid-2008, when we first commenced commercial sales of our products. Although we conduct accelerated life cycle testing to measure performance and reliability, our micro-inverter systems have not been tested over the full warranty cycle and do not have a sufficient operating history to confirm how they will perform over their estimated useful life," the company notes in its annual report.
"We are required to make assumptions and apply judgments, based on our accelerated life cycle testing and the limited operating history of our products, regarding a number of factors, including the durability and reliability of our products, our anticipated rate of warranty claims and the costs of replacement of defective products. Our assumptions have proven and could in the future prove to be materially different from the actual performance of our products, which has caused and may in the future cause us to incur substantial expense to repair or replace defective products."
System Installers
It would be great if the system designers and installers were setting aside additional amounts of warranty reserves to pay for claims against their labor. But they're not. We checked the books of six of the largest installers -- Complete Solar Solution Inc.; OneRoof Energy Inc.; Sunrun Inc.; Sungevity Inc.; Verengo Inc.; and Vivint Solar Inc. -- and none had much to say about how they plan for future warranty liabilities.
Vivint said it had $300,000 in its warranty reserve and Sunrun said it had $1.1 million. The others said nothing. But at least Vivint was realistic about the future risks it faces. "As part of our operations and maintenance work, we provide a pass-through of the inverter and panel manufacturers warranty coverage to our customers, which generally range from 10 to 25 years. One or more of these third-party manufacturers could cease operations and no longer honor these warranties, leaving us to fulfill these potential obligations to our customers... We, either ourselves or through our investment funds, bear the cost of such major equipment," its annual report reveals.
That is, if the installer is still around when a claim comes in, and the manufacturer is not, then the installer will have to bear the cost of both the parts and labor involved in the repair or replacement. And given the thin level of reserves they maintain, that cost will have to come out of cash on hand, or from investors. This is something that end user customers need to understand: those extra-long warranties are worth nothing unless the funds are there to pay the claims decades from now.
SolarCity, Tesla's Cousin
SolarCity Corp. is an installer, but it's also much more. Founded by Tesla Motor's Elon Musk and his cousins Peter and Lyndon Rive, the company also manufactures solar panels, as well as charging stations for Tesla's electric cars. In fact, Tesla has offered to acquire the company in an all-stock deal.
SolarCity's systems and design skills are for sale in select Home Depot and Best Buy outlets, as well as through a network of channel partners. However, only 27% of the company's total revenue comes from manufacturing. The rest comes from leasing and financing the cost of solar systems to others, and the sale of electricity produced by systems it owns. It even sells unsecured debt securities called Solar Bonds, which pay up to 5.25% annual interest.
In Figure 7, we see a company that kept about 20 years' worth of claims cost in its reserve fund back in 2011 and 2012. And while that ratio dipped as low as seven years at the end of 2013, it has generally been rising ever since. Over five years the ratio has averaged 35 years, but at the outset of 2016 it stood at 45 years.
Figure 7
SolarCity Corp.
Warranty Reserves, 2003-2015
(in US$ & months of claims paid)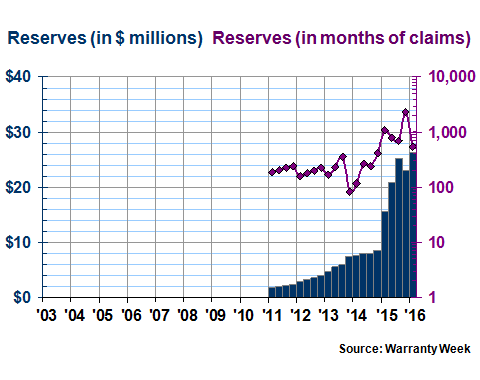 This should be plenty of money to pay for its warranty claims. The company's own products are warranted for 10 to 30 years, depending on how they were acquired by the end user customer. Systems bought for cash get a 10-year warranty. Systems that are leased get a 20-year warranty. Systems bought on credit get a 30-year warranty. Meanwhile, the warranties from its component suppliers, which it passes through to its customers, range from five to 30 years.
Performance warranties and extended warranties are also available. "Where we sell the electricity generated by a solar energy system, we compensate customers if their system produces less energy over a specified performance period than our guarantee. We also provide ongoing service and repair during the entire term of the customer relationship. Costs associated with such ongoing service and repair have not been material to date, but are expected to increase as our customer base expands, inverters require replacement and the systems age," the company states in its most recent annual report.
Yingli Green Energy
Finally, we have a pair of British-Asian solar equipment providers that are selling their stock in New York but are denominating their warranty expenses in their native currencies. Since we have focused primarily upon the ratio between reserves and claims, this is not much of a complication. But it does make it necessary to change the labeling of the charts below.
Yingli Green Energy Holding Company Ltd., also known as Yingli Solar, is based near Beijing but is incorporated in the Cayman Islands. It trades on the NASDAQ exchange under the ticker symbol YGE, as well as on other exchanges. Its warranty reserves in the chart below are denominated in Chinese yuan, or renminbi (RMB), for which the exchange rate in 2015 was about 6.5 yuan to the US dollar.
In Figure 8, the chart shows that the company paid no claims in four of the past 11 years. But in the other seven years, its reserves have ranged from a multiple of 11 to 47 years of claims payments. Its ratio for the past two years has remained close to 19 years, which in turn is close to its warranty durations.
Figure 8
Yingli Green Energy Holding Co. Ltd.
Warranty Reserves, 2003-2015
(in RMB & months of claims paid)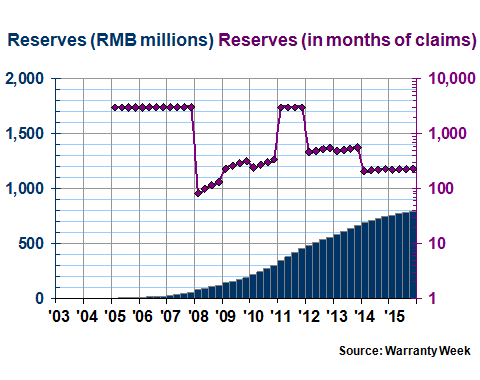 Hanwha Q Cells Company Ltd., formerly known as Solarfun Power Holdings Co. Ltd., and later as Hanwha SolarOne, is part of the massive Hanwha conglomerate based in Seoul, South Korea. However, as can be seen in Figure 9 below, its warranty reserves are denominated in Chinese yuan.

Figure 9
Hanwha Q Cells Co. Ltd.
Warranty Reserves, 2003-2015
(in RMB & months of claims paid)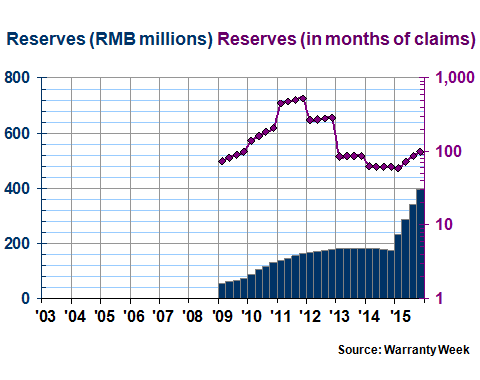 The sudden increase in reserves in 2015 is a result of an internal merger, renaming, and reorganization of the solar energy assets within the Hanwha hierarchy. The merger also drove up the ratio between reserves and claims, from a ratio of five years at the end of 2014 to a little over eight years at the end of 2015.
Whether this amount of funds proves to be adequate to pay claims in the decades ahead remains to be seen. However, with the subsidiary of a giant conglomerate, or as we've seen in the U.S., with the subsidiary of a giant local electrical utility, the risks are minimized by the deep pockets and longevity of the parent company.
No Product Warranty Regulation?
Bottom line, while we note that extended warranties are tightly regulated in most U.S. states, with required minimum reserves and/or relationships with established and well-funded insurance companies contracted to pay future liabilities, product warranties are not. They rarely survive the demise of their issuer. So on the one hand, the reassuring nature of 10- or 20-year warranties can be flashed around as marketing tools at the time of sale to help give peace-of-mind to customers. But on the other hand, the reserves backing claims payments in future decades might not be there. And the companies responsible for the parts, the labor, or both, may not be around at that time either.
Further complicating the picture are an array of system designers and installers that are setting aside little if anything to pay for warranty claims against their workmanship. They hope that warranties on materials will be paid by the manufacturers, if they're still in business in a decade or two. If not, well, end user customers with unpaid claims can always take a trip to the Cayman Islands or to eastern China and search for a courthouse and a barrister willing to take on their case.