January 10, 2019
The State of Warranty Chain Management:
Results of annual survey suggest the global warranty services market appears to be moving toward a more expansive period of growth in 2019.
By Bill Pollock and Ashok Kartham
After conducting its fifth annual Warranty Chain Management (WCM) Benchmark Survey in the second half of 2018, Strategies For Growth president & principal consulting analyst, Bill Pollock, has put together a results package consisting of an Analysts Take paper, a Webinar and a 2019 WCM Conference workshop and presentation on "The State of Warranty Chain Management (WCM) for 2019 – and Beyond!"
The webinar will be hosted by Mize, Inc. on January 17, 2019, a week from today, at 1 PM EST. You can register to attend the webinar at https://info.m-ize.com/webinar-on-benchmark-and-optimize-warranty-management Mize will also be making the Analysts Take paper available via download in conjunction with the Webinar and the 2019 WCM Conference in Orlando, FL, March 12-14, 2019.
According to Pollock, "The 2019 survey results reflect all of the signals for an expanding market growth over at least the next 12 months, and probably beyond. Nearly two-thirds of respondent organizations are already running their services operations as profit centers with their own P&Ls, and annual warranty-related budgets are expected to increase-over-decline by a ratio of more than three-to-one. This has all of the makings for a fast-growing market.
"Further, we are seeing an uptick in the percent of warranty services organizations taking steps to improve their respective planning and forecasting activities, and restructuring, as necessary, for improved warranty management oversight and accountability.
"As such, all of the key aspects that can be used to signify both operational and financial improvements seem to be there, leading to an optimistic expectation for accelerated growth in the industry over the next 12 months."
Managing Services as a Profit Center
Presently, 63% of respondent organizations manage service as a profit center, keeping pretty much in line with the findings for other related components of the global services industry (e.g., the field services segment). For many organizations, running services as a profit center allows them to focus more on the processes that may be used to generate higher levels of profitability, which represents one of the three main clusters of key factors currently driving the global market.
Still, there are more than a third (37%) that are running service as a cost center. While some organizations are doing this quite well, our research has shown that those running service as a profit center are significantly more likely to attain higher levels of both customer satisfaction and profitability, thereby positioning themselves closer to Best Practices compared against all others (Figure 1).
Figure 1
Nearly Two-Thirds (63%) of Respondent Organizations Manage Service as a Profit Center; However, More than a Third (37%) Still Run as a Cost Center
(percent response)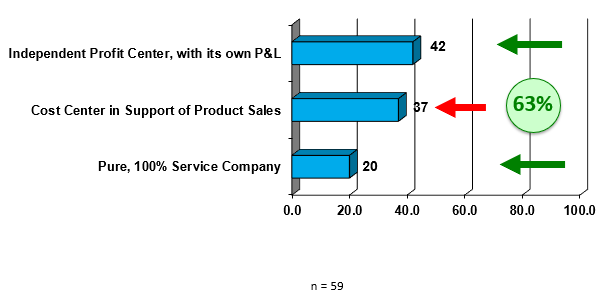 Source: Strategies For Growth
The survey results also reveal that, presently, nearly two-thirds (62%) of respondent organizations expect their annual warranty budgets to increase over the next 12 months -- with 21% expecting increases in excess of 10%. This is a significant improvement over the results derived from SFG's 2018 WCM Survey.
For the same period, only 18% expect decreases, with most (i.e., 10%) being of less than 10%. All told, the ratio of organizations expecting increases in their annual budgets is more than three times that of those expecting declines (Figure 2).
Figure 2
Overall, Annual Warranty Budgets Are Largely Expected to Increase-Over-Decrease* by a Greater than Three-to-One Ratio
(percent response)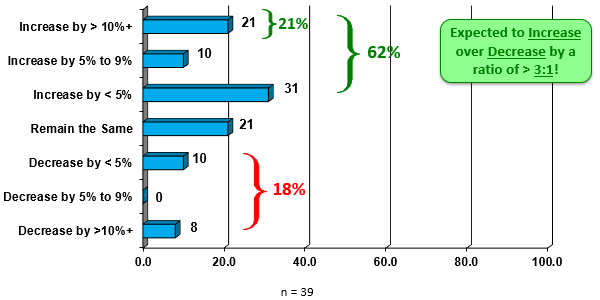 * during the next 12 months
Source: Strategies For Growth
Warranty Management Organizations Are Once Again Customer-Focused
The respondents to the survey have also once again clearly identified the specific drivers that are pushing them to aspire to the attainment of higher levels of performance. In fact, they have provided responses that solidify that there are still three main clusters of factors that drive their respective businesses: customer-focused, product quality-focused and profit-focused -- and in that order (Figure 3).
Figure 3
The Principal Warranty Management Drivers Are, First, Customer-Focused; Second, Product Quality-Focused; and, Third, Profit-Focused
(percent response)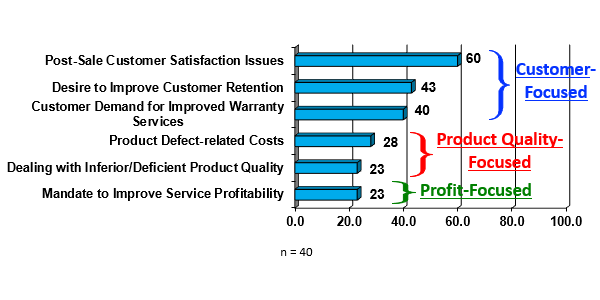 Source: Strategies For Growth
For example, among the customer-focused drivers, post-sale customer satisfaction issues (60%, up from 58% in 2018, and only 42% in 2017), the desire to improve customer retention (43%), and customer demand for improved warranty services (40%) remain as the top three drivers with respect to optimizing overall service performance. No other drivers are cited by more than just over one-quarter (28%) of respondents.
The next cluster of drivers is product quality-focused, and is represented by product defect-related costs (28%) and dealing with inferior/deficient product quality (23%). The third cluster, profit-focused, is represented solely by an internal mandate to drive increased service revenues (23%). As such, the warranty chain management community has made it clear that it is squarely focused on, first, satisfying -- and retaining -- its customers; second, dedicated to improving product quality-related issues; and third, mandated to drive increased services profitability -- again, in that specific order.
These results suggest a continuation of the relative normalcy that has characterized the warranty chain management segment over the past several years -- that is, a return to focusing on customers, rather than spending most of their time and resources wrestling with cost reductions and other financial issues. Obviously, while financial considerations are still critically important, the industry focus has shifted back, as it always does, squarely on the customer's needs, requirements, preferences and expectations.
Challenges Facing Today's Warranty Management Initiatives
Aside from the top clusters of customer-, product quality- and revenue-focused drivers, warranty services managers are also faced with myriad additional challenges that come from many different areas. The top challenge, as cited by nearly two-thirds (63%) of the survey respondents, is the ability to identify the root cause of product failures.
However, nearly half (45%) also cite cost recovery from suppliers as one of their top three challenges. Further, between 28% and 30% of respondents also cite repair management (30%), claims processing time and accuracy (30%), and sale of extended warranties (28%) as significant challenges as well (Figure 4).
Figure 4
The Greatest Challenges Facing Today's Warranty Management Initiatives Are Identifying Root Causes of Product Failures, and Cost Recovery
(percent response)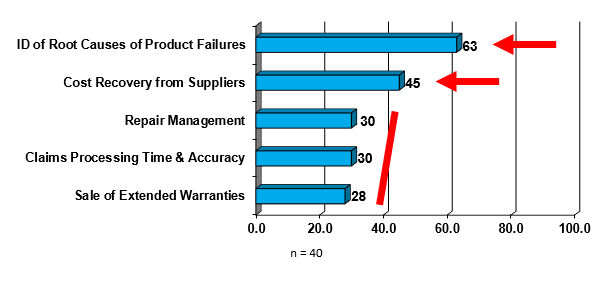 Source: Strategies For Growth
Based on the 2019 survey results, Pollock suggests that, "the greatest challenges facing warranty services managers today align closely with the key market drivers, as well as with the current and planned strategic actions to be taken." As a result, these data continue to reflect an environment where overall improvements are likely to transpire in the next 12 months, thereby leading to higher levels of customer satisfaction and the further stimulation of financial growth for the segment.
Analysts Take on the Global WCM Community
However, building upon the survey findings from previous years, only a small majority of warranty managers (57%) report that they are satisfied with their company's warranty claims processing time -- and only 22% are "extremely satisfied." Pollock claims that "although these percentages represent a significant increase over previous surveys, there are still more than one-in-five (22%) that are currently 'somewhat dissatisfied' with their company's warranty claims processing time performance."
Ashok Kartham, founder & CEO of Mize, concurs with Pollock but adds that "the companies can achieve the key goals of improving customer satisfaction and profitability of service business by connecting all stakeholders and processes in warranty and service contracts. Companies need to connect with customers directly to improve self-service and grow service contract sales. Service technicians need to be enabled to make better diagnostic and repair decisions upfront. Supplier collaboration needs to be improved to drive product quality. Companies can move beyond claims processing to drive customer satisfaction and grow additional revenues from innovative service offerings."
Kartham further explains that "the warranty industry is facing significant challenges and opportunities with increased customer expectations for product uptime and predictive maintenance. The Mize Connected Customer Experience platform, and Warranty Management solution, enable companies to transform warranty to be a profit center. We are excited to bring the industry benchmarking and best practices to help companies optimize the entire warranty lifecycle and maximize the customer lifetime value."
On January 17, 2019, Mize will be hosting a complimentary hour-long webinar featuring the executive-level results of this survey, to be co-presented by Bill Pollock, president & principal consulting analyst at Strategies For Growth; Eric Arnum, editor of Warranty Week; and Ashok Kartham, founder & CEO of Mize, Inc.
Mize will also be making available the companion Analysts Take paper that provides further insights relating to the findings, in conjunction with the 2019 Warranty Chain Management (WCM) Conference, to be held in Orlando, FL, March 12–14, 2019. And, of course, Mize is also a longtime sponsor of this newsletter. To register for the Webinar, or to obtain a copy of the companion Analysts Take paper, simply click here.
About the Contributors
Bill Pollock is President & Principal Consulting Analyst at Strategies For Growth (SFG), the independent research analyst and services consulting firm he founded in 1992. Previously, Bill served as President & Chief Research Officer (CRO) at The Service Council; Vice President, Principal Analyst, heading up Aberdeen Group's Service Management Practice; and Managing Analyst, Services Industry at Gartner. In 2015-17, Bill was named "One of the Twenty Most Influential People in Field Service" by Field Service News (UK); One of the "Top 10 People Every Field Service Pro Should Follow" by Field Service Digital; one of Capterra's "20 Excellent Field Service Twitter Accounts"; and one of Coresystems' "Top 10 Field Service Influencers to Follow". He writes monthly features for Field Service Digital, Field Service News, Field Technologies, and Future of Field Service, and is a regular contributor to Warranty Week. Bill may be reached at +1 (610) 399-9717, or via email at wkp@s4growth.com. Bill's blog is accessible @PollockOnService and via Twitter @SFGOnService.
Ashok Kartham is Founder & CEO of Mize, the Tampa, Florida-based firm that enables companies to optimize key post-sale customer interaction events, such as product registration, warranty, service plans, parts, support, service, and maintenance, to increase customer satisfaction and retention. Mize Warranty Management software helps companies to streamline all warranty processes including product registrations, claims processing, parts returns, supplier recovery, and warranty analysis. Mize Service Contacts Management solution connects all stakeholders to grow service contract sales and attach rates. For more information on Mize, please contact info@m-ize.com, or visit the Mize website at: www.m-ize.com.