| | | |
| --- | --- | --- |
| May 16, 2013 | | ISSN 1550-9214 |
Appliance & HVAC Warranties:
With huge amounts of warranty cost-cutting reported by United Technologies and others, the industry trend for expense rates is now firmly downwards. But HVAC and household appliance makers used to spend even less on warranty a decade ago.
The makers of heating, ventilation, air conditioning, refrigeration and other household appliances are finally reducing their warranty expense rates after watching them drift upwards in recent years.
Warranty claims and accruals aren't at their lowest levels ever for the HVAC and appliance makers, but they are at their lowest levels since at least 2006. And in that respect, the latest annual figures present an image of progress when it comes to warranty cost reduction.
Let's start with a tally of claims payments over the past ten years. In Figure 1, we've chopped the universe of appliance and HVAC companies as follows: 32 makers of household appliances, 31 makers of heating, ventilation and air conditioning systems, and all by itself, United Technologies Corp., the owners of HVAC company Carrier Corp.
United Technologies By Itself
The reason we put United Technologies off by itself this week has to do with the way we tallied warranty costs in the aerospace industry in last week's newsletter. Aerospace, we noted, is still responsible for less than half the company's total revenue, even after its acquisition of Goodrich Corp. late last year. So we said we would instead count United Technologies as an HVAC company.
However, not all of United Technology's warranty expense is from HVAC either. Surely, some portion of it arises from aerospace, not to mention its Otis Elevator Co. operations. So if we counted it all as HVAC warranty expense, that would tend to overstate the HVAC totals.
Therefore, in Figure 1 we are counting United Technologies/Carrier as an HVAC warranty provider, but we're separating it from the other 31 vendors. Counted together, the 32 HVAC vendors saw claims fall 11% in 2012, to a total of $1.067 billion. However, counted separately, that total splits into a -37% decline for UTC/Carrier, and a 4% gain for the other 31 vendors.
Figure 1
Appliance & HVAC Warranties
Claims Paid by U.S.-based Companies
(in US$ millions, 2003-2012)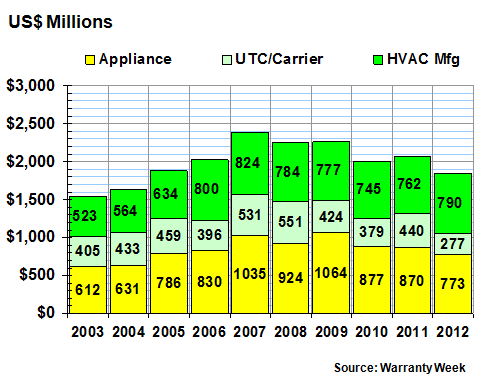 Household appliance makers, meanwhile, saw their claims payments fall 11% in 2012 to $773 million. It was their third straight year of declines, and their smallest claims total since the $631 million seen in 2004. Part of the reason no doubt is related to sales declines at market leaders Whirlpool Corp. and Ingersoll-Rand plc, combined with slight sales declines at Jarden Corp.
The overall claims total for appliance and HVAC makers together was $1.841 billion in 2012, down from $2.073 billion in 2011 and $2.001 billion in 2010. Claims payments have generally been on a downward trend since the industry peaked in 2007, which is when the homebuilding industry also fell into a downturn.
Of course, not all appliances and HVAC units are sold to customers building new homes. Some are replacements or upgrades for existing homes. Back in the April 18 newsletter we looked at the warranty expenses of the homebuilders and the makers of building materials. This week's data should also be considered in that analysis.
UTC/Carrier doesn't account for a major share of the industry's total claims, as can be seen in Figure 1. However, that's because when UTC/Carrier's annual claims payments fell from $440 million in 2011 to $277 million in 2012, its share of the industry total fell from 21% to 15%. The remaining 31 HVAC vendors then saw their share jump from 37% to 42%.
Declining Warranty Accruals
UTC/Carrier's share of the overall industry's accruals also dropped in 2012. In 2011, the company's $475 million in accruals accounted for 23% of the $2.111 billion total. But in 2012, its $325 million total accounted for only 18% of the $1.846 billion total.
In Figure 2, we can see that the other HVAC companies made slightly larger accruals in 2012, while UTC/Carrier cut its total by almost a third. Had we simply included UTC/Carrier in the HVAC total, this would not have been apparent. By the way, most of the HVAC accruals increase came from Johnson Controls Inc. and Masco Corp.
Figure 2
Appliance & HVAC Warranties
Accruals Made by U.S.-based Companies
(in US$ millions, 2003-2012)
Among the appliance makers, once again Whirlpool and Ingersoll-Rand led the decline in terms of accruals. Middleby Corp. and Jarden saw slight increases in their accrual totals last year. But they weren't large enough to offset the declines, which led to a 13% contraction in accruals made by the appliance companies in 2012, and their smallest overall total since 2006.
In Figure 3, we've taken the same data that's contained in Figure 2 and expressed it in a different format. While Figure 2 expressed accruals made per year in dollars, in Figure 3 we're highlighting each company's "market share" as a percentage of 100%.
An 80/10 Rule?
Over the past decade, the 10 companies we're spotlighting have together accounted for roughly 80% of the industry total. So at least with accruals in the appliance/HVAC sector, there seems to be an 80/10 rule in effect.
However, the main purpose of the chart is to highlight the effect of three major acquisitions: the purchase of Maytag by Whirlpool in 2006; the purchase of York International by Johnson Controls in 2005; and the purchase of Trane Inc. by Ingersoll-Rand in 2007.
In each case, the acquiring company's "market share" of warranty accruals expanded after the mergers. For JCI/York, their share continues to expand, but for both Whirlpool/Maytag and IR/Trane, their combined shares have never been smaller.
Figure 3
Top Appliance & HVAC Manufacturers
Accruals Made per Year
(as a % share of the total in Figure 2)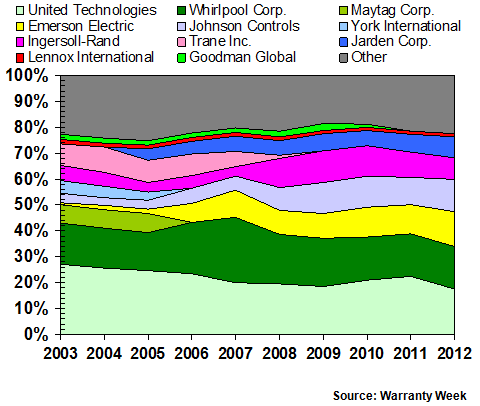 Also, please note that Jarden did not begin to report its warranty expenses until 2005. Meanwhile, Goodman Global Inc. was privately-held until it went public in 2006, but then it went private again at the end of 2007. So its "market share" disappears from the chart, although it no doubt continues to pay warranty expenses.
UTC/Carrier, however, continues to see its overall share of the appliance/HVAC accruals total shrink. Is that because of successful cost-cutting in aerospace? Or is it from the HVAC side of the house? From an external point of view, it's impossible to tell.
But even though we don't know the cause, we can see the effect. Back in 2003, UTC/Carrier was 27% of the total. In 2011 it was 23%. Last year, it dipped to only 18%.
In dollar terms, UTC/Carrier's accruals peaked at $533 million in 2006. And then last year's $325 million sum is by far its lowest accrual total of at least the past decade.
Huge Amount of Warranty Reserves
Here's why it was necessary to treat UTC/Carrier separately: In Figure 4, we're taking the totals left in the warranty reserve funds of all of the industry participants over the past decade. And because of UTC/Carrier's status as a major manufacturer of both aircraft and air conditioners, it has especially lengthy warranty commitments, and especially large warranty reserves.
In fact, UTC/Carrier alone accounts for roughly 43% of the $3.089 billion total seen at the end of 2012. The other 31 HVAC vendors account for about a third of that total, and the 32 appliance companies account for the remaining quarter. And UTC/Carrier, despite its massive reduction in claims paid and accruals made, accounts for a larger share of the total than ever before.
Figure 4
Appliance & HVAC Warranties
Reserves Held by U.S.-based Companies
(in US$ millions, 2003-2012)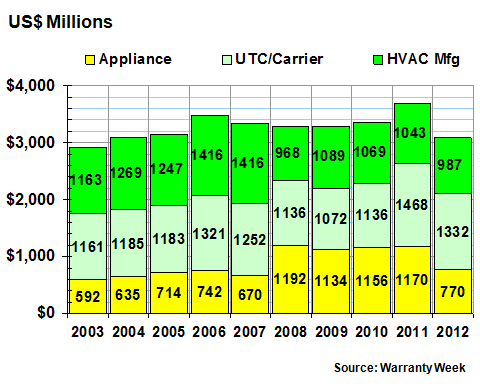 Warranty reserves, however, are shrinking all around. The appliance companies cut their reserves by $400 million, led by Ingersoll-Rand's $373 million reduction. The HVAC companies cut their reserves by a net $56 million, led by United Technologies, Johnson Controls, and Emerson Electric Co. Altogether, the combined appliance/HVAC industry saw its warranty reserve balance fall by 16% from 2011 to 2012 -- a one-year reduction of $592 million in total.
UTC/Carrier reduced its warranty reserve balance by $136 million. The company, in fact, is one of the biggest warranty cost-cutting success stories in the industry, it would seem. In Figure 5, we've taken the UTC/Carrier claims and accrual data from Figures 1 and 2 and compared it with total product revenue for each of the past 40 quarters. Except for a noticeable anomaly in the third quarter of 2003, the trend has been solidly downward over time.
Figure 5
UTC/Carrier Corp.
Average Warranty Claims & Accrual Rates
(as a % of product sales, 2003-2012)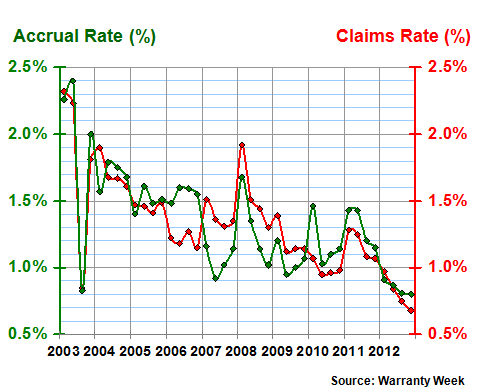 By the end of 2012, United Technologies was spending only 0.7% of product revenue on warranty claims, and was setting aside only 0.8% of its product revenue in warranty accruals. And both figures were below one percent all year -- a threshold they've only briefly crossed in the past.
Whether it's from aerospace, elevators or HVAC, something positive is happening at UTC. The company is enjoying its lowest warranty expense rates of the past decade, and is enjoying one of the top 10 expense rate reductions of the past year, as we detailed in our March 14 newsletter.
Rise and Fall of Warranty Expense Rates
The same can't be said about the industry in general. For both the appliance makers in Figure 6 and the remaining HVAC companies in Figure 7, the trend over the past decade has been one where expense rates start low, rise for a while, and then start to fall in recent years, but not back to where they started.
In Figure 6, for instance, we see that claims and accrual expense rates got back to 2005 levels by the end of 2012. But they were lower in 2003 and 2004. Then again, the pronounced seasonal pattern has flattened a bit in recent years as well, meaning that the companies are getting better at managing the warranty process.
Figure 6
Appliance Manufacturers
Average Warranty Claims & Accrual Rates
(as a % of product sales, 2003-2012)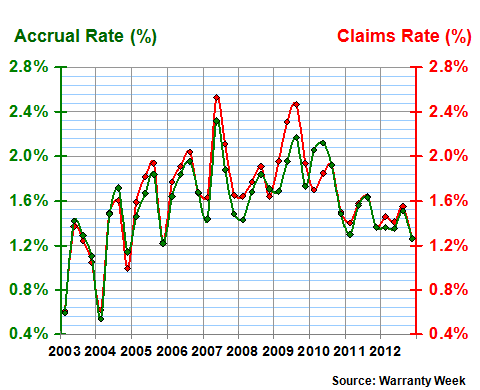 Notice also that the appliance makers in Figure 6 have on occasion suffered from warranty expense rates as much as twice as high as the HVAC manufacturers. In general, the appliance makers provide shorter warranties that generate higher expense rates, while the HVAC companies provide warranties with longer durations but lower expense rates from year to year.
The 31 HVAC vendors tracked in Figure 7 have gotten their 2012 warranty expense rates back down to 2006 levels. But those expense rates were lower during portions of 2003 through 2006. Then again, the seasonality seems to also have attenuated here, with the difference between the highs and lows of 2008 to 2012 much smaller than the range from 2003 to 2007.
Figure 7
HVAC Manufacturers
Average Warranty Claims & Accrual Rates
(as a % of product sales, 2003-2012)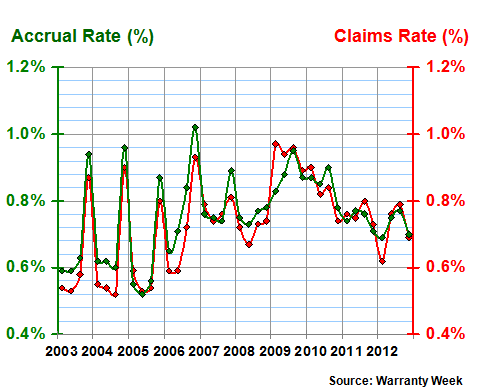 And that seems to be the pattern for many of the market leaders. For instance, both Ingersoll-Rand and Johnson Controls have recently cut their warranty expense rates considerably, but not as low as they were during the first half of the decade. Then again, they each made large-scale HVAC acquisitions, and HVAC is a warranty-intensive line of business.
So perhaps the true message of all this data is that the vendors are getting their warranty expenses under control, even if they're not reducing rates to record lows. But then again, there's United Technologies. It's one of the top warranty expense cutters in any industry -- not just HVAC (or aerospace).
Tenth Annual Product Warranty Reports
As we begin to wrap up our annual survey of U.S.-based warranty providers, here are some links to the online editions of all the previous parts of this series:
This Week's Warranty Week Headlines

Hannover Re to reinsure German energy savings warranties.
Business Insurance, May 16, 2013
Gradient Analytics report says Tesla's warranty accruals should be higher.
CNBC, May 16, 2013
Voiding Your Warranty: Hacking Google Glass
PC Magazine, May 16, 2013
Godfrey Hirst sues Cavalier Bremworth over Stainmaster carpet warranty fine print.
Wellington NZ Dominion Post, May 15, 2013
Leaking planter at Devonian Gardens to be repaired under warranty.
Metro News Calgary, May 15, 2013



More Warranty Headlines below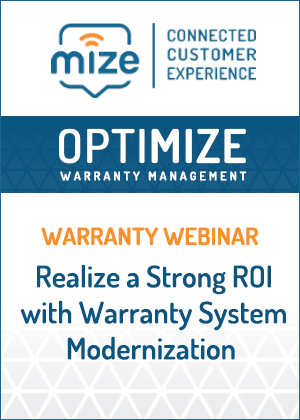 Warranty Headlines (cont'd)

WHA Ltd & Viscount Reinsurance Co. lose UK warranty VAT tax appeal.
Automotive Management, May 14, 2013
Vantage LED offers 5-yr parts and on-site service warranty for LED displays.
Press Release, May 14, 2013
American Auto Guardian names Tim Brugh president; Al Ranieri becomes chairman.
Press Release, May 13, 2013
AppleCare plans rumored to change to "One Apple" subscriptions.
ZDNet, May 13, 2013
Insurance company's young driver black box monitor invalidates Hyundai warranty.
The Guardian (UK), May 12, 2013



More Warranty Headlines below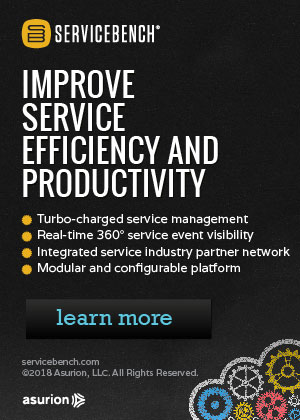 Warranty Headlines (cont'd)

The Brick's extended warranties now cover bonded leather furniture.
Toronto Star, May 10, 2013
Big changes coming to AppleCare and AppleCare+ service programs this fall.
Apple Insider, May 10, 2013
Choice Home Warranty won't repair self-cleaning oven function.
Asbury Park Press (NJ), May 9, 2013
New sound level meter from Pulsar Instruments has 7-year warranty.
Press Release, May 9, 2013
Global Warranty Group to administer extended warranties for Vtechsquad.
Press Release, May 9, 2013



More Warranty Headlines below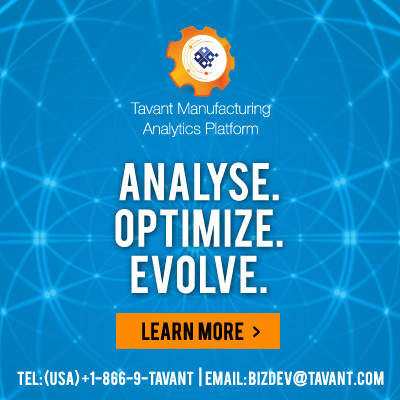 Warranty Headlines (cont'd)

Anderson & Koch to sell Ford PremiumCare extended warranty packages.
Press Release, May 9, 2013
Global Warranty Group expands in Boise, Idaho
Press Release, May 8, 2013
ViewCast extends warranty on Osprey capture cards to 3 years.
Press Release, May 8, 2013
Mega Group USA adds extended warranty and field service support staff.
This Week in Consumer Electronics, May 7, 2013
NB Power says Point Lepreau nuclear reactor problem to be fixed under warranty.
Canadian Press, May 7, 2013



More Warranty Headlines below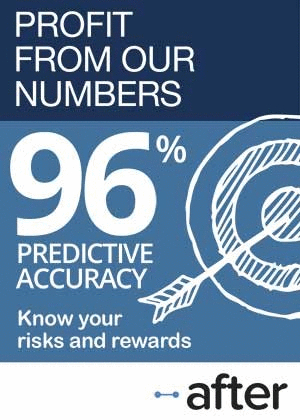 Warranty Headlines (cont'd)

Allianz says Pay As You Go extended warranty schemes boost customer loyalty.
Press Release, May 7, 2013
GM boosts warranties on pre-owned Cadillacs to 6 years/70,000 miles.
Detroit News, May 7, 2013
Apple's gross margin declines due mostly to warranty accrual increases.
Seeking Alpha, May 6, 2013
Manitowoc Public Utilities says water line warranty offer not from them.
Manitowoc Herald Times Reporter, May 4, 2013
Honda Australia lengthens warranties to 5 years until the end of June.
Car Advice, May 3, 2013



More Warranty Headlines below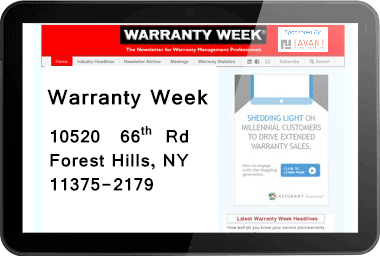 Sign up for a free subscription to Warranty Week:
Warranty Headlines (cont'd)

Is a home warranty necessary in a hot market?
Wall Street Journal, May 3, 2013
City signs $150,000 contract for pool repair meant to be covered by warranty.
Ottawa Citizen, May 2, 2013
BMW dealer says Canon archival system helps reduce OEM warranty chargebacks.
Press Release, May 2, 2013
Global Warranty Group signs Garage Equipment Supply to service contract deal.
Press Release, May 2, 2013
What it cost Apple last quarter to smooth China's ruffled feathers.
CNN Money, May 2, 2013



More Warranty Headlines below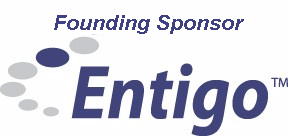 Warranty Headlines (cont'd)

AIG Hong Kong adds extended warranties for appliances to household insurance.
Press Release, May 2, 2013
Case Construction announces ProCare warranty & telematics service.
Press Release, May 1, 2013
The Warranty Group announces Quick Launch warranty program for manufacturers.
Press Release, April 30, 2013
International Association of Marine Warranty Surveyors launched in London.
MarineLink.com, April 29, 2013
Nintendo selling refurbished systems directly, with 1-year warranty.
Ars Technica, April 28, 2013
Personal Finance: Got a gripe? Learn to be a squeaky wheel.
Sacramento Bee, April 28, 2013
Customer cuts tags off Stearns & Foster mattress, so Sealy voids warranty claim.
New Britain (CT) Herald, April 27, 2013
The Brick's 5-year "blanket furniture plan" doesn't cover bonded leather.
Toronto Star, April 26, 2013
Tesla Model S owners get no-fault 8-year battery warranty.
USA Today, April 26, 2013
ProtectCell enters the Machine to Machine service plan business.
Press Release, April 25, 2013
Samsung Galaxy S4 gets 24-month accidental damage from handling warranty in Africa.
My Broadband, April 25, 2013
SquareTrade study counts $7.2 billion spent on damaged Android phones.
Press Release, April 25, 2013
eBay emails SquareTrade warranty offer to electronics buyers.
TameBay, April 25, 2013
Tech Data Corp. offers AppleCare Protection Plans to its resellers.
Press Release, April 24, 2013
Seat launches 4 & 5-yr extended warranties in the UK.
What Car?, April 24, 2013
Cross Country Home Services issues white paper, "The State of Home Management."
Press Release, April 24, 2013
Assurant Solutions sees improving service contract sales, rising net earned premiums.
Press Release, April 24, 2013
Surrey County Council wants 10-year warranties on Superflex road surfaces.
Press Release, April 23, 2013
Tarion Warranty announces 2013 new home builder award winners.
Press Release, April 23, 2013
HiViz LED Lighting FireTech products get lifetime replacement warranty.
Press Release, April 22, 2013



More Warranty Headlines