| | | |
| --- | --- | --- |
| September 26, 2013 | | ISSN 1550-9214 |
Extended Warranty Image Problems, Part 2:
More than a debate about terminology, what the industry needs is a spokesman (or woman) who can defend the value and convenience of protection plans. Service is becoming a major issue for both manufacturers and retailers, and letting attacks on the service contract industry go undefended is no longer acceptable.
At the Fourth Annual Extended Warranty & Service Contract Innovations Conference in Nashville last week, the industry's image problem was a major topic.
In last week's newsletter we began to outline the problem, which seems to begin with the very question of what to call the industry. The problem is, some of the most popular terms, such as extended warranty and home warranty, are the ones least favored by the experts.
Sure, we can call them service contracts, but increasingly they're now being bundled with coverages for perils such as accidental damage and theft that used to be available only through an insurance policy.
And that changes the nature of the conversation, from arguments over the cost and frequency of repairs achieved through service contracts versus customer-pay arrangements, to discussions about how the enhanced relationships with customers can provide convenience and value above and beyond the mere repair.
"Protection plan" actually proved to be a little more popular than even the term "service contract." But is that what we sell -- protection? Isn't that what the gangsters sold to the merchants in the old neighborhood? "I smell fire."
One industry expert, in fact, wondered why there's no consumer advocate attacking the premise behind fire insurance, or perhaps term life insurance. The chances of such policies resulting in claims are so remote, and the premiums are so small, given the potential payout. But why haven't any consumer magazines suggested that people could go without?
It's Not Insurance
But there's that I-word again: insurance. To say the least, it's confusing how two separate industries can share basic terms like claims and premiums yet be so different. And then there's the premise that some states use to regulate service contracts: as long as you follow these rules, you're selling service contracts, not insurance. But if you break any of these rules, then you're selling insurance without a license.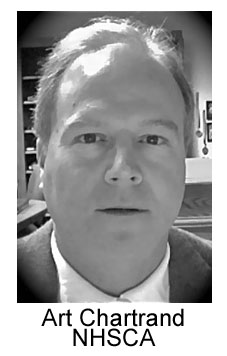 Art Chartrand, the counsel of the National Home Service Contract Association, offered to clarify some of the differences between service contracts and extended warranties, and between service contracts and insurance.
Chartrand said he spoke at the same conference last year in Chicago, where he said he was among the very few people from the "home warranty" side of the business. Most of the attendees in 2012, he said, were involved in vehicle service contracts or in the provision of service contracts sold at retail to cover items such as consumer electronics or appliances.
We put "home warranty" in quotes because as Chartrand readily admits, it's the street term for what should be called a home service contract. It's not a warranty. And for that matter, it's not really covering a home -- it's covering the heating/cooling systems and appliances within that home.
"It's been called 'home warranty' for 50 years," he said. But it covers the mechanical and electrical components in the home, not the walls and windows. And increasingly, the contracts allow the buyer to customize the coverage by checking off which additional components to cover: pool and pump, septic tank, doorbells, etc. But it doesn't cover structure.
"We've never covered structure," Chartrand said. That's something the builder covers in the new home warranty, which is issued to the initial buyer. It may also cover some of the systems and appliances initially installed in the home by the builder and his contractors, but it's not a "home warranty."
And it's certainly not an extended warranty. The homebuilder may have issued a structural warranty on the new home, but a "home warranty" isn't really an extension of that either. Instead, it's a service contract with a per-incident deductible, usually sold for a one-year term while an existing home is being resold, giving reassurance and peace-of-mind to the buyer, and hopefully renewed after the initial year is up.
Selling Both Warranties & Service Contracts
To make it all the more confusing, companies such as 2-10 Home Buyers Warranty sell, through separate divisions, structural warranty services to builders, and home warranty services to consumers. The homebuilders are buying plans that feature 10 years of insurance-backed structural defect coverage that they can pass on to their customers, while the homeowners are buying single-year wear and tear coverage for their systems and appliances.
"Nomenclature is very difficult, and it is confusing, and it's probably going to be for a while, as this industry evolves," he said. Even his wife, a realtor, still uses the phrase "home warranty" and so do the brochures and marketing materials of many other sellers.
"It's a street term," he said. He prefers to call them home service contracts, and indeed he's the attorney for the National Home Service Contract Association. "It's just going to be a long time before the street term and marketing term 'home warranty' disappears."
In Texas, he said, they're called residential service contracts, which by the way wasn't a term on our original search list but which we've now added in retroactively -- at 218,000 results, placing it towards the bottom of the list between "extended auto repair warranty" and "extended service contract" in terms of Google popularity. In contrast, "home warranty" scored more than 5.5 million mentions.
"The industry needs to do a better job," Chartrand said.
The term "extended warranty," he said, is even more frequently misused. And indeed, our little Google poll in last week's newsletter found those two words to be misused on some 10.4 million web pages. An extended warranty, Chartrand said, is something only the original warranty provider can extend. Everybody else is selling service contracts.
And unlike the vehicle service contract expert who told us last week that an extended warranty must be provided by the manufacturer and must be as free as the original warranty or else it can't be called a warranty, Chartrand said he thinks the manufacturer can sell it at a separate price and still call it an extended warranty.
"It's an extended warranty," he said. "And I think most people expect to pay for those when they go beyond their normal warranty period." But it could also be free, he said, issued by a manufacturer as a goodwill gesture to compensate a customer for their troubles. But pay or free, an extended warranty is in the exclusive purview of the manufacturer, he said. So on that point they agree.
Not Insurance Policies
Chartrand also noted that neither extended warranties nor service contracts are insurance policies. In fact, he said he worked as an insurance regulator before he joined the NHSCA, and was one of the people within the National Association of Insurance Commissioners that wrote the state laws detailing this statutory separation many years ago.
However, in 25 U.S. states, the insurance departments are still designated as the regulators for service contracts anyway, even though service contracts are not insurance. That may sound confusing, but in reality the insurance departments are in the best position to understand what service contracts are and how they're different from insurance.
Chartrand suggests a common sense approach for keeping them separate in the minds of consumers. "Service contracts by definition are not insurance," he said. They cover manufacturing defects and repairs or product replacements due to normal wear and tear. They do not cover "fortuitous events" or accidents. And they most certainly don't cover theft.
If an air conditioner stops blowing cold air, he said, that's a service contract claim. If it falls out the window, that's an insurance claim.
"We try to make it clear to folks that just because the insurance department regulates us does not mean we sell insurance," Chartrand said. It's more of a historical and traditional legacy, like the phrases used to describe the products and services.
Theft Insurance
The ongoing confusion, he said, comes from the more recent addition of coverage for "accidental damage from handling," or especially for laptops and smartphones, additional insurance policies to cover perils such as loss or theft, which may even include Internet- or GPS-based theft recovery services (LoJack for Laptops, Mobile Superhero, etc.).
In the residential service contract industry where Chartrand works, however, there really isn't a need for accidental damage or theft coverage. Those perils are usually well-covered by a separate homeowner's insurance policy, along with coverage for fire, vandalism, storm damage, etc. In the automobile industry, there's a suite of insurance options -- from collision to comprehensive to medical to liability to property damage -- that are available widely and separately from vehicle service contracts. So there's no lack of options.
However, with consumer electronics, laptops, and smartphones, the homeowner's insurance doesn't typically pick up where the service contract leaves off. Such a policy could conceivably provide coverage from accidental damage or theft, but usually the policy's deductible is too high to make that sort of coverage a reality. So in Chartrand's view, the retail service contract industry is merely filling a void in the market by offering insurance-like additions to a non-insurance service contract. And for this reason -- because it's not available otherwise -- service contracts with ADH clauses tacked on are usually not classified as insurance.
"The insurance industry, for portable electronics and cellphones, isn't really effectively offering that coverage to consumers," he said. "So how else would you get it? The fact of the matter is that there's this huge gap with laptops, cellphones, and televisions who don't really have any effective insurance coverage. The retail industry, with their service contracts, said 'we'll pick that up,' and 'we'll include that.' This industry evolved to respond to the need for people to get things fixed that break."
Ironically, he added, when he was at the NAIC he initially opposed such an accommodation. Insurance is insurance, he said, whether it's sold separately or along with a service contract. But the "filling the void" point of view eventually won out -- even with him, he added -- and so today service contracts with ADH clauses offered by retailers at the point of sale are not classified as insurance in most instances.
Chartrand seems both willing and able to provide a detailed defense of the industry. But he's really speaking only for the home service contract industry. And as he noted, that constituency is only lightly represented at the Extended Warranty & Service Contract Innovations Conference.
Help Wanted: Industry Spokesman Needed
What this industry needs is a spokesman: an Art Chartrand who can speak about not only home service contracts and homeowner's insurance but also about laptops and riding lawn mowers and smartphones. So the next time the Chinese regulators go after HP or Apple, there's someone CNN can put on the air to represent the manufacturing/retailing/repairing end of the business.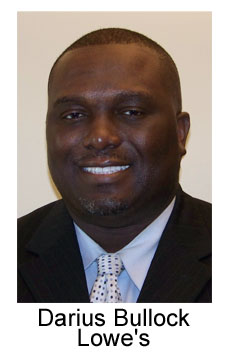 This was a theme echoed by many others at the conference in Nashville last week: this industry needs a spokesman. Darius Bullock, the protection plan sales & strategy manager at Lowe's Companies Inc., moderated a panel discussion with the title, "Enhancing the Image of the Warranty and Service Contract Industries -- Overcoming the Negative Connotations to Build Market Share."
Bullock kicked off the panel discussion with a short presentation of his own, which he recounted to us earlier this week. "We took a look at some of the common consumer advocate complaints about pricing and lack of use," he said, in much the same way he did at the 2012 conference in Chicago.
"My question was 'What's really changed,' and the answer is, a whole lot hasn't," he said. Consumer Reports still says "don't buy them," although its list of exceptions to that rule keeps getting longer. And the industry response -- that repairs are a lot more common and a lot more expensive than Consumer Reports admits -- are still offered as somewhat half-hearted rebuttals.
"We understand the arguments. And I think we all understand what our responses are," Bullock said. "But no one has done anything at a high enough industry level to really have another voice when these same complaints keep getting voiced by the consumer advocates."
Both Sides of the Story?
Most journalists like to include both sides of the story. But with service contract articles, there's no "other side" to include. Usually, there's only the victim and the perpetrator -- the hero and the villain -- and some generalizations gleaned from Consumer Reports about cost and probability. But there's no spokesman for the seller, the administrator, or the repair service provider.
For instance, Bullock said the average cost of a Lowe's service contract is around $90. And he knows for sure that the average cost of "rolling a truck" to make a service call is over $100. So how can paying for repairs out-of-pocket cost less than a service contract? But there's nobody standing up and making such a challenge with their own data. So when Consumer Reports makes such an assertion, it's presented as an undisputed fact.
Still, there's no doubt that there's an image problem within the industry. And there's no doubt that some consumers complain, and that some of those complaints make it into the news. And that, in turn, hurts sales -- not only of service contracts but also of the underlying products they cover, if consumers are avoiding certain retailers because of what they're read about hassles for service.
"From our standpoint, service really is the product," Bullock said. The goal is to make the service a known strength of the Lowe's brand, causing consumers to buy their products at Lowe's so they can get the service there too.
Even the best products break sometimes, and when they do, it's not just a question of how much it costs to repair. There's also the question of who will repair it. And part of the appeal of a service contract is knowing exactly who to call.
"It really boils down to how good is the service and what's the customer's perception of how good your service is," he said. "If you have the most qualified technicians in the world, but if they're always an hour late, then the customer's image is that your service is going to be bad."
In contrast, companies that really try to package and promote their service offerings can create a brand image of competence and quality, which in turn helps drive product sales. Two examples Bullock cited in his presentation are the AppleCare family of coverages offered by Apple Inc., and "America's Best Warranty," as offered by Hyundai Motor America.
The Lonely Maytag Repairman
Jim Rivest, the director of support & services at Eastman Kodak Co., was also on Bullock's panel. He suggested another instance of a brand image that successfully packaged repair services: The Lonely Maytag Repairman. In a series of television commercials that ran from 1967 to 1988, actor Jesse White cemented the idea in the minds of consumers that he had so little work to do because Maytag appliances were so reliable.
Internally, Bullock said, he's constantly trying to make sure that Lowe's maintains an image of a retailer that offers a high level of service. That goes for before the same, when the customer has questions and may need some training or assistance. And it goes for after the sale, whether it's a warranty, service contract, or customer-pays situation.
"We want to give you the opportunity to extend this relationship for as long as we possibly can," he said. "But we'll give you a choice to what level you want that to be." So even if you don't buy the service contract, Lowe's still wants to be the one you call when you need service.
Externally, Bullock said he thinks the industry needs to come to some kind of consensus about how to respond to these articles. "I know the SCIC [Service Contract Industry Council] and a couple of others have done a fairly reasonable job of trying to speak to that," he said. "But I think it's time for us to stop talking about it and do something about it together."
Harvard Business Review
One such approach was taken by consultant Rafi Mohammed, who in a Harvard Business Review article published last year laid out a case for why the actuarial analysis doesn't work with service contracts.
His article laid out several "peace of mind" benefits associated with service contract purchases. "First, they allow consumers to avoid the anxiety and financial loss of an unexpectedly high repair bill. Second, if a product breaks, consumers do not have to invest time to search for a company to undertake the repairs. It's also comforting to know that if a product is not repairable, it will be replaced. Finally, extended warranties mitigate the concern of being "ripped off" on the repair, because service companies have an incentive to fix the problem efficiently."
Even with his own recent purchase of a Dell laptop, he bought the service contract. However, he said he bought it not so much by weighing the cost versus the likelihood of repair, but because the plan promised on-site repair (after remote diagnosis).
And sure enough, he wrote, not long after his purchase, "my laptop stopped working. Given the central role that my computer plays in my life, I freaked out. One call to Dell had a friendly representative walking me through a set of diagnostics. "Yes," she concluded, "we have to come out to fix your laptop." In less than 24 hours, a technician was in my office and repaired the laptop within 30 minutes. The whole repair process could not have been more convenient, efficient, and stress free."
The bottom line, he suggested: "There's value in being able to sleep well at night."
A Holistic Approach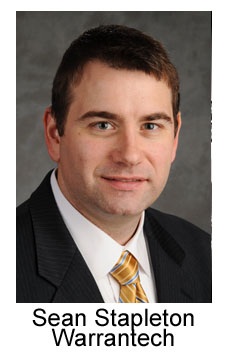 Sean Stapleton, president & CEO of Warrantech Corp., part of AmTrust Financial Services Inc., also spoke at the conference last week.
His presentation in Nashville, entitled "A Holistic Approach to Warranty & Service Contract Administration," looked at a service call not only as an opportunity to fix a broken product, but also as an opportunity to cement a relationship with the customer.
"How the service provider responds to a claim will drive the customer's perspective about the underlying failure," he said. If it goes well, the customer will have a higher level of satisfaction than even cases where there was no claim.
In fact, another presenter at the conference in Nashville said that her utility company recently conducted a survey to determine why so many customers were canceling their service contracts, which were bundled into their monthly electric and/or natural gas bills. The top reason, the survey found, was because they hadn't ever made a claim, and didn't see the value. Some even said they forgot they were even paying for the service contract until they canceled it.
Escalate It
Stapleton said service contract providers should never let the customer forget why they bought the coverage. In fact, he suggested that in cases where the customer's product failed soon after it was purchased, the service provider should really make a fuss about it.
Maybe an early failure requires a response with a heightened service level, and a heightened sense of urgency? Maybe the failed product should be replaced with an upgraded unit and a sincere apology? Or maybe it's just a matter of giving the customer a gift card, as some sort of compensation for their troubles?
Stapleton also suggested that service providers have to acknowledge that some of their social media activities need to go beyond just marketing, into actual problem resolution. And that can get tricky, because a service contract company such as Warrantech is really operating behind the scenes, supporting their retail and OEM clients and the brands they sell and manufacture.
For instance, a manufacturer or a retailer may post items to Facebook, and a disgruntled consumer may see one of those posts and take the opportunity to voice a complaint about a repair gone bad. Others see the complaint and add their own comments, and soon it's hundreds of follow-up comments that have nothing to do with the original post. The longer it sits there unresolved, the more abuse it attracts.
Alternatively, let's say there's a complaint, and soon there's a response from the company, and the problem is resolved. People read that and note the quick response, and they begin to form an image of the brand based upon its ability to respond quickly to problems.
Imagine, for instance, it's the lonely Maytag repairman, who seemingly has nothing better to do than to monitor the appliance company's Facebook page. When someone complains, there's nothing more urgent in the world than fixing that problem. And the conversation is there for all current and future customers to read.
Brand Image Protection
That can turn out to be even more important a service for an administrator to provide than it is to operate a massive 24-x-7 call center that responds to complaints over the phone. For while a phone call is private, a Facebook thread is public for all to see, much like an advertisement run on television (and newsarchived on YouTube).
"I'm a huge advocate of using your partner's brand versus building our own brand," Stapleton said. "We're the guy behind the scenes."
Another attendee wondered how that would work, since it would require the administrator to essentially speak in the name of the retailer or manufacturer.
"It's their brand you're messing with," he suggested.
"No," Stapleton responded, "it's their brand we're protecting."
This Week's Warranty Week Headlines

Warrantywise makes car dealers' lives easier through mobile support.
Car Dealer Magazine, September 26, 2013
Daniel Dwyer joins Cross Country Home Services as director of operations.
Press Release, September 26, 2013
Deadline nears to apply for Apple compensation over water damage indicators.
KXAS-TV Fort Worth TX, September 26, 2013
Samsung South Africa adds ADH Premium coverage for Galaxy Note 3.
My Broadband, September 26, 2013
Apple may offer global iPhone 5 warranties in select countries including India.
Mobile Indian, September 26, 2013



More Warranty Headlines below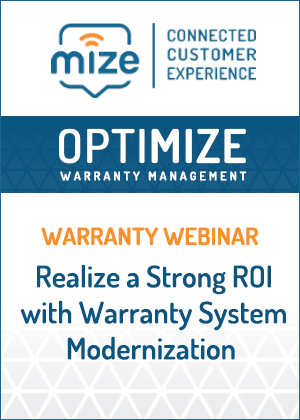 Warranty Headlines (cont'd)

Oak Park Heights MN partners with Service Line Warranties of America.
Stillwater MN Gazette, September 25, 2013
REI Ditches Its Lifetime Warranty: Good or Bad Idea?
Entrepreneur, September 25, 2013
Alberta new home warranty program delayed to 2014.
Edmonton Journal, September 25, 2013
RAC Warranty says alternator, coil and sensors top warranty claim list.
Motor Trader, September 25, 2013
LG Electronics covers refrigerator compressors in Lebanon with 10-yr warranty.
Press Release, September 24, 2013



More Warranty Headlines below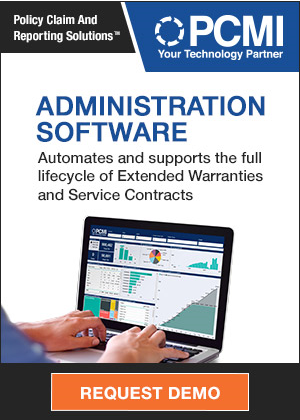 Warranty Headlines (cont'd)

MSX International opens Warranty Parts Evaluation Center in Thailand.
Press Release, September 24, 2013
New statutory auto warranty rules take effect in China October 1.
China Daily, September 23, 2013
UK hourly labour rate for cars down 10% in year, up 30% in decade.
Daily Mail (UK), September 23, 2013
AppleCare+ per-incident charge rises from $50 to $79.
ZDNet, September 21, 2013
Cross Country Home Services forms partnership with Ferguson Enterprises.
Press Release, September 19, 2013



More Warranty Headlines below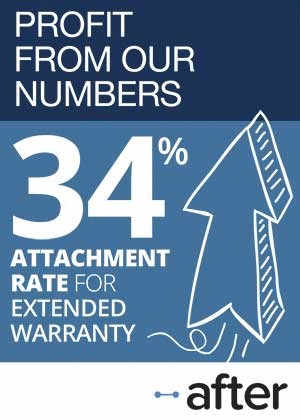 Warranty Headlines (cont'd)

Warranty Wise to bring back the Lister Motor Company Ltd.
Top Gear, September 19, 2013
Letter: The personal touch from Home Depot.
Verde Independent (Arizona), September 19, 2013
Is home warranty company responsible to replace A/C unit?
KMIR-TV Palm Desert CA, September 17, 2013
Onex preps sale of The Warranty Group, hires Morgan Stanley.
Reuters, September 17, 2013
Be wary of offers of lifetime warranties.
Hamilton (Ontario) Spectator, September 16, 2013



More Warranty Headlines below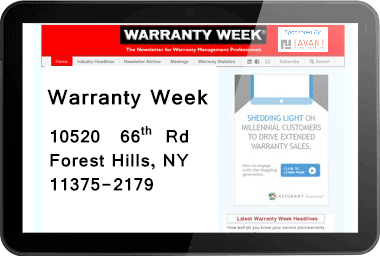 Sign up for a free subscription to Warranty Week:
Warranty Headlines (cont'd)

Investigation leads to state charges against Sensible Home Warranty LLC.
KUTV-TV Salt Lake City, September 13, 2013
Top iPhone 5S insurance & warranty options compared.
Gotta Be Mobile, September 13, 2013
When is a "lifetime warranty" good for a lifetime?
WJXX-TV Jacksonville FL, September 13, 2013
Truck warranty survival guide.
Today's Trucking, September 12, 2013
SquareTrade launches Protect My Phone mobile application
Press Release, September 12, 2013



More Warranty Headlines below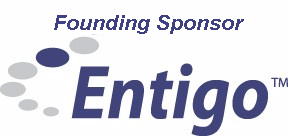 Warranty Headlines (cont'd)

Which? rates Currys and PC World worst in extended warranty mystery shopping.
Daily Mail (UK), September 12, 2013
National Auto Care Corp. and Family First Dealer Services LLC to merge.
Press Release, September 12, 2013
Marne Martin appointed CEO of ServicePower Technologies plc.
Press Release, September 11, 2013
Wichita City Council refuses to endorse sewer and water line warranty program.
Wichita KS Eagle, September 10, 2013
Apple raises AppleCare+ iPhone service charge from $49 to $79.
Mac Rumors, September 10, 2013
Seeking vital signs in a lifetime warranty.
New York Times, September 7, 2013
4 best credit cards that offer free extended warranty in 2013.
Daily Markets, September 5, 2013
Rethinking high-end fly rod warranties.
Field & Stream, September 5, 2013
Bonded Builders Warranty Group appoints national sales director.
Press Release, September 5, 2013
Jennifer Convertibles extended warranty excludes cracking and peeling.
WRCB-TV Chattanooga TN, September 5, 2013
Staples to resell SquareTrade's protection plans for electronics and furniture.
Press Release, September 5, 2013
Soitec buys solar module performance warranty insurance from Munich Re.
Press Release, September 5, 2013
Warranty determines how to cool an electric car battery.
Christian Science Monitor, September 5, 2013
Man says home warranty company hesitated in reimbursement.
WSOC-TV Charlotte NC, September 4, 2013
UK judge says certain collateral warranties are covered by the Construction Act.
Construction News, September 4, 2013
Study says computer vendors are getting tougher on warranty abuse.
CRN UK, September 4, 2013
GWC Warranty named a Motor Trend Magazine Recommended Best Buy for independent dealers.
Wilkes-Barre Times Leader, September 1, 2013
Securranty offers zero deductible extended warranties for smartphones and tablets.
Press Release, August 30, 2013
ServicePower Technologies extends ServiceOperations contract with leading insurance co.
Press Release, August 29, 2013
Godfrey Hirst appeals High Court ruling on carpet warranties.
New Zealand Herald, August 28, 2013
American Residential Warranty explains the necessity of protecting home appliances.
Press Release, August 28, 2013
Thistle Insurance Services acquires Risk Management Support and eWarranty.
Insurance Age, August 28, 2013
The Warranty Group announces agreement with Hermes/Compra Facil S.A.
Press Release, August 28, 2013
iGen expects Apple to begin selling AppleCare+ in Europe soon.
Apple Insider, August 28, 2013
Imprev survey finds 49% of real estate executives offer home warranty services.
Press Release, August 27, 2013



More Warranty Headlines