| | | |
| --- | --- | --- |
| April 21, 2016 | | ISSN 1550-9214 |
Computer Industry Warranty Report:
Though their warranties are usually shorter than those on cars and trucks, their expense rates are almost as high, as a percent of revenue. And despite their higher-than-average claims and accrual rates, many computer, disk drive, and printer manufacturers prefer to keep their warranty reserve cushions as slender as possible.
The computer industry is one of the most warranty-intensive of all, after the automotive sector. But although it accounts for more than a quarter of all warranty spending by all types of manufacturers, the computer industry has neither long warranties nor well-funded warranty reserves. So when something goes wrong, it really goes wrong.
Then again, over the past 13 years, most of the manufacturers in the computer, data storage, and peripherals industries have cut their warranty costs repeatedly and decisively. So as we embark on this year's report on warranty costs in the U.S.-based computer industry, we note that this group of companies has a very long track record of successfully living on the edge.
To compile this week's report we gathered data from three different but closely-aligned industry sectors. From the computer OEM category we tracked 25 companies over the past decade -- many of them now deceased, acquired or privately-held, such as Dell Inc.; Sun Microsystems Inc.; Palm Inc.; Gateway Inc.; and MPC Corp. But there are still a few that remain very much alive: Apple Inc.; HP Inc.; Hewlett Packard Enterprise Co.; and IBM Corp. Apple, of course, is primarily now a smartphone manufacturer, but its roots remain in desktop computing. Plus, aren't iPhones really more like hand-held computers?
We added into that mix the names of 44 data storage companies, currently led by companies such as EMC Corp.; NetApp Inc.; SanDisk Corp.; Seagate Technology; and Western Digital Corp. But there have been some notable departures from their ranks over the past decade as well, such as Maxtor Corp.; Storage Technology Corp.; Iomega Corp.; and Overland Storage Inc. We're counting all the old data as it was then reported, to keep the totals and averages intact.
And then we widened the ranks of the computer peripheral makers to include 89 companies. That expanded list includes not only copier and printer technology companies such as Lexmark International Inc.; Xerox Corp.; Dover Corp.; Electronics for Imaging Inc.; and Zebra Technologies Corp.; and not only point of sale technology companies such as VeriFone Systems Inc.; NCR Corp.; Diebold Inc.; and Digi International Inc.; but also sound and vision companies such as Harman International Industries Inc.; Daktronics Inc.; Planar Systems Inc.; and Turtle Beach Corp. And we included Microsoft Corp., because although the company concluded it no longer has to report its warranty expenses, a decade ago it was for a short time one of the largest warranty providers in the world.
Four Warranty Metrics
For each of these 158 companies we gathered four essential metrics from their annual reports for each of the past 13 years: the amount of claims they paid, the amount of accruals they made, the year-ending balance in their warranty reserve funds, and the amount of warranted product sales they reported. For the latter metric, we tried our best to not include any non-warranted revenue sources such as service, finance, rentals, software, or consumables, but some companies do such a poor job of segmenting their revenue that separation is impossible.
Figures 1, 2 and 6 below provide the raw annual totals for three of these metrics. Figures 3, 4 and 5 are calculations based on dividing claims and accruals by revenue. And Figure 7 is a composite of claims divided by reserves, and accruals divided by revenue.
Let's start with warranty claims. In Figure 1, it's clear that claims payments rose last year, compared to 2014. Granted, all of that came from the iPhone, because both the HPs and IBM saw claims fall dramatically last year. We detailed the emergence of Apple in last year's report, so we won't go over that ground again. But Apple's $886 million increase in claims paid more than offset IBM's $100 million decline and the HPs' combined $200 million reduction. Sadly, most of that was due to falling sales, and not rising reliability.
Figure 1
Computer Industry Warranties
Claims Paid by U.S.-based Companies
(in US$ millions, 2003-2015)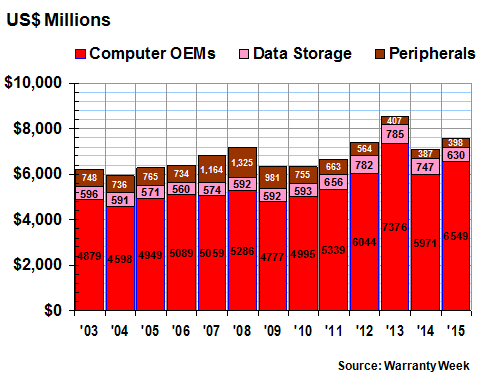 In data storage, there were nothing but reductions. EMC declined by $46 million. Seagate fell by $41 million. NetApp fell by $15 million. And Western Digital fell by $3 million. The entire group saw claims decline by 16%, which was actually a bit ahead of a 10% decline in product sales. So that's a bit less bad of a story than is true for the computer OEMs.
The peripheral makers saw claims fall slightly last year. Lexmark was down by $13 million and Xerox fell by $4 million. But barcode printer manufacturer Zebra Technologies saw a huge jump in claims payments from $13 million in 2014 to $33 million last year, an inevitable side effect of its rapidly-growing sales volumes. Harman saw claims rise by $5 million, but its speaker sales grew even more rapidly.
Warranty Accruals
Warranties tend to be short in the computer and electronics industries, so there's not as much lag time between claims and accruals as there is in either the aerospace or automotive industries. The result is that claims and accruals tend to move in the same direction at the same time. And that effect can be seen in Figure 2, though peripheral makers did see a decline in accruals as opposed to a gain in claims.
All the top OEMs saw accruals fall dramatically, even Apple. But the HPs led the way with a combined $333 million decline, as opposed to Apple's $288 million decline. IBM, meanwhile, saw a $67 million decline in accruals. And most of those drops were sadly tied to sales declines rather than improved product reliability, lower repair costs, or less-frequent failures.
Figure 2
Computer Industry Warranties
Accruals Made by U.S.-based Companies
(in US$ millions, 2003-2015)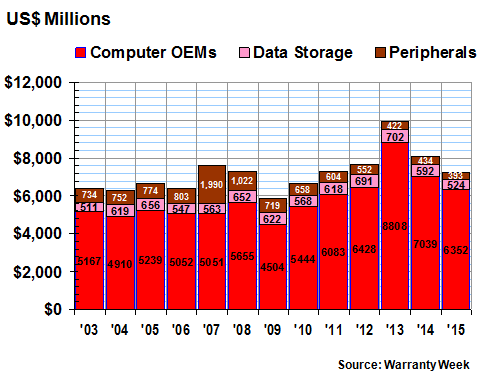 In the data storage category, there was also a tight coupling between accrual reductions and sales declines. SanDisk saw a 37% decline in accruals and a 16% decline in sales. NetApp saw a 24% decline in accruals and a 12% decline in sales. Seagate saw accruals fall by 17% and sales fall by 19%. And Western Digital saw a 5% reduction in accruals coupled with a 15% reduction in sales.
The peripheral makers told much the same story, though there were a few exceptions. Harman, Lexmark, Diebold and Dover all saw accruals and sales fall together. VeriFone, Zebra Technologies, and Electronics for Imaging each saw rising accruals prompted by rising sales. But Harman cut accruals even though sales rose (a sign of rising reliability), while Daktronics and NCR increased accruals despite falling sales.
Warranty Expense Rates
It's perfectly normal for sales and accruals to rise and fall together, since accruals reflect the company's best estimate of the future costs of its warranties as the products are sold. If more are sold, there will be more warranty costs. If fewer are sold, accruals are reduced in proportion.
On the flip side, the ratio between sales and accruals should therefore be constant, unless there are changes in price, reliability, repair cost, or the frequency of failure. There's less of a correlation between claims and sales, because products sold in one year might be replaced in another year, or fixed in multiple years. But as was mentioned, warranties tend to be shorter in the computer industry, so the lag time isn't as much of a factor.
In Figures 3, 4 and 5 we're taking the raw data in Figures 1 and 2 and dividing it by warranted product sales data. That produces a pair of percentage rates for each industry that reflects the proportion of revenue that's going towards warranty expenses. Because of the small lag time, the lines tend to be relatively close together, except in unusual circumstances. But the really good news, as seen dramatically in Figure 4 but also somewhat visible in Figures 2 and 5, is that expense rates have generally been declining over time.
Figure 3
Computer OEMs
Average Warranty Claims & Accrual Rates
(as a % of product sales, 2003-2015)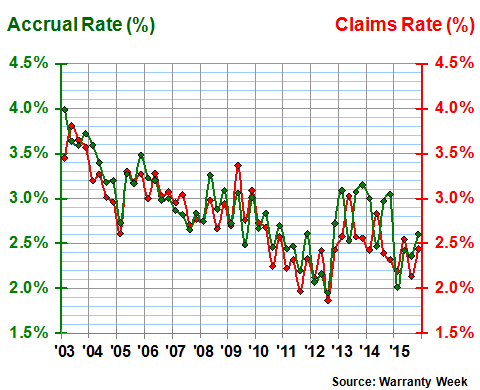 The lines in Figure 3 are shaped somewhat like a check mark, declining from 2003 to 2012 but then going up a bit in 2013 and 2014. Most of that is due to Apple letting iPhone warranty expenses get a bit boisterous, but they were back under control last year. And warranty expense rates were back down; almost back to record low levels.
The really good news, however, is in Figure 4. The data storage companies are simply making better products that last longer and fail less often, which for computer users is a welcome development. Though the expense rates meander through the four quarters of each year, their direction has been definitively downward for 13 years. And while average accrual rates have been below one percent in five of the last six quarters, claims rates hit a new low in 2015's final quarter.
Figure 4
Data Storage Manufacturers
Average Warranty Claims & Accrual Rates
(as a % of product sales, 2003-2015)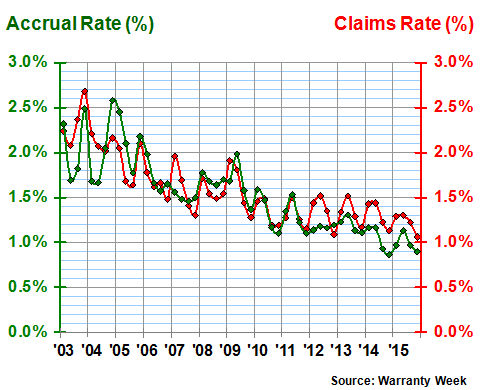 For the peripheral manufacturers, one percent is more or less the baseline, although items such as printers are always far above that expense level. Those peaks in Figure 5, meanwhile, are almost entirely due to the Microsoft Xbox 360. That problem-plagued gaming console was also responsible for the 2007 and 2008 bulges in peripheral claims and accruals seen in Figures 1 and 2. But by 2010 they were no longer much of a factor.
Figure 5
Computer Peripheral Manufacturers
Average Warranty Claims & Accrual Rates
(as a % of product sales, 2003-2015)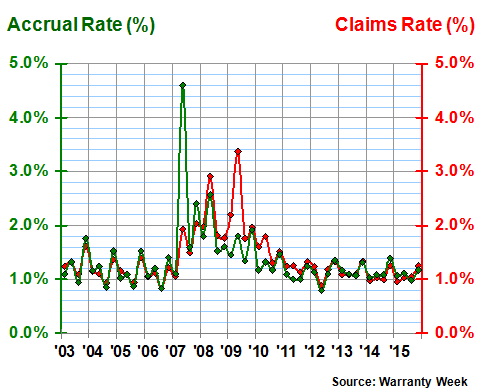 The Xbox 360 also sent warranty reserves for the peripherals makers over the $1 billion level in 2007 and 2008, as can be seen in Figure 6. But once again, the effect faded over time, with peripheral makers' warranty reserves ending 2015 at their lowest level ever. But also notice that at the end of 2015 the data storage companies kept their smallest reserve balances since 2004. Though falling sales is part of the reason, the declining expense rates as seen in Figure 4 are more culpable for this welcome news.
Figure 6
Computer Industry Warranties
Reserves Held by U.S.-based Companies
(in US$ millions, 2003-2015)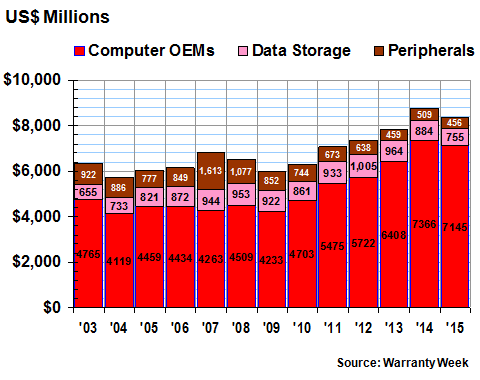 Now we get to a busy and rather convoluted chart comparing clams vs. reserves and accruals vs. sales. Figure 7 contains 156 data points for three industry groups over the four quarters of each of the past 13 years. The ratio between claims and reserves reflects the closing balances in the reserve funds divided by the amount of claims being paid per month. The ratio between accruals and sales follows the same methodology as the green lines seen in Figures 3 through 5.
Average Warranty Reserve Levels
For all manufacturers in all industries, the average ratio between claims and reserves is 19 months. In other words, the average warranty reserve fund contains an amount of money equal to 19 times what the companies paid per month in claims. It strongly suggests that the average warranty is 19 months long, although some companies don't fully fund their liabilities so the true number could be somewhat higher. But the point is, anything below this line reflects shorter-than-average warranty durations and/or lighter-than-average funding levels.
Meanwhile, the average accrual rate for all manufacturers in all industries is 1.3%, meaning that for everything from airplanes to air conditioners, manufacturers tend to set aside about 1.3% of their product sales revenue to fund anticipated warranty liabilities. Everything to the right of this line reflects higher-than-average accrual rates while everything to the left reflects lower-than-average expenses.
While there are outliers here and there, the pattern is clear: the computer OEMs generally keep less than a year's reserves on hand while their expense rates range from two to four percent. The data storage companies are closer to the all-industry averages on both counts, though they're predominantly in the lower-right quadrant. And the peripherals makers are generally to the lower left, implying both low expense rates and lighter reserve levels than average.
Figure 7
Warranty Reserves vs. Accruals
Computer OEM, Data Storage & Peripheral Manufacturers
(in months of claims & % of sales, 2003-2015)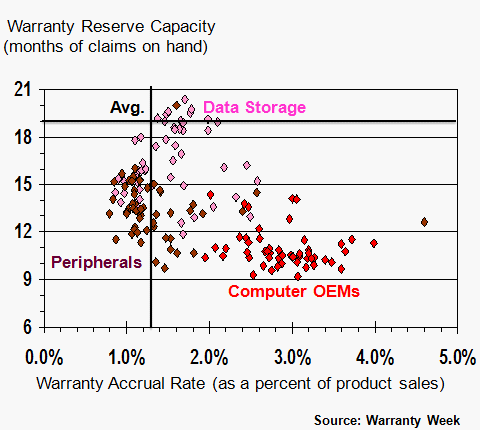 What does this mean? In the March 31 newsletter, we showed that the car and truck manufacturers had above-average accrual rates and warranty reserve capacities generally in the 12-to-24-month range. In the Aerospace Warranty Report last week, we showed that airplane manufacturers and their suppliers had below-average expense rates but far above-average reserve levels. This week, we're showing that the computer industry prefers much lower reserve levels despite generally higher expense rates.
It has much to do with the average duration of the warranties in each industry. Aerospace warranties can last a decade or more, especially on items such as the airframes. Passenger car warranties can last for four, five or even six years on components such as the engines and transmissions. With computers, one year is standard and three or four years is typically reserved for the business and educational markets. So you simply don't need 18 or 24 months of warranty reserves in your fund.
Keeping A Year's Reserves Handy
Among the largest warranty providers we're examining this week, Apple as usual sets the pace, keeping 12 months of reserves on hand at the end of 2015. Hewlett Packard Enterprise Co. is a bit above that mark while HP Inc. is a bit below it, reflecting, perhaps, their respective business vs. consumer customer bases. IBM and EMC are at 11 months, while Daktronics, Diebold, NetApp, Seagate, and Western Digital are each close to 17 months.
When it comes to outliers, SanDisk is currently at 44 months, while Harman is at 34 months. That's perhaps a sign that they're being too cautious, that they're not reacting quickly enough to their recently reduced expense rates, or that they see warranty problems on the way that are not yet visible to outsiders. Or it could be, as with SanDisk, a reflection of the fact that their expense rates are incredibly low and their warranties are incredibly long. But we may never know, because Western Digital is buying the company soon.
At the low end of the spectrum, both Zebra Technologies and NCR are at only 7 months; Eastman Kodak Co. and Quantum Corp. are both at 6 months; Xerox is at 5 months; and Lexmark is at 4 months. However, they've kept their reserves at these low levels for multiple years, so perhaps it works for them? But if their product ever run into unexpected reliability problems, their profits are history, because their reserves may not be sufficient.
This Week's Warranty Week Headlines

VW reaches deal with U.S. in emissions scandal.
BBC News, April 21, 2016
Kingsway Financial Services forms holding company for Trinity Warranty Solutions.
Press Release, April 21, 2016
ServicePower Technologies hires Phoenix Fire for partner channel development.
Press Release, April 20, 2016
Scottish Power warranty was a fraud, Parliament report says.
BBC News, April 20, 2016
GWC Warranty links with Defi Solutions Web-based lending system.
SubPrime Auto Finance, April 20, 2016



More Warranty Headlines below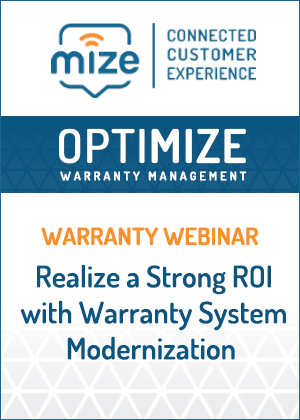 Warranty Headlines (cont'd)

LG washer owner gets 3 no-shows and bad advice from local repair company.
KDVR-TV Denver, April 20, 2016
Home warranty says two broken parts means two separate $150 deductibles.
WCPO-TV Cincinnati, April 20, 2016
Motorola confirms delays in warranty exchanges.
Droid Life, April 20, 2016
McMurdo adds 10-year warranty on its emergency locator transmitters.
Press Release, April 20, 2016
Logitech to pay $7.5 million fine to SEC over warranty accruals.
Press Release, April 19, 2016



More Warranty Headlines below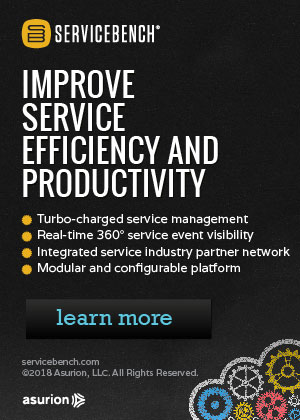 Warranty Headlines (cont'd)

AmTrust to acquire ANV Holdings B.V. and its three Lloyd's syndicates.
Press Release, April 19, 2016
Gerald Gray joins The Warranty Group as head of sales in Australia/New Zealand.
Press Release, April 18, 2016
Insignia Range adds online warranty registration to its website.
Press Release, April 18, 2016
FieldTurf artificial athletic fields are prematurely falling apart.
WCBS-TV New York, April 18, 2016
Tarion threatens to halt projects for Toronto's Urbancorp.
Toronto Globe and Mail, April 17, 2016



More Warranty Headlines below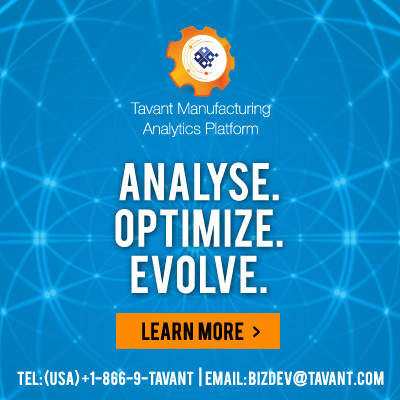 Warranty Headlines (cont'd)

Mercedes AA-Class luxury sedan powered entirely by AA batteries (not included).
Saturday Night Live, April 16, 2016
Leitner Construction to repair Fountain Park under warranty.
Rock Hill (SC) Herald, April 15, 2016
Vauxhall Extended Warranty underwritten by Allianz Global Assistance UK.
Motor Trader, April 14, 2016
Manitowoc offers 1-year warranty extension on GMK cranes financed in April.
Rental Equipment Register, April 13, 2016
Kimberly-Clark Professional offers lifetime warranty for product dispensers.
Press Release, April 13, 2016



More Warranty Headlines below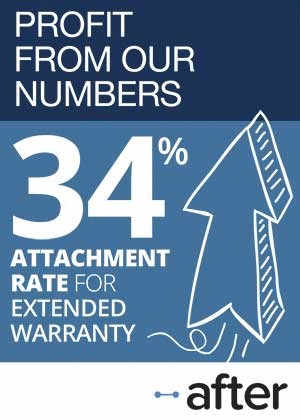 Warranty Headlines (cont'd)

Smoking near your TV voids warranty, says Panasonic.
AOL Money UK, April 13, 2016
The Warranty Group and RAC Ltd. renew extended warranty deal.
Motor Trade News (UK), April 12, 2016
Direct Buy Auto Warranty is no longer in business.
Asbury Park Press (NJ), April 11, 2016
Choice Home Warranty denies claim, says lightning broke compressor.
KXAS-TV Dallas, April 11, 2016
Furniture retailer explains factory warranties and accident coverage.
WALA-TV Mobile AL, April 11, 2016



More Warranty Headlines below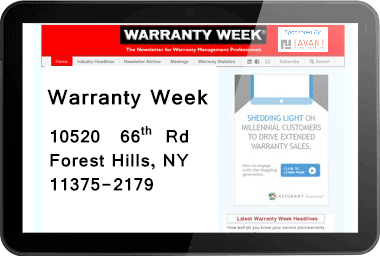 Sign up for a free subscription to Warranty Week:
Warranty Headlines (cont'd)

Jet Aviation Singapore cleared for Gulfstream G280 warranty work.
Aviation International News, April 11, 2016
Woman pleads guilty to selling mattresses returned under warranty.
Associated Press, April 9, 2016
Total Protect denies claim, says broken furnace was installed improperly.
KOVR-TV Sacramento CA, April 8, 2016
McCusker and Co. to administer Protect Club membership program.
Press Release, April 7, 2016
Cooper Tire Europe launches new warranty scheme that requires registration.
Tyre Press (UK), April 7, 2016



More Warranty Headlines below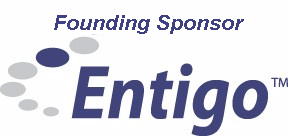 Warranty Headlines (cont'd)

Generation Homes files for bankruptcy after construction defect lawsuits.
Clovis (CA) Business Journal, April 7, 2016
To keep warranties on pots, Olive Garden still won't cook pasta in salt water.
Business Insider, April 7, 2016
MV Veteran ferry again out of service, back in for warranty work.
CBC News, April 7, 2016
RPM International sees lower industrial sales and higher warranty expenses.
Press Release, April 6, 2016
Third parties compete for post-warranty wind turbine service contracts.
Windpower Engineering & Development, April 6, 2016
Oki lengthens ColorPainter wide-format printer warranties to 3 years.
Press Release, April 4, 2016
Renewable Fuels Association slams Outdoor Power Equipment Institute poll.
Hoosier Ag Today, April 3, 2016
ServiceMaster decides to look for a new corporate headquarters.
Memphis Commercial Appeal, April 2, 2016
Chevrolet will honor warranties on V8 Camaros used on the track.
Autoblog, April 1, 2016
Tavant Technologies recognized by HousingWire for its mortgage technology.
Press Release, March 31, 2016
Expiring warranty mailer scam makes the rounds in Montana.
KTVH-TV Helena MT, March 31, 2016
Penske says punching problems can be solved.
Automotive News, March 31, 2016
Tarion Warranty may revoke the builders insurance registration of Urbancorp.
Toronto Globe and Mail, March 30, 2016
American Home Shield receives 2016 Women's Choice Award.
Press Release, March 30, 2016
Registria adds Photoregister for Twitter and Photoregister for Web.
Press Release, March 29, 2016
CyberPower Systems offers 2 more years of warranty if product is registered.
Press Release, March 29, 2016
Hisense USA offers 4-year warranties on its 4K Ultra HD TVs.
This Week in Consumer Electronics, March 29, 2016
Bushnell unveils "No Questions Asked" lifetime warranty for its scopes.
American Rifleman, March 29, 2016
Samsung Protection Plus plans for Galaxy S7 smartphones explained.
Gotta Be Mobile, March 28, 2016
SquareTrade to add 60 jobs and make $500,000 investment in Orlando area.
Florida Politics, March 28, 2016
Air India Aircraft Engineering Association asks Boeing for longer 787 warranties.
Hindustan Times, March 27, 2016
Apple lowers out-of-warranty Apple Watch Sport repair price to $199.
Mac Rumors, March 25, 2016
Warranty company executives share 2016 goals & strategies.
Dealerscope, March 25, 2016
U.S. judge sets April 21 deadline for VW & EPA to reach diesel fix.
Automotive News, March 24, 2016
Extended warranty price mysteriously triples at ApplianceServe.
Daily Mirror (UK), March 24, 2016
Consumer Affairs Minister in India promises e-warranty law.
Chennai News Today, March 23, 2016
EFG Companies launches Parts Wizard to streamline claims administration.
Press Release, March 22, 2016
MetLife Stadium replaces UBU Sports artificial turf installed in 2013.
USA Today, March 22, 2016
Jared's takes four months to repair and return couple's wedding ring.
WFTS-TV Tampa Bay FL, March 22, 2016
Crystal Springs Uplands School alleges FieldTurf installed defective artificial turf.
San Mateo Daily Journal (CA), March 22, 2016
Battery in BYD's all-electric double-decker bus gets 12-year warranty.
Future Cars News, March 21, 2016
CFPB's denial of J.G. Wentworth's appeal demonstrates expansive product reach.
Locke Lord Industry Blog, March 21, 2016
Fortegra puts an extended warranty purchase into perspective.
This Week in Consumer Electronics, March 21, 2016
MSX International acquires Australian-based Sewells Group.
Press Release, March 21, 2016
Tidewater Marine sues XL Specialty Insurance for unpaid warranty claims.
Louisiana Record, March 20, 2016
LG washer twice floods woman's home but replacement calls for three.
ABC News, March 19, 2016
hhgregg's administrator denies refrigerator claim over dust buildup.
WCPO-TV Cincinnati, March 18, 2016
MRRSE releases $4795 worldwide warranty management system market report.
Press Release, March 18, 2016
Suntech Power lengthens product warranty from 10 to 12 years.
Press Release, March 17, 2016
The Warranty Group launches warranty/service plan hybrid called Service Plus.
Motor Trade News (UK), March 17, 2016



More Warranty Headlines