January 20, 2003
WHAT RECESSION?
Consumer Electronics Thrives During Downturns, Las Vegas CES Show Was Packed
by Eric Arnum, Editor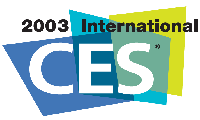 They say times are tough, with war worries, layoff rumors, flat sales, and tight budgets keeping everyone on edge, and making them postpone any spending they possibly can. But "they" obviously weren't in Las Vegas two weeks ago for the 2003 International Consumer Electronics Show.
"This year's show is a record-setter," noted Gary Shapiro, president of the Consumer Electronics Association and producers of the event. More than 116,687 people came to see 2,283 exhibitors from around the world. That makes CES likely to be the largest trade show of any kind held in North America this year. And it's only January.
Embracing the looking forward/looking back philosophy that gives the month its name, Shapiro said last year's consumer electronics market topped $96 billion. "That's higher than the forecast we made last year. And it marks a healthy 3.7 percent increase from 2001," he said in his "State of the Industry Address" on the morning of January 9.
For the year ahead, Shapiro said the association expects 3.5 percent revenue growth, bringing the consumer electronics market close to $100 billion for the first time. "We are one of a handful of industries that has grown" in the current recessionary climate, he noted in his speech. The same could be said of CES among trade shows.
Supply and Demand in the Desert
From the moment you land at the Las Vegas airport, you're reminded by the ringing bells and flashing lights that this is a glitzy and gaudy town where gambling is legal and many places stay open all night. The hotels had their usual high rollers competing for space with all the once-a-year conventioneers, and this bump in demand doubled room rates, extended cab lines, and made everyplace in town look busy.
In the McCarran Airport arrivals section, veteran gamblers bypassed the lengthy cab lines by bribing the skycaps to hustle them and their bags into waiting areas reserved for V.I.P. pickups. This reporter saw one man spend $20 to have two bags carried approximately 10 feet, from just inside the terminal doors to the roped-off high roller's section, where he promptly jumped into a waiting cab.
Bill Ablondi, principal of consumer market research company MarketMaps LLC, New Canaan CT, said Las Vegas seems immune to recessionary worries. "I think we could be in a depression and you'd still hear those quarters dropping into the slot machines," he said.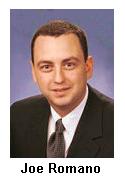 Exhibitors reported heavy foot traffic on the show floor, though the crowds seemed to thin out in the late afternoons. Joe Romano, group vice president at N.E.W. Customer Service Companies Inc., Dulles VA, said his booth's location in the middle of the cavernous center hall was ideal.
"We thought the traffic was great," he said. "We had a great position on the floor. We had great meetings, and we are as busy right now as we've been in recent times, following up."
Finding an Oasis
Every year, Romano said, a few people literally wander into N.E.W.'s booth by mistake, and after liking what they see, end up becoming clients of the extended warranty and service contract administrators. "They're meeting with Microsoft, and they stumble across our booth. And six months later, we're doing some type of work with them," he said.
Burt Shaw, executive vice president with Warrantech Consumer Product Services Inc. of Bedford TX, said his company's position in the south hall of the convention center also was ideal for ensnaring the wanderers.
"I was very pleased by the turnout at this show," Shaw said. He said he's been to maybe 25 or 30 CES shows over the years, and he's never seen one look busier.
Randy Collins, manager of warranty and field service at Thomson Multimedia Inc., said he thinks the reason for the spike in attendance this year was in part a return by all the people who normally attended CES in the past but who stayed home last year because of 9/11.
This year, Collins said, "CES was very busy -- rushed, but positive. We had very good meetings with our customers and our suppliers." Given that he has overall liaison responsibility with the after-sales organizations of most of the major retailers that stock the GE and RCA brands and the independent service centers that repair them, Collins said he was pretty busy while CES was in town.
"My organization is the first point of contact for any after-sales issues," he said. But rather than take a big booth at the main convention hall to show off Thomson's home entertainment product lines, the company instead rented a large ballroom and adjacent meeting rooms at the Mandalay Bay hotel's conference center, a few miles away from the maddening crowds at the convention hall.
"In the past, we found that by the time CES came around, most of our retailers had already made most of their assortment selections," Collins said, so having a showroom wasn't as important per se as having a quiet place to sit and chat. At the Mandalay Bay conference center, there were "no distractions, and we could spend the quality time we felt was necessary."
Perennial Favorite
One woman who hasn't missed a CES in ten years stayed home for the first time in 2003. Dafna Zilafro, marketing manager for Anaheim-based computer accessory vendor Targus Inc., said she had to stay in her office this year, even after making it to the first post-9/11 show in January 2002.
"Last year in general was a real downer for our industry, and everyone felt it at the show," Zilafro said. But that had nothing to do with her missing it this year. And by all the upbeat reports she received from all her returning co-workers who did make it to Vegas this year, there's no doubt she plans to return in January 2004.
Steve Layne, CEO of the Pittsburgh-based warranty automation software company Entigo Corp. (and sponsor of Warranty Week), said he decided to go to Vegas just to attend some meetings, taking advantage of the fact that virtually everyone who's anyone in consumer electronics would be in town that week.
"Practically all of the companies exhibiting at the show offer warranties for their consumer electronic products," Layne said, and so in a way they are all potential users of Entigo's warranty software.
This was his first CES, he said, though he's been to big Vegas shows such as COMDEX and NetWorld before. "This was the same order of magnitude, if not larger, than COMDEX was back in the heyday."
Which leads us to ask the question: what recession?
"Entertainment is a recession-proof business," Layne said. Popular wisdom holds that Hollywood was one of the few industries to expand during the 1930's, precisely because people wanted to escape from their troubles for a few hours. "It's just that today we're shifting the venue from the local theater to our living room, or their kitchen wall with the plasma TV."
Shaw said he's seen these economic cycles play out in consumer electronics before, but no matter how bad things are overall, there's always a hot product category or two that makes up for declines in the mature categories.
Growing Up Digital
"CES is a very resilient vehicle," he said. As interest wanes in what used to be called stereos and televisions, along comes a whole new class of products that blend entertainment with communications and computer technology. And while phones keep getting smaller, TVs keep getting bigger.
"This year it seems to be driven by phones and digital products," Shaw said. "There's a lot of exciting products out there, and they're bringing the traffic."
Collins said there's no doubt that certain companies have been hit by the recession, as have certain product categories. "The consumer electronics industry is not immune," he said. "I think inventories were adjusted. I think the retailers were certainly impacted by it, as demonstrated by their earnings reports. But historically, consumer electronics has done fairly well even in recessions, because consumers tend to 'cocoon.'"
That trend only accelerated last year as security anxieties made it real easy for consumers to "make it a Blockbuster night" and stay home. "They pull into their cocoon, and they focus on their family," Collins said. "And then all of a sudden the products of the consumer electronics industry become the focus of their attention. So they may still buy."
Is Warranty Processing Recession-Proof?
Romano at N.E.W. said he thinks that even if consumer electronics isn't recession-proof, perhaps the warranty processing industry is. "If the market softens, that's even more reason why consumers need

protection on their products, because the disposable dollar isn't there any more," he said. "And in booming markets, when consumers are spending that disposable dollar on fun, gadgety stuff like plasma TVs, they're going to need that extra protection for their products."
Shaw said warranties are part of a mature industry. But some of the consumer electronics products covered by warranties are far from mature. In fact, some are downright experimental, appealing to those early adopters who have to be first with everything. However, even those gadgets that break when you merely look at them wrong are likely to be covered by a warranty.
"Most retailers have some sort of warranty program in place -- in-house, or administered by a third party," Shaw said. "And the programs don't change. The offerings within them do, as there's a transition in product lines, and there's new ways to cover those products. But it's never really an issue with most retailers whether to offer some sort of a warranty."
The question retailers need to answer is whether it's more cost-effective to run those warranty programs in-house, or to delegate them to a third party company. Shaw said that as retailing becomes more and more competitive, outsourcing warranty programs to a third party becomes one obvious way to cut overhead and possibly increase revenue at the same time. Hence, as those retailers walk past booth after booth displaying these cutting edge new products, Warrantech hopes they'll strongly consider the third party option.
When Does Bigger Become Big Enough?
But when does CES become too big? When does the size of the show begin to interfere with the ability to move around? Going to meetings begets taxi rides and dinner reservations, and both were in short supply while CES was in town.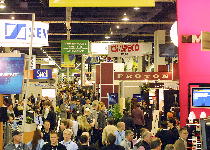 Ablondi said the attraction of super-big shows is that everyone's there within that square mile or two of exhibit space, "and you have at least the potential of meeting with them all." But then you never can, because meetings run long and simply making it from one place to another takes more time than was expected. At some point, the taxi queue becomes too long.
Ablondi said shows can actually overwhelm their infrastructure, and become too big to function efficiently. Witness the once-annual National Computer Conference, which grew so large in the mid 1980s that one summer the overflow capacity was pushed into big tents adjacent to the Las Vegas convention center.
It's a Dry Heat
Think about it. Computers in a tent under the Las Vegas sun? It's usually over 100 degrees here every day in July. Despite the application of anti-static spray to the carpeting three times a day, computers crashed and tempers overheated. Suffice it to say there's no more NCC.
Still, isn't it nice to hear there are still events that attract too many business travelers? Where there are too many people to meet, and too many new products to see them all? Let's hope a long queue for taxis is the biggest problem we face all year.