February 3, 2003
Chrysler's Transferable Warranties:
Do They Boost Resale Values? Increase New Car Sales? Or Are They Just Confidence Builders?
by Eric Arnum, Editor
Everybody assumes that warranties have some value, but who knows exactly how much? DaimlerChrysler Corp., by making its new 7-year/70,000-mile powertrain warranties transferable to a car's second owner, may soon provide the industry with a definitive answer.
This year and next, some of the first Dodge, Jeep, and Chrysler models sold after the transferable warranty program went into effect in July 2002 will undoubtedly be resold, and many of those second buyers will undoubtedly pay the $50 fee to assume the balance of the factory warranty. But will they also pay a premium price to the seller because the warranty is transferable?
"That's a tough question to answer," noted Charlie Vogelheim, executive editor of the Kelley Blue Book. "I will say that a vehicle under warranty is worth more than a vehicle that's not. That's a known fact. And we always see a marked drop in vehicle value once it falls out of warranty, either by calendar or by miles."
Benchmark Used Car Prices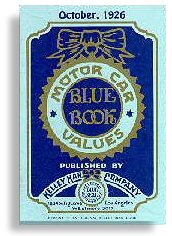 Since 1926, Kelley Blue Book of Irvine CA has made its living by publishing what has become the industry's benchmark resource for used car retail and trade-in values. The company prints a price list for dealers, and also operates an online price generator for consumers.
Many people say a warranty is issued primarily for the sake of the peace of mind of the buyer. The manufacturer is in effect expressing their confidence that the product will not break during the term of the warranty, because if it does, they've agreed to assume the cost of fixing it. The message to the consumer is something like this: "Here's a valuable piece of paper we think you'll never need to use. But just in case..."
At many new car dealerships, however, the details of the warranty usually aren't even mentioned until late in the sales process. Therefore, transferability is something the buyer may not hear about until they're just a few initials away from becoming the owner. In addition, it's such a new concept that they may not fully understand or value it for years to come, until they prepare to sell or trade in their vehicle.
A New Type of Asset?
But make no mistake. By its very nature, a transferable warranty has a much higher chance of being used than one which cannot be transferred. It doesn't take a repair for the value of this warranty to express itself. This is peace of mind packaged up in a form that can be bought and sold. Just like a roof rack, an alarm system, or a killer audio system, a transferable warranty is an asset that can produce a measurable boost in resale value.
A transferable warranty can be traded just like a promissory note or a "put" option. That promise can now be passed on to a new owner along with the vehicle's title. In fact, Chrysler dealers also sell a wraparound service contract that can extend the basic 3-year/36,000-mile bumper-to-bumper warranty up to the 7/70 level. Those are also transferable.
Chrysler Group president and CEO Dieter Zetsche said in July's press release that the company's warranty costs dropped 20 percent in the 2002 model year, and have been cut in half since 1996. But those are measures of liabilities that boost the bottom line when they're reduced. What we're talking about here is different. This is a boost in the reseller's top line, as it were. This is an asset.
Chrysler, by assuming the warranty liability for the second owner as well as the first, has created a new type of "factory installed" equipment: the transferability of that promise. In addition, unlike most other equipment in the car, a transferable warranty might actually increase in value the older it gets.
According to the Manheim Auctions Used Car Market Report 2003, the average age of cars and trucks on the road is still high (nine years old for cars, and eight years old for trucks) even though record numbers have been scrapped in recent years. Today's cars are made better, are driven longer, and are on average sold more times over the course of their lengthened lifetimes.
Longer Life Expectancy
Amazingly, over 60% of the cars sold in 1986 were still on the road 13 years later, Manheim Auction's report states. In contrast, only 32% of the cars made in 1966 lasted 13 years or more. Furthermore, the report says 18.6 million "middle-aged" vehicles (4 to 7 yrs. old) and 19.8 million "old age" vehicles (over 8 yrs. old) changed hands in the U.S. in 2002, as opposed to just 16.8 million new units sold.
In other words, a Chrysler model sold now stands an excellent chance of still being on the road in 2009 or 2010 when that 7/70 warranty expires. It also stands an excellent chance of being sold at least once before it goes out of warranty. So how much might that be worth?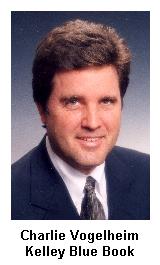 Kelley Blue Book said in a recent news release that the 2003 Jeep Wrangler is likely to be among the top ten models that best hold their value over the next five years. While there are no other Chrysler Group nameplates on that top ten list, Vogelheim said he thinks any Jeep, Dodge or Chrysler model sold with a transferable warranty will retain more value than it would if the warranty were not transferable. But ultimately, he said, the agreed-upon price depends on so many other factors besides the status of the warranty.
Making a Guesstimate
Vogelheim was asked to maybe put it into round numbers for a back-of-the-napkin calculation. "Comparing apples to apples, it's probably into hundreds and almost thousands of dollars," he said.
So let's get out our napkins and use that range. Let's assume that in five or six years the price premium for a transferable warranty is somewhere in the vicinity of $700 to $900. Given that the average used car sold for around $8,600 last year, that could be a not-insignificant percentage bump up in a car's resale value.
It's also not a tiny sum for Chrysler. At a rate of 2.2 million vehicles sold per year now, the company's transferable warranty program has quite possibly already boosted potential resale values for the 2008-2009 market by something between $750 million and $1 billion, in round numbers. Every additional month that passes, their transferable warranties could boost the future resale market by an additional $125 million to $165 million.
"It can actually increase to a certain extent over time, because the older the vehicle the greater potential for something going wrong," Vogelheim said. For Chrysler, that effect will kick in during years 4 to 7, when most other used vehicles are falling out of warranty.
"We see that effect certainly with the certified vehicles out there," Vogelheim said. "The older the certified car, the greater the differential between vehicles that do and don't have the warranty."
Could Be Worth More
Others note that even one repair to the powertrain could cost over $1,000. John Gatz, sales manager at Bill Luke Chrysler Jeep & Dodge in Phoenix, said that if the powertrain warranty is actually used in those middle-aged years, it could easily save an owner more than $1,000.

"If I was thinking of a transmission or engine repair -- a major repair," Gatz explained, "either one of those could easily absorb a thousand dollars. It really just boils down to the type of repair. A powertrain repair -- it would cover that much easily."
But could a seller boost their asking price by a thousand dollars just because their middle-aged car has a transferable warranty? Will the buyer of a five- or six-year-old car see any value in that? More importantly, since 7 out of 10 used car sales go through a dealership, what will the professionals think when an owner with a transferable warranty demands a higher price?
Ron Vicoli, business manager at the Golden Chrysler Jeep dealership in Philadelphia, said he isn't so sure he'd be willing to pay a premium for a trade-in just because it has a transferable warranty. As it is, many customers don't understand all the factors that affect the value of a trade-in. He already has problems with people who insist he match the price Kelley gave them on its Web site. So he's not happy to hear about this latest premium price theory.
"Is Kelley Blue Book the one that's going to buy the car from someone, paying a couple of hundred dollars more for a transferable warranty?"
Still, Vicoli said he sees some value in the transferable warranty. "It's a plus for the vehicle," he said. "It gives people a little more peace of mind as far as the powertrain. As far as a pickup in sales, I can't say if it has or if it hasn't. No one has even asked about it, to be honest with you. It doesn't seem to be too much of an issue to anyone."
Packaged Peace of Mind
Shannon Steratos, finance manager with Bob Baker Jeep in Carlsbad CA, said most buyers he deals with respond positively when they're first told about the transferable warranty. But it's a point that's typically not made until late in the discussion. So it doesn't make or break the sale, and it doesn't affect the selling price.
"I think it's more peace of mind [than financial]," Steratos said. They're thinking about what they'll pay to get their new car now, not how much it will be worth in years to come.
Down the road, when they go to sell the car, they'll see financial benefit of their transferable warranty. "It gives you something that makes your car a little more appealing than the car that's in the photo next to it," he said.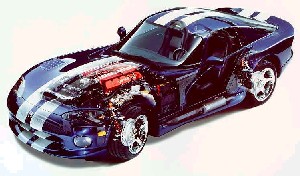 Dodge Viper (Source: Dr. S. Wagner)
Steve Guth, sales manager at Manassas Dodge Kia Subaru in Manassas VA, said he sees the warranty's transferability as just another detail -- one that might be slipping through the cracks.
"That's not typically brought up unless the customer brings it up," he said. He said he might jump in and mention the transferability as an additional feature and benefit if his salesman is having trouble closing a particular deal. But the plain truth is it doesn't matter much to the typical new car buyer, so it doesn't get a lot of attention.
"That's more of a long-term benefit," Guth said. "I don't think that's going to really hit home for a while," he predicted, "until a person either trades or sells the vehicle down the road. It doesn't affect them now. When they go to sell it, and there's still a warranty left, it becomes a positive thing for them at that point."
Gatz said his customers in Phoenix seem to be very responsive to the quality message behind the seven-year term. "It's a statement on Chrysler's part to say 'we have such confidence in our product that we're willing to put a 7/70 on it,'" he said.
However, he added that he thinks the concept of transferability still needs some additional time to sink in. "That's fairly new. I don't think it will have as much of an impression on them now as it will when it comes time to sell," Gatz said.
---
Hyundai's Warranty Triumph
Chrysler Has Yet to See a Sales Bump
The Hyundai Motor Company has recently engineered dramatic gains by using relatively lengthy warranties to effectively neutralize worries about reliability. Its new cars now come with a 10-year/100,000-mile powertrain warranty plus a 5-year/60,000-mile warranty for most everything else. Rightly or wrongly, Hyundai's cars are perceived to be unreliable, especially after they hit middle age. However, buyers think that with these warranties, it almost doesn't matter if it breaks -- it's covered.
It's therefore no surprise to read a news releases from Hyundai Motor America heralding an "All-Time Sales Record in 2002." It's a big leap of logic to say that warranties were the cause of the increase, but it's not at all an exaggeration to say that the warranties neutralized the reliability issue that used to cost the company in missed sales.
Harder to Measure?
Such a sales bump will be harder to measure for the Chrysler Group, for several reasons. First, it doesn't have a reliability perception problem that needs to be neutralized by long warranties. Second, 7/70 isn't as long as 10/100, even though Hyundai's warranty isn't transferable after the fifth year.
Third, the warranty term for Chrysler, Dodge, and Jeep has bounced around quite a bit over the years, and not always in an increasing direction. For instance, Chrysler's post-9/11 warranty was 7 years/100,000 miles, though it wasn't transferable. In the late 1990s, the powertrain was covered by only a 3-year/36,000-mile warranty -- same as the rest of the car. But there were times in the early 1990s and before when the warranty lasted even longer than it does now.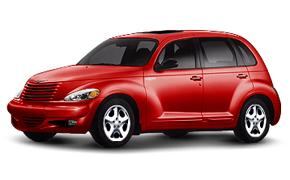 Chrysler PT Cruiser
Finally, while Chrysler is beginning to feature the concept of transferability in all its ads, overall it has done a poor job of explaining how good the coverage really is in other respects. For instance, besides parts and labor, the current warranty also includes the cost of towing, roadside assistance, up to $500 for food and hotel if the breakdown happens far from home, and a car rental allowance for up to a week if the repair takes that long. Many insurance policies also have a car rental allowance, but only in the case of an accident -- not a mechanical breakdown. But is Chrysler touting this?
Based Upon Consumer Research
Marc Henretta, manager of sales and service communications with DaimlerChrysler, defends the changeability of the company's warranties over the years and disagrees that this offer is somehow a notch down from what was available from Nov. 2001 to July 2002.
That 7/100 warranty was a "temporary pledge," he said, made at a time in our nation's history when confidence was in short supply. Like zero percent financing, it couldn't continue indefinitely. However, he said he thinks the terms of the transferable 7/70 are actually superior, and he thinks consumer opinion research backs him up.
"Yes, we went from 7/100 to 7/70, but we did a lot of research," Henretta said. "And that research told us people would much rather a shorter term that was transferable." Specifically, focus groups members preferred vehicles with a 7/70 warranty that could be sold with the car to warranties that lasted longer but which expired when the car was sold. The focus groups also said they would pay more for a used car still under warranty, Henretta said.
The company reported U.S. sales of 172,494 units in Dec. 2002, a one percent increase from the same month a year ago. For the entire year, however, the Chrysler Group sold 2.2 million vehicles, down 3% from 2001.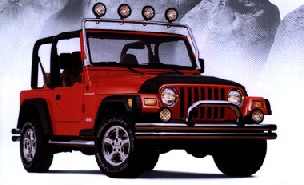 Jeep Wrangler
Jeep brand vehicles set an all-time record in Dec. 2002, with sales up 22% to 45,751 units. For the whole year, though, Jeep brand sales were up just one percent to 459,796 vehicles. The Dodge brand also was up one percent for the year, to 1,264,782 units. It was the Chrysler brand that fell dramatically, by some 15% to around 481,000 vehicles sold last year.
Too Early to Measure?
Henretta said it still may be too early to measure the positive sales effect of a program that's been in effect for only seven months. But he insists that dealers are beginning to see the change. "In the beginning, people didn't understand it," he said of the warranty's transferability. "But now they see our ads. They go to the Web site. So they come in asking about it. So we know that it's working."
Henretta also concurs with the "high hundreds" estimate made by Charlie Vogelheim at Kelley Blue Book. In fact, later this year when some of the fleet vehicles and rental cars come up for resale, he said Chrysler should get its first opportunity to test that theory against real sales data.
"Anything that has a warranty, people are willing to pay more for," Henretta said. "That's not a hunch. We have no doubt in the world that our cars are built with quality, and that this is not going to cost us a huge amount of money. It's going to give the owner peace of mind, and raise the value of his vehicle."