April 22, 2003
Comparing Warranties at the
New York Auto Show:
Which manufacturer has the best warranty is a matter of some contention. Long warranties and low prices can get you only so far, especially when the competition answers with financial incentives.
by Eric Arnum, Editor
They came by the busload, and when the bus didn't come fast enough, they walked down 34th Street to the 2003 New York International Automobile Show. Only in New York would there be an auto show at which parking was nearly impossible and mass transit badly overburdened. But still they came, they saw, and they took home the souvenirs by the bagful.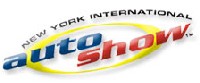 More than a thousand vehicles filled almost a million square feet in the Javits Convention Center, and still it seemed small. Most of the Asian brands took booth space downstairs while the Europeans exhibited upstairs. Taking no chances, the Big Three took space in both halls, lest anybody have time to visit only one.
Debuts included everything from the huggable two-seater Mini Cooper S to the seats-seven sprawl of the Isuzu Ascender SUV. Infiniti showed a sports car named the Triant whose passenger doors opened upwards like the Delorean's gull wings. Cadillac brought along a concept car whose 16-cylinder, 1,000-horsepower engine allowed it to fly without wings. Lexus showed an electric-gasoline hybrid concept car slated for production sometime next year, while Toyota unveiled a new and improved Prius, a hybrid model due for delivery this fall.
Hands-on Market Research
While some shoppers seemed content to wander around and kick a few tires, others looked like they knew exactly which vehicles they wanted to see. They'd finished their research on the Internet; now they wanted to sit behind the wheel and check the headroom for themselves. Though the show is sponsored by the Greater New York Automobile Dealers Association, the showroom floor is remarkably free of sales pressure. It was the ideal place to comparison shop.
Comparing price became difficult because of all the options and incentives available from each manufacturer. However, comparing warranties remained a straightforward exercise. Toyota kept the powertrain warranty on its new Prius steady at 6 years/60,000 miles, but it upped the warranty coverage of the car's newer and more experimental hybrid components to 8 years/100,000 miles. Meanwhile, Isuzu trimmed their warranty coverage back to 7 years/75,000 miles -- still better than average but not as good as Kia and Hyundai.
NY Auto Show
Warranty Comparison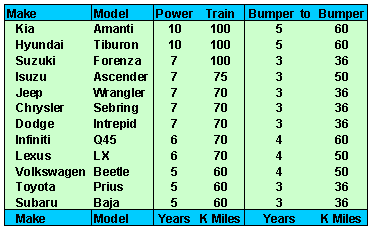 See complete warranty rankings chart for 37 auto manufacturers that were at the show.
Shay Scott, a product specialist with American Isuzu Motors Inc., said the 7/75 powertrain warranty and the 3/50 bumper-to-bumper warranty seems to be good enough for most buyers. "We're still up there in the top bracket with our warranty," she said. "I think it's still great peace of mind to have a 7/75 warranty. Everyone else is lower than us, minus the [Kia and Hyundai] 10/100,000. We've had no negative feedback."
Price Cuts
Isuzu combined the warranty trimming with price cuts of $2,000 or more on several models. To get prices down, some features were eliminated while other once-standard features became options. At the same time, the company upped its roadside assistance program to cover the same 7-year/75,000-mile term as its powertrain warranty. The net effect is to reduce warranty cost, reduce revenue per vehicle, and hopefully, make the vehicles more appealing to consumers.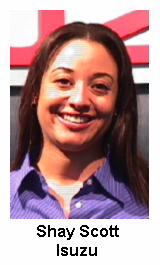 "We needed to free up some money," Scott said, "so we kind of repositioned Isuzu."
Scott said that every once in a while, she would notice a customer going back and forth from the Isuzu booth to the GMC and Chevrolet booths across the hall. They'd ask her a few questions about the price, features, and warranty that comes with the new Isuzu Ascender SUV, then they'd disappear for a few minutes. Then they'd be back again.
It turns out that the Ascender is built on the same platform as the GMC Envoy and the Chevrolet TrailBlazer. They're pretty much the same SUV with different nameplates. Scott said she believes some of the people scurrying between booths were comparing the three vehicles. And warranty was one area where Isuzu was clearly ahead of the competition. From GMC and Chevrolet, they're offered 3-year/36,000-mile coverage, but from Isuzu they can get a 3-year/50,000-mile bumper-to-bumper warranty and a 7/75 powertrain warranty.
"Nowadays, SUV buyers are very educated," Scott said. "They do a lot of research. They go on the Internet. They do a lot of comparison shopping. And I think that with their research they're checking every point. They come in packed with a lot of knowledge, and they just want to confirm what they found." And what they've found is that prices and warranty coverage differ.
Isuzu Ascender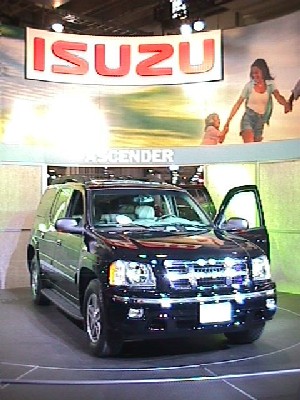 GMC's and Chevrolet's warranty offers are not just below Isuzu's. They're also below the industry average. Warranty Week found among 33 nameplates that the average basic warranty lasts for 3.6 years or 45,000 miles. The typical powertrain warranty lasts for 5 years and 57,000 miles. Of the Big Three, only Chrysler's 7/70 powertrain warranties are above average, while the European brands, typically at 4/50 for both the bumper-to-bumper and powertrain warranties, are slightly above average on the former and slightly below average for the latter.
The Best Warranty?
Which manufacturer has the best warranty is a matter of some contention.
Hyundai Motor America claims to have "America's Best Warranty," and has even trademarked the term. Meanwhile, American Suzuki Motor Corp. lays claim to "America's #1 Warranty," suggesting that the terms of its coverage are a closer match to real world conditions.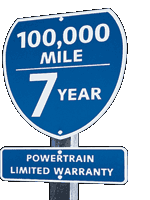 "Ours is the best, because it makes more sense time-wise, it can be transferred to any owner, and there's no deductible," according to Mike Koch, Suzuki's auto warranty manager. "We're looking at what the competition is, and the competition is generally not transferable," he said, though he notes that Chrysler's 7/70 powertrain warranty is transferable after the payment of a $100 fee.
In addition, although Kia Motors and Hyundai offer 10-year, 100,000-mile warranties, Koch said they typically expire on miles long before the decade ends. "If you work out average mileage," he said, "in seven years they have 100,000 miles so their [longer-term] warranties are kind of a moot point."
The transferability of the warranty may not yet be something that matters much to a new car buyer -- after all, at that specific moment they're looking to purchase a vehicle, not sell it. But it is something that Suzuki is trying to make into a point of differentiation. "It's our mission in the marketing department to drive that point home in our ads," Koch said.
Warranties Boost Resale Value
Typically, the Suzuki dealership sells more than just Suzuki models. They're also frequently selling Kia and Hyundai, and sometimes Isuzu too. In pricing comparisons, Isuzu is usually a little higher-priced than the comparable Suzuki, while the Kia and Hyundai models are usually priced lower. But when it comes time to consider resale value down the road, Suzuki hopes that the transferability of its warranty can support the claim that its models will retain their value longer.
"We figured we could make our cars more valuable at the time they're traded in," he said, noting that the average Suzuki is traded in after 4.7 years, and/or around 70,000 miles. "If you trade the car in and you still have a couple of years left on the time and you have about 30,000 miles left on the mileage, it makes the car more valuable. It makes the resale value higher."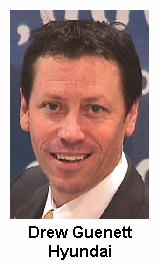 Drew Guenett, Hyundai's exhibit manager, said some of the extras that make Hyundai's warranty better include five years of emergency roadside assistance, five years' corrosion protection, and five years' trip interruption protection (up to $300). Also, buyers can upgrade the bumper-to-bumper warranty to 10/100 for an additional $1,200.
Koch said Suzuki is in pursuit of higher sales, and has taken notice of the success of Hyundai. "When they came out with their 10/100 warranty, I'll tell you, their sales doubled," he said. "Now I don't know if that had anything to do with their warranty -- I'm sure a portion of it did -- but their sales just doubled. We're looking to gain market share, so we're going to try to offer that peace of mind to the customer." Hence, America's #1 Warranty does battle with America's Best Warranty.
Fighting Against a Stereotype
They're all imports, of course. And while imports from Germany have built into them a reputation for quality and reliability, imports from Japan and Korea have had to overcome reputations for exactly the opposite. Back in the 1970s and 1980s, Toyota and Datsun struggled with an image of low reliability. Their vehicles were known for their small size and high fuel efficiency, but not their longevity. Then in the late 1980s and 1990s it was the Korean's turn, with manufacturers such as Daewoo and Kia trying to live down their reputations for poor quality by building better cars.
Along comes Hyundai, which didn't simply make better cars, but also backed them up with better warranties. The unspoken assumption is that even if one still believes the old stereotype that a Korean car isn't made very well, at least it's covered by a manufacturer's warranty that will fix the defect at no cost to the customer.
Guenett, however, disagrees with that assumption. The cars are made well, and therefore a long warranty is justified. If they weren't, Hyundai would incur significant warranty expenses, and that would make its low prices unworkable.
"We hear constantly, over and over again, from customers that we have the best value at the auto show," Guenett said. "And we back it up with a ten-year warranty. And now, in Consumer Reports, we're listed as number two in reliability, tied with Honda. That beat out Mercedes and BMW. We beat out Volvo and Saab."
Peace of Mind
Koch said Suzuki doesn't have as much to prove in terms of quality. Between the extremes of high and low reliability, he said, "we're somewhere in the middle. Because most people know Suzuki is a Japanese product, I don't think we have the issue like maybe Kia and Hyundai do. I don't think when a customer walks into a Suzuki dealer, they're worrying about quality. I think this [warranty] just gives them more peace of mind."
Hyundai, meanwhile, continues to enjoy a surge in sales. Hyundai Motor Co. reported worldwide sales of 159,743 units in March, up 10 percent from the previous month. First quarter sales topped 460,955 units, a 7 percent gain from last year. And while sales in Korea were down almost 5 percent during the quarter, exports soared by 16 percent to 280,170 units. All this happened in a supposedly soft market.
Hyundai Tiburon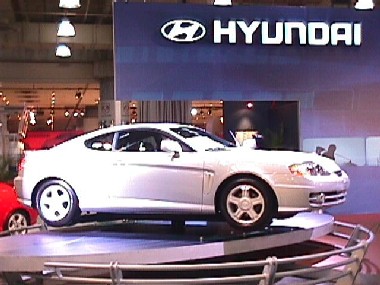 Guenett said Hyundai is not about to coast, however. Long warranties and low prices can get you only so far, especially when the competition answers with financial incentives.
"We're one of the last manufacturers to go to 0% financing," he said, "simply because it wasn't a requirement. Our sales were increasing incrementally every single month. But we wanted to be able to play along with everyone else." During the month of April, the company offers 0% for the first three years of a loan, 1.9% for the fourth year, and 3.5% for the fifth year.
He said much of the foot traffic at the auto show tends towards the higher-end brand names and the exotics -- the ones that few buyers can afford. "But how many people are up there to actually buy a new Lexus? They just want to check out the new Lexus. They just want to dream."
Then they'll stop by the Hyundai booth to look at something they actually might buy.