February 3, 2004
Reducing Warranty Claims:
Sometimes a company focuses its engineering talent on a manufacturing problem that once solved, results in soaring product quality improvements and plummeting warranty costs. Other times, a company gets lucky as product families mature and installed bases age themselves out of warranty.
Product sales and warranty expenses frequently are on their own separate schedules. As U.S. manufacturers continue to see an upturn in the business cycle, some are facing increasing warranty claims from products they sold at the end of the last boom. On the other hand, some companies with products carrying warranties that expire after 12 or 18 months are now fixing what they sold during the bust years, and meanwhile their current sales are increasing.
Comparisons between current sales and current warranty claims therefore have the power to mislead. If claims are falling but sales are falling faster, the percentage will increase. Likewise, if claims are rising but sales are rising faster, the percentage comparison between the two will actually fall. When one is rising and the other is falling, anything can happen, as the following half-dozen stories will illustrate.
Warranty Week took a look way down the list of manufacturers to find small and medium-sized companies in the medical and electronics industries that were in the fortunate position of reporting declines throughout 2003 in warranty claims as a percentage of sales. Because most companies didn't begin reporting their warranty figures until early in 2003, and because we're now in that limbo period between the end of the calendar year and the beginning of annual report filing season, all we have to work with in most cases are three sets of numbers, for the first, second, and third quarters of 2003.
One of the six companies spotlighted below has actually already filed its year-end report, but only because its fiscal second quarter ended on Nov. 29, so it's a month ahead of everyone else. Several others are on fiscal years ending in June, and so they won't have quarterly statements on file for a few more weeks. The remainders whose fiscal years end on Dec. 31 aren't likely to file their annual statements until March.
Reasons for Volatility?
Still, even with limited data, it's clear that while most larger companies operate within a tight band of variance when it comes to warranty, smaller companies can double their expenditures one quarter and halve them the next. While a large company might see claims rates rise by a few tenths of a percent one quarter and fall by the same amount in the next quarter, for smaller companies volatility seems to be the rule, not the exception. One quarter's warranty claims can equal 2% of sales and the next's can top 10%. A small company that begins the year paying 7% of sales for warranty claims can end it paying less than 1%. The question is why.
Factors that can spike or slash warranty claims include not only a company's product line, but also its manufacturing structure. For instance, Symmetricom Inc., makers of network timing and synchronization systems, acquired two companies in October 2002 and immediately began consolidating their separate manufacturing facilities by year's end. Existing manufacturing facilities in California, Massachusetts, and Texas were downsized, and new facilities in Puerto Rico came online to replace them.
Bill Slater, Symmetricom's chief financial officer, said this merger and realignment process was bound to affect warranty claims rates. "We purchased two companies approximately a year ago, so that might distort some of the numbers," he said. Slater suggested that the year-ago numbers were something of an anomaly because of those developments. "But in this quarter [4Q 2003], our warranty costs were very consistent with the previous quarter."
For Symmetricom, that would be the second quarter of its fiscal year, which ends on June 30. Though financial results for the quarter were announced in a press release on Jan. 29, the SEC Form 10-Q that discloses the actual warranty numbers won't become available for another week or two. Slater said he's not yet certain what those numbers will be, but in broad terms, "we are holding the line. I don't think there has been any change in our warranty costs this quarter," he said.
What follows is an approximation of Symmetricom's quarterly warranty claims totals and claims rates as a percentage of sales. Though the chart includes data for five quarters, the company released its warranty figures for the June to Dec. 2002 period in one lump sum, so both the amounts and percentages for those quarters were extrapolated by Warranty Week. But whether the true percentages for those quarters was higher or lower than estimated below, the trend is clear: Symmetricom has cut its warranty costs by more than half in just a few months, in both dollar and percentage terms.
As a defensive measure in these email virus-filled times, many system administrators are filtering out all attachments and graphics from incoming messages. Each of the graphics used in this edition of Warranty Week also are available through the Web for those who cannot otherwise see them.
Symmetricom Inc.
Quarterly Warranty Claims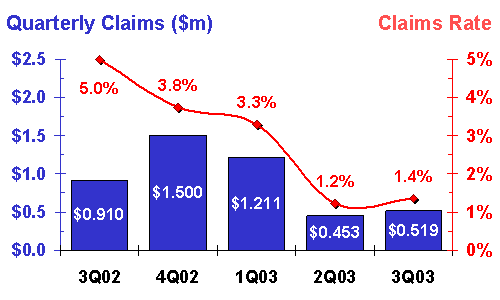 Source: Warranty Week
"We do occasionally have large warranty projects, and when they're done, you'll see that expense," Slater added. "I think our warranty costs have been fairly constant over time. We do have a varied product mix in the company, where we have certain products with longer warranties and other products with shorter warranties."
The secret to keeping warranty costs down is to make sure the product is operating correctly before it becomes the responsibility of the customer. Slater said Symmetricom's products typically go through anywhere from two to 12 weeks of testing before they're released to customers. "They're timing products, and the only way to test them is to put them into central offices," he said. "They're precision products, so we typically don't have much of a warranty issue. Occasionally, we will find something that has to be taken care of throughout a number of products. As soon as we find out there may be an issue with products -- where we may have to replace some components -- then we'll accrue for that within that quarter."
Experimenting With Lasers
At PhotoMedex Inc., a manufacturer of medical lasers located in the suburbs of Philadelphia, warranty claims rates are now under much better control, having been unusually high in late 2002 and early 2003. The company is among the first pioneers to apply laser technology to the treatment of skin diseases such as psoriasis and vitiligo, and it has the arrows in its back to prove it.
The claims rate for the PhotoMedex product line during the first quarter of 2003 was close to 11%, meaning that more than one-in-ten sales dollars went towards fixing broken equipment. After claims were reduced from $198,000 in the first quarter to $73,000 in the second quarter, the warranty claims rate for the first half of the year fell to just over 6.8%. After another good quarter in which claims rose to only $79,000, the warranty claims rate for the first nine months of 2003 slipped a little below 6.8%. While that's still high, the trend is in the right direction.
Dennis McGrath, chief financial officer at PhotoMedex, said the company's engineers out in Carlsbad, California saw the problem and set out to correct it. "We're real proud of what our engineers have done," he said. "Clearly, it's just an intensity on engineering our product, the Xtrac excimer laser and the dermatologist base. It's just increased software improvements, increased engineering of the components to make them more reliable. And that investment in our engineers and that work product has resulted in substantially improved reliability."
Now those engineers and the rest of the company's employees can share in the rewards. McGrath said all PhotoMedex employees share in some form of incentivized options. "That gives them a kind of 'owner's eyes,' as we call it, to focus on what they need to do to improve the overall profitability and performance of the company," he said.
Higher Prices for Better Quality
At Antares Pharma Inc., another medical equipment company (they make needle-free injectors popular with diabetics and others), it was a distributor that incentivized the company to cut its warranty expenses. Lawrence Christian, chief financial officer and vice president of finance at Antares, said the distributor, located in Europe, wanted to reduce his returns and boost his local reputation for quality, and was willing to pay more to make it happen.
"We renegotiated one of our premier distributor's agreement to put more incentive on our side to get our warranty returns down below a certain level," he said. "If we are able get our warranty returns below a certain percentage, then we get an extra bonus. That gave us an incentive to do an even better job than we have in the past, because we're trying to reach this bonus level."
Normally, such warranty incentive programs work well internally, or perhaps between a manufacturer and its component suppliers. But in this case it's working on the other side of the house -- between a manufacturer and its distribution channel. The distributor wants to sell a higher-quality product, and is willing to pay more for such a product. The manufacturer wants to be paid more, so it does whatever it can to prevent returns from becoming necessary.
"It gives us more incentive to really work hard," Christian said.
The effort seems to have paid off. While warranty claims spiked during the fourth quarter of 2002, as the chart below illustrates, that experience hasn't been repeated. Claims edged up again in the third quarter of 2003, but the claims total for the second quarter was the lowest of the six depicted here.
Antares Pharma Inc.
Quarterly Warranty Claims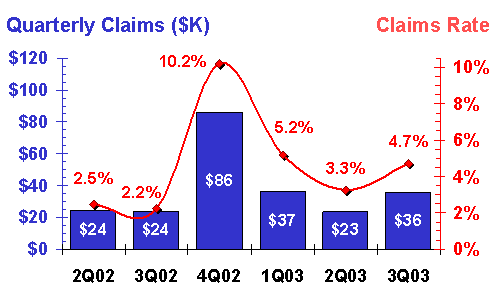 Source: Warranty Week
Note that while warranty claims per quarter are counted in the tens of thousands of dollars per quarter, the company's product sales are counted in the low millions of dollars per quarter. That puts Antares towards the lower end of the manufacturing scale -- at least among publicly-traded manufacturers reporting upon warranty expenditures. Of the 654 companies reporting warranty claims during the third quarter of 2003, only about 25 were smaller than Antares.
Warranty Learning Curve
Another of the smallish companies on the list of manufacturers reporting warranty activity is P-Com Inc., makers of high-speed wireless data communications equipment. Sales currently are in the range of $5 million per quarter.
As the chart below shows, P-Com's warranty claims were more or less stable in 2002 but fell to nearly zero by the third quarter of 2003. Daniel Rumsey, P-Com's corporate counsel and interim chief financial officer, said that has everything to do with where the company is in its product lifecycle.
P-Com Inc.
Quarterly Warranty Claims
Source: Warranty Week
"I don't think it's because we're selling more," Rumsey said. "I think it's just because our experience with the product is improving. We have some legacy product that have been in the field for a long time, and then we have a new product line, which is our Encore product line. So we're just now getting experience with that."
Rumsey said he couldn't discuss any financial figures for the fourth quarter that were not yet public, such as warranty claims and accruals. Those will be released when the company files its Form 10-K annual report, probably in the late March timeframe. So while he said he believes warranty claims remain low into the present, he's not sure of the exact amount.
"Historically speaking, I think that when we began the year, our warranty expense was higher because we were dealing with a lot of product that is now beyond its warranty period," Rumsey said. "The warranty cost that we had with respect to a lot of the product we've been selling for the past year has not been a problem for us. So it's both a combination of the warranty period expiring with respect to products sold in 2001 and 2002, as well as having better experience with our newer products in 2003."
Boom and Bust Cycle
The same effect was reported by Trikon Technologies Inc., makers of the fabrication equipment used to manufacture semiconductors. As the chart below illustrates, Trikon is in a part of the semiconductor industry in which periods of stability are merely short breaks between the more typical cycles of boom and bust.
Trikon Technologies
Revenue vs. Warranty Reserve
1994 to 2003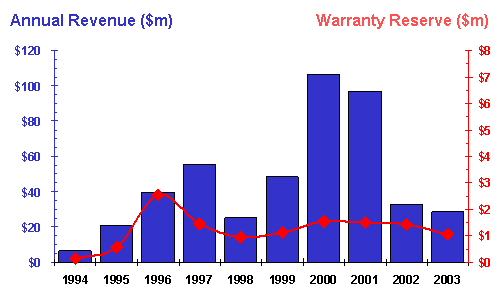 Source: Warranty Week
This chart plots annual revenue against the warranty reserve fund balance at the end of each year. Since Trikon sells its etching machines for close to a million dollars each, one could look at the left-hand scale almost as one of units sold. It's immediately clear that while in most years the reserve fund rose and fell along with total revenue, in 2000 and 2001 this did not happen.
In terms of warranty accounting, Trikon didn't begin reporting its claims and accruals until the first quarter of 2003. The $406,000 it reported in first-quarter claims represented just under 8% of its product revenue. By the second quarter, claims were down to $279,000 and the claims rate was below 4.7%. By the third quarter, claims were down to $214,000 and the claims rate was under 2.6%.
William Chappell, Trikon's chief financial officer and senior vice president, said he would love to be able to report some quality-related reason for the declines in warranty expenses. But he said there's actually a much simpler answer to it. "Our warranty claims are reducing because the number of machines under warranty are dropping off due to the high revenues in 2000 and 2001," he said.
"We're always looking at ways to improve our product quality, and reduce our warranty exposure," Chappell said. But in this case, what's happening is the expiration of all the two-year warranties on machines Trikon sold in the "boom years of 2000 and 2001," he said.
Customer Satisfaction vs. Supply and Demand
Lynda Ramsey, corporate controller at printed circuit board manufacturer Merix Corp., said it's not only where a company is in that product cycle that matters. It also matters where the customer is in that cycle of boom and bust. During the inevitable market downturns, Ramsey said customers seem to become more fussy about buying 100% perfection. "They would return anything," she said. During the market upturns when shortages are more likely, they're happy to get even less-than-perfect circuit boards. Right now, Merix is in an upturn, and after spiking in the first quarter, its warranty expenses are on a steady down slope.
Merix Corp.
Quarterly Warranty Claims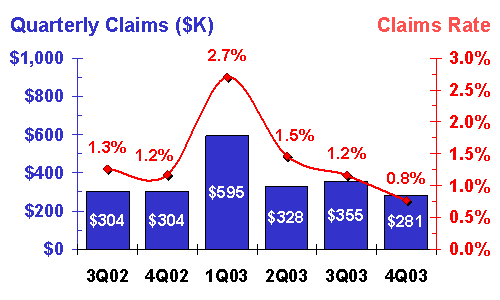 Source: Warranty Week
"In the first part of calendar '03, we did have a flurry of events that caused us to have some increased warranty exposure," Ramsey said. "Our engineers got all over it and corrected those particular problems."
Also, Ramsey noted that more than 60% of the company's revenue came in the second half of calendar '03, as sales surged from a $7-$8 million-a-month level to more than $12 million a month by year's end. That also cut the claims rate, which is based on the percentage of new revenue spent on old warranty claims. With warranties that usually run for six to 12 months, the oscillations in both warranty claims and revenue have a much more immediate effect.