March 9, 2004
Business Jet Warranties:
Unlike the airlines, the owners of corporate jets expect the white glove treatment from manufacturers. While they'll gladly bring their jets to an authorized service center for warranty work, they'll never try to do their own repairs. And while they expect their planes to be fixed fast, they'll almost never have their own spare parts on hand.
Commercial jetliners are one of the few products where the standard operating procedure for a warranty claim involves the customer charging the manufacturer for his own labor. In contrast, the business jet industry operates its planes like luxury limousines. There are some minor repairs the fleet owner will handle himself, but any major warranty work is headed back to the manufacturer's authorized service centers.
Warranty work in the corporate jet world is completely different from warranty work within the airlines. Corporate jet owners are not expected to keep their own set of spare parts; airlines are. Corporate jet owners rarely fix their own planes; airlines typically run their own service center.
Then again, there also are some similarities. One plane may contain hundreds of manufacturers' parts and components, and its owner/operator may have to look after hundreds of warranties. At the very least, a business jet or airline jet operator will have to deal with separate warranties on the airframes, engines, avionics, and cabin interiors. These warranties can last from two to 20 years, depending upon the product in question.
In aviation, therefore, the emphasis in warranty management is on knowing which manufacturer warrants what, where it goes to get fixed, and when each warranty expires. One reason passenger cars are covered by bumper to bumper warranties of uniform length is because most drivers would revolt if told there were different manufacturers covering each and every component.
Surprisingly, while aviation warranties are different from virtually all other manufactured products, there is some uniformity amongst aviation manufacturers. Gulfstream's warranties are nothing like Maytag or Mercedes, but they are similar to Learjet and Boeing.
Harish Shah, managing director of Aviation Warranty Solutions Ltd., currently provides five small airlines with a warranty claims processing outsourcing service from his base at London's Luton Airport. In between decades spent working with commercial airlines, Shah for several years worked with Harrods Aviation Ltd. as a sales and contracts manager serving corporate jet owners. While there, he found that corporate jet owners want their airplane warranty repair experiences to be very much like their luxury sedan warranty repair experiences.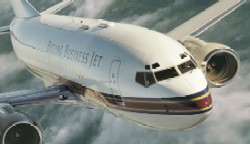 Briefly, they want to have their drivers drop their jets off at an authorized service center, where the manufacturers have deployed enough spare parts and trained enough mechanics to allow for the job to be completed fast and for free. Then they want their jet back in service as soon as possible.
Think of the business jet as the Maserati of the aviation industry. Owners expect white glove service. Basically, they want to be pampered -- a service level that most of the business jet makers seem to have met. Shah said that in his time with Harrods, he found most of the major business jet manufacturers to be more or less on par when it came to warranty service.
Boeing at first expected its business jet customers to behave like its airline customers, but after a short period of time they learned how the business jet owner prefers to drop off their planes for warranty service. So Boeing began signing on authorized service centers at strategic locations around the world and began providing business jet operators with the phone number of a worldwide support center.
Airbus S.A.S., some say, still treats its business jet owners like airline customers, which perhaps explains why you don't hear too much about the A319 in the corporate jet market. There are a few out there, but they tend to be owned by a hardier lot who don't mind changing their own tires. They are not expecting to be pampered. If Boeing, Learjet and Gulfstream are selling luxury limos, Airbus is selling luxury recreational vehicles.
Swiss Hospitality
PrivatAir Inc. is a leading business aviation group with headquarters in Geneva and operating bases in Düsseldorf, Hamburg and Munich, at Le Bourget Airport in Paris, and in several locations across the U.S. such as Teterboro Airport in New Jersey. The company has been in operation for 25 years, currently flies a fleet of 50 aircraft, and employs over 400 people.

Steve Riggs, senior vice president of aircraft sales and management at PrivatAir, said that when a jet is still within its warranty period, an effort is always made to get it back to the manufacturer's authorized service center. Of course, that's not always possible.
Four times out of five, the work gets done by an authorized service center, Riggs said. "In a rare instance when it's an aircraft on ground, some allowance might be made for the operator to use outside maintenance personnel," he noted. "But that's usually an exception."
PrivatAir flies a diverse mix of Learjets, Gulfstreams, and Challengers as well as small turboprops such as the five-seater King Air 90 and large passenger jets such as the Boeing 757, the Boeing Business Jet, and the Airbus A319. Riggs said he finds the warranty policies of each OEM to be more or less comparable. The differences are more noticeable between different classes of product. The airframe warranties are always the longest, and the warranties on the interiors of the cabins are always the shortest. In between are the avionics and engine warranties.
If three years is the rule of thumb in jetliner warranties, five years is the average among corporate jets. However, some of the interiors have only two-year warranties, as do some of the avionics. Some of the warranties, for instance those that cover corrosion of the fuselage, can extend for decades. As is typical in the commercial jet world, many of the business jet engines are put onto "Power by the Hour" multi-year service plans that cover all repair and maintenance costs and make warranty claims unnecessary.
Riggs said PrivatAir employs what the company calls maintenance coordinators. "They will perform some light maintenance, of line replaceable units, changing a wheel or a tire, and routine inspections," he said, "but when an airplane needs to undergo a detailed inspection, PrivatAir does not perform that." Very often, the maintenance coordinator has the plane brought back to the manufacturer or its designated authorized service center.
The actual paperwork for a warranty claim is done by PrivatAir when the warranty work is done by a maintenance organization outside of the manufacturer's network of authorized service center. If the manufacturer itself or one of its authorized service centers does the warranty work, they also handle all the paperwork related to the claim.
Boeing Business Jets
The Boeing Business Jet is essentially a Boeing 737-700 configured for the private aviation industry. The new and improved BBJ2 is a Boeing 737-800 -- more floor space and more cargo room than the original model. In the BBJ, the ceilings are seven feet high and the space available for the passenger cabins measures roughly 11.6 by 79.2 feet. The BBJ2's passenger cabins can be as long as 98.4 feet. Many cabins are laid out to include a full dining room/conference room table, plus a private bedroom with a shower. So these are more like flying office suites, restaurants, and hotel rooms than they are passenger airplanes.

Boeing Business Jets is a joint venture announced in July, 1996 by Boeing and General Electric. BBJ is a sales, marketing, and support organization. But it doesn't build the actual planes or the engines. The Boeing Commercial Airplane Group makes the airframes, and GE Aircraft Engines makes the engines. BBJ buys them and sells business jets.
Because GE Aircraft Engines is Boeing's partner in the BBJ program, in this case the engine warranties are included with the airframe warranties. Elsewhere in the Boeing product line, engine and airframe warranties are provided separately by each vendor to the buyer.
These are top-of-the-line business jets, able to fly a few dozen executives in first-class luxury over routes as long as Los Angeles to Paris, New York to Buenos Aires, or London to Johannesburg. In fact, South African President Thabo Mbeki flies around the world in a BBJ.
The first BBJ flights took place at the end of 1998. In a 1999 Seattle Times article entitled "Boeing Business Jets: a different way to fly," reporter Stanley Holmes wrote about the epoch-marking appearance of the Boeing Business Jet in the Neiman Marcus Christmas catalog. The price back then was only $36 million, compared to today's BBJ2, which tops out at $53 million.
Holmes also wrote of how the BBJ program became an early hit. In less than three years, Boeing took orders for 56 BBJ jetliners and delivered 30 of them to customers. As of February 2004, that total had increased to 71 delivered.
Each of the major timesharing and corporate charter jet operators fly a few BBJs. PrivatAir has three. NetJets Inc. has five in operation, with options to buy more.
Authorized Service Centers
Kurt Amundsen, director of product support for the BBJ program, said Boeing has contracted with five companies to act as authorized service centers for warranty work on the jets. They are:
The first relationships with these authorized service centers were set up in 2001. In the initial years of the BBJ program, Boeing thought corporate jet owners would have more of the do-it-yourself spirit of the airlines when it came to maintenance and repairs. That has proven not to be the case, and so Boeing has courted these five as regional "truck stops" for the BBJ fleet. The contract with Alsalam, the most recent of the five to join, was announced at the end of 2003.
The Boeing Business Jet unit was set up, Amundsen said, "to make sure our customers are treated special, because they do have different needs than the operators that have the purchasing departments and the engineering departments. Our guys don't. We even have one customer where the director of maintenance and the flight attendant are the same person."
Normally, a BBJ operator would take their jet to the nearest of these service centers, where Boeing has negotiated to pay all the parts and labor charges for warranty work. If that's not possible, the operator can approach an airline that flies 737 jets or an independent service center that stocks spare parts for them. In these cases, however, Boeing is not likely to foot the entire bill for parts and labor, as it would if the warranty work were done at a BBJ authorized service center.
"We also offer a component exchange program," Amundsen added. "And that's so they don't have to provision and buy spare parts to put on the shelf like the airlines do. So we have spare parts in Seattle, Amsterdam, and Dubai. A Boeing commercial operator would have to buy into the program, but our BBJ operators get the service free during the warranty period."
Don't Leave Home Without It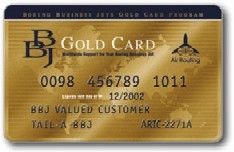 There's also such a thing as a BBJ Gold Card, which acts as a credit card not only for all repairs, but also for fuel purchases, flight planning, weather briefs, overflight/landing permits, security, transportation, communications and other services. Since the Gold Card program was launched in September 1999, BBJ operators have needed only to present their cards to make a purchase from vendors such as Airfuel International L.P., Air Routing Card Services L.P., or the Delta Air Lines Technical Operations Division. In an emergency, the card acts as "roadside assistance" service for items such as a tire change. But it is not restricted to warranty work.
The airframe, engines, and components on most commercial jetliners sold to airlines are typically covered by 36-month warranties, with coverage on some components extended to 48 months. In contrast, the BBJ carries a 60-month/5,000-flight-hour warranty on the airframe and parts, with 20-year protection against corrosion, cracks, etc. The engines are covered by a 60-month/2,500-hour warranty. The avionics are typically covered by 48-month warranties, although some components get a 60-month coverage period.
Amundsen said there are two reasons for the longer coverages. First, a business jet is unlikely to be used as heavily as a commercial airliner, even if the operator is a timesharing service. Second, Boeing sells the BBJ jets with unfinished interiors, and it can take up to a year for all the furnishings to be installed.
"When we sell the airplane, we sell it 'green,'" Amundsen said. "And then the customers go to their own completion center that they have an agreement with, and the interiors are installed at that time. But we don't cover any of the VIP interiors."
BBJ Completion Centers
BBJ completion centers such as Associated Air Center, a subsidiary of Piedmont Hawthorne Holdings Inc., provide warranties on the interiors ranging from 24 to 36 months. But there is nothing uniform or standard about the cabin configurations. All is left to the taste of the jet operator. Some want a basic layout for lots of passengers to travel in first class-like comfort. Others want queen beds in the state room and recliners in the conference room, and showers in both.
Amundsen said this is one reason Boeing and others have stayed out of the interiors business. It's a process that's less about manufacturing and is more about design. Every job is a one-off custom installation that can take nine months to a year to complete. It's a business best left to the high end furniture and design experts. One need only look at a few sample BBJ interiors to see how opulent these jets can get.
A BBJ operated by Flight Management (Charter) Ltd. has something of a basic layout, featuring four-across seating for 28 plus a private bedroom and bathroom.
A 2000 BBJ recently offered for sale by Wings Aviation International Inc. featured a dining room for six, a lounge, a private office, a passenger toilet with shower, plus a queen bed with its own VIP toilet and shower. Photographs of the interior of a BBJ finished for NetJets by Lufthansa Technik are on display on the Boeing Web site. It features a lounge, office, and bedroom along with a wine rack and an espresso machine. Besides the expensive furniture and furnishings, these jets also are equipped with satellite TV, email, and Internet connectivity.
Warranty Claims & Accruals
Boeing just last week filed its Form 10-K annual report with the U.S. Securities and Exchange Commission, in which it disclosed warranty claims totaling $250 million for all of 2003. Warranty accruals, meanwhile, were $155 million, plus there was a $22 million upwards change of estimate for pre-existing warranties. All told, Boeing's warranty reserve fund contracted slightly from $898 million at the beginning of the year to $825 million at the end of the year.
Warranty claims as a percent of revenue takes some explaining. During past quarterly reports, Warranty Week computed this ratio based upon all product sales. But after some advice from readers, we're changing the formula to include just commercial aviation products. This has the effect of nearly doubling the claims rate, because the same amount of warranty expenditures are spread over only half as much revenue.
Boeing Co.
Warranty Claims in 2003
Source: Warranty Week
Still, as can be seen in the chart above, even after recalculating with a new denominator, Boeing's claims rates would hardly set off any alarm bells among manufacturers. The rate remained between 1.1% and 1.3% all of last year. Accruals, meanwhile, remained within a tight range of 0.7% and 1.0%. We would suggest that these are in the typical range for airframe producers. For instance, Embraer Brazilian Aviation Co. has a claims rate of 0.9%. If Bombardier Inc. and Airbus reported their financials to the SEC, their warranty experience would likely be in the same range.
For all manufacturers, anything between 1% and 5% for either the claims or accrual rate is typical and "normal," if such a term can be applied across a diverse array of everything from farm equipment to dental lasers. Automotive warranties, it can be said, are normally within the 2% to 3% of revenue range. Computer warranties tend higher than that, while air conditioning warranties tend lower. But what's "normal" just for aviation products? Though most of the 80 or so aerospace manufacturers are in that same range of 1% to 5%, for several reasons it is difficult to arrive at a "typical" warranty claims rate for the aerospace industry.
First, many of the largest firms are major defense contractors, and much of their military products are sold without warranties. For instance, Lockheed Martin Corp. and Northrop Grumman Corp. have not reported any warranty expenditures for 2003, despite almost $20 billion in sales, because so little of their revenue is non-military. Gulfstream Aerospace Corp. is a significant player in business jets, but its parent company General Dynamics Corp. is more famous for its submarines. By revenue, even Boeing is now 55% defense and 45% commercial aviation -- sadly because the same chain of events that knocked the wind out of civilian air travel spurred an unprecedented rise in military procurement.
Second, a good number of the other major contractors are only partially aerospace companies, for instance United Technologies and General Electric. United Technologies has Pratt & Whitney, Hamilton Sundstrand, and Sikorsky Aircraft, but it also has an elevator and an air conditioning line of business, not to mention fuel cells and electrical power equipment. At GE, aircraft engines comprised less than 8% of sales in 2003, even though GE is one of the largest aircraft engine producers. Though both companies report significant warranty expenditures, it is difficult to isolate just their aviation warranties from the overall totals.
Rockwell Collins Inc. is one of the few "pure play" aviation equipment manufacturers. It produces communications gear for both military and civilian aviation, as well as in-flight entertainment systems, navigation equipment, landing gear, and other avionics and on-board electronic systems. Virtually all of its products are for airplanes. One of its most famous products is the Airshow -- those topographical maps that show the altitude, speed and position of the plane during a long flight.
Product revenue for the fiscal year ended in Sept. 2003 was $2.2 billion, while warranty claims were $59 million and accruals were $52 million. During the first quarter of its fiscal year, claims fell to 2.4% of product revenue while accruals rose to 3.1%. Claims have been falling all year, while accruals have risen.
Rockwell Collins Inc.
Warranty Claims in 2003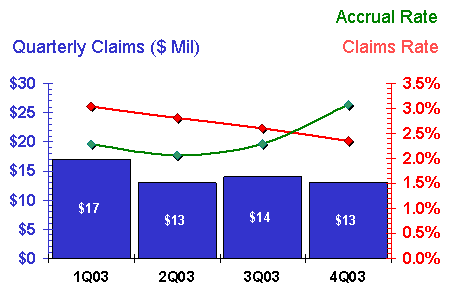 Source: Warranty Week
In the chart above, the red line represents the claims rate and the green line represents accruals. The blue bars represent claims in US$ millions. As the chart shows, warranty claims in dollar terms have been rather steady for nine months though the claims rate has crept downwards at a rather constant rate of 0.2% per quarter. This is a sure sign that sales are increasing while claims are not.
This, we suggest, is a representative "typical" company when it comes to avionics warranties: claims and accruals in the 2% to 3% range. That's a bit higher than the airframe companies, but is in keeping with the experience of information technology, broadcasting, and network equipment manufacturers. We're still working on a representative aircraft engine manufacturer's warranty experience. United Technologies is around 2% while GE is closer to 4%, but both have more diverse product lines than engines alone.
Last week's newsletter detailed warranty in the commercial jetliner industry. In some ways, the way the airlines process warranties is somewhat analogous to the way fleet operators process truck warranty claims. The chassis, engine, and transmissions carry separate warranties, and the fleet owner may do much of the repair work themselves.
This week, the spotlight was on business jets. These products process warranties somewhat like luxury cars. Though it's not quite "bumper to bumper" coverage, the OEMs try to make it easy for a corporate jet owner to get their planes serviced. The owners are not expected to do their own repairs, nor are they expected to have their own spare parts in the garage. And while an airport hangar is no neighborhood filling station, the pumps do accept credit cards.