June 15, 2004
Declining Warranty Claims:
In both dollar amounts and as a percentage of product sales, warranty claims took a steep dive during the first quarter of 2004. Was it caused by cyclical factors? Was it due to rising sales? Or has there been a product quality improvement?
With warranty data in hand for some 700 manufacturers (and more importantly, no data from only 40 manufacturers), it's time to make a statement that could be somewhat shocking. In both dollar terms and percentage terms, warranty expenditures during the first calendar quarter of 2004 actually fell from the levels seen in the second half of 2003.
Compared to the first quarter of 2003, the first quarter of 2004 saw claims rise in dollar terms but fall in percentage-of-sales terms. Compared to the fourth quarter of 2003, however, claims were down 3.5% in dollar terms, and the claims rate as a percentage of sales fell from 1.83% to 1.62%. All of last year, the claims rate for all manufacturers remained in a tight range between 1.83% and 1.86%. So what made it suddenly fall in the early months of this year?
There are numerous explanations, some of which probably contributed to the outcome more than others. First, of course, is the possibility that warranty expenses are highly cyclical -- dependent on the season, buying patterns close to the holidays, corporate budgets loosening up in the new year, and other factors. Second is the possibility that what we're seeing is the result of an economic recovery -- a statistical change caused by rapid and recent increases in sales. Third is the possibility that manufacturers are getting better at manufacturing high-quality products and more efficient at warranty claims processing.
Incorrect or Incomplete?
First, let's look at the overall trend. We've avoided mention of a warranty claims total for the past four weeks because frankly we suspected that the data was either incorrect or incomplete. Numerous companies weren't due to file their financial statements with the U.S. Securities and Exchange Commission until June, so perhaps the trend we saw in May was related to these late filers not being included? Well, we can discard that theory. In the past few weeks, most of those late filers have sent in their statements to the SEC, leaving only 42 companies that are either expected to file later this month, or are having some accounting problems that have made them miss their deadlines.
Among the larger warranty providers we're still waiting for are Clinical Data Inc.; Communications & Power Industries Holding Corp.; Exide Technologies; J.B. Poindexter and Co. Inc.; Printronix Inc.; RBS Global Inc.; Schick Technologies Inc.; Tegal Corp.; Therma-Wave Inc.; and ViaSat Inc. Warranty providers well past their filing deadlines include American Plumbing & Mechanical Inc.; Continental Global Group Inc.; DT Industries Inc.; Flowserve Corp.; Frankfort Tower Industries Inc.; Glas-Aire Industries Group Ltd.; Goodyear Tire & Rubber Co.; Huffy Corp.; Lennox International Inc.; and Nortel Networks Corp. Of these, only eight have ever reported more than $1 million in claims during any previous quarter, so it's a good bet that none of them will alter the overall trend by much once they do report.
There is always the possibility that the data is wrong. As the saying goes, a billion here, a billion there, and pretty soon you're talking about some serious money. While it's possible there's a glitch somewhere in the data, what's more likely is that one or more of the estimates we've made are very wrong. For instance, when a company reports their warranty expenses just once a year, we divide the data by four and spread it out equally over the previous four quarters. When a company is late, we insert a placeholder estimate based on an average of previous quarters. Perhaps these practices have caused some errors to creep in? But wouldn't such an error tend to flatten out the curves rather than amplify them?
Therefore, if the data isn't either incomplete or incorrect, an actual manufacturing trend must be causing this sudden drop-off in claims. But is it tied to the economic recovery, is it seasonal, or is it a sign of a recent quality boost? Let's take these possibilities in order.
Around 776 U.S.-based manufacturers have over the past 15 months reported at least once upon their warranty expenditures. Around 613 made all five required quarterly reports, and 23 made just one annual report. Of the rest, we're waiting for 42 to file, 57 have only partially disclosed their warranty expenditures (beginning and ending balances only, etc.), and 41 have either merged, gone private, or gone out of business since Jan. 1, 2003.
Sales Gains
Product sales for these 776 warranty-reporting manufacturers totaled $314.9 billion during the first quarter of 2003 and $366.2 billion during the first quarter of 2004, representing a 16.3% sales gain for the year. That in itself is incredible, but it looks to be correct. More than 76% of manufacturers saw an increase in product sales revenue over that period. In fact, around 15% saw product sales gains above 50%. Among the larger warranty providers seeing gains of 50% or more were Advanced Energy Industries Inc.; Bruker Daltonics Corp.; Credence Systems Corp.; Gardner Denver Inc.; Harris Corp.; L-3 Communications Holdings Inc.; Masco Corp.; Standard Motor Products Inc.; UTStarcom Inc.; and William Lyon Homes.
Figure 1
Manufacturing Sales Revenue
First Quarter 2003 to First Quarter 2004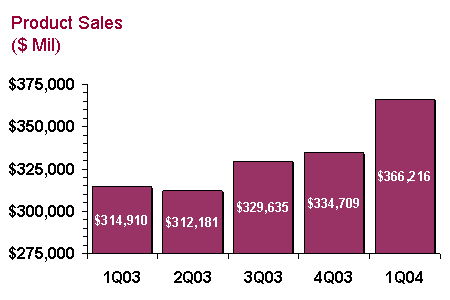 Source: Warranty Week from SEC data
Only 23% of manufacturers saw product revenue fall, and 1% saw it remain more or less unchanged. Among the companies with product sales declines of 20% or more were 3Com Corp.; Avaya Inc.; Cavalier Homes Inc.; Fortune Brands Inc.; Graco Inc.; InVision Technologies Inc.; Iomega Corp.; Mattson Technology Inc.; Midas Inc.; and Varian Medical Systems Inc. The biggest decline of all came from Arvida/JMB Partners L.P., which saw home sales revenue fall from $11.7 million in 2003 to $0 in 2004 -- a clean 100% decline.
Remember, these figures reflect warranted hardware product revenue only, and exclude as much service, finance, and software revenue as the companies are willing to disclose. It also excludes all manufacturers who either do not issue product warranties on the goods they sell, or who failed to disclose the activities of their warranty programs.
Increased Claims
Warranty claims for all U.S.-based manufacturers totaled $5.8 billion during the first quarter of 2003 and $5.9 billion during the first quarter of 2004, representing a slim 2.2% increase. Around 45% of manufacturers saw claims increase in dollar terms, while 41% saw claims fall. Another 8% saw claims remain the same, and 6% reported $0 in claims during the first quarter of either 2003 or 2004, making percentage change calculations impossible.
Figure 2
Product Warranty Claims
First Quarter 2003 to First Quarter 2004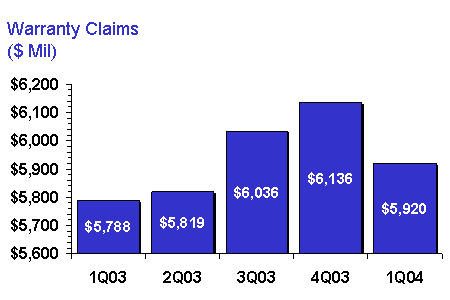 Source: Warranty Week from SEC data
A hundred companies saw claims more than double. Only eight of those also saw sales at least double, meaning the rest saw claims rising faster than sales. Among the larger companies who saw a doubling of claims in dollar terms were Coherent Inc.; Cymer Inc.; DRS Technologies Inc.; JDS Uniphase Corp.; Lear Corp.; Lennar Corp.; Mattson Technology Inc.; PerkinElmer Inc.; Raytheon Co.; and Visteon Corp.
Around 143 companies saw claims fall by half or more. Among the larger companies who saw this happen were American Power Conversion Corp.; AutoZone Inc.; Gateway Inc.; Goodrich Corp.; Harman International Industries Inc.; Hillenbrand Industries Inc.; InVision Technologies Inc.; Lucent Technologies; Tenneco Automotive Inc.; and Westinghouse Air Brake Technologies Corp. Of these ten, only Lucent also saw sales fall, and they fell only slightly. This means that for the rest, the claims rate also declined.
Claims Rates
The claims rate, computed by dividing warranty claims by product revenue, fell from 1.8% in the first quarter of 2003 to 1.6% during the same period in 2004. The question is why. As has been shown, product sales have indeed risen quickly over the past year, but that explains just part of the change. Warranty claims also fell in dollar terms, meaning that had there been no change in sales at all, this percentage would have fallen anyhow.
Figure 3
Product Warranty Claims Rate
First Quarter 2003 to First Quarter 2004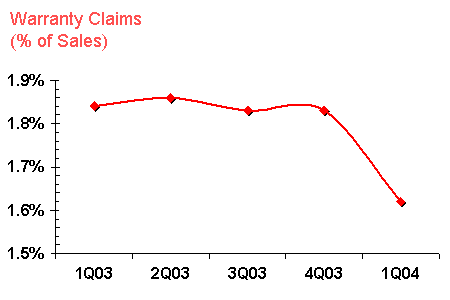 Source: Warranty Week from SEC data
What's striking about this chart is how stable the claims rate was throughout 2003. If it rose and fall all year, we probably wouldn't have any qualms about reporting the latest decline. But as the chart shows, claims remained more or less close to 1.8% of sales for four consecutive quarters before falling.
Traditionally, there is always a lag between when a product is sold and when a warranty claim is likely. For products carrying a 90-day warranty, all the claims arising from a given day's sales will fall into either the current or the following quarter. For products carrying multi-year warranties, claims will occur over multiple subsequent quarters. The point is, this chart would benefit from a time shifting that correlates revenue and claims on a given day's sales. In other words, for companies with 90-day warranties, the data should be time- shifted one quarter, and for companies with one-year warranties, the data should be time-shifted four quarters. The problem is, with more than 700 manufacturers in at least 20 different industries -- some of them in several industries at once -- such a procedure is highly likely to introduce even more inaccuracies.
Seasonal Factors
In a further search for seasonality, manufacturers were divided into 20 different product sectors, and the same calculations of claims divided by sales were performed again. We'll present one of those industry groupings now, and more next week. Suffice it to say that of the 20, only six showed any degree of seasonality, and none did so convincingly. The chart we'll show you now is the one for automotive OEMs: the makers of passenger cars, buses, trucks, recreational vehicles, ambulances, fire trucks, motorcycles, and other final assemblers of vehicles.
Figure 4
Auto OEM Warranty Claims Rates
First Quarter 2003 to First Quarter 2004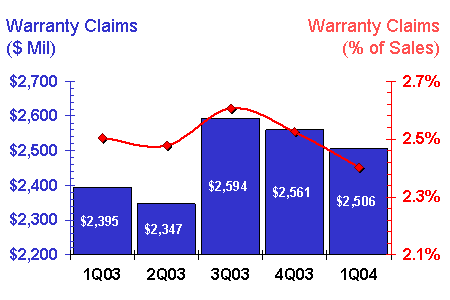 Source: Warranty Week from SEC data
The companies included in this chart represent around 42-43% of the overall warranty industry, so if there is a seasonality to overall claims, it would show up here. One would intuitively expect the most problems to arise during the hottest and coldest months. Indeed, claims did peak last summer and have been falling ever since. If it turns out that they fell again when the second quarter of 2004 reports become available in three months, and if they once again turn upwards this summer during the third quarter, then yes, that will prove that at least automotive warranty claims fluctuate seasonally.
Quality Gains?
However, what this chart also could suggest is that automotive warranty claims are on a downward trend because the vehicles are less prone to problems. Anecdotally, this theory is supported by numerous quality surveys that have measured recent quality gains by General Motors and Ford. It could be a little of both: claims are seasonal, and quality is increasing. What's needed is more data, perhaps two or more full years' worth, before the trend becomes clear.