August 24, 2004
Computer Warranty Claims & Accruals:
The companies whose brand names go on the front of the computer continue to pay the lion's share of warranty claims. Makers of disk drives, printed circuits, semiconductors, and most types of peripherals see a significantly smaller share of warranty claims.
It's been more than seven months since Warranty Week provided a spotlight on warranty claims and accruals in the computer industry. The issue of Jan. 12, 2004 included data on the first three quarters of 2003, which we will now update with an additional set of data points, carrying us through the midpoint of 2004.
The trend seen in past analyses of the computer industry continues, namely, the major OEMs continue to pay a higher share of their product revenue in claims, and they continue to put aside a higher percentage of their revenue as warranty accruals. In fact, the gap is widening. During the first quarter of 2004, the gap between the claims rates of data storage system manufacturers and computer manufacturers was about 0.7%, with data storage at 2.3% and computer OEMs at 3.0%. During the second quarter, data storage manufacturers as a group saw their claims rate drop to 2.2%, while computer OEMs saw their claims rate rise to 3.2%. So the gap is now 1.0%.
Warranty Week is currently tracking 214 companies that are primarily manufacturers of computers, data storage systems, peripherals, printed circuits, semiconductors, and other computer parts. Most are reporting their warranty claims and accruals on a quarterly basis, although a handful are non-compliant with portions of the FASB FIN 45 rules governing warranty disclosures. We're also tracking an additional 35 computer industry manufacturers who we suspect are issuing product warranties but are completely disregarding FIN 45 disclosure requirements.
Figures were obtained from each manufacturer's Form 10-Q and 10-K statements for product revenue (total revenue minus service, finance, licensing, royalty, and other non-warranted revenue sources), warranty claims, and warranty accruals. In the charts that follow, warranty claims are expressed in both dollars and percent of product revenue, while warranty accruals are expressed only as a percent of product revenue. When we say the claims rate is 2%, what we mean is that $2 out of every $100 in hardware revenue is spent honoring warranty claims.
Still to Come
Readers should note that several major players in the computer industry are on fiscal years ending on June 30, which means their annual warranty expenditure figures will not become available until they file their Form 10-K reports with the U.S. Securities and Exchange Commission towards the end of September. For these companies -- Sun Microsystems Inc.; Western Digital Corp.; KLA-Tencor Corp.; Harman International Industries Inc.; Lam Research Corp.; Silicon Graphics Inc.; and 19 others -- we are using placeholder estimates based on past reports of quarterly claims and accruals. When the actual figures become available in five or six weeks, the online edition of this report will be updated.
As can be seen in Figure 1, the claims rates for different components of the computer vary widely. The claims rate for peripherals is lowest, in a 1.0% to 1.2% range. This is the case despite the inclusion of several printer manufacturers in the group who more typically see claims rates in the 8% to 11% range. Without their weight, the claims rate for the remaining peripherals might be even lower.
Figure 1
Computer Industry
OEMs vs. Suppliers
Warranty Claims Rates,
First Quarter 2003 to Second Quarter 2004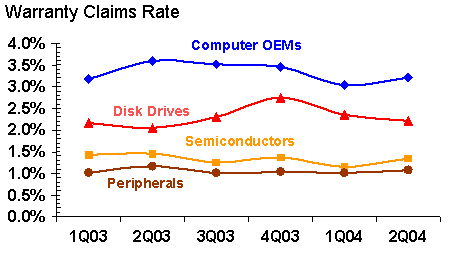 Source: Warranty Week from SEC data
Next lowest are the makers of printed circuits and semiconductors, represented by the orange line. As a group, their claims rates are generally within a range of 1.25% to 1.45%. But there are actually three distinct sub-groups within this category. Semiconductors see the lowest claims rates of all (AMD is now under 0.5%). Printed circuit makers see a slightly higher claims rate, while the makers of the semiconductor production machinery see the highest rates of all (Novellus is at 5.0%).
Data storage manufacturers, represented by the red line, generally see claims rates in the 2.0% to 2.4% range, though as a group they saw that rate spike to 2.75% during the fourth quarter of 2003. This group is comprised of manufacturers of magnetic disks (hard drives), optical disks (CD, DVD, etc.), removable disks (Zip, floppy), and other types of data storage such as flash memory and tape.
Computer OEMs Highest of All
The computer manufacturers, meanwhile, generally see claims rates in a range of 3.0% to 3.5% (although Dell and IBM are slightly below and HP and Sun are slightly above that band). This data series is repeated in Figure 2, though we apologize for the color change of the line for claims rates from blue to red. It's the same data.
By the way, Figure 1 has been updated from the original, which first appeared in the June 2 edition of Warranty Week. While most of the data is the same as three months ago, some of the averages have shifted slightly because a few newly-FASB-compliant manufacturers have filled in the blanks with their year-ago reports, while others are catching up on their late 10-Q and 10-K filings. Also, once Sun, Western Digital and others file their fiscal year reports, the end point of the blue and red lines in Figure 1 are likely to shift yet again, depending upon whether their latest warranty expenditures are above or below their 15-month average.
Figure 2
Computer OEMs
Warranty Claims Rates,
First Quarter 2003 to Second Quarter 2004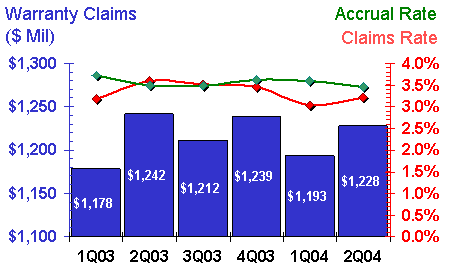 Source: Warranty Week from SEC data
The green line represents warranty accruals -- the amount added to the warranty reserve fund to replenish funds expended on claims. We provide both because while claims are historical, accrual rates represent management's best guess of future claims rates. Also, accrual rates should more accurately express the percent of revenue involved in warranty. While claims usually arise from sales made in past quarters, accruals are a percent of current sales. When the lines diverge, it usually represents either a change in revenue or a change in product quality (although sometimes it reflects an attempt to manipulate earnings through over- or under-accruals).
As seen in Figure 2, computer OEMs as a group reported the most claims in the second quarter of 2003 (blue bars). This coincided with their highest claims rate (3.6%, red line), though their accrual rates were higher than 3.6% both before and after that quarter. During the most recent two quarters, claims rates have been below the 2003 average, while accruals have remained more or less constant in a tight 3.5% to 3.6% range.
Data Storage Peaks and Valleys
There is quite a bit more variance in the data storage figures contained in Figure 3. As the chart shows, claims in dollars and percent along with accruals in percent peaked during the fourth quarter of 2003, and have been on a downward slope ever since. During that quarter, Maxtor was at a claims level almost twice its historical average, EMC and Western Digital were slightly above average, and Seagate, StorageTek, and Quantum were slightly below average. In other words, the bump in the chart below is almost entirely caused by Maxtor's one-quarter hiccup.
Figure 3
Computer Data Storage Suppliers
Warranty Claims Rates,
First Quarter 2003 to Second Quarter 2004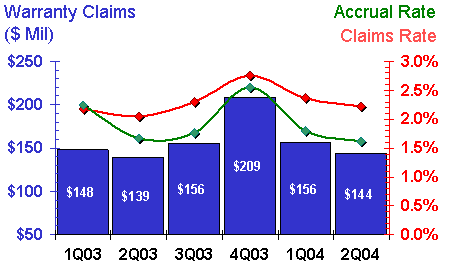 Source: Warranty Week from SEC data
Semiconductor and printed circuit board manufacturers as a group see claims and accrual rates in a band of 1.2% to 1.5%, although claims rates briefly dropped below this band during the first quarter of 2004. This category is a jumble of components, some of which are sold with product warranties and some of which are sold "as-is" without any warranties. Furthermore, some semiconductor manufacturers process warranty claims without the benefit of warranty reserve funds, much like the software vendors. When a product tests bad, it is replaced with another, or the customer is issued a credit. The expense is added to the cost of sales, but it is not processed through a warranty fund.
Those who use a warranty reserve, such as AMD and Cypress Semiconductor, generally see claims and accrual rates under 1%. We suspect that those who don't use a reserve fund, claims, or accruals experience a similar failure rate. But they simply expense it immediately, and their profit margins are large enough that it doesn't matter all that much. However, if they ever have a manufacturing crisis, where not 1% but 10% or 30% of their chips are bad, it will cause an immediate hit to earnings.
Figure 4
Printed Circuits & Semiconductors
Warranty Claims Rates,
First Quarter 2003 to Second Quarter 2004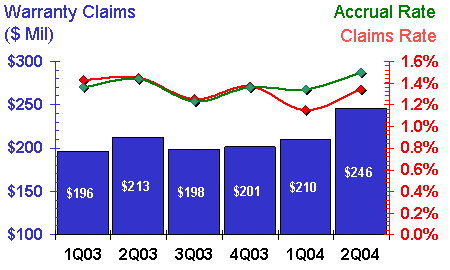 Source: Warranty Week from SEC data
As mentioned, printed circuit board makers see a slightly higher claims rate while the makers of the wafer etching and production machinery sometimes see claims rates at 4% or 5%. In effect, what the semi manufacturers have done in their quest for zero defects is transferred the expense of warranty to their suppliers: the makers of the production machinery. While AMD spends only 44 cents out of every $100 in product revenue on warranty claims, Novellus spends more than ten times as much.
The "Other" Category
Finally, there are the peripheral suppliers. Quite a few of the major peripheral manufacturers such as HP are counted in other categories, however, so this grouping of 65 companies is far from representative of the industry. This is the home of the "pure play" printer manufacturers such as Lexmark, as well as office machinery makers such as Xerox, specialized terminal makers such as NCR and Diebold, and battery makers such as Exide. It also includes the security devices of RSA, the bar code scanners of Symbol Technologies, and the PC speaker systems of Harman International. With such a cross-section of devices and manufacturers, it's no wonder the claims and accrual rates oscillate between 0.9% and 1.2%.
Figure 5
Computer Peripheral Suppliers
Warranty Claims Rates,
First Quarter 2003 to Second Quarter 2004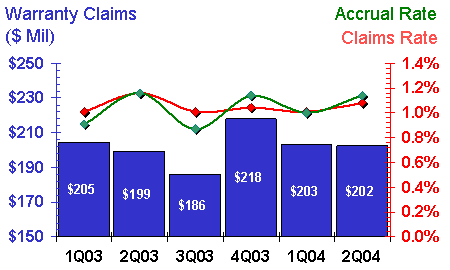 Source: Warranty Week from SEC data
The variance among the individual vendors is even more dramatic. Tektronix most recently saw its claims and accrual rates at 1.2% of revenue. Lexmark is now seeing a 12.7% accrual rate, and that's down from 14.4% a year ago. One reason is that more or less all of the Tektronix revenue stream consists of warranted product sales, while Lexmark makes a sizeable (60%) portion of its sales on printer ribbons, toner, and other supplies. Therefore, the printer business model can support higher claims rates, because the initial (warranted) hardware sale is merely the gateway to the more lucrative aftermarket.
In other words, the printer business model can easily support warranty claims and accrual rates north of 10% because they are a means to an end, not an end in themselves. However, there are numerous other computer component manufacturers with claims and/or accrual rates between 4% and 8%, and that we do not believe is sustainable. They must get their claims and accrual rates below 4%, if for no other reason because their competitors already have. Seagate can offer five-year warranties because their claims rate is at 2.3% -- lower than several major competitors. If that translates as expected into a market share boost, then those poor competitors will have to pay claims with a shrinking supply of revenue.