October 13, 2004
Home Warranties:
Three decades ago, American Home Shield, now part of ServiceMaster, invented a new category of extended warranties, covering the major systems and appliances in a home but not the home itself.
Somewhere between the warranty issued by a builder and the homeowner's policy sold by an insurance company lies a home warranty. It's not an insurance policy and it's not actually even a warranty on the home. Instead, it's a service contract sold for certain systems within the home such as the heating and plumbing, and also sometimes appliances such as refrigerators and washing machines.

American Home Shield, part of the ServiceMaster Co., is both the oldest and the largest player in the home warranty industry. Launched in California in 1971, AHS has enjoyed continued growth and high profit margins, as seems to be the case throughout the extended warranty marketplace. With AHS home warranty contracts in force in 1.2 million homes, the number of contracts grew by 5% in 2003, while dollar sales volume was up 6% to $450 million. Renewals edged up slightly last year from the 55% rate seen in 2002.
But exactly what is a home warranty? It's not a warranty on a home, in the sense that it doesn't cover the walls, floors, roof or foundation. And it's not like an extension of the product warranty the buyer of a new home receives from the builder, which most definitely would cover those items. In some states, it can't even be called a warranty. For instance, in Oklahoma AHS sells "home service agreements" while in Virginia it sells "home protection insurance."
Diane Pieper, AHS' manager of legal services and media relations, attempted during a phone conversation to help us work through our ignorance. "Most extended warranties are product-specific and are sold by retailers," she said, "and they typically last for multiple years. With a home warranty, what we do is warrant the major systems and appliances in a home, and we repair or replace those items should they fail due to normal wear and tear for one year. And then that warranty can usually be renewed every year thereafter."
What's Covered
"We cover heating, air conditioning, plumbing, electrical, and appliances," Pieper continued. Sometimes the coverage extends to the pump and motors installed on pools and spas or to an automatic garage door opener, but most times it extends just to what's located within the main foundation of the home. The pipes and wires that deliver water, energy, and telecom services are not covered outside the home, nor is the damage caused by broken pipes, blackouts, or power surges. Those are perils typically covered by a straight insurance policy. "We cover only things that fail due to normal wear and tear," she said.
In most states, for homeowners not currently involved in a real estate transaction, two plans are available: the "Essential" and the "Enhanced" home warranty. As the list below shows, the "Essential" plan excludes central air, the refrigerator, and the washer/dryer, while the "Enhanced" plan includes these appliances. In ballpark numbers, the "Essential" plans are priced around $320 per year while the "Enhanced" plans are about $100 to $120 more.
American Home Shield
Basic and Enhanced Home Warranties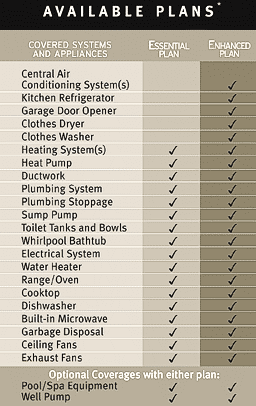 Source: AHS
Pieper said the difference between a home warranty and a homeowner's insurance policy comes down to a question of coverage. A home warranty as sold by AHS doesn't cover damage due to fire or flood, for instance, and it doesn't cover the roof, walls, floors or foundation. "We do not cover anything structural with the home," she said. This is also a difference from the builder's warranty typically issued by a construction company to the buyer of a new home, which would typically cover items such as leaky basements, drafty windows, or warped walls. And it's different from a straight maintenance contract, which typically would be sold to cover routine and scheduled tasks such as the annual cleaning of an oil burner. A home warranty covers only failures due to normal wear and tear.
Inevitably, there will be overlaps in coverage between insurance and warranty, or between warranties. In cases where an appliance is covered by either a manufacturer's product warranty or a retailer's extended warranty, American Home Shield's policy is to let those take precedence. "But some warranties cover only parts after a period of time and not the labor," Pieper said. "Then we would pick up the labor."
AHS targets primarily existing and/or resold homes for warranty policy sales, so there is a very limited overlap with the product warranties issued by the builders of new homes. Then again, there may be cases where the buyer of a new home moves out before the two-, five- or ten-year warranty is up, and its remaining years are transferred to the new owner. Transferable warranties on appliances are less common, but in these situations there also might be an overlap with an AHS home warranty.
Multiple Sales Channels
Home warranty contracts are marketed by approximately 180 AHS account executives in the field. Each account executive recruits local real estate brokers and agents who suggest a home warranty purchase to the buyers of an existing home. New contracts can be called in by phone, or with the use of a special Web site, can be entered online. Some account executives also have recruited local mortgage brokers and insurance agents who sell the policies to their clients. For this the sales agents in most states earn a "marketing fee," but that is where their involvement ends. AHS administers the policies, adjusts the claims, dispatches the repair personnel, and self-insures the warranty plan. "They're our customers," Pieper said. There's no such thing as a "dealer obligor" state for home warranties that would obligate the real estate agents in any way.
In roughly 25 states, AHS is regulated as a provider of service contracts or home protection insurance, depending upon state laws. In states such as California, Texas, Florida, and Virginia, AHS must secure a real estate or insurance license to sell the home warranty contracts. In some states, the individuals doing the selling must be licensed, while in others the company must register itself with the relevant regulators, filing sample contracts and/or rate sheets if required. In several states, AHS operates local subsidiaries to comply with state business regulations. But as with insurance and extended warranties in general, there is very little regulatory oversight at the federal level.
AHS also markets its home warranties through direct mail and telemarketing to homeowners who are not involved at the time in a purchase or refinance transaction. In its annual report, ServiceMaster states that the viability of the direct marketing channel has been impacted company-wide by the existence of various state and federal "do not call" lists, which has increased the importance of direct mail solicitations. But to this reporter's knowledge, the company has not succumbed to the temptation to use spam email as a direct marketing channel, unlike some of its peers in the auto extended warranty industry (see Warranty Week, May 27, 2003).
Making Claims
Claims can be made by phone or on the Web. Once a claim is made by a contract holder, AHS dispatches one of numerous local contractors to the home to effect a repair or replacement of the failed item. The contractor is paid primarily by AHS. The homeowner pays the contractor only a $45 service fee for each repair, even if it takes multiple visits to complete. It's up to the contractor to schedule the visit with the homeowner at a mutually-agreeable time, but it's up to AHS to monitor its contractors for timeliness and professionalism.
"We try to monitor all the contractors that do business with American Home Shield," Pieper said. "They send in pictures of their technicians and trucks. We don't mandate, but we do suggest that they be in the uniform of their company -- or at least very nicely dressed. And we survey our customers to get their input on the contractors." If there's a problem, AHS will step in to resolve it by asking the contractor to modify their dress or behavior, or by finding a different contractor to dispatch the next time a claim comes in.
If the same problem crops up again within 30 days, the homeowner won't have to pay the $45 service fee for the second attempt at repair. If the same part breaks within 90 days, the homeowner won't have to pay again either. We're almost tempted to say that repairs are warranted for 90 days on parts and 30 days on labor, but of course all these repairs were made under warranty to begin with. All that's at stake here is whether the homeowner is going to pay the $45 service fee for each return visit for a recurring problem.
As with all extended warranties, AHS home warranty contracts are sold on the promise of "peace of mind" that a competent repair crew will be dispatched promptly once a consumer makes a claim. As the company's own literature states, "home systems and appliances can be complex, but getting someone there to fix them shouldn't be." American Home Shield estimates that the typical customer uses their warranty plan an average of 2.3 times a year, covering repairs that could otherwise cost hundreds or even thousands of dollars.
Complaints do arise, most frequently over the timeliness of the repair or the cost of replacement items not covered by AHS. Many complainants conclude that they would have done better had they selected their own repairman and paid with cash, or had they tried to fix the problem themselves. Then again, the $45 service fee is there to encourage the do-it-yourself types to fix the small problems, reserving the major jobs for an AHS-selected professional. For instance, some of us know how to snake a clogged toilet, but how many of us could replace the pipes?
Familiar Brands
ServiceMaster acquired American Home Shield in 1989, adding it to its stable of service companies. Other commercial and home service companies controlled by ServiceMaster include Terminix, TruGreen ChemLawn, TruGreen LandCare, AmeriSpec, ARS Service Express, Rescue Rooter, American Mechanical Services, Merry Maids, ServiceMaster Clean, and Furniture Medic. All subsidiaries are wholly-owned by ServiceMaster, except the Terminix International Company L.P., in which Allied Bruce-Terminix Companies Inc. has a minority ownership.
American Home Shield represents a growing share of overall ServiceMaster sales, accounting for 10.6% of operating revenue in 2001 and 12.6% in 2003. AHS revenue was reported at $450 million in 2003, and while the sector's contribution to net income topped $58 million. Overall, ServiceMaster reported $3.57 billion in revenue and a $166 million net loss last year (due primarily to unrelated write-downs of goodwill taken during the third quarter). Thought the Terminix termite control operation had slightly better net margins in 2003 ($131 million net profit on $945 million in sales), the AHS home warranty sector saw both revenue and profits grow at a much faster rate.
As mentioned above, American Home Shield reported revenue of $450 million in 2003, not to mention $58 million in net income. AHS revenue so far in the first six months of 2004 is up a further 7% to $236 million, and operating income is up another 8.4% to just under $34 million. That puts AHS' net margins at an impressive 14%, though Terminix remains slightly higher ($84.7 million income on $519 million revenue in the first half of the year).
Elsewhere in the home warranty industry, information on revenue, claims, and loss ratios is much harder to come by. Most of the competition comes from small units within much larger companies that segment their revenues into only very general categories such as "specialty insurance." So it will be several weeks before we're able to size the whole pie for extended warranties sold on existing homes.
Home Sector Warranties
In terms of product warranties, claims made against the builders themselves amounted to a net $644 million in 2003, accounting for roughly 2.7% of the whole $23.8 billion product warranty pie. Warranty claims for building materials and tools added another $604 million to the home construction-related sector, along with $1.18 billion for major appliance warranty claims, and $760 million for HVAC claims (it's impossible to segment these amounts into residential vs. commercial construction, or into new vs. existing homes).
Suffice it to say that even if there were three or four companies the size of American Home Shield, penetration of home warranties into the existing home sector would still be in single-digit percentages. The attachment rate for home warranties purchased with and for an existing home is approaching 90% in states such as California, but it's drastically lower in areas such as the Northeast. Even allowing for households located in cities (such as New York) where AHS does not currently offer service contracts, and even after subtracting all multi-tenant high-rise and rental apartments from the available pool of housing units, it is safe to say that home warranties in general have plenty of room for growth.
---
Free Passes Available for the
BetterManagement Live Conference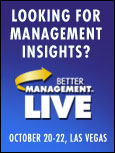 Later this month, Warranty Week editor Eric Arnum will travel to the BetterManagement Live Worldwide Business Conference in Las Vegas to deliver a presentation entitled, "Warranty Work: An Overlooked $25 Billion Industry." The presentation is scheduled for Friday, October 22, from 9:30am to 10:30am, on the third and final day of the conference.
As part of the Manufacturing Track at the BetterManagement Live conference, the presentation will help attendees:
Understand the importance of warranty to the manufacturing and sales processes;


Review typical warranty costs across industries including computers, aerospace, automotive, and HVAC; and


Gain insights into the adequacy and importance of the warranty reserve.
Registration for the conference is normally priced at $1,050 to $1,100, but through the good graces of the SAS Institute Inc., a limited number of free passes are being made available to subscribers of Warranty Week. Please click here for details of the offer or contact SAS at +1 (866) 680-7118 before October 15 to secure your free pass for BetterManagement Live.