November 3, 2004
Service Dispatch:
With home appliances, warranty work almost always involves a housecall. Claims administrator ServiceBench has turned the dispatch of service technicians into a strategic advantage.

When a major home appliance breaks down and requires a repair under warranty, usually somebody is going to come to the door to fix it. If that process is handled right, customer satisfaction can actually increase. Five years ago, the founders of ServiceBench Inc. set out to create an online service for appliance manufacturers, extended warranty administrators, and independent service providers that places dispatch at the center of the hub.
As we continue our tour of the extended warranty industry, it's becoming more apparent that the most successful service companies each have a specialty. As was detailed in the Oct. 5 issue, the strategic advantage for Magoo's Automotive Consultants Inc. was its ability to act as an independent inspection service for extended warranty administrators. In the Oct. 19 issue, we looked at the strategic advantage of NEW Customer Service Companies Inc., which is its ability to answer the phone 24-hours a day to provide enhanced customer service.
Strategic Advantage
At ServiceBench, the strategic advantage is its ability to dispatch any of thousands of independent service providers on behalf of any of several different appliance manufacturers. Michael Dering, president and CEO of ServiceBench, said any of numerous third party administrators can process a warranty claim, but ServiceBench can make sure somebody arrives at a specified time on an agreed-upon day. "Doing the rules engine and adjudicating the claim is how we got started with all our manufacturers, but dispatch is the true value for our customers," Dering said.
Each manufacturer in the ServiceBench network is in charge of authorizing the independent service providers it will allow the company to dispatch. Each manufacturer is free to remove service providers from the list should there be an incident. They're also free to establish priority rankings, ensuring that certain preferred service providers are chosen over others.
One of ServiceBench's largest customers also is one of its first. The ServiceBench network went live in the fall of 2000, with the first customers being Frigidaire for laundry, food, heating, cleaning and cooking appliances; and Shindaiwa Inc. for its line of chain saws, trimmers, edgers, blowers, and sprayers. A year later, ServiceBench signed Whirlpool Corp., and began to focus not only on claims management, but also dispatch for their independent service network.
Since then, ServiceBench has gained a few more marquee customers, including Mitsubishi Digital Electronics America Inc. and Sony Electronics Inc. for big screen TVs and home theater; and Goodman Manufacturing Co., an HVAC manufacturer that offers lifetime warranties on the compressors used in heat pumps and air conditioners. ServiceBench also now provide service dispatch and claims management for the independent service network of Sears Roebuck and Co., which sells home appliances under both its own Kenmore brand as well as under the brands of others. Besides Frigidaire, ServiceBench recently signed another unit of Electrolux AB that sells the Poulan and Weed Eater brands in Canada.
System of Record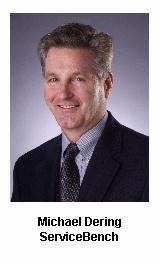 "We are the system of record for these major companies," Dering said. When the warranty professionals at these companies arrive at work, "they log into ServiceBench every day, just like they're logging into the mainframe down the hall."
What attracts these manufacturers and retailers to ServiceBench is the company's ability to not only manage claims, but also to manage the dispatch of repair personnel. When a call comes in, ServiceBench can stack-rank the available service providers based upon the type of product in question as well as the location of the repair. That way, if there is a service provider in the area who has done the exact same repair nearby, he will be chosen for the new job as well.
"We deal with over 18,000 service companies," Dering said. After the service call has been completed, ServiceBench surveys customers about the repair experience, and reports the results back to manufacturers. When choosing which service provider to dispatch, the ServiceBench clerk is looking at a screen that color-codes each available service provider. Perhaps one is available today, but an even better match is available tomorrow. "We manage that whole process for our manufacturers," he said.
The goal is to make the customer feel special. Dering said ServiceBench encourages manufacturers to treat service calls as not just a cost to be borne, but also as a kind of promotional investment. He said surveys have confirmed that customer satisfaction actually rises after a successful break-fix episode.
"If you buy a product from a company and you have no service at all, you're 40% likely to recommend that product," Dering said. "If you buy the product and you have a bad service experience, that drops down to the mid-20% range. And if you have a service experience and it's good, that jumps up to the mid-70% range."
It's obvious, Dering said, that when a customer's refrigerator or heating system breaks down that it's treated as an emergency requiring the fastest response possible. With Sony, he noted, ServiceBench provides dispatch services for high-end home theater owners, who consider it equally imperative that they get their systems fixed as soon as possible. And this is what Sony wants to be able to offer to people willing to spend thousands or even tens of thousands of dollars on a home entertainment system. "Their competitive advantage is having the best service out there," he said.
Early Days
ServiceBench co-founder and chairman John Estrada traces the company's roots back to late 1995 and early 1996. "There were three of us who founded the company: myself, Rob Baily, who is our VP of development, and Louis Rose, our VP of operations," Estrada said. "Rob and I worked for a defense contractor, and we decided that since the Cold War had ended, it was time to get out of the defense industry. We wanted to get into something more commercial."
Their first big break came from Signal Internet Technologies Inc. of Pittsburgh, developers of the SegWay Suite. That was an electronic catalog software system used by customers such as Michelin, Toro, General Nutrition Centers, General Motors' AC Delco division, and General Mills. Estrada and Baily were contracted by Signal Internet to help write software for the Michelin tire dealer network.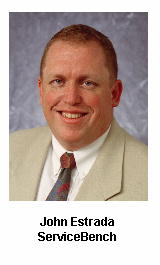 At the time, Estrada, Baily and Rose were doing business as Sideout Technologies Inc., taking their name from a term used in volleyball. Under that banner, they developed custom software for General Electric's Spacenet Division, First Data Corporation, and WorldSpace, among others. In 1998 and 1999, Sideout began to focus on warranty claims, particularly on the service aspects, and in the summer of 2000 the company renamed itself ServiceBench Inc. The headquarters was located in Fairfax, Va., and the operations center was centered across the river in Columbia, Md.
Signal Internet later sold its name to Segway LLC, makers of those odd-looking people scooters, and renamed itself Entigo Corp. After Entigo also refocused itself upon the warranty industry, it became the founding sponsor of Warranty Week.
Estrada said the ServiceBench system was designed to allow the scheduling of a service call during the initial phone call from the consumer. Instead of telling them to look in the Yellow Pages for a nearby authorized service company, or worse, giving them a list of service centers to contact themselves, ServiceBench can choose one for them and make the appointment while they're on the line.
"A lot of this is a technical communications issue," he said, which manufacturers would otherwise have to solve by themselves. "And we had built up through the claims process a technical communication with those service companies. So we provide the infrastructure to be able to connect all those organizations."
In many ways, it operates as if it was the manufacturer's own network. "We host and run the system for them," Estrada said. "But it is a system for them. This is their main business tool. Even though we're functionally keeping it running and housing the hardware, it still operationally looks to be the same sort of system, as if they had an enterprise solution installed. So day to day, it's not really all that different."
For the service providers, meanwhile, the ServiceBench network is a one-stop shop for several of their primary sources of work. Having a single place to receive dispatches from Frigidaire, Whirlpool, and Sears is advantageous to having one network for each.
Estrada said ServiceBench architected its network to ensure that each client's data is kept separate, so for instance Frigidaire can't check on the failure rate of Whirlpool. The data legally remains the property of the manufacturer, even if ServiceBench is storing it. "We've gone through numerous security and data checks by very large IT departments, and it comes through with a clean bill of health each time," he said.
The ASP Model
Back in the late 1990s, everybody was talking about application service providers (ASPs) and strategic outsourcing. Most ASPs focused on telecom services or email outsourcing, in the belief that corporations would be more than happy to subcontract the operations of these "non-core" systems. For the most part, it didn't happen, and ASPs were among the first to collapse during the dot-com bust.
ServiceBench, meanwhile, focused on the outsourcing of repair-to-manufacturer communications and dispatch services -- items that on the surface might appear to be core systems for the makers of home appliances. But their core business was really the design and manufacture of home appliances. ServiceBench believed it could do a better job with their communications networks.
The key point of differentiation, Dering said, is that ServiceBench architected a "many-to-many" network, able to connect multiple manufacturers to multiple service companies. To the manufacturer, the use of ServiceBench as a hub is more cost-effective than the creation of their own "one-to-many" network. To the service providers, the use of ServiceBench as a single hub is better than using each manufacturer's network individually.
Since most service providers do work for multiple manufacturers anyhow, the use of one central hub for all of them actually simplifies the process a bit. They don't want to log onto a different Web site for each claim and fill out a different form each time.
Having secured a major slice of the home appliance industry, ServiceBench is now looking to diversify. Dering said ServiceBench's underlying software can process warranty claims for any type of product. "Warranty processing, whether it is a jet engine or a CD player -- the same set of things has to occur," he said. "ServiceBench started off and is strongest in the appliance industry. We're very strong in the consumer electronics industry. We're now making headway into HVAC."
Dering suggested that all of the processes and applications that ServiceBench provides can cross over from one industry to another rather easily. ServiceBench proved that when it made the jump from appliances to consumer electronics a few years ago. "Now that we've had multiple successes in outdoor power equipment, food services, consumer electronics, and appliances, we are getting better-known in each of the verticals," he said.
"So we actually have a deep, wide, and high strategy," Dering added. "The wide is going from vertical to vertical. The deep is having more modules, more value-added in the process from the consumer to the manufacturer. And the high is now adding the analytics on top of the information that's coming in."
With analytics, Dering said ServiceBench now offers services to manufacturers that help them discover and correct defects faster, using the data gathered from warranty claims and service calls as an early warning system for new products or components. This might possibly compress the cycle from six months or a year to perhaps a few weeks or months.
"We do not want to be seen as just a company that processes warranty claims. We want to take that data and turn it into an intelligence for the manufacturer that helps reduce the cost."
This effort might seem to run against the interests of ServiceBench, which after all depends upon the tendency of products to break down and need service. In the long term, helping manufacturers analyze their repair call data so they can make better products that require less service cuts the need for warranty administration and dispatch. Unlike the lonely Maytag repairman, ServiceBench isn't paid to do nothing all day.
One could also suggest that highly dependable products aren't really in the long-term interest of the manufacturer. If, as many industry insiders suggest, customer satisfaction actually increases after a successful break/fix episode, manufacturers might want to think about leaving some defects uncorrected. It might one day turn into the warranty industry's equivalent of the Munchausen by Proxy Syndrome so often cited in the medical literature (not to mention all the television movies of the week).
Dering doesn't buy into that scenario. He sees a big future in warranty analytics, especially as new technologies are added to household appliances and home electronics. "There's always going to be new products coming out that are going to have a problem. We think there will always be a place for the premium software to detect problems and manage that process," he said.
---
Correction
In the Oct. 19 issue, it was incorrectly reported that NEW Customer Service Companies Inc. handled all of the manufacturer warranty work for Salton Inc., makers of the George Foreman Grill. In fact, NEW handles product warranty claims processing just for Salton's Icebox product line of Windows-enabled networked appliances. NEW does not provide warranty claims processing services for the George Foreman Grill, nor for other Salton brands such as Juiceman, Farberware, Toastmaster, or Melitta.