November 23, 2004
Warranty Outsourcing:
For one service contract administrator, discretion is a virtue. Some clients don't want anyone to know they outsource claims administration. Some don't even want their names to appear in print.
Dan Tafel, general manager of national sales at Service Net Solutions LLC, had a problem. He was asking one of his clients, a consumer electronics manufacturer, what he thought of Service Net's call center. The client didn't know his company was even doing business with Service Net. In fact, the people who answered the phone at the extended warranty call center always used his company's name, so he thought they worked for his company. The service contracts always used his company's name too, except in the fine print.

Tafel told the client to call up "his" claims administrators, who he thought were working in "his" company's call center. Meanwhile, Tafel walked down the hallway, over to the Service Net call center, and got onto the phone call himself. "Now do you believe me?" he asked the client.
To this day, Tafel is still not allowed to name the client, who prefers to maintain the façade that they administer their own service contracts in-house. But he tells the story to make the point that one of Service Net's biggest competitive advantages is this ability to disappear. Like a chameleon on a carpet, Service Net can blend in with its surroundings, so that even the client may not know it outsources extended warranty claims processing.
Service Net is a third party administrator of service contracts for clients such as Sony Electronics, Staples, Office Depot, Crutchfield, PC Mall, CDW, and Harvey Electronics. It got its first big break in 1997 with PC Connection Inc., an online and catalog retailer of computers and peripherals, and soon added several more PC retailers to its lineup. As it gained experience with PC claims, it began to sign up some of the PC manufacturers as well. Then it signed up consumer electronics manufacturers such as Sony and Philips Electronics, appliance makers such as Maytag and the Hoover Co., and HVAC companies such as Lennox, each of whom is selling extended warranties to consumers, either direct or in partnership with their dealers.
Problem Determination
Service Net started digital and went analog. This unusual history has become yet another competitive advantage for the company. Most of Service Net's competitors diversify in the opposite direction. They start with appliances, add home electronics, then make the jump into computers. Some start with automobiles, get into outdoor power equipment, and eventually also cover heating and air conditioning systems. They don't usually start with computers first.
David Schmitt, Service Net's general manager of marketing, said that the company initially focused on personal computers simply because at the time of its launch very few of its competitors were doing so. Everybody else was doing autos or home appliances. Then it found out why nobody else was doing PCs. The task of determining the problem with a PC is rarely simple, and never cheap. Sometimes it's the hardware. Sometimes it's the software. Sometimes it's the network, or it's the cables between the components. Sometimes it's not completely broken, yet it still needs a repair. For a claims administrator, the process of fixing a PC under warranty less about processing a transaction and more about diagnosing a problem. It's less about answering the phone and more about answering the question.
Other extended warranty administrators started out with autos or home appliances, where the ability to quickly authorize a repair or dispatch a truck is the key operation. Even with autos and appliances, there are some gray areas between broken and fixed, but that's not something a call center agent is expected to help the customer figure out over the phone. They're not going to help a customer fix their spin cycle or replace their own spark plugs. Instead, the call center is going to help the customer choose a professional service station that will honor their warranty or arrange for a technician to make housecall to diagnose and fix the problem.
With a PC, step one is to figure out whether there really is a warranty claim. Step two is figuring out whether the problem is in the hardware or the software. Or perhaps the problem is in the interface between multiple pieces of hardware, from multiple vendors, some of which are in and some of which are out of warranty. Lots of problems can be fixed with a simple unplugging and a restart. Imagine if automobiles worked this way. Transmission's slipping? Power steering isn't working? Shut the car off and restart the engine. Automobiles are complex pieces of machinery, but it's usually pretty clear when they're broken, and for most owners it's pretty clear that if it's broken somebody else is going to fix it. That's not always the case with PCs.
Started with PCs
Service Net started with PCs, so it started with complexity. It started with multi-vendor installations, and it started with both business and consumer installations. When it began building what came to be known as the Service Net Administration Program, or SNAP, it built in scripts that help the call center agents narrow down the cause of problems -- perhaps eliminating them entirely. So they begin with silly questions such as "is the PC plugged in?" and "is it turned on?" and then gradually work up to more complex diagnostics.
Service Net's SNAP system also asks questions about the location of the unit, because early on its designers realized that business customers frequently install their computers at one location and pay for them at another location. In fact, one service contract can cover units installed at multiple locations. This is not typical with consumer accounts, although with products such as laptops and digital cameras it's becoming increasingly common for customers to require repairs while they're traveling.
Had Service Net started seven or eight years ago by insuring washing machines or dishwashers, it might not have built a SNAP system that asked the owner "did you use detergent?" But because it started with PCs -- where no question is too stupid -- someone trying to make a claim on a Maytag extended warranty is probably going to have to answer those dumb questions before Service Net dispatches a repairman. And as home appliances and consumer electronics become more and more complex, the work Service Net did years ago on problem determination scripts will continue to pay off.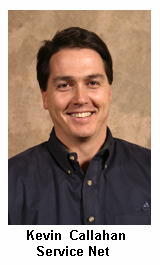 Kevin Callahan, one of the co-founders of the company, has been CEO of Service Net for about a year. Before that, he was the original president of the company, including during the brief era when the company was majority-owned by the Kemper Insurance Companies. Callahan said Service Net was originally an offshoot of a direct marketing company called Accent Marketing Services Inc., which performed database management, graphic design, fulfillment, and call center services for clients such as Sprint, Sears, Amana, and Zenith.
Accent was itself formed in 1993 by veterans of the General Electric Co., whose consumer appliance operations are still centered in the Louisville, Kentucky area. In fact, GE has roughly 7,600 employees in the state of Kentucky making everything from lamps to jet engine parts. Accent Marketing and eventually Service Net based themselves directly across the Ohio river on the Indiana side, in a city called Jeffersonville.
The first of the six co-founders to leave GE was Thomas Hansen. At the time, he was running the direct marketing and service contract business for GE. But that was the problem. It was all for GE. Other manufacturers and retailers who could have benefited from these activities might not have been comfortable signing up with an arm of GE, even if GE were open to such an arrangement. So he left GE with an aim towards providing direct marketing services to multiple clients. Some of his co-workers followed, and Accent Marketing was born. Hansen was joined by Wayne Schwertley, Tim Clark, Bob Doligale, Lansdon Robbins, and Kevin Callahan.
"And then in 1996, we had a number of these companies asking us to do service contract programs for them, rather than doing their own," Callahan said. The six co-founders decided they wanted to do it. Some of them had learned the disciplines of extended warranties while working at GE in Louisville. But Accent Marketing was a direct marketing company, so they decided to set up a wholly-owned subsidiary to take on the extended warranty activities. "They were two different businesses, so we created two different companies," he said. By 1999, Service Net was officially spun off from Accent Marketing. By 2001, Service Net was in its own headquarters, in a radically renovated factory building that was once used to assemble rail cars.
Kemper, a huge insurance company with its eye on the service contract industry, acquired 51% of Service Net at the beginning of 2001. Barely a year and a half later, in July 2003, Service Net's current management purchased that stake back from Kemper. What changed during those 18 months? Callahan said that three unrelated disasters hit Kemper, requiring it to sell assets to raise cash. First, their worker's compensation policies were hit hard by asbestos-related claims. Second, they became involved with Enron, which raised the art of book-cooking to astonishing culinary heights. And third, they insured the Archdiocese of Boston, which was hit with a string of abuse lawsuits.
By May 2003 Kemper was downgraded to C++ (Marginal) by A.M. Best. By the summer of 2003, Kemper was in what the insurance business calls "run-off mode," gradually liquidating itself while continuing to pay claims. Service Net, which hadn't really even gotten around to using Kemper for much of its underwriting activity, was scarcely affected by its parent's collapse. "Even during our time with Kemper, Service Net remained operationally independent. The leadership of the organization was here and decisions were made here," Callahan said at the time of the management buyout.
State Insurance Laws
James Mostofi, Service Net's CFO and general counsel, is also in charge of its compliance department. It's his job to make sure that Service Net is following all the state laws regarding the sale of service contracts. "The CFO generally is responsible for making sure our assets are protected and we're doing everything proper and correct," he said. "If we're not compliant, potentially we'd be subject to a fine."
Generally speaking, state insurance laws make an exception for service contracts. They are not considered to be insurance products provided that the seller satisfies certain requirements. Those requirements might include that the dealer be the obligor, that the obligor must keep a certain amount of reserves in the state, or that the risk must be insured with a carrier with a minimum rating. Other states require the dealer and/or administrators to be licensed.
"The service contract industry is regulated in many states. So if you want to have a 50-state service contract program, you have to make sure you are in compliance with all 50 state's requirements," Mostofi said. "Some states are completely unregulated. Other states require reserves, or they require the service contract to be backed by a contractual liability policy. Some states require the obligor to be the dealer or the manufacturer, or someone in the chain of distribution. Other states allow a third party to be the obligor. You just don't want to fall outside those regulations, because otherwise they'll consider the service contract an insurance product."
In many states, insurance can be sold only by licensed insurance agents. If extended warranties were to someday be regulated as insurance products, this could mean that all the cashiers and salesmen at the big box retailers would need to get themselves state insurance licenses. Which is to say that one of the primary sources of extended warranty sales would essentially end.
Mostofi said that most retailers and manufacturers don't want to know anything about state insurance regulations. They simply want to sell service contracts, and to know that Service Net is making sure they're in compliance with the local laws. They also want to know that if the local laws change, that Service Net will change also. For instance, Service Net is now getting deeper and deeper into accidental damage protection and even theft coverage. So it has to know in each locale what is and isn't permissible under state insurance laws.
Schmitt pointed out that state laws also help determine how visible Service Net is going to be during the sales and the claims process. He said some clients want the phone to be answered in their name, and they want Service Net identified only in the fine print of the contracts. Functionally, they want Service Net's call center and its SNAP system to perform like an outsourced IT service for the client. "How visible do you need or want us to be?" If the answer is essentially invisible, then Service Net will operate like the back office of the client's company.
Others want the customer to be aware from the outset that they're buying a Service Net contract. "Many of the catalog companies want to promote it as a third party service," Schmitt said. When Service Net was part of Kemper, one client actually wanted their service contracts to be identified as Kemper products, on the theory that Kemper's name lent some credibility to it.
"A lot of times, it gets into regulatory and legal issues as well," Schmitt said. Many states operate their tax regimes on the principle of "nexus," he said, under which a company must pay sales tax and perhaps also income tax once it establishes a business presence in a given state. Most online and catalog companies avoid doing that by using only mail, phone, Internet, and package delivery services to cross state lines. They never open an office and never actually perform a business transaction in the state. However, if they were to sell a service contract under their own name, and if during a resulting claim a repairman were to perform service in their name, it might be enough to establish nexus in that state.
Schmitt said another way that Service Net differentiates itself is by focusing on the customer. Of course, every company thinks they do that, but Service Net does it by organizing its staff around the customer. Schmitt, who has been with Service Net for almost eight years, is in charge of marketing for most of the PC-oriented accounts. John Desmarais, who also has the title of general manager of marketing, is in charge of most of the consumer electronics and home appliance accounts.
"It's not just marketing. It's truly an account management role," Schmitt said. There's one account manager per account, and each account manager behaves as if they're running the service contract division of the client. Operations and marketing are run together, so that account manager is looking at not only how things are running now, but also at what new products and services are desirable in the future.
In that respect, Service Net is operating much like GE, creating customer teams that cut across all functions rather than separate departments that cut across all customers. Account managers draw up a business plan for their "division" and update the client quarterly on their progress. They establish goals for how quickly calls will be answered by the call center, how the Web site and promotional materials will be updated, and how the training plan will be changed. Even their compensation is tied into whether or not they make their numbers for Service Net and for the client.
Desmarais said this type of structure is proving useful as Service Net's clients continue to jump categories. Increasingly, the PC guys are selling digital cameras and MP3 music players that have to interact with photo printers and CD burners. The consumer electronics guys are selling LCD televisions and perhaps even plasma displays. The home appliance guys are selling more advanced machines that virtually have their own operating systems. What they all have in common is a desire to sell service contracts for their brand new product lines. And they don't have the slightest clue about the reliability or claims experience of these products.
Enter Service Net. Extended warranty administrators and underwriters live and die by the bets they make regarding the frequency and cost of future repairs. If Service Net guessed wrong eight years ago regarding PC service contract prices, as others have guessed wrong about automobile or consumer electronics service contract prices, we'd be writing about some other company this week. But eight years ago, Service Net guessed right about the risks and costs involved in the repair or replacement of complex products. Now it's making more educated guesses about the reliability of new products such as plasma displays.
"Especially for immature products like plasma, where for the most part the data is less than five years old, to a degree you're betting on the come," Desmarais said. "When we partner with our underwriters and take a look at frequency and severity picks, and then we partner with some of our top dealers and manufacturers who will share some OEM warranty data with us, we have to make assumptions about where we think ultimately the frequency and severity curve is, so that we price it right."