December 14, 2004
Integrated Warranties:
Assurant Solutions, along with partner General Electric, has quietly built itself into one of the largest and most diversified extended warranty service providers.
An old woman in Poland once observed that she'd lived in three different countries, though she'd never traveled. While she stayed in one place, borders shifted around her.

At Assurant Inc., sometimes even the top executives need to look up on the wall at the org chart to see where they fit into the empire. Assurant is so diversified that it's in both the electrical utility and the prefab housing ends of the home warranty business. It's the only extended warranty administrator taking support calls for private-labeled anti-virus software, let alone selling the stuff. And through its acquisitions, mergers, and strategic partnerships, it can trace its roots all the way back to 1935, when possibly the first extended warranty in history was sold to the buyer of an electric refrigerator.
Assurant's family tree actually has branches in several countries. The company is American but its parents are European. The Dutch/Belgian bank and insurance company called Fortis was formed in 1990 through the merger of AMEV, VSB, and the AG Group. None of those companies were at the time involved in extended warranty. That line of business came its way through acquisition. Fortis also owned the American Security Group, a credit insurance company based in Atlanta. In 1999, Fortis bought the American Bankers Insurance Group Inc. and merged it with American Security. The U.S.-based holding company then changed its name to Fortis Inc. and these merged units took the name Assurant Group.
Assurant IPO
Then in September 2003, Fortis decided to spin off the Assurant Group, which was in the extended warranty business through American Bankers, along with some other units, which all decided to band together under the Assurant name. Fortis Inc. became Assurant Inc. What had been the Assurant Group then became Assurant Solutions, one of four divisions within Assurant Inc. Then on Feb. 5, 2004, Assurant Inc. launched a $2 billion initial public offering of stock, which remains the second-largest IPO of the entire year, ahead even of Google.
Assurant Inc., headquartered in New York, describes itself as a company that sells specialized insurance products and related services in North America and selected other international markets such as the UK, Mexico, Brazil, Puerto Rico, and Argentina. There are now four primary divisions: Assurant Employee Benefits; Assurant Health; Assurant Preneed; and Assurant Solutions.
All the extended warranty business falls into the Assurant Solutions division, which accounted for roughly 37% of the parent company's overall $5.5 billion in revenue for the first nine months of 2004. But there's much more to Assurant Solutions than just warranty. In addition to extended warranty administration and underwriting services, Assurant Solutions also provides credit, life, disability, and unemployment insurance, debt protection administration services, creditor-placed homeowners insurance, and manufactured housing homeowners insurance.
Assurant does not provide revenue details for each type of insurance it sells. But it does group warranties, debt protection, and credit insurance services into a segment it calls "Consumer Protection Solutions." That line of business had revenues of just over $400 million during the quarter ended Sep. 30, 2004. Assurant doesn't break that out any further, except to say that extended warranty revenue is growing and credit insurance is in decline.
Auto Extended Warranty
Extended warranty operations within Assurant's Consumer Protection Solutions unit are divided into two separate segments: one for vehicles and one for computers/appliances/electronics. The automotive segment traces its extended warranty family roots back to 1973, when a group of ten auto dealers banded together to sell insurance through a company they formed called MSDiversified Corp. They started writing automotive service contracts a few years later in states such as Louisiana, Tennessee, Alabama, Mississippi, and Georgia, and have been in the business ever since.
MSDiversified was acquired by the American Bankers Insurance Group in 1998, which itself was acquired by Assurant in 1999. Debbie Furman, who's now Assurant's vice president of business processing for the Automotive and Recreational Vehicle Services segment within Assurant's Consumer Protection Solutions unit, started at MSDiversified way back in 1984. Her husband Bob Furman started with MSDiversified in the late 1970s. He became executive vice president and chief operating officer in 1992, and then was made president in 1998 following the acquisition. He remained with the company until 2002. She remains there to this day.
"It was very exciting," she recalled of the old days. "There were a lot of companies up-and-coming back then. We were getting our feet wet with it as well. It grew pretty rapidly. It was not materially different then than now -- the actual business and the products."
The name of the product is constantly shifting, she said, from extended warranty to vehicle service contract to service agreement. But the fundamentals are still the same. Meanwhile, she's changed employers several times just by staying with the same job for 20 years. And of course there are numerous new types of coverages available now in addition to the original core of vehicle service contracts.
"I would call us pioneers," she said. MSDiversified might not be one of the first companies to get into the business, but it is one of the oldest administrators still operating. "We've withstood a lot of years. We're one of the survivors. A lot of have gotten out of the business. We're still doing well with it."
Assurant administers and underwrites vehicle service contracts for a long list of companies, including American Financial & Automotive Services, Bank One Corp., BMW, Citigroup, Sam's Club, Thrifty Car Rental. It provides underwriting services to at least five other administrators, including JM Family Enterprises Inc. Assurant's Diversified Financial Services unit provides title tracking services for Ford Motor Credit.
Partnership with GE
Meanwhile, at around the same time last year that Fortis decided to spin off the Assurant Group, General Electric Co. decided to buy out its partner Zurich North America's stake in their GE-Zurich Warranty Management service contract joint venture. Immediately after buying out Zurich, GE then turned around and entered into a strategic alliance with Assurant Solutions. Under terms of that new arrangement, Assurant took over the ownership of the call center in Dallas, which since 1998 had been GE's center for computer and electronics service contracts. GE had the expertise in appliances, while Assurant had the expertise in computers and autos.
Terry Hawkins, risk and compliance manager for GE Consumer & Industrial, said he likes the strategic alliance structure much more than the old joint venture arrangement. "Rather than a legal entity, the transaction was structured so we could play off the strengths of both parties. We understand how we are to work together in the marketplace and we have a tremendous amount of flexibility. The best way to describe it is, we've committed to grow together."
Hawkins said he believes GE invented the extended warranty. "GE's been in this business since 1935," he said. "And we intend to stay in the service contract business. It's part of our heritage." GE's Electric Refrigeration Department sold its first service contract in 1935, a five-year extended warranty plan for the Monitor Top refrigerator. It's the oldest service contract he knows of. Readers who know differently should contact the editor.
Today GE and Assurant are simultaneously empowered by their extensive histories in the warranty business and somewhat limited by their own diversified product lines. The simple problem is that together they compete with so many of the companies that would otherwise be their prospects. For instance, many appliance and electronics manufacturers would be somewhat uncomfortable feeding claims and failure data to an entity in which GE is a partner. Likewise, many administrators would be uncomfortable working with Assurant as an underwriter, and of course many insurance companies would be uncomfortable working with Assurant as an administrator. This doesn't seem to have put much of a crimp in their business, however.
Major Accounts
Assurant provides extended warranty administration services for numerous well-known retail chains including Circuit City, Staples, Radio Shack, CompUSA, Home Depot, and H.H. Gregg Appliances. On the Web, Assurant also administers the service contracts sold by Sharp Electronics Corp. for their family of Aquos flat panel LCD televisions. It also handles extended warranties sold through the catalog operations of Spiegel Publishing. In Canada, Assurant has the Best Buy account.
Jeff Unterreiner, a regional vice president with Assurant Solutions in Atlanta, said the Staples account has now begun growing far outside the warranty business. "Staples has been a client of ours since early 2001. For the extended service program, we pretty much manage all the pieces of that for them," he said. "We have an exclusivity on that program and do everything there."
In addition to the service contracts sold by the 1,500 or so Staples storefronts in the U.S., Unterreiner noted that Assurant also now administers the UK business for the office products chain. In the U.S., however, the companies have now begun offering an anti-virus protection software package that they private label from a Spanish company called Panda Software. The anti-virus software is bundled with free telephone-based installation help and technical services, and competes with brands such as McAfee, Norton, and Symantec. This is not typical of either a retail chain or a service contract administrator, but the companies feel they can provide better service to customers than any of the other software publishers.
Assurant Solutions doesn't yet have any computer manufacturing accounts, at least not for extended warranty services. Assurant provides IBM with risk management services -- advice on what types of service contracts should be written on their ThinkPad laptops, in which states it should be sold, and how they should be worded. It's neither warranty administration nor underwriting, but it's an example of how Assurant's state compliance expertise can be leveraged into a non-service-contract type of relationship. Someday that relationship may turn into something more.
Already in cases where an IBM salesperson sells non-IBM computer gear to a business customer, they have the opportunity to sell Assurant's service plans for that gear. Sometime next year when IBM's PC operations officially pass over to the Lenovo Group, it's highly likely the companies will sit down for a chat about what kind of warranty services a Chinese-American company might need.
Home Warranties
There also are a few embryonic warranty-related accounts among the utility companies. Southern California Gas Co., Ameren's Illinois Power Co., and Exelon's PECO Energy Co. and Commonwealth Edison Co. all sell Assurant's Appliance Guard service, a home warranty package that covers major appliances in existing homes. It's not yet a service that's pushed heavily by the utilities themselves, however, and it's not yet a major component of Assurant's overall warranty business.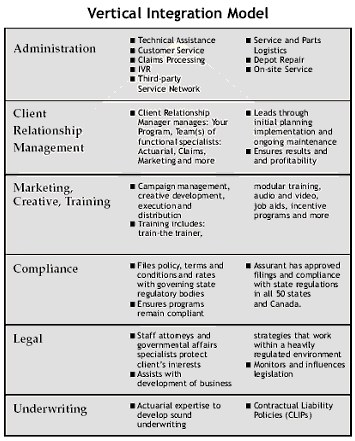 The operations of Assurant Solutions are divided into two camps: Consumer Protection Solutions and Specialty Property Solutions. Consumer Protection is further organized into Personal Property Protection (service contracts and home warranties), Diversified Financial Services (credit insurance, credit protection, and vehicle title administration), Automotive and Recreational Vehicle Services, and International. Specialty Property encompasses Mortgage Lending Solutions (insurance tracking, lender-placed insurance, loan protection), Property Solutions (manufactured home warranties and service contracts, physical damage and renters insurance), and Agent Based Specialty Property.
Joe Erdeman, the senior vice president in charge of the Personal Property Protection sector of Consumer Protection Solutions, said he sees that diversity and vertical integration as a strategic advantage for Assurant. "With all the business that us and GE have together now, we probably have more data on different products than anybody else in the industry," he said. "That allows us to do a better job in that area. Also, from the actuarial aspect, determining based on historical experience what the loss cost is expected to be, and to properly price a program is a great strength of ours."
Compliance Experts
He also said he thinks that Assurant does a better job keeping track of each state's regulatory environment and compliance requirements. "I think that we put a lot of focus on our research and support of the compliance aspect of the business, to make sure the programs that we operate are doing so within the regulatory environment, so that they can operate long term without any interruptions," he said.
In many ways, Assurant is a mirror image of all of its competitors. Like Aon, it is vertically integrated, able to offer either underwriting or administration services, or both. Like NEW, it has at its disposal a vast actuarial database that helps it accurately price its contracts -- the secret to longevity in extended warranties. Like Warrantech, it has a foot in both auto and consumer goods. And like Service Net Solutions, it got its start in the Wild West of the computer warranty business.
Erdeman wasn't referring to any single company, but last week, a major computer manufacturer (which is not an Assurant client) had to admit that it hadn't done its regulatory homework in the state of Wyoming, and therefore it couldn't sell extended warranties there until it complied with state laws. It was more of a slight embarrassment than a major financial setback, but it illustrates Erdeman's point. Someone needs to keep an eye on all 50 states, or things like this happen. Furthermore, extended warranty and insurance regulations are radically changing next year in the UK. For so many U.S.-based retailers and manufacturers who do business there, these changes are things they need to know about ahead of time.
---
Happy Holidays!
Speaking of next year, there are only two more Tuesdays left in all of 2004. It's hard to believe this is our 50th issue of the year, but that's what the calendar says. Because so many people in the manufacturing industry are about to go into shut-down mode, Warranty Week is going to take a two-week break. Last week, our weekly email broadcast to 2,100 subscribers resulted in an onslaught of at least 159 Out of Office return messages. This week, it wouldn't be surprising if twice that many come in. Next week it would double again, until finally on Dec. 28 we'd be the only ones checking our email at all.
Because of all the holiday shopping, retailers don't have the luxury of a year-end shut-down, and the lives of extended warranty administrators will just begin to get busy when all the boxes have been opened. During the first week of January, many in the warranty industry will be heading to Las Vegas for the Consumer Electronics Show. We'll be back on Jan. 4 and 11 with the concluding chapters of our months-long tour of the extended warranty industry.
Sometime in either November or December, Warranty Week turned two years old. We're uncertain which date to use because several weeks elapsed between the opening of the Web site and the beginning of weekly email broadcasts. But as all of you wish us a happy birthday, we want to take the opportunity to wish all of you a happy holiday season. Let's just say the exchanges of gifts cancel each other out, and that it's the thought that counts.
Finally, we want to extend each of you a warm and sincere thank you, not only for being readers, but also for being interactive participants in the newsletter through your phone calls and messages. Only half of all new publications get to turn a year old, and fewer still get to turn two. We couldn't have done it without you.