March 8, 2005
Warranty Conference,
Part One:
During the kickoff keynotes by HP and IBM at last week's Warranty Chain Management conference, the need to involve people in warranty transformation projects outranked all technical and financial challenges.
Last week, the warranty industry took a very big first step towards the creation of a warranty community. Under the banner of the first annual Warranty Chain Management conference, held in the Fisherman's Wharf section of San Francisco, a cross-section of warranty industry professionals gathered to swap stories, exchange business cards, and discuss the future of warranty work.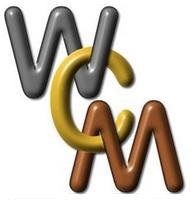 Alison Griffiths of ALG Associates LLC, the organizers of the event, revealed that she had originally planned a conference for only a hundred people. By the time she declared the conference to be sold out two weeks ago, registrations had topped 225 people, of which close to 215 actually showed up. "It just goes to show the support and the actual desire in the industry to move this forward and put warranty on the map," she said.
Most of the time there were either two or three tracks competing for attention, but for at least the opening part of each of the two mornings of the conference there was one keynote speech at a time. On the opening day, a speaker from Hewlett-Packard Co. was followed by a representative from International Business Machines Corp. Remarkably, they told essentially the same story in two completely different ways: warranty chain management is a people problem, not a product issue.
HP's Call to Action
Bruno Duverge, the warranty and services director in Hewlett-Packard's Personal Systems Group, gave a presentation entitled "Warranty Chain Management -- A Call to Action," stepping in at the last minute as a substitute for Marc McKenzie, HP's world wide warranty director, who was too ill to travel.
Hewlett-Packard in general and McKenzie in specific were instrumental in getting the ball rolling for the WCM conference last fall, agreeing early on to be a top-level sponsor (the SAS Institute Inc. was the other top-level sponsor), and encouraging staff to volunteer as speakers at the conference. So his presence was missed, although HP sent dozens of warranty professionals as attendees, and at least six as speakers. We'll get to some of that they had to say in future weeks. Today we'll take a look just at the HP/IBM pairing that first morning.
"I've been asked to harmonize the whole warranty structure, strategy, and policy across HP, and to establish fluent structures in every product group in HP," Duverge said by way of introduction. He noted that he himself works in the Personal Systems Group, which sells desktop and laptop computers, and which comprises $25 billion of the company's total $80 billion revenue. The other two major units are the Imaging and Printing Group, which sells printers, digital cameras, and other peripherals; and the Technology Services Group, which sells servers, storage systems, and other high end computing gear.
Together, the three major groups spent more than $2.3 billion on warranty in the fiscal year ended Oct. 31, 2004, placing them third behind GM and Ford in terms of U.S.-based manufacturers (or fourth if DaimlerChrysler is included). In sheer dollar terms, HP spends roughly twice as much as Dell and almost three times as much as IBM does on warranty, although all three accrue somewhere between 3% and 4% of manufactured product revenue to pay future warranty claims. So what GM is to the auto industry, HP is to the high-tech industry.
Duverge said the range of product for which HP provides warranty is very broad, encompassing everything from handheld MP3 music players to enterprise-wide storage systems. For each of those warranties, the coverages and policies are different, resulting in quite a bit of complexity. Sometimes the terms of a warranty for the same product change depending on where it was sold and which channel sold it. Plus, the product lines are constantly changing, making it difficult for any one person to keep up with the entire HP warranty spectrum.
Merger Priorities
Fortunately for HP, at roughly the same time that warranty chain management became a priority, the company merged with Compaq Computer Corp. This created the need to harmonize internal IT infrastructures and the opportunity to compare notes. What was essential to that process was the support of all levels of management to make it work.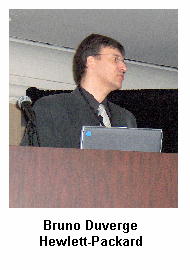 "We had support from the top when we merged HP and Compaq," Duverge said. Not only that, but the company also sought sponsorship from the geographic units and from various product groups. Others throughout the conference kept returning to this same point: that the success of any kind of warranty re-engineering project requires both top-level sponsorship and pervasive support from all levels of the company. It doesn't seem to be as much a problem of systems, software, technology, or funding as it does seem to be a challenge to recruit the support of the many stakeholders involved.
The company quickly discovered that warranty didn't always have the same meaning within HP and Compaq. The total for warranty expenses using one's accounting system was different if the other's was used instead. So HP found it possible to arrive at two different "correct" answers using two different systems. Before data could be compared, it had to be normalized to make it comparable.
In a way, that's what HP now wants to do with other manufacturers. In what was characterized as a "call to action," HP asked for feedback from other companies attending the WCM conference about their perception of the need for competitive benchmarking efforts and the need for more complete warranty accounting standards. HP wants to find out what is and isn't part of what other manufacturers call warranty, and see if there's any appetite to standardize some sort of methodology across the whole IT industry, or perhaps across all manufacturing industries.
The Value of Benchmarking
Because of competitive considerations, HP is aware that the exchange of information between companies will never be as open or as detailed as it was for HP and Compaq during their merger process. Several years ago, HP believed that if a neutral consultancy was involved in the data collections and comparisons, the results would be more valid. This turned out to not be the case.
"About four years ago, just before we merged, we were trying very hard to organize a global manufacturing benchmark across the IT industry," Duverge said, "specifically in the area of PCs and industry standard servers. We spent a lot of time trying to find what would be the key metrics that we could benchmark across the industry: financial metrics, operational metrics, service and support metrics, and product warranty metrics. We invested a lot, as did other companies in the industry."
A consultancy was contracted to perform the work, and the initial results came back just before the Compaq merger process began. That gave HP a chance to compare what came back in the report about Compaq to what it knew as the new owners to be the correct answers. In terms of warranty, there seemed to be so much variance, and so many different ways to make the calculations, that the results of the study were deemed to be unreliable. "This was really disappointing, because we thought that we had found something, but we couldn't use it," Duverge said. "So that is still an open topic."
Duverge said the financial reporting requirements of FASB FIN 45 are a good step in the right direction. But it's not enough. "Although it has been defined, we still have a lot of different ways of interpreting what we need to report. And there's still a lot of room to get around the new accounting rules to report numbers differently," he said. The bottom line is that it's no substitute for a comprehensive benchmarking effort.
"Some companies are including just standard costs for parts -- no labor, nothing," he said. "Other companies like ours are putting more or less everything related to warranty into that account. The way to define warranty is completely different by company." Some companies mix basic and extended warranty. HP does not. Some companies don't separate the costs of call centers based on whether the product was under warranty, covered by an extended warranty, or completely out of warranty. HP does.
As a person with both a financial and an engineering background, Duverge said he's happy there's an increasing supply of warranty metrics for him to analyze. However, he said that makes it all the more important to know what's being measured and how it relates to other metrics. Before the metrics of two different companies can be compared, it's necessary to know what is and isn't being measured by each data set. All that FASB FIN 45 requires is that companies disclose their methodology. It doesn't define what should be part of that methodology.
Duverge said that companies need to be very careful about how they measure warranty costs and once that's been done, how they go about controlling those costs. For example, he said, if too much pressure is put upon the call centers to reduce the amount of time they spend with each customer, this could reduce the value of the diagnostics they perform. It also could drive down the frequency of customer self-repairs, because customers may come to prefer in-person repairs by experts over those they do themselves with the help of rushed call center agents.
The IBM Ecosystem
Scott Weller, partner and world-wide warranty practice leader at IBM Business Consulting Services, talked about warranty being part of an "ecosystem," and how changing one aspect can have unintended consequences elsewhere. Properly managed, he said a warranty chain transformation project can drive out as much as 70% of all warranty costs. Improperly managed, it will drive out little or no cost and in fact could drive costs upwards.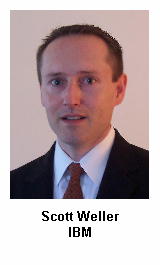 "When we engage with clients about warranty management or warranty chain transformation, the conversation always begins with a discussion of strategy or strategic intent," Weller said. "All of us know that there's still tremendous opportunity for cost avoidance, especially in the service chain. To achieve these goals, we know that fundamental transformation needs to occur. So we're talking about changes in operations, fundamental capabilities, and the alignment of strategy with execution. Especially with warranty, this will lead to fundamental organizational change, new processes, and oftentimes, new business models."
Weller said the big problem is that most companies today still think of their functions in terms of silos. Warranty just doesn't operate that way. Warranty touches so many parts of the company in both major and minor ways. So any changes in warranty management need to involve people in multiple and separate silos. It can't be done in a piecemeal fashion.
"So we need to think about what this means in terms of overall execution," he said, "and the need for sponsorship. It's quite difficult, in fact, to engage in a program around warranty transformation without achieving broad sponsorship, vertical and horizontal within the business. Ultimately in many cases, it results in a conversation with the CIO to make this final mandate or decision around the warranty transformation."
Understanding the Interdependencies
Weller said some clients don't understand "how the warranty chain weaves its way through their business." They don't understand how many departments are involved. So they try to make changes only to those areas clearly defined as "warranty" by their title or function. And they try to make those changes only locally, or perhaps only internally, when the effects extend not only across a company but also outwards to both its suppliers and its customers.
He explained how IBM approaches the task, identifying both the primary and secondary effects of a warranty transformation. "For our clients to be successful, we recognize that they need to take a very holistic view of this," Weller said. That's not to say that IBM isn't open to very discrete projects such as a TREAD Act compliance effort or the introduction of a service contract program. But without the broad and the long-term view, he said clients usually don't fully appreciate the value or understand the benefits.
Interestingly, he said that occasionally there have been stakeholders who don't see the benefit and therefore decline to participate in the warranty process transformation project. "If there's not localized benefit, there may be some resistance," he said. Later on, especially after the data is flowing, the people in some of these silos may see a benefit. In fact, sometimes after the benefits become clear they'll shift from wanting to decline any participation to wanting to control the data flow.
"As long as we have people involved, we need to incent this new behavior, so there needs to be a fairly rapid realignment of reward systems and metrics," Weller said. "A measurement culture has to be established in the businesses. One of our recent leaders talked about culture. Culture isn't just one aspect of the game -- it is the game. We find that culture is the number one inhibitor or predictor of success in this area. Some businesses that we work with simply cannot achieve transformation directly. There are other process steps that we take them to: in some cases outsourcing, or helping them establish new lines of business that focus on this area."
Driving Out Warranty Costs
Weller identified three major drivers behind warranty transformations: efforts to reduce product defects, efforts to improve early warning capabilities, and efforts to make the warranty process more efficient. "The third area is what we call lifecycle inefficiencies," he said. "These are things like fraud and other types of invalid claims, the supply chain not carrying its part of the burden, high field service costs, call center costs, and so on."
He said that roughly 35% of warranty costs can be driven out through efforts to reduce product defects. Of course, outside of mission-critical manufactured products such as avionics or medical equipment, it's questionable whether a company would want to make the investments required to drive defects to zero. So how much of that 35% reduction is achievable depends heavily upon the willingness of the manufacturer to boost product quality.
Weller said another 15% can be driven out through better early warning systems that spot defects in products already sold, and speed the news of that detection back to the production line where the root cause can be corrected. And another 20% can be driven out by eliminating what he called lifecycle inefficiencies: reducing fraud, supplier recovery, etc. That leaves a company with only 30% of their original warranty costs, which cannot be driven out through any kind of process improvement project he knows of.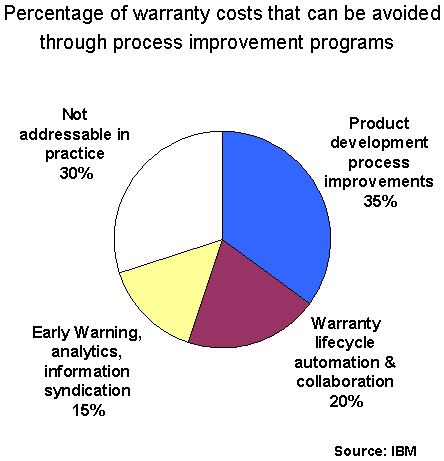 "It turns out that these areas are not independent," Weller said. As in any ecosystem, changes in one area can produce unintended changes in other areas. Efforts to reduce defects could create new inefficiencies or costs in and of themselves. In fact, the resistance to change internally could be so great that the only viable alternative is to outsource warranty to a service provider, Weller said.
Externally, there may be just as much resistance to change, he added. For instance, in the automotive industry, the dealer of new vehicles frequently doubles as the servicer of vehicles under warranty. Push too hard on warranty costs, and you could reduce the attractiveness of your product line to that dealer. Worse, if the customer perceives any kind of conflict between the manufacturer and dealer/servicer, that may tarnish the brand. A better way might be to take after Toyota, Weller said, which is helping dealers to boost their aftermarket revenues on the Scion nameplate by giving it extensive customization options that appeal to the youth buyer. What the dealer loses in warranty work can be made up through sales of these accessories.
Weller concluded by citing a paper entitled "Strategy as Ecology," co-authored about a year ago by Marco Iansiti and Roy Levien, professors at the Harvard Business School. The paper described the business environment as a loose network of trading partners who have developed an interdependent relationship. "They coined this term called 'keystone.' The idea of a keystone player is that they set a strategy and then they manage the distributed resources of the network so that there's mutual gain and mutual advantage," he said.
This differs from the traditional role of, say, a landlord, whose role is to charge as much rent as the tenant can bear without going out of business. "That's the old world," Weller said. "Their view is that we're in a new economy now," especially in the service sector. Dominant companies, he said, have every right to drive down their service costs, but they have to keep in mind that in the complex ecosystem in which they live, others depend on those scraps of food for survival.