July 12, 2005
Warranty Acquisitions:
With the purchases of Active Web Services and Syncata, ProQuest has acquired its way into a potential leadership position in the automotive warranty processing industry.

Last week, ProQuest Business Solutions, a subsidiary of ProQuest Company announced it acquired certain assets and technologies of Active Web Services LLC, a warranty software company that for several years has focused on automotive manufacturers. This is the same company which acquired the Syncata Corp. consultancy in February.
Like Active Web Services, Syncata is focused on automotive manufacturers, and has carved out for itself something of a leadership position when it comes to warranty management expertise. And like Active Web, or perhaps even more so, Syncata has taken a leading role in efforts by the Automotive Industry Action Group to define early warning standards for warranty analysis, an outgrowth of its work helping manufacturers achieve compliance with the U.S. government's TREAD Act requirements.
In a matter of months, therefore, ProQuest has gone from being a name that only a librarian could love into perhaps one of the most vertically integrated information and software providers focused on the automotive aftermarket. Through the twin acquisitions of Active Web Services and Syncata, ProQuest at least on paper has the potential to become the market leader in the warranty industry. So who are these guys?
A Century of History
ProQuest Company, which until 2001 was named the Bell & Howell Company, is publicly traded on the New York Stock Exchange (Ticker: PQE). Bell & Howell is a revered name that goes back to 1904, when the company was one of the pioneers of silent film projector technology. You know those rectangular holes on the sides of 35 mm film? That was Bell & Howell's idea. Thomas Edison had initially decided on round holes.

ProQuest was actually the name of a CD-ROM database product line sold by one of the company's two divisions, which until 2001 was called University Microfilms Inc. or UMI. But then the company decided to leave its projector business behind, along with divestitures of its mail and messaging operations. What remained was renamed the ProQuest Company, and UMI became the core of the ProQuest Information and Learning Division.

Company-wide revenue in 2004 was reported at $462.8 million. Of that total, roughly 63% came from the ProQuest Information and Learning Division, which is focused on children's education, classroom services, and information retrieval services. For instance, its archives contain the full text of New York Times, Wall Street Journal, Washington Post, Los Angeles Times, and the Christian Science Monitor.

The remaining 37% of revenue comes from ProQuest Business Solutions Inc., primarily its ProQuest Automotive business unit. ProQuest Automotive publishes automotive parts and service products (also known as electronic parts catalogs) and related technical information. Another business unit called ProQuest Media Solutions provides electronic parts catalogs and other solutions for the power equipment market. And for auto manufacturers and dealers, ProQuest Alison provides dealership performance management products.

Net income for ProQuest Company as a whole last year was up more than 34% last year to just under $67 million. But revenue growth in the Business Solutions segment was only a slight 0.3% last year, while growth was closer to 4% in the Information and Learning Division from 2003 to 2004. In the first quarter of 2005, company-wide revenue was up 9% while net income was actually down 32% year over year.
A Future in Software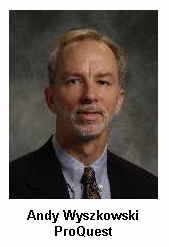 Andy Wyszkowski, president of ProQuest Business Solutions, said the company will increasingly now focus on higher-growth electronic solutions, selling not only content as in its newspaper archives, but also software through operations such as Active Web Services. More specifically, he said the company will focus on providing solutions, primarily in the after-sales area, in the automotive, power sports, heavy equipment, and outdoor power markets.
Major product lines already available include a series of electronic parts catalogs aimed at those industries as well as a performance measurement product that include a series of business management solutions and network development. From auto dealerships in Europe and North America, ProQuest Business Solutions collects data on sales and financial performance for the manufacturers.
"It gives the OE visibility into the health and overall performance of their dealer networks," Wyszkowski said. "We also do things like network development, which involve the monitoring and reporting on standards that are set out by the OE, that the dealers are expected to perform to. That's very important, particularly in Europe, given the new block exemption regulations which in effect are deregulating the automotive retailing business. This really is the key monitoring device that OEs have [to see] whether their dealers are living up to the standards that they put down as part of their compliance with the new block exemption regulations."
Wyszkowski said ProQuest Business Solutions generally aims to be the leaders in the niche markets that it serves, citing electronic parts catalogs and performance measurement services as examples. Now, in between those posts, ProQuest is acquiring warranty consulting and warranty software capabilities, turning those two niches into the end pieces of a more horizontal aftermarket platform.
Warranty in the Middle
Warranty, rather than being just a third niche between the existing two, is going to become the hub in the middle. Just as warranty has become a key indicator in TREAD Act reporting, so too has it become a key ingredient in any aftermarket platform aimed at either auto manufacturers or their dealerships. You can help a dealership order parts and you can help them measure their service levels, but after a while it all comes down to warranty work.
"We've been looking at the warranty space for quite some time now, actually," Wyszkowski said. "So it's not by accident that we looked at Syncata and saw they were the leader in TREAD reporting." He also noted the brand equity that Syncata had developed in this nascent corner of the market called the warranty space. "With Active Web, we're really able to back that up with a very solid platform," he said. Plus there are the obvious synergies between warranty claims processing and parts lookups and ordering.
"We see ourselves focusing on the whole parts and service -- the after-sales part of the business," he said. "We see that as so very key. It's key to the profitability of the OEs, and it's key to customer satisfaction and customer retention. We're going to continue to provide a broader array of solutions in that space, and we'll do that through both organic development of new products as well as some other acquisitions."
The funny thing is that ProQuest, Syncata, and Active Web Services have been virtually following each other in the front door at the headquarters of the major automotive manufacturers. At various times, the trio have both complemented and competed with each other in the aftermarket. Other times, one or the other was crossed off the short list: Syncata and Active Web because they were small private companies and ProQuest because it lacked a warranty focus.
Meanwhile, Syncata provides strategic consulting services to some of the same OEMs that are buying services from ProQuest Business Solutions. And Active Web Services has come out the winner in some head-to-head bidding situations where the manufacturer began by thinking about a general-purpose aftermarket solution but ended up narrowing down their specific need to an enhanced warranty management capability. Why did ProQuest lose out? Because it didn't have a warranty management software package for sale. Now it does. Now it's a large public company with a long history and the right product and services mix.
Syncata' Warranty Focus
Marianne Grant, director and industry subject matter expert at Syncata, said she's "thrilled" to be working with the people at Active Web Services. "I've worked with them at the AIAG initiative and various other places. And we've also been competing. But we've also helped each other, often behind the scenes," she added, as when she provides TREAD consulting services and Active Web follows on with a software sale. "I think it's going to be a formidable team."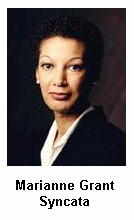 Grant said Syncata began focusing on warranty as an early warning indicator before even the TREAD Act came along in 2000. "We were particularly interested in Ford/Firestone and how you could get in front of something like that," she said. "So warranty was a big part of that review. And then we took off on the TREAD track.
"But all through the TREAD work, warranty has been paramount, because so much of the information that you need for TREAD is in warranty. Even helping clients with TREAD compliance, there's a much bigger picture. What you're really helping them with is how they can leverage their own data for their own uses. And then again warranty is key."
Grant said that whenever she talks with clients about either TREAD compliance or warranty management, she quickly discovers that they're depending on less-than-optimal warranty claims processing software and/or processes. "They're struggling," she said. "They're struggling because of the volume of data, and they're struggling because they're dependent on human beings to analyze and draw conclusions from data. Frankly, they're struggling because there haven't been too many good options in the marketplace."
So how's the new boss? After five or so months, Grant gives the ProQuest Syncata relationship a thumbs up. "I think they are very collaborative," Grant said of her new parent. "The culture of the company is very much focused on the bottom line, doing business, and being successful, but also, taking care of employees. And that seems to come through in pretty much everything they do. I'm really encouraged."
Grant said that since the Syncata acquisition in February she has always made sure to explain to clients how all the pieces fit together. But introducing herself as an employee of ProQuest Syncata rather than just plain Syncata hasn't really changed all that much about the way she works. Then again, perhaps her clients no longer see her as part of a small consulting company. Now, she's one of them, representing a big public company.
"Finally, many of the ideas that I've had and the things I've been talking about, I can really deliver now," she said. "And I can deliver with solutions that are going to be incredibly valuable but aren't going to cost in the millions or billions of dollars."
Miles Wide and Miles Deep
Ron Ezsak, vice president of sales and marketing at Active Web Services, also spoke about the potential of the new combination as being greater than merely the sum of the parts. "I think the combination is as important to the market as it is to the participants in the company," he said. "This has the potential to become truly transforming, to bring an integrated capability that's end to end. But we're not talking about one of these things that's a mile wide and an inch deep. We're talking about miles wide and miles deep. The marketplace just hasn't had anything like that before."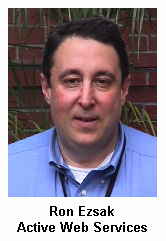 Personally, Ezsak said he's looking forward to becoming a ProQuest employee. But he's not sure exactly what the company will be called, or even if it will be a separate company. Financially, at least, Active Web Services LLC has ceased to exist. All the assets were acquired by ProQuest and all the Active Web Services employees were invited to get onto the new owner's payroll.
Warranty Week noted that Grant and Ezsak are constantly being invited to speak at industry events, including this year's Warranty Chain Management conference in San Francisco. Along with Kevin Mixer of AMR Research and perhaps a few others, they are essentially the A List in terms of public speakers in the warranty industry. Now they work for the same company.
In a way, Ezsak and Grant have already been functioning as an informal tag team when it came time to talk about automotive warranty, particularly as it relates to the TREAD Act. "We complement each other by extending one another," Ezsak said. "Syncata has a great deal of expertise in the same domain as we do. Do we overlap? Perhaps one could argue that. But as we move forward, we support each other. Now that we're part of the same corporate family, we now are far more complementary."
But fundamentally, though they both target the same TREAD Act and automotive warranty space, a consulting company is very different from a software company. "We don't produce a document," Ezsak said. "What we produce is a process that is manifested through the configuration of our application software."
Targeting the Same Customer Base
Wyszkowski also reflected upon how ProQuest, Active Web Services, and Syncata have been running into each other over the years. "In their ten-year history, Syncata has been involved in some 600 engagements or projects with a multitude of those OEs that are in our served markets," he said. "The reason we found the value proposition with Syncata so compelling is that we took a look at some of those 600 projects, and decided that some of these are candidates for us together -- if we were to be one organization -- for us to productize and take to market through our channels that serve the major OEs as well as dealerships."
Active Web Services, he said, is a bit different in that they've already productized their technology and consulting expertise and are offering a warranty claims management software package to manufacturers. It's not exactly shrink-wrapped off-the-shelf warranty software, but it is as close as anyone has come to coding the expertise of a warranty claims manager.
"The reason that we acquired Active Web Services is that we'd like to take their product and deliver that through those same channels," he said. "So on a very tactical basis, we'd like to take their warranty product and offer it through our channels to the OEs. But on a more strategic level, we're extremely interested in combining the warranty solution with the analytical capabilities that are part of our performance measurement organization, so that we can more deeply integrate analytics and warranty together, and so we can do in-depth early warning and predictive kinds of warranty analysis, to serve the OEs in our markets, as well as to serve some of the OEs' suppliers."
First, though, Wyszkowski said ProQuest needs to spend some time integrating the capabilities of Syncata, Active Web, and its own business units. He said the brand names will continue to be featured prominently (as in Syncata, a ProQuest Company). Syncata will continue as the independent consulting arm of ProQuest. No decision has yet been made about Active Web, though since Wyszkowski sees warranty as the third major product line of ProQuest Business Solutions, there probably won't be much room for arm's length independence.
As for the careful wording in the press release that ProQuest acquired "certain assets and technologies" of Active Web Services, here's what Wyszkowski had to say: "We purchased all of the technology, intellectual property, customer contracts and relationships and hired the US-based personnel. We did not acquire the Russian-based technology organization. Instead we signed a long term development contract with them to perform maintenance and development for the warranty product."
The Microsoft Relationship
Also acquired, though not counted as either an asset or a technology, is the relationship Active Web Services has forged with the Microsoft Corp. It was almost a year ago that Warranty Week wrote about the then-budding relationship between Microsoft Automotive and Active Web Services.
Scott McEwen, vice president of ProQuest Business Solutions, said he values that relationship with Microsoft, and plans to make sure it continues. "We see it playing a significant role in the future for us," he said. "What they've been able to accomplish with that relationship is to gain entry into some significant opportunities that we want to continue to leverage." In addition, Microsoft is well-known for its road shows and conferences, and Active Web will continue to be part of those, McEwen said.
McEwen said it was he who sponsored the initiative to fill the void in ProQuest's aftermarket product line with a warranty acquisition. He took a look at virtually every software provider that ever called itself a warranty software company, and ultimately he decided that Active Web Services was the best fit.
"We'd kind of flirted with warranty a little bit," he said. "And when we started seeing customers go to other companies for warranty, we felt there was a tremendous need out there. There was a lot of pain out there in the markets we serve. But there was no clear leader. And when we started asking our customers who had the best warranty product out there, Active Web Services came up time and time again."
McEwen is likely to be very busy for the foreseeable future with efforts to help ProQuest digest its 2005 acquisitions. He seems to have put together the pieces he wanted: a focus on the automotive aftermarket with offerings in the areas of parts catalogs, warranty software, and research.
So what's missing from this aftermarket picture? We think it would be great if he could arrange to acquire Microsoft, but the company's not for sale. Same story for the SAS Institute Inc., although that company also is working with Active Web Services on some warranty analysis projects. There are at least two potential acquisitions within the auto aftermarket that recently seem to have got away: J.D Power and Associates was acquired by McGraw-Hill in April. And North American Advanced Technology Inc. (NAT Inc.) was acquired by DealerTrack Holdings Inc. in May. The services those companies provide, in the areas of vehicle ratings and extended warranty software, could have made ProQuest look even more formidable. But hey, you can't be everything to everybody.