October 25, 2005
Extended Warranty Income:
Though most extended warranties are sold by retailers, a few computer manufacturers continue to make a killing by selling their own service contracts. Extended warranties can account for a significant slice of profits, and sometimes can actually be the difference between profit and loss.
Extended warranties continue to be an important source of revenue for computer manufacturers such as Dell Inc., Apple Computer Inc., and Gateway Inc. However, in the year since we last compared the relative size of the product warranty and extended warranty cash flows at these companies (Warranty Week, Oct. 26, 2004 & Nov. 9, 2004), Gateway's and Apple's extended warranty sales revenues have leveled off while Dell's continue to soar.
This week, we're going to leave the world of generally accepted accounting principles behind and do forbidden things such as comparing revenue to income and computing a ratio between warranty outflows and inflows. Since the beginning of 2003, most manufacturers have been reporting their product warranty claims, accruals, and reserve fund balances to the U.S. Securities and Exchange Commission as a table within their Form 10-Q and 10-K financial statements. Some also have been detailing their extended warranty contract sales, revealing how much new revenue they brought in, and how much past revenue was added into net income.
Under the accounting rules outlined in a 1990 Financial Accounting Standards Board publication called Technical Bulletin No. 90-1, "Accounting for Separately Priced Extended Warranty and Product Maintenance Contracts," companies cannot immediately book all the revenue they receive through the sale of multi-year extended warranty plans. Instead, they must recognize it gradually, for instance by recognizing 1/4th of the revenue derived from a four-year contract in each the four years the contract is in force.
What we're going to do is compare how much revenue each company is recognizing per quarter from their past sales of extended warranties to the amounts they're currently paying to satisfy warranty claims that arose from products sold in the past. We'll look at it in two ways: in dollar terms and in percentages. Both measures are really necessary to illustrate the trends we've spotted.
Dell's Extended Warranty Story
Let's start with Dell. In most cases the company sells its computers directly to customers, so there's usually no retailer in the middle to make the extended warranty offer. And so, Dell sells its own extended service plans, at prices generally in the range of 7% to 18% of the purchase price of the underlying system. For the $699 Dimension 3000 desktop PC, for instance, a two-year extended warranty is $50 while a three-year warranty is $120. For the $1549 Inspiron 9300 RS notebook, which comes with a 90-day warranty, a one-year plan is $99; a two-year plan is $179; and a three-year plan is $279.
In the fiscal year ended Jan. 31, 2005, Dell reported revenue of $49.2 billion, of which we're estimating that $39.7 billion was warranted hardware. The company also reported $4.25 billion in operating income and just over $3 billion in net income. Meanwhile, in those voluminous footnotes that are always found in a From 10-K filing, Dell reported $1.176 billion in warranty claims, and $1.359 billion in extended warranty recognized revenue.
Therefore, warranty claims accounted for roughly 3% of overall hardware revenue, and extended warranty revenue accounted for something like 2.8% of total revenue. Neither percentage is unusually high. In fact, for some retailers, as much as 4% of revenue usually comes from extended warranties.
However, if we compare the amount of claims to the amount of extended warranty revenue, it quickly becomes apparent that for Dell, warranty is now a profitable enterprise in its own right. Dell apparently bundles together its basic and extended warranty claims, because there is no other figure besides the $1.176 billion listed in the annual report. So if it's recognizing $1.359 billion from extended warranty sales, that would mean it is able to use that money to pay for all the product warranty claims and all the extended warranty claims, and still have $183 million left over.
What follows is a graph of warranty claims and extended warranty revenue for the past 11 quarters. Because of Dell's fiscal calendar, this represents the 33-month period between Nov. 1, 2002 and July 29, 2005. Product warranty claims are represented by the red bars. Extended warranty recognized revenues are represented by the blue bars.
Dell Inc.
Product Warranty Claims (red)
vs. Extended Warranty Revenue (blue)
in $ Millions per Quarter
Nov. 1, 2002 - July 29, 2005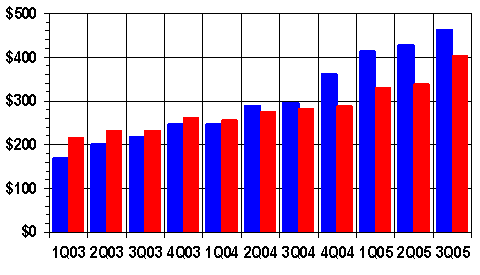 Source: Warranty Week from SEC data
For the first five quarters of this period, product warranty claims paid exceeded the amount of extended warranty recognized revenue. But then beginning in the second quarter of 2004 (Dell's February-to-April quarter), extended warranty revenue began to outpace warranty claims. In other words, more was coming in than was going out, and warranty had become a net profitable operation.
We should also note that Dell continues to accrue a portion of current sales to pay future warranty claims, even though it doesn't need to, because extended warranty premiums would suffice. The result is that Dell's warranty reserve fund continues to expand, from a balance of $1.3 billion in Jan. 2003 to $3.9 billion in July 2005. At some point, Dell will have to make an adjustment in its estimates and remove funds (at which time they'll become operating income, be taxed, and then they'll boost net income), or else the balance in the reserve fund will continue to inflate far above the amount needed to pay claims. But that's a topic for another day.
For the two quarters in the middle of the chart, the red and blue bars are roughly the same size, but in the four most recent quarters, the blue bar has been significantly larger. Although claims have continued to increase over the four most recent quarters, extended warranty revenue is increasing at more or less the same rate.
In the following graph, the same data is presented in a different way. Warranty claims and warranty revenue are added together to figure out a total, and then claims and revenue are computed as percentages of 100%. If claims and revenue were exactly equal, red and blue would each occupy 50% of the chart.
Dell Inc.
Product Warranty Claims (red)
vs. Extended Warranty Revenue (blue)
in Relative Size
Nov. 1, 2002 - July 29, 2005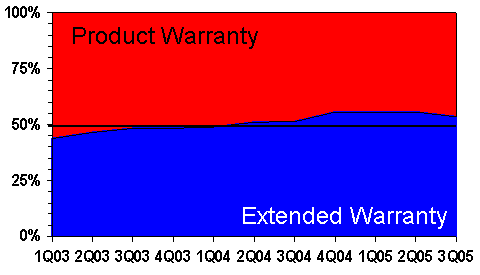 Source: Warranty Week from SEC data
As one would expect, during those middle two quarters claims and revenue each were very close to 50%. But since then extended warranty revenue has always exceeded claims, and so the blue side has been above 50%. And as the chart suggests, the ratio has been more or less stabilized at 45%/55%. Therefore, warranty operations at Dell have resulted in a net positive cash flow, but the ratio is still close to break even.
There is, however, another way to look at it. Warranty isn't really a break even operation, because remember that Dell is reporting all claims together, both those arising from free product warranties and from purchased extended warranties. Theoretically, accruals would pay for the former and recognized revenue would pay for the latter. But theoretically, these two items should be reported separately to begin with, as is done by Gateway, Apple, and most other manufacturers that sell separately-priced extended warranties.
Then again, since the manufacturer isn't following generally accepted accounting principles, why should this reporter? Just for illustrative purposes, we're going to rip up the rules and compare Dell's operating income to the amount it recognizes per quarter as revenue from extended warranty sales. That's not to suggest that the recognized revenue is pure profit. And of course, operating income isn't the same as net income, which reflects taxes paid and any special charges. But take a look at what happens to the chart:
Dell Inc.
Extended Warranty Revenue
as a Percent of Operating Income
Nov. 1, 2002 - July 29, 2005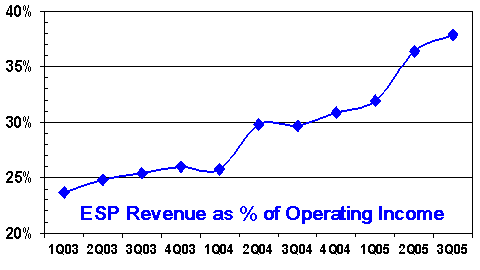 Source: Warranty Week from SEC data
Back in the fiscal year ended Jan. 31, 2003, Dell reported $674 million in recognized revenue and $2.844 billion in operating income, so the ratio stood at 24%. Most recently, the ratio had grown all the way up to 38%, because over time, extended warranty revenue has become a more important source of profits. That's the key point. It's not the percentage of sales revenue that matters; it's the percentage of profits. The same effect is seen at the major retailers. Extended warranty may be only 3% or 4% of sales, but it can be 30% or 40% of profits, because extended warranty service contracts are generally more profitable that the goods they are written to protect.
The Gateway Story
Now let's take a look at Gateway Inc. Unlike Dell, Gateway has found profitability to be elusive. So it's impossible to compare extended warranty revenue to profits, because there weren't any profits until the most recent quarter (April to June). However, that's not to deny the increasing importance of extended warranty to Gateway's bottom line.
Let's start with the raw dollar amounts. In the first quarter of 2003, Gateway reported $46.9 million in warranty claims, and recognized $20.2 million in extended warranty revenue. Warranty claims represented an uncomfortably high 6.2% of product sales, and the product warranty/extended warranty ratio stood at 70%/30%.
Gateway Inc.
Product Warranty Claims (red)
vs. Extended Warranty Revenue (blue)
in $ Millions per Quarter
Jan. 1, 2003 - June 30, 2005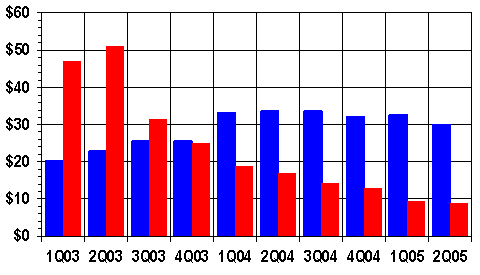 Source: Warranty Week from SEC data
Over the next two years, Gateway was able to trim its outlays for product warranty claims significantly -- all the way down to $8.9 million in the second quarter of 2005. In fact, although it's not shown here, over that period Gateway went from spending 5% or 6% of sales on claims to spending only 1% or 2% of sales on claims. So unlike Dell, Gateway has not seen claims grow proportionally with sales -- not at all.
Extended warranty sales, meanwhile, have grown from the $20 million per quarter range to the $30 million per quarter range. By the end of 2003, extended warranty revenue was outpacing product warranty claims. And as the chart below details, that was when Gateway's product/extended warranty ratio crossed the 50% mark.
Gateway Inc.
Product Warranty Claims (red)
vs. Extended Warranty Revenue (blue)
in Relative Size
Jan. 1, 2003 - June 30, 2005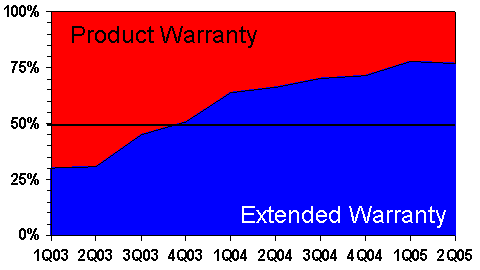 Source: Warranty Week from SEC data
The big difference is that while for Dell the ratio went above 50% and stalled, for Gateway it continues to increase. Because claims continue to fall even though extended warranty isn't growing, the ratio was as high as 22%/78% earlier this year. And while Gateway's recent unprofitability makes it impossible to compute extended warranty as a percent of income, it's worth noting that in the first half of 2005 the company has reported $12 million in net income and $62 million in recognized revenue. So it's accurate to say that Gateway would still be unprofitable were it not for extended warranties.
The Apple Story
Apple Computer Inc. has lived through several high-profile warranty problems in the past year, including a recently-announced class action lawsuit. First came the cracked laptop screens and the allegedly defective circuit boards. Then came the iPod battery problem and most recently the iPod Nano's alleged scratchability. And indeed, as the following chart shows by the size of the red bars, warranty claims have crept upwards over the past several years.
Apple Computer Inc.
Product Warranty Claims (red)
vs. Extended Warranty Revenue (blue)
in $ Millions per Quarter
Dec. 29, 2002 - June 25, 2005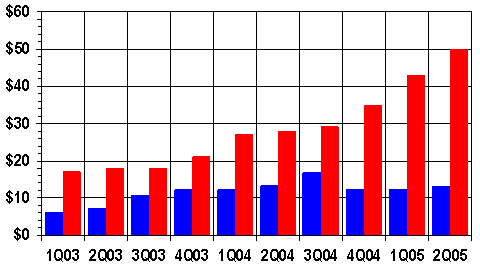 Source: Warranty Week from SEC data
As a percentage of hardware revenue, however, Apple has seen its claims rate rise only slightly, from the 1.2% to 1.3% range seen in early 2003 to the 1.5% to 1.7% range seen so far this year. That's of course due to the fact that lately Apple has been selling so many laptops and iPods, defective or not. Although warranty claims have doubled or tripled in the past ten quarters, sales have risen almost as fast. So despite all the headlines, there's no imminent warranty crisis.
Meanwhile, as the blue bars in the chart suggests, extended warranty recognized revenue has grown and then fallen back again. Extended warranty revenue was recognized at a rate of $6 or $7 million per quarter in early 2003. But it peaked at just under $17 million in the third calendar quarter of 2004 (the end of Apple's fiscal year), and has fallen back to a $12 to $13 million range ever since.
A year ago, Warranty Week was wondering when Apple would cross the 50% mark. Now it looks like they're going in the other direction. As the chart below illustrates, the ratio between product warranty claims and extended warranty recognized revenue twice peaked at 37%/63% but has declined to 21%/79% in the second quarter of 2005.
Apple Computer Inc.
Product Warranty Claims (red)
vs. Extended Warranty Revenue (blue)
in Relative Size
Dec. 29, 2002 - June 25, 2005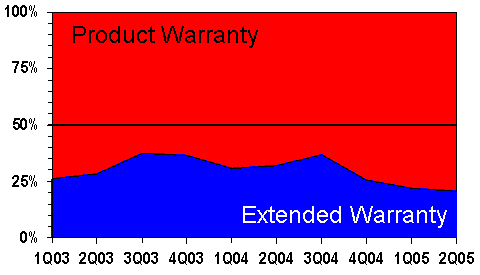 Source: Warranty Week from SEC data
There are three different stories here. At Dell, extended warranty is becoming huge, paying for all claims and then some, and accounting for an ever-growing segment of profits. At Gateway, extended warranty sales have stalled, but warranty costs were cut significantly and now extended warranty revenue exceeds the margin between profit and loss. At Apple, sales are way up, and so are reports of manufacturing defects. But extended warranty sales have stalled, and product warranty claims are growing a little faster than sales.
Some of these ratios and comparisons would get us kicked out of accounting school, but they illustrate some trends that would otherwise go unreported. As far as we know, only a handful of manufacturers can claim that warranty is a profitable operation. Dell and Gateway are two of them. Indeed, Gateway would still be losing money were it not for extended warranties. And while Dell is unlikely to ever announce that more than a third of its profits come from extended warranties, the numbers say otherwise.