April 25, 2006
Automotive Warranties:
While GM and Ford spend the most on warranty, other types of vehicle manufacturers pay out a greater share of their total revenue on claims. And while most parts suppliers have relatively low claims rates, those in the aftermarket report some of the highest rates of all.
Automotive manufacturers reported more than $12.5 billion in warranty claims for calendar 2005, up more than 8.2% from 2004 levels. As high as this sounds, it still represents less than 2% of automotive product revenue, as it has in all but one of the past twelve quarters.
What's more worrisome is the stubborn gap between the warranty claims rates reported by the major OEMs and their suppliers. While the OEMs typically pay out 2.5% to 2.7% of their revenue to honor warranty claims, their suppliers average only 0.5% to 0.7%. And that 2% gap has remained in place, more or less, for all of the last three years. But at least it's not widening.
Warranty Week is tracking roughly 180 companies that provide product warranties for vehicles or for the parts and components that go into vehicles. Of those, 144 are primarily automotive companies and 36 are primarily in some other industry such as aerospace, consumer electronics, semiconductors, or telecommunications.
GM & Ford Dominate
General Motors Corp. and the Ford Motor Company are by far the largest warranty providers on the list. Together they paid out almost $8.7 billion last year in warranty claims, up from $8.3 billion in 2004. But amazingly, their share of the total automotive warranty pie fell below 70% in 2005, after remaining above that level in both 2003 and 2004. That means everybody else's warranty expenses are rising a little bit faster than Ford's and GM's.
The gap is perhaps best illustrated by direct comparisons between the passenger car giants and their spin-offs. GM spun off Delphi Corp. in 1999, and Ford spun off Visteon Corp. in 2000. Right now, GM is roughly six times larger than Delphi in terms of revenue, but it pays out 30 times as much as its spin-off in warranty claims. Likewise, Ford is about eight times larger than Visteon, but pays out almost 160 times as much in warranty claims.
As the graphics below illustrate, the gap isn't closing. While General Motors has seen its claims rate rise above 3% this year, Delphi's remains closer to 0.6%. While the comparison of one company to another may not be entirely appropriate, given the possible differences in their respective warranty accounting systems and methodologies, we think in this instance it's more like comparing a parent to a child.
Figure 1
General Motors vs. Delphi
Warranty Claims as a Percentage of Auto Revenue
2003 to 2005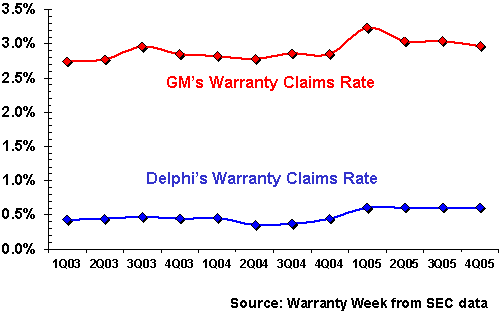 We should note that during the fourth quarter Delphi filed a voluntary petition for reorganization under chapter 11 of the U.S. Bankruptcy Code. It has yet to file its annual report for 2005, so we're simply assuming that warranty claims will finish out the year at around the same 0.6% rate that they've registered during the second and third quarters. However, with GM's own recent accounting revisions, including a suggestion that some warranty payments between Delphi and GM may need to be restated, we can't be sure that any of the data in this chart will remain the same.
Much more certain is the relationship between Ford and Visteon. And in this chart, it's plain to see that while Ford is lately tending towards the high end of the 2.3% to 2.7% range it's established over the past three years, Visteon remains below 0.2%, a rate that's among the lowest of all automotive manufacturers. In fact, among all the large auto parts suppliers, only Dura Automotive Systems and Lear Corp. have lower warranty claims rates than Visteon.
Figure 2
Ford vs. Visteon
Warranty Claims as a Percentage of Auto Revenue
2003 to 2005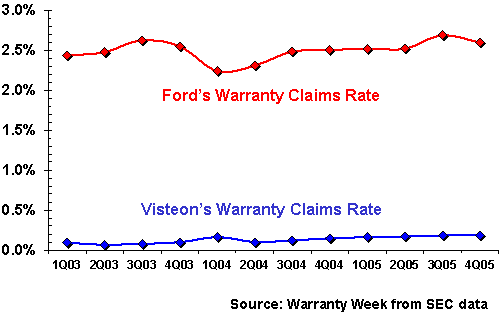 Of the top 100 U.S.-based warranty providers, 38% are in some way involved in the automotive industry as a manufacturer. Of the 707 companies that have reported at least some warranty spending during 2005, nearly 20% are in some way, shape, or form considered to be automotive manufacturers.
Automotive Manufacturers Only
For this week's analysis, we will look at just the 144 U.S.-based companies whose primary business is automotive. That omits some significant warranty players such as Motorola Inc., Honeywell International, Textron, and American Standard Companies, who have significant operations in automotive but whose main lines of business lie elsewhere.
That leaves us with 45 OEMs and 99 parts and component suppliers. Of those companies, 96 provided complete and timely reports on their warranty expenditures; 12 provided partial reports on time; 11 provided no warranty data at all; 9 had not filed their financial statements on time; and 16 have either been acquired, gone private, or gone out of business since 2003, and are therefore no longer required to file financial statements with the U.S. Securities and Exchange Commission.
Automotive manufacturers which provided less-than-complete warranty reports included Federal-Mogul Corp., Metaldyne Corp., and Sauer-Danfoss Inc. Automotive manufacturers which provided absolutely no warranty information in their financial statements included PPG Industries Inc., American Axle & Mfg. Holdings Inc., and Parker-Hannafin Corp. Those who have missed the filing deadline for the end of 2005 include Navistar International Corp., Delphi Corp., and Dana Corp.
Because of the significant contributions of Navistar, Delphi, and Dana to the overall auto warranty picture, we are going to include placeholding estimates for these three companies only, to compensate for their missing fourth quarter reports. Otherwise, the overall data would show a noticeable and misleading dip.
Correction
First, we need to correct an error in last week's newsletter. Johnson Controls acquired York International last year, not Lennox International. We have numerous readers within all three companies, and several wrote in after spotting the error.
In the chart below, it's clear that while the claims rate has gone up, it's not even at its highest point of recent years. The more noticeable effect of the merger is to raise Johnson Controls' warranty reserve balance from $61 million to $154 million, thanks to the influx of York's reserves, and a jump in the combined company's capacity to pay claims from 11 months to 27 months (where capacity is measured by dividing reserves by claims paid).
Figure 3
Johnson Controls Acquires York International
Warranty Claims as a Percentage of Revenue
2003 to 2005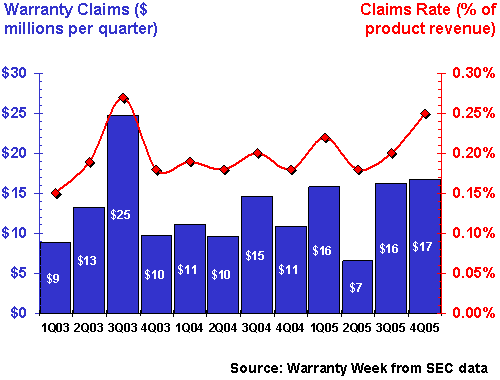 Even with the added expense of an acquired HVAC manufacturer, however, Johnson Controls still has the claims rate characteristics of an auto parts supplier. Other HVAC manufacturers such as United Technologies (Carrier) and American Standard (Trane) have claims rates closer to 1.5%, while the major appliance manufacturers such as Whirlpool and Maytag are closer to 3%.
After three years of tracking these companies, it's becoming clear that every industry segment, individual company, and product type has its own warranty "signature." Ford and GM each have reported rather steady warranty signatures over the past three years, as evidenced by the flatness of the lines in Figures 1 and 2. Others such as Deere & Co. have shown a somewhat cyclical and seasonal pattern, which is no shock given the company's strength in lawn and farm equipment.
In the chart below, we've taken eight different segments of the automotive industry, and have computed a warranty signature for each group. We've exaggerated the scale to bring out the curviness of each line. Even so, half the lines barely move at all. Of those that do, the fluctuations have more to do with the seasonality of sales than with major changes in warranty expenses.
Figure 4
Warranty Claims as a Percentage of Revenue
For Eight Segments of the Auto Industry
2003 to 2005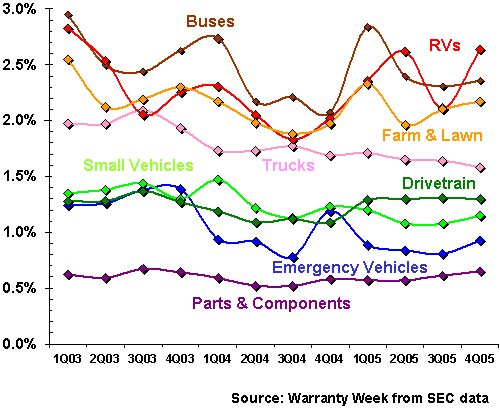 At the very top of this chart, five bus manufacturers, led by Navistar and Thor Industries, show the highest claims rates in nine of the past 12 quarters. meanwhile, nine RV manufacturers, led by Fleetwood Enterprises and Monaco Coach Corp. (with a repeat by Thor Industries in this category as well), showed the highest combined claims rates in the other three quarters. Lawn and farm equipment manufacturers, led by Caterpillar, Deere, Toro, and Briggs & Stratton, are in the same 2% to 3% range as RVs and buses.
It used to be that truck manufacturers were in the same range as these other types of automotive OEMs, but that is no longer the case. Lately the truck manufacturers have enjoyed rising sales and declining warranty claims, which together have pushed their combined claims rates below 2%. In fact, the claims rate of several truck chassis manufacturers is now below the claims rates seen by most truck engine manufacturers.
Small Vehicles = Small Warranty Costs?
Down towards the bottom, two more OEM categories share space with two supplier categories. As is clear from the chart, the makers of small vehicles -- everything from motorcycles to forklifts -- typically see a lower rate of warranty expense than makers of larger types of vehicles. And not surprisingly, the makers of emergency vehicles, led by Oshkosh Truck, Federal Signal, and Spartan Motors, show relatively low claims rates for OEMs.
Notice also that drivetrain manufacturers report claims rates somewhere between the rates typical for OEMs and parts suppliers. These engine and transmission companies, led by Cummins, Eaton, ArvinMeritor, and Dana, are typically found in a 1% to 1.5% range, somewhat below the 2% to 3% range typical of OEMs, but far above the 0.7% level typically seen for other types of parts suppliers.
There are two other segments worth noting. First, there are a handful of large auto parts retail chains that occasionally bolster the warranties of the products they sell. For this, they encounter a relatively low rate of warranty expense, comparable to the levels of a parts supplier. For AutoZone, the claims rate is around 0.7%. At Advance Auto Parts, it's closer to 0.3%. At the Pep Boys, it's a little above 1%.
Aftermarket Signature?
At the other extreme, there are a handful of large aftermarket parts suppliers who seem to suffer warranty expenses above and beyond even the rates seen by most OEMs. At Standard Motor Products Inc., the claims rate has ranged from 5% to 7.5% since 2003. At Midas Inc., the claims rate in 2005 was above 15% all year. In fact, of all automotive manufacturers, those with significant operations in the aftermarket seem to have the highest warranty claims rates of all.