May 31, 2006
Warranty Inspections:
Crawford and Company, already a major player in claims administration services , and home inspections, wants to go deeper into the warranty business.
Crawford & Company, the world's largest provider of claims management solutions to insurance companies and self-insured companies, has its eyes on the warranty business. But rather than jumping into the well-established automotive or consumer electronics sectors of the business, Crawford is first expanding its offerings to building component manufacturers and is planning an entrance into the home warranty business.
The company already provides inspection services to building material manufacturers and to courts administering class action lawsuit settlements. Its investigators already probe for insurance fraud, be it anything from arson to faking a disabling injury. Its adjusters and call center agents in cities around the world already process thousands of claims for insurance companies. A subsidiary, called The Garden City Group Inc., or GCG, administers class action settlements, shareholder lawsuit settlements, and bankruptcy proceedings. But the company only lightly brushes up against the warranty industry.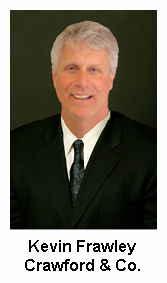 Kevin Frawley, Crawford's executive vice president of Financial and Administrative Services, aims to change that. He told Warranty Week that as the class action administration business shifts away from building components, he sees warranty as a logical new growth area for Crawford's inspection, investigation, and claims administration capabilities.
"This is a natural opportunity for Crawford & Company to extend its business model into other areas," Frawley said. "We believe that we have the skill sets in claims administration and in the inspections area that we believe can naturally transition into other areas. We have excellent relationships with insurance companies, and with other self-insured companies. We have a broad client list, not only in the U.S. but around the world."
Home Warranty Focus
"We're looking at the entire spectrum, end to end," he said. However, the prime candidate for near-term expansion is the area of home warranties. That sector, he said, could best make use of Crawford's existing ties to builders, lawyers, and insurance professionals.
"We're already at or around the home," he said. "We are interested in large appliances. We are less interested in automotive at this point, mostly because from what we see, that's a pretty well-developed business."
He also noted that any thoughts of diversification into auto inspections would first require Crawford to hire experienced auto mechanics who could perform the kinds of forensic inspections that frequently arise after large auto warranty claims are filed. But he's not sure that would be the best use of Crawford's resources.
In the home inspection sector, Crawford occasionally needs to send out an engineer with expertise in structural matters. But it wouldn't want to have expert auto mechanics on the full time staff, just in case they're needed. And it's already dismissed the idea of working with independent contractors. So it would be very difficult to cost-justify hiring the expertise it would need to get into the auto sector in a serious manner.
"I think we see ourselves extending beyond building components into the areas that make the most sense. I think home warranties make sense for us," Frawley said, "if we can find the right opportunity, because they're natural extensions of the kind of work that we've done in insurance adjusting and inspections of homes for certain defects."
He also sees the possibility of Crawford doing more work for the manufacturers of building materials. "Taking the complement of people that we have, I think it's a natural extension of their experience into building components that have warranties and that need attention at any level -- whether it's at the time of creation when they're in their distributor's yards, whether it's after installation, or whether it's ongoing product performance under the warranty, or even in warranty claims themselves once they occur," he said.
No Insurance Underwriting?
The reason Frawley doesn't see Crawford getting too deeply into the business of underwriting warranty policies is competitive. He said that since insurance companies are so frequently now Crawford's clients, it would not make much sense for the company to think about competing with them by offering warranty insurance underwriting services of its own. "I think we'd like to take a partner there, if we were to choose to go in that direction," he said.

Frawley has extensive experience in both investigations and insurance. He joined Crawford & Company in February 2005, after leaving Prudential Financial Inc., where he was most recently chief compliance officer in the United States Insurance Division. It's also where he met his current boss, Thomas Crawford, who retired from Prudential at the beginning of 2003 after spending 38 years in the insurance industry.
Before joining Prudential, Frawley was commissioner of the City of New York's Department of Investigations, which probes allegations of fraud, waste, corruption and unethical conduct by city employees, contractors and others who receive city funding. It also performs background checks for all high-level city employees. At the Department of Investigations, he supervised a staff of more than 700 attorneys, accountants, police detectives, and investigators who worked with state and federal prosecutors and law enforcement agencies.
Warranty Fraud
Frawley said he thinks that Crawford has the skill sets that could allow it to expand into an investigative role for manufacturers concerned about warranty fraud. "At Crawford, we already have a developed business in surveillance, fraud detection, and investigation. We also do investigations in disability cases," he said, such as checking whether workman's compensation claims are valid. "We also do cause and origin investigations in fires, so we have some in-depth investigative experience, and some people who have good quality backgrounds as fraud investigators."
Crawford also has the expertise to manage massive legal settlements -- the core business of the Garden City Group subsidiary, which also reports to Frawley. It also has created a repair service called the Crawford Contractor Connection, which screens, recruits, and dispatches independent repair contractors on behalf of insurance companies and their policyholders whose homes or businesses have suffered damage.
The question then becomes, having chosen the target markets within the warranty industry, how best to enter them? Should Crawford & Company buy an existing home warranty administration company or build out its own capabilities? And if it's the latter, should the company go about hiring its own employees, or working with independent contractors?
"In general, we feel more comfortable with our own employees, rather than independent contractors," Frawley said. "We think that's been a real advantage for Crawford in what we've been able to provide to the insurance marketplace, to the self-insured marketplace, to lawyers, and to courts with respect to class action services. We see a real advantage in the training, management, and development of people that we provide to our employees."
Consistency and Quality
It may be a little bit more expensive to operate than if Crawford worked with independent contractors, he said, "but we believe we can show a real benefit to the client in terms of the quality, the consistency, and the persistency of the people."
He added that when it comes to choosing between build and buy, he's open to making acquisitions if the right candidate came along. But it would have to be a company that has also developed a consistent quality of service through the development of its own internal employees, not through the management of huge networks of independent contractors.
Crawford currently employs around a hundred inspectors in the U.S. now, plus ten supervisors. It also has a support staff for them within its Atlanta headquarters. The company, while looking initially at the U.S. opportunity, has local and regional branches in 63 countries.
"We can see expanding quite easily under that infrastructure," he said. For instance, there have been times with large class action settlements where each supervisor had to manage twice as many inspectors as they do now. "We have Crawford University in Atlanta that enables us to bring people in and train them rapidly and effectively."
"We could more than double the number of inspectors we have in the next year or two to meet volume needs," Frawley said, "without really changing our model at all -- just really assigning more people inside the supervisory and administrative structure that we have already built."
Training Manuals
Kirby Klosson, Crawford's assistant vice president and director of operations in the Inspection Services Division, is in charge of the team that writes the training manuals for each new project the company takes on. Since 1990, his team has reduced to writing all the best practices, procedures, tips, and guidelines to be used by Crawford's inspectors when they're in the field.
"We always prepare a training manual regardless of the program's size. It doesn't matter," he said. "We have accounts where we handle a very small number of inspections -- as low as 10 or 15 a month -- and there's a training manual." And there have been times when Crawford has had hundreds of employees performing upwards of 8,000 inspections a month. It's a strong selling point, he said, whereby Crawford can promise to deliver a service nationwide with consistent levels of quality, for both very large and very small jobs.
Because Crawford is using its own employees rather than independent contractors, it can centrally manage the process more easily, Klosson said. "They all work from a central set of guidelines. They're receiving their assignments from a central location. They're receiving quality review and follow-up from a central location. So we can manage a field force in a way that I don't think anybody else right now is in a position to do."
A typical manual, Klosson said, would outline the rules of engagement under which Crawford would send out its inspectors to look at homes built with a certain manufacturer's siding, roofing, plumbing, exterior sealant or other building product. First, the inspector would be trained to verify that it is indeed the manufacturer's product. Then the inspector would measure and calculate the square footage, and look for both compensable damages and excludable damages. Practically anything that could happen or might happen would be outlined in the manual, so that the inspectors know precisely what the client wants them to do.
Following Directions
"More important than anything, they need to be able to strictly adhere to the guidelines set up by our clients," Klosson said, especially when the client is the court itself, and the guidelines are the result of lengthy and complex negotiations between the plaintiff and defendant in a class action lawsuit. In such instances, "we're not beholden to either the manufacturer or to the class counsel. Our job is to be right in the middle and do nothing but implement the inspection program as the two parties have agreed," he said.
"These are all matters that have been worked out by attorneys on two sides," Klosson added. "They have very differing interests. But once they've made an agreement, the most important thing to them is that the agreement is followed to the letter." Again, consistent quality of service is the goal.
Klosson said Crawford can usually turn out a draft training manual within two weeks. "Then it's a matter of going back and forth with the client, to make sure everything that needs to be in there is in there, that it's stated correctly, and that it will serve as the reference guide for the inspector throughout the life of the program."
It all started 16 years ago, when a manufacturer came to Crawford in need of expertise with its product claims. "We had a client at that time with a fairly large exposure," he said, "and they had no real formal claims program. They were making up their claims decisions on the fly, and they were making up their inspection requirements on the fly. So I drafted a manual for them." The client loved it, and Crawford has done it ever since.
This technique is also expected to continue as Crawford delves deeper into home warranty inspections and other services. "They know that we're not going to send somebody out there who's just going to make something up or come to their own judgment about what should be paid for and what shouldn't. They're going to provide just the information a client needs in order to make their own independent determination," he said.
Andrew Clements, an account executive with Crawford and Company's Inspection Services Division, said he thinks Crawford could go in any of several directions as it looks to deepen its involvement in the warranty industry. For instance, he said Crawford could conceivably begin administering extended warranty claims for retailers and/or manufacturers. "We have the capabilities and skill sets through many divisions of the company to handle and manage that on a global basis," he said. Crawford has the call centers and the people to process claims. It has the investigators and the inspectors on staff. "But we're a well-kept secret," he said, one that's not too widely known outside the insurance and legal industries.
What Crawford doesn't have is a deep familiarity with consumer electronics and automotive failure rates, repair costs, and contract pricing. And, as is most readily apparent with automotive warranty claims, those skills set can't be faked.
"We're not going to take on a venture where we're set up to disappoint," Clements said. "Some of those products have a certain level of required skill sets, and we want to fully identify them before we take on any ventures. But there is a broad scope of warranty services that Crawford is positioned to explore."