June 13, 2006
Shadow Drivers of Warranty Cost:
Survey data suggests that some auto service technicians are wasting their time by replacing the wrong parts and perhaps too many perfectly good parts because they don't have access to the right information.
Most times when somebody talks about squeezing inefficiency out of the warranty process, they hone in on the classic justification for early warning systems. If only the engineering and production people could find out faster about design flaws and manufacturing defects, they could prevent many warranty claims from ever leaving the factory floor.
At the second annual Early Warning Standards - Warranty Conference staged last week in Novi, Michigan, by the Automotive Industry Action Group, not everybody focused on product design as the problem and reduced lag time as the solution. Some, such as Joe Barkai, the program director of Product Lifecycle Strategies at Manufacturing Insights, focused more on the inefficiencies caused by missing or incomplete information.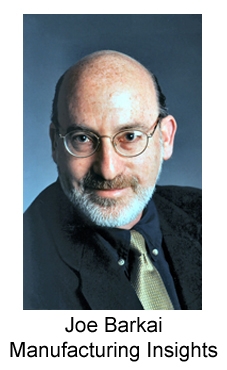 Barkai said it is in fact cheaper, faster, and easier to make sure information travels to those who need it, when they need it, than it would be to use failure data to change designs or alter manufacturing processes.
Sometimes, he said, an automotive OEM will go through a cost-benefit analysis regarding a design change that's suggested by warranty data, and find that it's cheaper to just let it be. "But there are lower-hanging fruits that are overlooked," he said, such as giving a technician the tools and information he needs to quickly spot a problem and fix it.
One group is talking about using warranty information to prevent defective products from ever getting into the hands of a customer. Barkai, in contrast, is talking about using warranty information to prevent repair technicians and warranty professionals from wasting their time.
Spending More Than Necessary?
"Once a warrantable event has happened as a result of adverse quality, there are other opportunities for the OEM or the service organization to increase the cost unnecessarily, because they don't replace the right part, because they take too long, or because they don't repair it right the first time. And all these things add on to what could have been a rather small claim."
To make his case, Barkai set out to document some of the indicators of poor performance in warranty repair. He surveyed 98 people on two simple warranty metrics: First Time Fix and No Fault Found, as well as several secondary measurements such as the number of parts used during a repair, and whether there was a high or low variability in these metrics. He also incorporated data from another survey that asked auto service technicians why they thought they couldn't always get the job done quickly and correctly the first time.
"One thing that I always suspected is that in the course of repair, technicians often repair more than is necessary -- they replace more than one part, because it's easier to do, let's kill two birds with one stone, etc. So we asked the participants in this study how many major parts were replaced per claim," Barkai said.
As the following chart details, just under 50% said they thought their average claim replaced one and only one part. Another 21% said the typical claim included two replaced parts on average. And then the remaining 30% said they replaced three, four, five, or even more parts per claim.
Figure 1
Number of Major Parts Replaced per Warranty Claim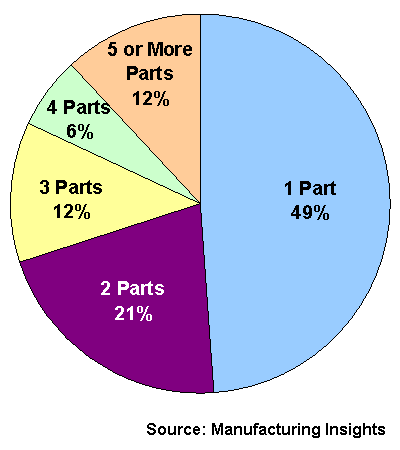 "I don't think there's bad news here," Barkai said. "But still, it was kind of intriguing to see that 12% said they replaced five parts or more. I think that when people replied to that they meant only sometimes. I don't think that many people actually average five parts. But you know how some people read surveys."
He said he thinks that the 30% who said the average claim received by their company replaced three parts or more are indicating a tendency by some mechanics to repair more than is absolutely necessary, to use more parts than is required, and to therefore drive up the cost of warranty work.
Next he asked the 98 respondents about their company's experience with No Fault Found. For this metric, he separated the 98 respondents into those who worked for automotive OEMs, and those who worked for automotive parts and component suppliers.
Figure 2
No Fault Found Rates Seen for Warranty Claims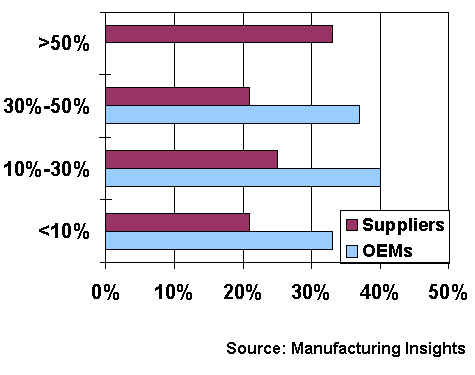 All the respondents representing OEMs said their No Fault Found rate was below 50%. They seemed to cluster around 20% or 30%, which Barkai said was a number the industry would readily acknowledge. But, he added, with specific types of components such as electronic controllers, the rate could be much higher -- perhaps as high as 70% or even 80%.
Suppliers, in fact, reported much higher No Fault Found rates, with just under a third saying it was higher than 50%, and well over half saying it was above 30%. The main reason for this? "Parts do not test well outside of the vehicle," he suggested.
Some parts are being replaced unnecessarily, he suspects. That, he thinks, is more a function of being under pressure to finish the job as quickly as possible than it is a symptom of any sort of warranty fraud. But he also suspects that some parts that are removed and replaced for good cause are simply being tested at a later time later in conditions that don't precisely duplicate the initial failure mode.
Suppliers Can't Spot the Trouble
Therefore, he thinks that what's happening is this: the OEMs are receiving parts, believing them all to be bad, and are then passing them on to their suppliers, who test them and can't always duplicate the problem. The reason? Once the part has been removed from the vehicle, it no longer interacts in precisely the same way with all the other parts in the vehicle.
"To put these pieces together," Barkai said, "I suspect there is relatively poor testability of vehicles, especially in the area of electronic controllers, and there's probably a shortage in terms of skill set and information that the technicians would need in order to do a good job."
The story that emerges is this: some technicians replace more parts than is absolutely necessary. Some technicians can't find the right part to replace. OEMs have more faith than their suppliers that they're paying for parts that really needed to be replaced. One reason for the difference is that good parts really are being replaced. But another big reason is that the root cause analysis becomes more difficult once the part has left the vehicle.
Some great illustration of this problem were provided earlier in the day at the AIAG conference by Darlene McClure, warranty manager at Dura Automotive's Body and Glass Division. In one instance, she explained, all these motors for power windows were coming back as warranty replacements. And in each case, Dura would test the motors and they seemed to work fine.
After looking everywhere for a reason, Dura finally sent a team out to a repair facility to see a claim for themselves, before it was removed from the vehicle. What they discovered was that the problem with the power windows wasn't with the motor. It was with the power going to the motor, or more precisely, not enough power getting to the motor to allow it to open the window.
Another time, Dura was getting back reports of a leak in the back window of some trucks. Since removed glass is typically hard to handle and is not generally shipped back to either the OEM or the supplier, Dura had to go out to the field to see why this was happening. Was it a stationary window? Or was it a sliding window? And in either case, why was it leaking?
McClure said the team found in the field that the problem wasn't with the glass, but with the sealant installed by the OEM around the edges of the glass. The robot that sprayed the sealant must have been getting air bubbles in its hose, which caused it to put too little sealant in some sections. The result? The glass in leaky windows was being replaced unnecessarily, and besides driving up warranty costs, it was also missing the problem.
Problems with Electronics
Barkai said he thinks there's also a major problem with technicians incorrectly or incompletely diagnosing problems that have something to do with the ever-increasing amount of automotive electronics. Many technicians, he suggested, are doing simple swap tests with the controllers. Because the controller does so much, they simply put in a new one to see if the problem goes away. If it does, then the car is deemed repaired and is returned to the customer. If it doesn't, well, then there must be something else that needs to be replaced. Either way, the OEM gets a bill for the new controller.
"Very often, the problem is in a connector, such as a pin is bent or corroded," he said. "So once you remove a controller and put back a new one, by just removing and replacing the connector you may fix the problem. But the problem was not in the controller; it was in the connector."
OEMs, Barkai said, are typically buying their electronics from other companies, and are therefore always at least one step away from understanding how they work. Technicians, then, are always at least two steps away, which is why they'd rather replace than diagnose.
"The knowledge that the OEMs have about these components is diminishing," Barkai said. "Yet OEMs by and large are responsible for developing the diagnostic procedures and the service manuals. But they don't always get this information at sufficient levels from the supplier."
Therefore, their ability to interpret error codes and trace them to a single problem part is diminished. "What you want the vehicle to be able to do is give you the exact problem -- the exact root cause, hopefully just one part," he said. "Therefore, when you indict a part, you know for sure that this was the part. And then, if in the process of warranty write-up and cost recovery all this information is delivered back to the supplier, the supplier would in theory be able to reproduce the problem."
Fixed First Time?
Another question Manufacturing Insights asked its 98 respondents was whether they thought the typical warranty repair fixes the problem the first time. Among both OEMs and suppliers, a vast majority believed it was fixed right the first time more than 80% of the time. Only 12% of the OEM respondents and 36% of the suppliers thought the First Time Fix rate was 60% or below.
Figure 3
First Time Fix Rates Seen for Warranty Claims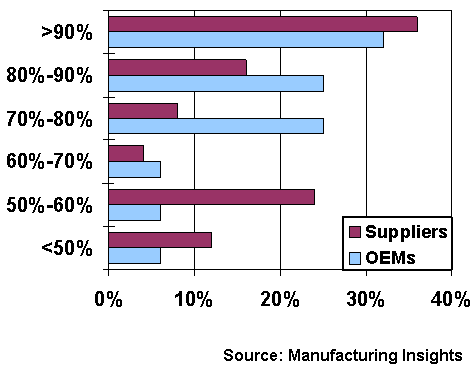 "The First Time Fix rate from this survey for both OEMs and suppliers appears to be very high: 80% or 90%," Barkai said. "And this is the number that Detroit usually refers to. But what they look at is how often they fix the car right the first time. They pay less attention to those cars that don't get fixed right the first time. This is where customer satisfaction and brand erosion occurs."
Barkai said that in a previous survey conducted in conjunction with the Society of Automotive Engineers, Manufacturing Insights found that when a vehicle is not fixed right the first time, it's highly likely to come back again and again. In 47% of the cases, the technicians themselves said they didn't have sufficient resources to repair vehicles.
He said he thinks there are at least four reasons why: the technicians' skill levels, the quality of the service information, the testability of the equipment, and the availability of the right tools. But the technicians themselves had their own list of reasons. Of the 47% that said they didn't have enough, half of them said they didn't have enough information. More than a third said they didn't have enough training. And the remainder said they didn't have enough tools.
"But if you talk to OEMs, most of them are busy developing diagnostic tools, not making sure they have quality information," Barkai noted. The obvious question, then, is what's wrong with the quality of the information? What's wrong with the service manuals and the technical service bulletins?
Figure 4 details the responses collected by Manufacturing Insights and the SAE from a group of auto service technicians:
Figure 4
Top Problems Experienced with Service Information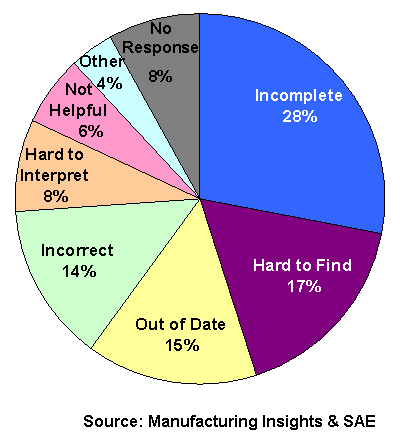 "There are a myriad of reasons, but it's quite interesting that 28% said incomplete information, and 15% said it's out of date," Barkai said. "And there were also some issues with hard to find information or hard to understand. But most of them wanted something very basic. They wanted timely and accurate information."
The problem Barkai sees is a failure by the OEMs to see the big picture, and to see the link between service information, test performance, and warranty claims. "Very few OEMs, if any, have created the linkage between the quality and content of information and the impact it has on service delivery, and the impact that service delivery has on warranty claims. They're all disconnected," he said.
"I do not know of any OEM or supplier that has applied quality measurements to their service information," Barkai said. "That is, let's see what impact content has on service delivery and warranty claims." In other words, let's change something in the manual and see what effect it has on warranty claims.
Perhaps part of the problem is that the technicians aren't reading what they're given. Or perhaps part of the problem is that it takes too long for the technical service bulletins take too long to come out. Whatever the specific problem is, the bigger problem is a failure of information to reach the right place at the right time.
"The OEMs have to reorganize around product lifecycle, or around information lifecycle, but not around core competencies," Barkai said. "There should not be a separate function to write TSBs -- separate from service information or tech pubs. Warranty and quality should really be one group. And the knowledge exchange process between engineering, quality, warranty, and tech pubs should really be part of the same team."