July 11, 2006
Warranty Reporting vs. Analytics:
One turns the past into charts. The other turns the future into actionable items. But some people who know the difference between the two don't want to talk about it, for fear that they'll lose an edge on their competition.
Like the Roman god Janus, warranty is always looking at both the past and the future. Claims data tells you what has already happened, and accrual data represents your best guess about what will happen in the future.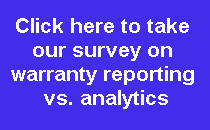 When it comes to warranty software, any reporting tool from the most sophisticated solution right down to Microsoft Excel can tell you what happened. But it takes a warranty analysis package to help you predict the future, or to take steps to avoid a future crisis.
"Reporting is more focused on the past, and on things that you already know about," noted David Froning, warranty analysis product manager at SAS Institute Inc. Warranty reporting software can tell you the who, what, when and where in terms of products, plants, and suppliers.
"Analytics is more focused on the future, and on things that you don't know about," he said. "So it might be a relationship between two parts that have never been a problem in the past, and suddenly they become an issue. It might be a problem that was number 81 on the top issue list, and suddenly it's number 41. You may not have noticed it on your top 10 report, but that change may be statistically significant. And if you don't nip it in the bud, it may be on your top 10 one or two months from now."
By its very nature, the warranty claims processing department is always going to be focused on the past. That's its job: to receive, process and pay warranty claims for products already manufactured and sold. It's someone else's job to be on the lookout for patterns and anomalies that can help companies design and manufacture products that fail less often or that cost less to repair. Yet one of the best places to look for those patterns and anomalies is within warranty claims data. So while claims processing and trend analysis are separate jobs, they both will want to make heavy use of the same data set.
The Service Intelligence Center
Meanwhile, companies are recognizing that they can leverage warranty data to deliver capabilities far beyond warranty management. By leveraging this data, analytical modeling can drive more accurate accruals for warranty reserves, and it can help optimize spare parts forecasting. It also could help companies price service contracts by better predicting loss costs, and could help companies recognize deferred revenue faster with lifecycle cost modeling. SAS has already coined a term for this new frontier: the Service Intelligence Center.
Here's an example of the performance of this type of integrated solution: Imagine that you have a product that begins failing at a higher rate than expected, first this is picked up by the emerging issues capability, next inventory levels are adjusted to prepare for the additional returns (the forecast is based on the field population that is still exposed), warranty reserves and service contract prices are adjusted for the current and future impact of this higher failure rate.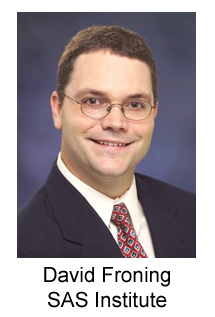 "Analytics has always been a key to SAS' success. That's a big part of what our company was founded on," Froning said. "The interesting thing about warranty is that it's almost the perfect business problem on which to apply analytics. Because there's so much variation to filter out, because there are so many variables that can impact a new failure -- it's not just assembly plant, model line and supplier -- being able to use analytics to look at all of those variables, and see the combinations and how that impacts a product's performance, is critical. So although obviously we see success in a lot of solutions, warranty is an example where it's a perfect fit for analytics."
Froning said analytics can help filter out the normal variations in warranty data. "By its very nature, warranty data is very messy," he said. "It's typically collected for the purpose of paying technicians. It's not collected to improve product quality or increase customer satisfaction. So there's always a lot of noise in the data. Analytics allows you to filter out that noise, and see the statistically significant differences, so your problem solvers can focus on where they need to be."
Detecting Warranty Fraud
Generally, warranty analytics is not focused on the claims processing side, although there are definitely instances where an analytics approach could be very helpful, such as with fraud detection and service provider analysis. Greg Spraker, a service intelligence strategist at SAS Institute, said that in these instances, the people who receive, process, and ultimately pay the claims also will want to have the tools they'd need to look for patterns and anomalies.
"We have customers who are using our capabilities to score the claims that are coming in, to look for suspect claims," Spraker said. "These suspect claims could be driven either by fraud or by training issues. In effect, we're using the same technology that SAS is applying to detect credit card fraud and medical payment fraud. So we're able to use the same advanced technology to score warranty claims." These scores can in turn provide direction to the transactional layer regarding a decision to pay or not to pay a given claim, he said.
"Analytics really drives a lot of business value by predicting what will happen in the future, and helping companies optimize their approach to drive that future benefit. Finding emerging issues is a key," Spraker added. Without analytics tools, he said, "it's really a difficult thing to do when you have a lot of volume coming in. Whereas if you have an analytical package sitting on top of all that transactional data, automating the task of finding emerging issues provides enormous value to the organization."
At the Sub-Zero Freezer Co. Inc., the addition of warranty analytics and text mining software has allowed the company to reduce headcount by reassigning two people whose job it was to classify incoming claims in a way that allowed the company to look for trends.
David Bien, Sub-Zero's director of reliability, said that now, the system reads the claims and automatically assigns each one a code. That innovation, he said, has allowed Sub-Zero to reassign two warranty claims processing clerks to other tasks. "From that standpoint, it's a time saver," he said. "Those two people got to do something better -- to be more productive with their time."
But while that's a welcome and quantifiable benefit of the shift to warranty analytics, Bien said it wasn't high on his list of reasons for doing so. "The main reason that we got into it is because of emerging issues -- trying to statistically identify new problems sooner," he said. "The other thing we added in was to do data and text mining, to code claims for us, so we could quit doing that manually."
Benchmarking Study
Froning said that over the past few years, SAS Institute has worked with numerous customers on a benchmarking study that attempts to quantify how much sooner a warranty analytics package can help a company identify and act upon emerging issues. That process, he said, comes in three distinct phases. First there's the detection phase, also called early warning, in which the problem is identified. Next comes the prioritization phase, in which the company puts the problem into perspective, calculating how much it will cost to fix, and how much it will cost if nothing is done. Then comes the definition phase, in which the root cause of the problem is identified and hopefully corrected.
In that benchmarking study, SAS projects that across all industries, its warranty analytics solution could reduce the cycle time it takes to detect, prioritize, and define emerging issues by 58%, or 107 business days. That, in turn, could reduce warranty costs by 12% to 18%, and could result in fewer claims, smaller and more focused recalls, and a better brand image.
As the chart below illustrates, SAS calculated that manufacturers could lop 63 days off the detection phase, 15 days off the prioritization phase, and 29 days off the definition phase, for a total of 107 days. The time reductions were somewhat greater for appliance manufacturers, and slightly smaller for both computer and industrial manufacturers.
Figure 1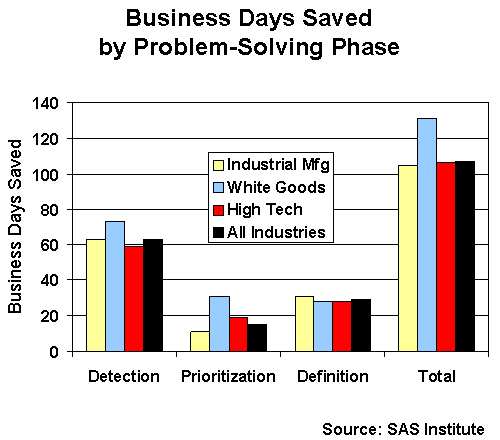 "The problem is getting people to believe these numbers are real," Froning said. However, in practice some customers who have bought the SAS Warranty Analysis solution have reported even larger reductions than did the 20 in the initial benchmark study. Froning added that a few have even declined to report the magnitude of their time reductions, because they don't want their competitors to find out. "So the reality is even better," he said.
"As we developed our packaged application, we talked to dozens of manufacturers to understand how they use analytics," Froning said. "We also talked to universities and others doing research in the area of warranty. We saw things like control charts, reliability analysis, regression, and other analytic techniques. Each of them had its pros and cons. So we developed a process that uses multiple analytics within it, to do things like detecting emerging issues for the purpose of early warning."
Statistics for Non-Statisticians
SAS also had to make sure the analytics were useable by the engineers and analysts, and not just the statisticians. "Our goal is to put a user friendly front end on the analytics," Froning said, "so that the problem-solvers can look at a chart and say 'this difference is significant.' They don't have to understand a p-value or a significance test. The system does this for them and tells them where they need to focus."
Spraker explained how the theoretical time savings in the benchmarking study were calculated. "We conducted over 35 workshops over the last couple of years," he said. The results of the first 20 of these workshops are summarized in a Reporting vs. Analytics for Warranty Management white paper that's available for download at http://www.sas.com/ctx/whitepapers/whitepapers.jsp?code=347.
"What we do in these workshops is we go in and spend a couple of days with the company, assessing their current situation with respect to warranty processes, tools, and solutions -- effectively, how they're doing warranty management. We gather all this information about how they're doing things now. Then we look at where they are relative to where they could be with the best practices approach, and we develop an estimate of the savings in terms of time compression: how many days are they going to save in their process by moving from a reporting system to an automated analytical system?"
"It's based on where they are now and where they could be," he said. "While the result of the workshop is an estimated savings, this estimate is based on considering real life examples. And we're getting pretty close to what we find when we take that next step, which is a proof of value," where SAS actually goes in and runs an analysis on real data. In fact, he said, every time the actual proof of value exercise tops the estimates. "So we are confident that our estimation process for predicting savings is conservative."
Identifying Emerging Issues
Bien at Sub-Zero said it's still a bit early for him to quantify the time saved in terms of identifying emerging issues. "We're just starting to get some use of the emerging issues," he said "We don't have any success stories yet, because when the emerging issues first start showing up, we're getting a lot of emerging issues. And what you don't know -- because we tried to make the system overly sensitive so we wouldn't miss anything -- is what's truly an emerging issue and what is not." The only way to know the difference is to let some time pass, he said.
He said he remains hopeful that the new system will shave two to three months off the problem identification cycle. But even then, there will still be a two to three month lag time. So in four or five more months, he'll have some answers about how much time and money is being saved.
Across the world in a completely different industry, Shanghai General Motors Co. is already seeing the quantifiable benefits of warranty analytics. Randall Gao, a warranty business representative and field performance engineer with Shanghai GM, said analytics has reduced the cycle time by 70%. Using the SAS solution, the average total cycle time was shortened from 174 days to 52 days, for a net reduction of 122 days.
Shanghai General Motors was founded nine years ago as a 50-50 joint venture between Shanghai Automotive Industry Corp. and General Motors Corp. At present, the company produces nine vehicle models under three nameplates: Cadillac, Buick, and Chevrolet. It has four vehicle production plants and two powertrain plants.
"SGM has faced heated competition in the past two years after most of the biggest automotive companies hit the Chinese market," Gao said. "Under these circumstances, quality and cost control becomes more and more critical. So SGM has begun to attach more importance to warranty data analysis."
The chief benefit of a warranty analytics approach, he said, is to reduce the whole cycle time of quality issues solution, including detection, identification and countermeasure implementation. This can cut warranty costs, raise product quality, and thus protect customer satisfaction and brand reputation.
"We achieve the benefits through three solutions:
Emerging Issues Detection: from top X to a methodology containing high standard statistical analysis and industry experience,


Root Cause Analysis: from manual work lack of associated statistical testing to multi-dimension statistical drivers analysis, and


Countermeasure Validation: from manual work to new method setting."
After making these changes, Gao said SGM can now detect a quality issue earlier, solve it earlier and check the effectiveness of the countermeasure sooner. "We found 13 issues earlier in the first year our system served in production mode," he said. "The average time saved in these 13 issues was three months."
"Another important benefits is the ability to develop our own methodology using the knowledge accumulated everyday in SGM. With the new analytical approach, we can set new methods, realize it in the system and check the results quickly and easily."
Customer List
Other manufacturers using the SAS Warranty Analysis packaged solution besides Sub-Zero and Shanghai GM include Whirlpool Corp., Motorola's Mobile Devices Division, General Motors itself, its Allison Transmission Division, Daimler Chrysler's Freightliner and Detroit Diesel units, and Mitsubishi Motors North America Inc. Companies using customized SAS solutions to analyze warranty data include the Briggs & Stratton Corp., Hewlett Packard Co., Maxtor Corp., American Honda Motor Co. Inc., and Nissan North America Inc.
The problem is getting some of them to talk about it. One truck manufacturer not even on this list flatly told Warranty Week that it did not want to detail its successes with warranty analytics because it didn't want its competitors to read about it.
"That's a real challenge for us," Froning said, "because we want to be able to share success stories. But our customers see that it's a competitive differentiator, so they don't want to talk about it. We have other companies that won't even let us tell you that they are customers, because they want to protect this advantage they have."
Unlike most software companies, SAS sells its packages in the form of an annually-renewable license. Therefore, a good measure of how satisfied they are with the warranty analytics solution would be whether they continue to renew their licenses year after year. So far, Froning said, all of the customers that have implemented the SWA packaged solution have kept it and renewed their licenses every year.
So on the one hand, you have prospective customers reluctant to believe the estimated time savings and cost reductions. On the other hand, you have actual customers telling SAS that if anything, its pre-sale estimates are on the low side of their actual results. And you have other customers who don't want to see their names in print, because they don't want their competitors to call SAS.
Meanwhile, some of the companies that sell reporting packages are clouding the issue by claiming that they also have warranty analytics solutions. "They have replaced the word reporting with analytics, and have jumped on the bandwagon. And I think that's really diluting the meaning of the word analytics," Froning said. Customers are getting confused about what is reporting and what is analytics."
So why confuse the issue? "I think it's because they see the value of analytics, and how much focus there is in the industry on analytics," he said. Customers are paying attention to the issue, and analytics is becoming a hot topic for industry conferences. "And if a company can't say they're doing analytics, they're having a harder time selling."
Reader Survey and Webinar
Next Tuesday the 18th of July, during an 11:30 AM EDT Webcast sponsored by Better Management, Froning plans to talk in some detail about the benchmarking study, and what happened to some of the companies after they actually made the move to warranty analytics. Sitting alongside him will be John Kerr of Whirlpool, who will talk about some real world examples of the benefits of warranty analysis. The moderator will be Eric Arnum, editor of Warranty Week.
In advance of that Webinar, we're asking all Warranty Week readers to take a few minutes to complete a short survey about warranty reporting and analytics that's located online at http://warrantyweek.com/survey/websurvey.aspx. There are 12 multiple choice questions, with plenty of room for additional comments. The results of this informal survey will be discussed during the Webcast next week. Readers also will be welcome to submit questions to the panel at that time by visiting the Webcast site at www.bettermanagement.com.