November 14, 2006
Editor's Note: This column by David Cope of MGH Consulting
is the latest in a series of contributed editorial columns. Readers who
are interested in authoring future contributed columns can click here
to see the Guidelines for Editorial Submissions page.
Reverse Logistics:
Manufacturing is increasingly being outsourced. This changes the reverse logistics dynamic, as the size of the repair supplier base reduces and the links between manufacturing and service become weaker.
By David Cope, MGH Consulting
The environment that Logistics and Service Professionals find themselves in is changing rapidly and they are under pressure to keep up. Manufacturing is increasingly being outsourced to original design manufacturers (ODMs), leaving the "manufacturer" as either an assembler, or in the extreme, purely the badge on the product.
This changes the reverse logistics dynamic, as the size of the repair supplier base reduces and the links between manufacturing and service become weaker. Often, the move to increased outsourcing of manufacturing drives up the size and cost of the repairables, which, when uncontrolled, has a devastating effect on stock holdings and obsolescence.
The ever-increasing volume of global legislation on hazardous materials, such as the European Union's Waste Electrical and Electronic Equipment (WEEE) and Restriction of Hazardous Substances (RoHS), forces operations to not only look at reverse logistics for repairables, but for a much wider range of low cost parts previously treated as consumables.
All this occurs against a backdrop of system pricing pressure and the need for the service organisation to minimise its warranty costs, whilst striving to improve the quality of its service delivery through better fill.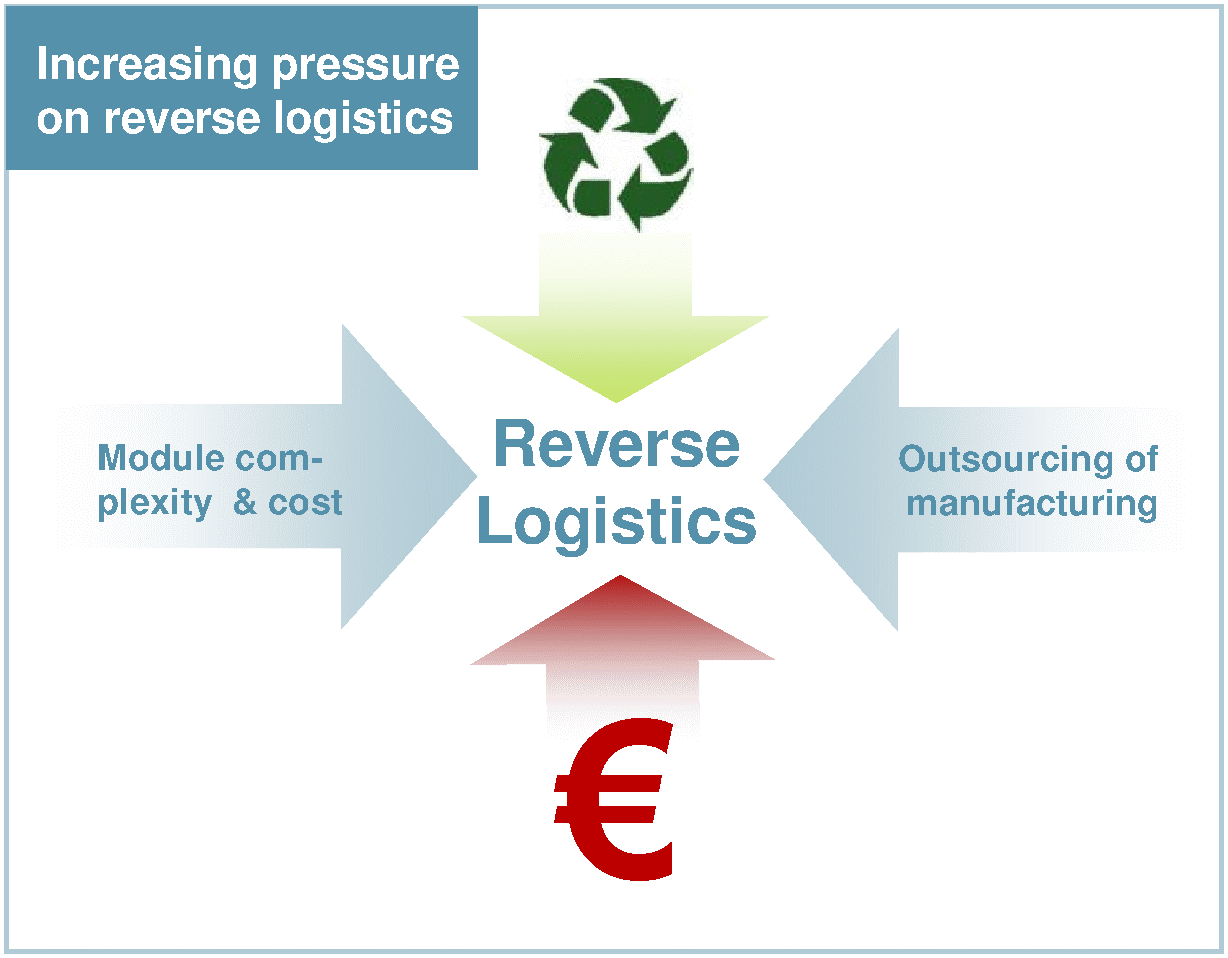 This market change now affects companies that previously didn't even consider having a reverse logistics loop and many of these organisations at the consumer end of market have the most ground to make up. Companies need to take a "drains up" approach to their reverse logistics operations.
They need to be asking themselves, whether the operation they have today will work tomorrow?
Does the repair supplier base fit with the manufacturing profile?
Are we optimising the push back of warranty costs to our suppliers?
Are we WEEE compliant in Europe and do we meet the developing environmental legislation in the Americas and Asia Pacific?
Are we realising any potential revenue from the salvage of precious metals and other valuable materials in our waste components?
Are we paying for repairs that are covered under the supplier warranty?
How challenging the solution to these questions turns out to be is very dependent on the level of maturity of the reverse logistics operation. The diagram below depicts five stages of maturity of reverse logistics: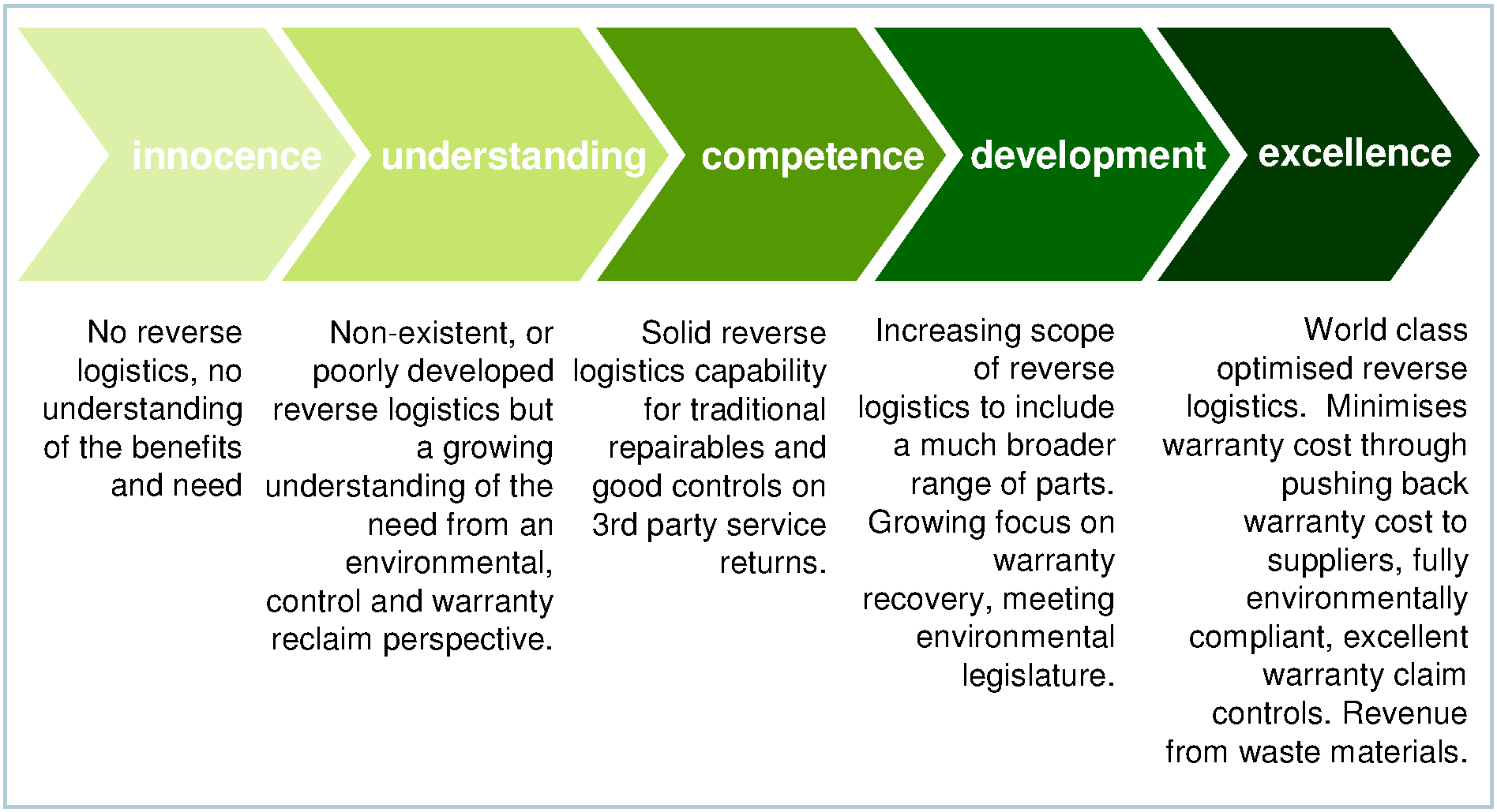 Although there are large variances in individual companies, we can roughly plot different market sectors against this profile. At the mature end of the spectrum, we see the best-in-class IT organisations, which are heavily focused on pushing back warranty costs to their component suppliers and keeping tight controls on their service supplier base. At the less mature end of the scale, we see many of the consumer electronics companies where parts have historically all been deemed as consumable and expensed on issue.
Companies finding themselves in one of the first three boxes are more than likely feeling the need to react. The challenge is how, especially when starting with nothing? Many companies need to change both their geographic and their functional perspective of reverse logistics.
Geographic Perspective
For global organisations, reverse logistics is a global operation and needs to be viewed as one. Trying to manage and control a myriad of country initiatives or manufacturing-led repair groups is close to impossible. So one of the first challenges is to start to get everyone looking at the issues from a regional and global level. One key question that operations should be asking themselves is: Is this a regional, a few place or a localised activity? The diagram below gives some examples of where key processes tend to fall.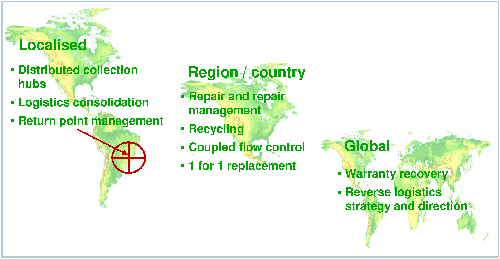 Functional Perspective
Reverse logistics used to be the dirty end of logistics, simply focused on repairables. It was targeted on minimising repair costs, minimising new buy and meeting the outbound demand for repaired stock. In today's world, reverse logistics is not just about repairables. For every part, the question is not just "does it make sense to repair," but also:
What needs to be done with the disposal of this material to meet environmental legislation?
Is there a warranty on the product that can be reclaimed?
Can R&D or the original suppliers improve reliability by testing returns?
By collecting the material can abuse of the warranty system be reduced?
Can we generate a revenue from the recycling of valuable waste materials?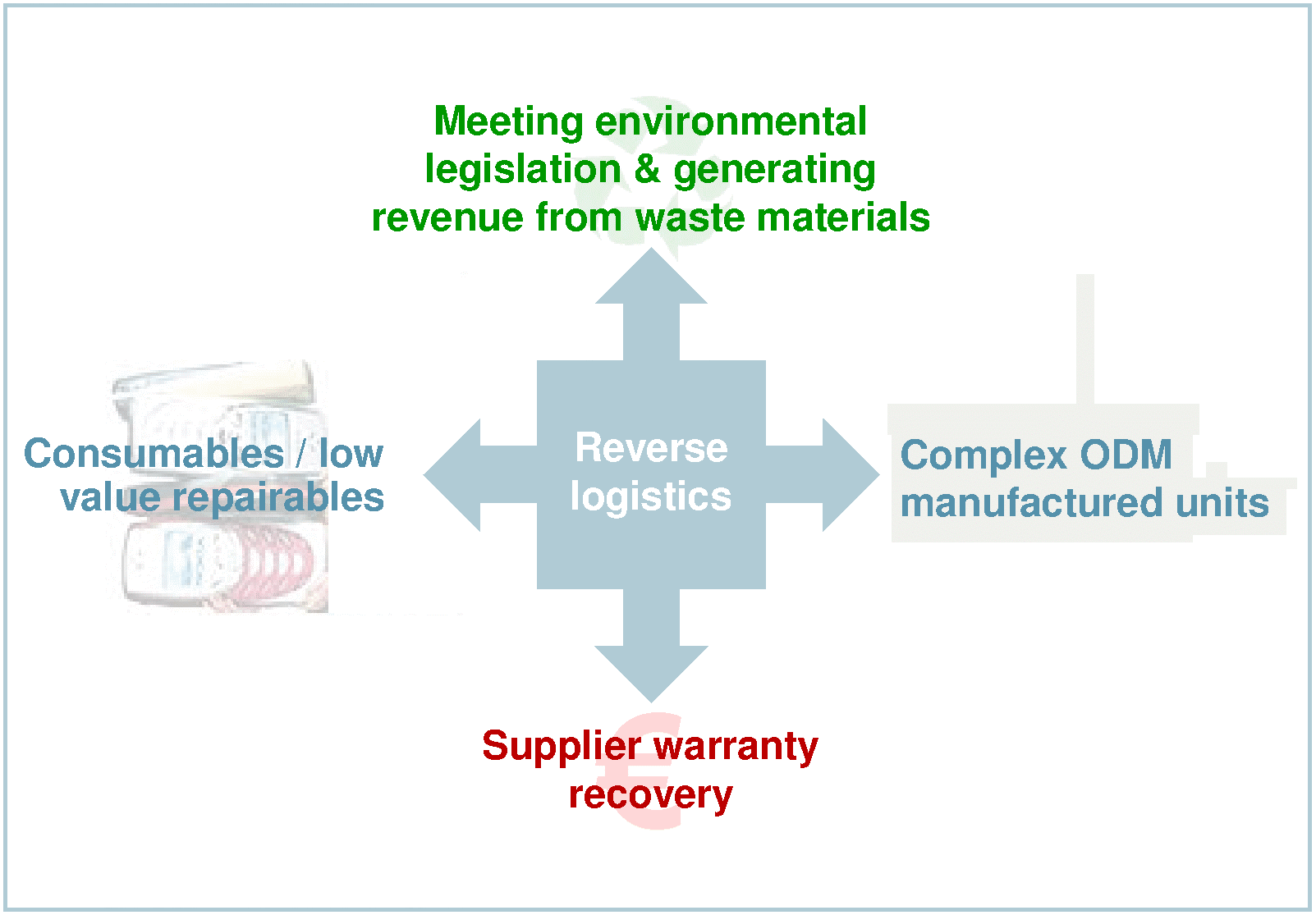 Summary
There really isn't a choice for most European companies whether to review their reverse logistics, as the financial ramifications of not complying with WEEE and other environmental legislation will become too great. The differentiator is that the companies which achieve excellence in this area will not only meet environmental targets, but also will be able to significantly reduce the cost of service and warranty, and this is not a bonus restricted to any continent. With ever-increasing pressure on product margins, 1% or 2% out of the warranty cost starts to look extremely attractive.
---
About the Author:
David Cope has over 20 years of experience in after sales service and logistics operations from a number of "blue chip" service environments including; Information Technology, Medical, Telecommunications and other High Technology sectors.

Previous engagements and expertise includes operational reviews, benchmarking, strategy development and operational improvement.

Prior to establishing MGH in 1996, David was with Coopers & Lybrand as principal in the after sales team. He has also worked for IKON as service director and with Xerox in various after sales roles.

MGH Consulting specialises in management consultancy and interim management, providing a range of services primarily to the high technology sectors, (IT, Telecommunications, Medical Diagnostics and Printer / Copier).

In line with its customers, MGH works on a global basis with projects running in Europe, Asia Pacific, the Americas, and the Middle East and Africa. We pride ourselves on delivering real business improvement from board level strategy to customer facing operations. Our differentiator is not just being able to write and present a strategic approach but the ability to manage its successful implementation.
---
Benchmarking to Shape a Best-in-Class
Warranty Management Solution
A Joint Benchmarking Study by Warranty Week and APQC
Warranty Week has teamed up with APQC, a nonprofit benchmarking and research organization, to collect data on service after sales current practices and performance, specifically:
interacting with customers
managing product returns
performing product service
managing service repair parts
pursuing value-adding service offerings
recovering value through product refurbishment
How Does Your Company Rank?
Benchmark your service after sales processes against industry peers and top performers. Participate in this confidential benchmarking study at no cost to your organization. The research is sponsored by IBM.
Benchmark your organization now! Go to: www.apqc.org/warrantyweeksurvey