July 17, 2007
Warranty Acquisitions:
When companies merge, what happens to their warranty expenses? Is it just a mathematical sum of the two? Or does the frugal side of the business teach the other side how to reduce its warranty expenses?
What happens when one large warranty provider acquires another warranty provider? Does the successor company pay claims at more or less the same rate as before -- as if the merger never happened -- or does the combination of the two companies average out to something midway between the two?

The latter would seem to be the intuitive answer, but has anybody ever taken a closer look at the data? This week, we're doing just that, examining the warranty effect of nine mergers and acquisitions that took place between 2004 and 2006. And what we're finding is that the expected outcome happens only once in a while. Sometimes, pre-existing trends continue uninterrupted by the merger. Other times, the acquisition causes a bit of trauma that takes a few years to subside.

We started with a list of twenty ex-warranty-reporting companies that paid out $10 million or more in claims during any year since 2003, but who disappeared from the roster of warranty-reporting manufacturers by the end of 2006. However, not all twenty could be analyzed. Five of the ex-warranty reporters were taken private: Applica, Dresser, Jacuzzi Brands, Water Pik Technologies, and Freescale Semiconductor Inc. Their shares therefore no longer trade on any of the major stock exchanges and they no longer have a duty to report their finances publicly.

Two were acquired by European companies: American Power Conversion by Schneider Electric and Lucent Technologies by Alcatel. Schneider does not release any details on its warranty expenditures. Alcatel does, but we covered that company less than two weeks ago in the July 5 newsletter.

Two more companies were acquired by American manufacturers that don't report their warranty expenditures, in contravention of FIN 45 rules (Guidant by acquired by Boston Scientific, and Oakwood Homes by Clayton Homes). And two were acquired by companies that don't report their warranty claims quarterly, as FIN 45 requires (Symbol Technologies by Motorola, and InVision Technologies by General Electric). So these four mergers were eliminated from the list.

We initially included GE and Motorola in this exercise, but both companies are so large compared to their respective acquisitions, and both report only their annual data (which we chop in four to approximate quarterly data), so the resulting charts look like the side view of carpeting on a staircase.

That left us with nine acquisitions to consider. And while two or maybe three show the sort of averaging one would expect, several examples showed little post-merger change, and a few trended in the opposite direction of what was expected after the merger. In short, there's no clear post-merger pattern.
Appliance Merger
Of these nine examples, the combination of Whirlpool Corp. and Maytag Corp. is the largest warranty provider among them, reporting $459 million in warranty claims last year. They officially merged on March 31, 2006, so Maytag never filed a first-quarter 2006 financial statement and its warranty expenses were combined with Whirlpool's for the entire year.
In the chart below, the separate companies are pictured in red and blue, and the post-merger company is represented in purple. As the chart shows, Whirlpool is now paying out roughly as much per quarter as it and Maytag did separately in the years 2003 to 2005.
Figure 1
Whirlpool Acquires Maytag
Warranty Claims Paid per Quarter, 2003 to 2007
(in US$ Millions)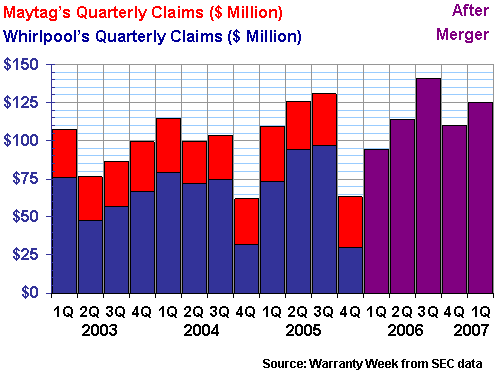 During the last five quarters, the combined Whirlpool/Maytag never paid out less than $94 million per quarter. During the preceding 11 quarters, Whirlpool alone never paid out more than $97 million, and Maytag paid out between $30 and $35 million. The peak for the post-merger company was $141 million per quarter, while the peak for the pre-merger companies was $131 million.
However, keep in mind that the higher warranty expenses are also a reflection of higher sales revenue. If sales increases keep pace with higher claims, the same proportion of revenue will be consumed by warranty expenses. And that's what's happened here. As a percentage of sales, Whirlpool's warranty expenses both before and after the merger have largely remained in a range between 2.5% and 3.5%, except in the most recent report. During the first quarter of 2007, Whirlpool's warranty claims rate jumped to nearly 3.7%.
On an annual basis, the separate companies paid out $429 million in claims in 2005 and $379 million in claims during 2004. So on balance, one could say that the post-merger's warranty expenses grew proportionally with sales, with a slight bias to the upside. If there's any warranty benefit in a merger through either increased efficiency or the economies of scale, Whirlpool hasn't found it yet. But at the same time, there's been no penalty. So in this case, we're not sure if the merger has had any effect on the warranty numbers.
Datacomm Merger
On February 27, 2006, Cisco Systems Inc. completed the acquisition of Scientific-Atlanta Inc. At the time, both companies had begun their third fiscal quarters (ending on April 29 and March 31, respectively). But because we convert the data in all our charts to a calendar year, we're considering the merger to have taken place in the first quarter of 2006.
Once again, the data in the chart below is somewhat inconclusive. The highest amount paid out in a single quarter was the $121 million seen in the period ended Jan. 27, 2007 (which we're counting in the first calendar quarter slot). A year before, the payout was $91 million -- the least amount since the beginning of 2004, when the companies were still separate.
Figure 2
Cisco Acquires Scientific-Atlanta
Warranty Claims Paid per Quarter, 2003 to 2007
(in US$ Millions)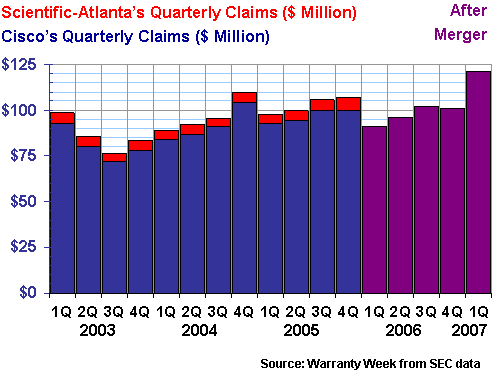 Paradoxically, Cisco's warranty claims rate as a percentage of sales since the merger has been lower than at any time in the three years before the merger. From 2003 to 2005, Cisco's claims rate slowly descended from 2.4% of sales to 1.8% of sales. But in the five quarters since the merger, it's continued to trend slowly downward from 1.7% to 1.6%. And actually, Cisco's $390 million warranty payout last year was $20 million lower than the combined companies' payout in 2005.
Unlike the Whirlpool-Maytag merger, though, this was not a joining of equals. Cisco was at least ten times as big as Scientific-Atlanta in terms of product sales, and was at least 17 times as big in terms of warranty spending. So one could surmise that in this case the merger had little effect on warranty. Or more precisely, other trends such as increasing organic sales had a more noticeable effect than did the acquisition of a new product line.
Computer Merger
Sun Microsystems Inc. acquired Storage Technology Corp. on August 31, 2005. That was midway through Sun's first quarter of fiscal 2006, which we're transposing to the third calendar quarter of 2005. Once again, the data is not very conclusive, as can be seen in Figure 3. Sun's largest post-merger payout was $96 million, but its largest pre-merger payout per quarter was actually $10 million higher. Intuitively, one would have expected the opposite.
Sun's quarterly claims total was trending slowly downwards before the merger, as was its claims rate as a percentage of sales. Afterwards, the quarterly payout halted its downward trend, but the claims rate as a percentage of sales continued sloping downwards. In the latest quarter, Sun's claims rate was 4.3%, down from 4.5% a year before and 4.8% two years before. Some of that improvement represents increased efficiency, but some is due to increasing sales.
Figure 3
Sun Microsystems Acquires StorageTek
Warranty Claims Paid per Quarter, 2003 to 2007
(in US$ Millions)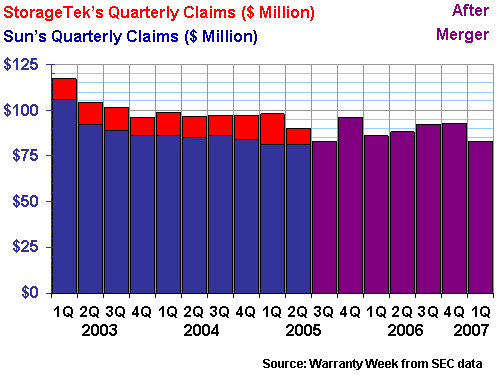 StorageTek, meanwhile, had a bad quarter just before the merger, when it paid out $17 million on $266 million in product sales for a 6.4% claims rate. But at the time of the merger, its claims rate had returned to normal, and was actually a tad lower than Sun's at the time. So, once again, there's little evidence that the merger had any up or down effect upon warranty expenses. Or more precisely, other trends took precedence.
Disk Drive Merger
Seagate Technology is the best example of what we intuitively had believed would be the effect of a merger upon warranty. As can be seen in Figure 4, the merger of Seagate and Maxtor Corp. on May 19, 2006 had a dramatic effect on the amount of quarterly warranty claims.
Before the merger, Seagate paid out between $24 and $39 million per quarter to satisfy warranty claims. In the five quarters since, it's never paid out less than $71 million. So it's seen a near-doubling of its warranty expenses, and that's clearly a result of the merger.
Figure 4
Seagate Acquires Maxtor
Warranty Claims Paid per Quarter, 2003 to 2007
(in US$ Millions)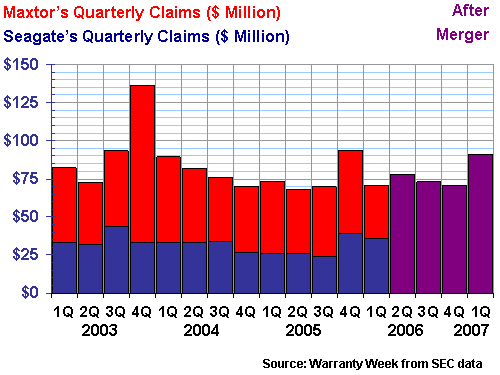 However, if one looks at the combined companies both before and after, not much has really changed. Together, they're actually paying out a little bit less than they did separately. Their combined payout in 2006 was $292 million, down from $305 million in calendar 2005 and $317 million in calendar 2004.
As a percentage of sales, though, the trend is clear. Maxtor always paid out a much higher percentage of its revenue in warranty claims than Seagate did. Since the merger, Seagate's claims rate has gradually risen to a point midway between the two rates seen before the merger. Maxtor's claims rate was usually between 4% and 6%, while Seagate's was closer to 2%. And then after the merger Seagate's claims rate began to rise, first to 2.6% and most recently to 3.2%.
It's as if the post-merger company's claims rate is an average of the separate companies' pre-merger claims rates. However, there is another trend at work here: longer warranties. Seagate went to five-year warranties almost two years before the merger (see Warranty Week, August 3, 2004), so it was just beginning to see those third-year claims come in as the merger was completed. And in the year since the merger, Seagate has also lengthened the warranty periods of some of the Maxtor product lines. So perhaps Seagate's claims rate would have slowly risen even if there was no merger?
Cross-Industry Merger
While the Whirlpool/Maytag and Seagate/Maxtor mergers combined two companies in the same industry, the merger of York International Corp. and Johnson Controls Inc. on December 9, 2005 combined companies from two very different industries: HVAC and automotive components, respectively. Moreover, HVAC units traditionally have long warranties and hefty warranty expenses, while auto interiors have much shorter warranties and lower warranty claims rates.
We've noted in previous newsletters how the combination of the two has sent Johnson Controls' claims rate soaring, from 0.2% of sales in 2003-2005 to 0.6% by the end of 2006. And it's no wonder: York's claims rate was always 9 to 12 times as high. But that's normal for an HVAC company -- actually it's a little below normal. So perhaps it's more remarkable that the post-merger claims rate only tripled.
Figure 5
Johnson Controls Acquires York International
Warranty Claims Paid per Quarter, 2003 to 2007
(in US$ Millions)
In Figure 5, we can see how the combined total of the separate companies is more or less the same as the quarterly totals of the post-merger company. In fact, it's little-changed in four years. The combined payout in 2003 and 2004 was $123 million per year. In 2005, the combined payout was $122 million. And in 2006, the post-merger payout was $129 million. That's as close as you're going to get to flat with real data.
Meanwhile, as mentioned, the claims rate after the merger ended up somewhere in the middle between the separate companies' pre-merger rates. This is exactly what one would intuitively expect. So why is it only the second out of the first five examples to follow the expected script?
No Clear Trend?
The next four examples don't provide any clear trend either. Quantum Corp. acquired the Advanced Digital Information Corp. on August 22, 2006, so we have only three quarters of post-merger data to examine. In Figure 6, though, it looks like the post-merger company is paying out less than Quantum did on its own before the merger.
Figure 6
Quantum Acquires ADIC
Warranty Claims Paid per Quarter, 2003 to 2007
(in US$ Millions)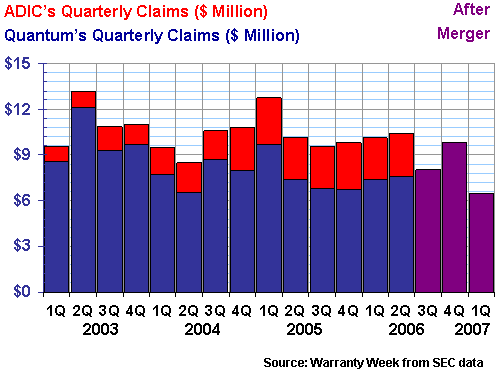 That's certainly not in the script. Sure, the combined companies together might pay out less than they did separately, but who would think that the combined companies would pay out less than one did on its own? Yet that's what's happened. In calendar 2006, Quantum and ADIC -- together and separately -- paid out $38 million in warranty claims. That was $4 million less than in 2005 and $1 million less than in 2004. The most they ever paid out was the $45 million total in 2003.
As a percentage of sales, in fact, Quantum's claims rate has never been lower than it is now. It's been stuck at 3.6% for three consecutive quarters, having dipped below 4% for the first time in mid-2005 and coming down from a height of 7.3% in early 2003.
ADIC, meanwhile, saw a claims rate around 1% in 2003; 2% in 2004; and 3% in 2005, before ending its independent life at 2.7% in 2006. So in a way, there's a bit of averaging here. However, Quantum's downward trend actually slowed after the merger.
Heavy Equipment Merger
Oshkosh Truck Corp. acquired JLG Industries Inc. on December 6, 2006. As Figure 7 suggests, both companies were paying out a little more each quarter in warranty claims than they did the quarter before. So it's no surprise that the biggest payouts of all came soon after the merger was completed. In the quarter ended March 31, 2007, Oshkosh Truck paid out more than $14 million in claims, almost $2 million more than the separate companies ever did.
Figure 7
Oshkosh Truck Acquires JLG
Warranty Claims Paid per Quarter, 2003 to 2007
(in US$ Millions)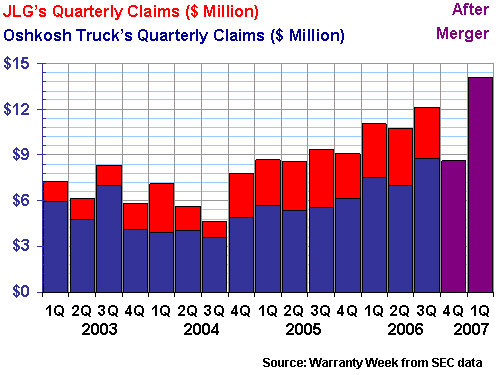 What matters more, however, is warranty as a percentage of sales. In the third quarter of 2006, JLG's claims rate stood at 0.7% while Oshkosh was at 0.9%. In the two quarters since the merger, Oshkosh has remained at 0.9%, because sales grew as quickly as claims. So since the merger, the rates haven't changed at all. But perhaps it's still too early to see a trend?
Acquiring a Big Spender
There's a longer history of post-merger data in the case of Tellabs and its 2004 acquisition of Advanced Fibre Communications Inc. And as the data in Figure 8 shows, there were times when AFC was paying out much more than Tellabs was in warranty claims, even though Tellabs was more than twice its size in terms of product revenue.
This produced some radically different claims rates. Back in 2003 and 2004, AFC paid out between 3% and 4% of its revenue in warranty claims, while Tellabs paid out below 1% in most instances. After the merger, Tellabs saw its quarterly warranty expenses and its claims rate rise significantly. But in the last two quarters, it's fallen back again below the 1% level.
Figure 8
Tellabs Acquires AFC
Warranty Claims Paid per Quarter, 2003 to 2007
(in US$ Millions)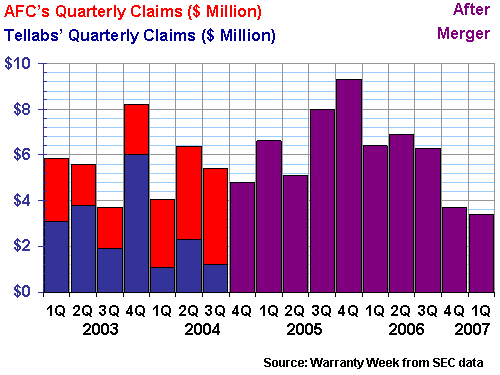 In fact, the payout in 2006 was exactly the same as in 2003: $23 million for the pair alone and together. It's as if it took Tellabs two years to absorb the trauma of acquiring a company with much higher warranty expenses. Now it's returned to its normal baseline. Could this be what's ahead for Johnson Controls and Seagate?
Semiconductor Merger
Finally, let's take a quick look at a merger what took place wholly within the semiconductor test equipment industry. On May 28, 2004, Credence Systems Corp. acquired the NPTest Holding Corp., as depicted in Figure 9. Once again, the acquired company outspent the acquiring company in terms of warranty, and once again the post-merger company pays out about as much as both did before the merger.
Figure 9
Credence Systems Acquires NPTest
Warranty Claims Paid per Quarter, 2003 to 2007
(in US$ Millions)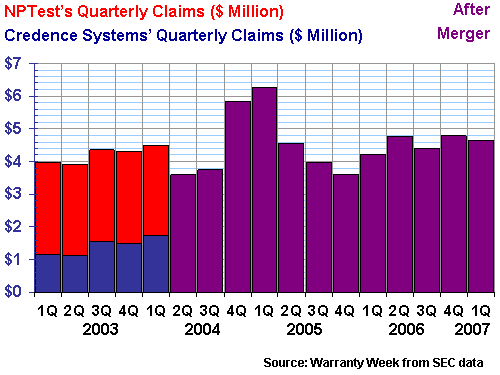 There's not much of a story to tell in the three years since the merger. In fact, were it not for the visible spike in claims at the end of 2004 and the beginning of 2005, this chart would be as flat as Figures 3 or 5. But because of that spike, Credence saw its claims rate briefly soar above 9%.
Now it's back down to 5.1%, but that's still significantly above 2003 and 2004 levels. And sales are flat, so that excuse for claims rate volatility is not available. Perhaps Credence just needs a little more time to get back to its baseline?