October 2, 2007
Aerospace Warranties:
In this industry, there doesn't seem to be a wide gap between the claims paid by aircraft makers and their suppliers, as is the case with cars and computers. In this respect, the makers of Boeing, Cessna, and Gulfstream aircraft are different from Ford, GM, HP, and Dell.
At 8 AM on Tuesday morning this week, the parking lot of the Bradley Bowl in Windsor Locks, Connecticut was filling up. But they weren't going bowling at that early hour. Instead, they had come to see the new Airbus A380 make its first landing at Bradley International Airport across the street.
Before the airborne behemoth made its final approach from the south, it flew over a nearby Pratt & Whitney factory -- a tip of the wing, so to speak, to the A380's engine supplier (in a joint venture with General Electric). Also in the neighborhood is a Hamilton Sundstrand facility that supplied some of the avionics for the new jumbo jet.
All over Connecticut, in fact, are numerous reminders that the state is a hub for aerospace and defense manufacturers. It's the kind of place where crowds form to watch new planes land. And as if to make it clear how important this industry is to the local folks, Tuesday morning the local Hartford TV stations' traffic helicopters were instead helping to telecast the live scene at the airport.
United Technologies in the Lead
Of the 75 U.S.-based aerospace manufacturers that report warranty expenditures, United Technologies Corp., the parent company of both Pratt & Whitney and Hamilton Sundstrand, is by far the largest. United Technologies, which is headquartered in Hartford and also owns the nearby-based Sikorsky Aircraft Corp., generates 40% of its revenue and almost half its profits from the aerospace industry.
However, UTC is also a major presence in the HVAC and building trades through its Carrier and Otis operations, so one cannot assign all its warranty expenses to one industry. Fortunately, most of the other 74 manufacturers are more or less aerospace-only companies, although some also have a presence in the telecom or automotive industries.
It's been a while since Warranty Week spotlighted the warranty expenditures of the aerospace industry. And in keeping with the theme of the past few weeks, this time around we're going to split the industry into its OEMs and suppliers. Those terms might make more sense in the auto or computer industries, so let's be specific about what we mean. Let's split the aerospace industry into makers of aircraft -- Boeing, Textron, General Dynamics, and Raytheon -- and makers of the avionics, engines, cabins, and entertainment systems that go into those aircraft.
Steady readers will remember that the consumer-facing OEMs in the automotive and computer industries seem to suffer the most warranty expense, counted both in dollars spent and as a percentage of their revenue. That didn't seem to be the case in the building trades, where the OEMs would be the homebuilders. And it doesn't seem to be the case in the aerospace industry, where the aircraft makers also seem to avoid attracting more than their fair share of warranty expense.
Brand Name Visibility?
Then again, one could argue that there are no consumers in the aerospace industry -- just passengers. And passengers don't make warranty claims. Airlines do. In the building trades, the brand names consumers see are on their appliances, not on their walls or floors. So perhaps the reason the analogy fails is not so much a problem with the OEM/supplier split as it is with the brand and whom it faces?
In Figure 1, we've split the aerospace warranty segment into aircraft and suppliers, totaling their reported claims paid for the past 18 quarters. So far in 2007, the 75 manufacturers have spent $820 million on warranty claims, almost 25% more than was reported during the first six months of 2006.
Figure 1
Aerospace Manufacturers:
Quarterly Warranty Claims Paid, 2003 to 2007
(in $ millions)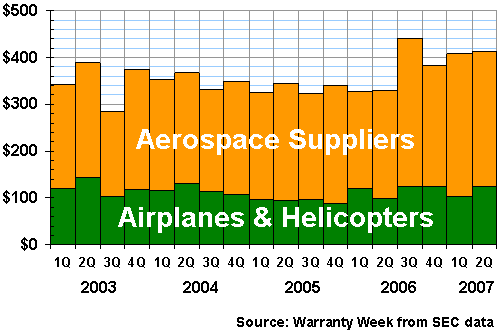 Of that amount, more than 70% was reported by the suppliers. Their share is actually also increasing, thanks to an overall 35% jump in their warranty claims for the half-year. In contrast, warranty claims for the aircraft makers were up only 4.5% in the first half of 2007, from $218 million to $228 million.
It doesn't mean much, however, as a mere dollar total. What matters more is the percentage of revenue this $820 million represents. And we're happy to report that it represents only 0.9% of industry revenue, which is far below the claims rates seen in the auto and computer industries. It's about the same, in fact, as is seen in the building trades profiled in the Sept. 25 newsletter.
Like Strands of a Rope
Another similarity to the building trades can be seen in Figure 2. The claims rates of the aircraft makers and their suppliers seem to be intertwined like strands of a rope, as was the case for homebuilders, appliance makers, and other suppliers. The big difference is the massive drop-off seen for the aircraft makers, which is almost totally caused by some massive warranty cost reductions at Boeing.
Figure 2
Aerospace Manufacturers:
Quarterly Warranty Claims Paid, 2003 to 2007
(as a % of sales)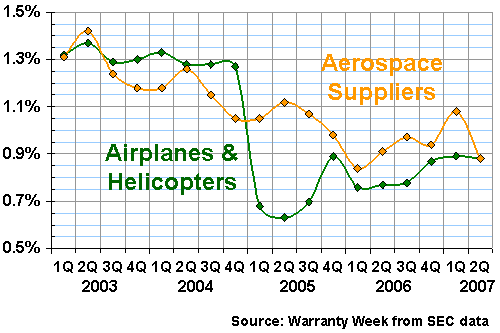 As can be seen in the chart, aircraft makers in 2003-04 saw collective claims rates around 1.3% of revenue. But then in 2005 they fell by almost half, before stabilizing in the range of 0.8% to 0.9%. Meanwhile, the aerospace suppliers also trended downward at a much slower rate, descending from the 1.3% range to 1.0%, plus or minus a few tenths of a percent.
We're counting UTC as an aerospace supplier, despite its presence in the helicopter market. That assignment matters immensely, because UTC accounts for 31% of the whole industry's warranty expense. So perhaps one of the reasons the pattern that is seen in the auto and computer industries isn't also seen in aerospace is because we're assigning a GM- or an HP-sized player to the supplier category.
In Figure 3, we've isolated UTC's contribution to the industry totals. Just looking at the claims and accrual rates, one could be forgiven for thinking this must be an OEM's chart. If anything, it suggests that perhaps the engine suppliers in the aerospace industry are analogous to the powertrain suppliers in automotive and the disk drive makers in computers -- suffering OEM-like rates of warranty expense despite the lack of consumer-facing brand names.
Figure 3
United Technologies Corp.
Quarterly Warranty Claims & Accruals, 2003 to 2007
(in $ millions and % of sales)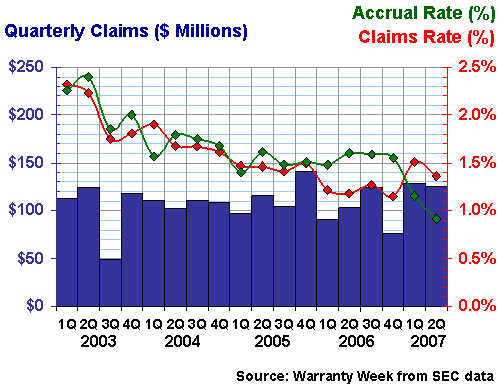 United Technologies has made steady progress in its efforts to cut warranty expenses. But as Figure 3 suggests, the reduction came about thanks to an increase in sales, rather than a cut in expenses. And as the upturn in 2007 rates suggests, the downward trend has ended. In fact, in the first half of 2007 product sales were up 14% while warranty claims were up 16%. That small difference is why claims have edged up back above 1.3%.
Boeing has also seen its warranty expenses fall in the past few years. But as Figure 4 details, the claims rate (in red) fell fast in 2005 while the accrual rate (in green) was always lower. And as the dollar amounts in blue bars suggest, the quarterly claims total is once again increasing.
Figure 4
Boeing Co.
Quarterly Warranty Claims & Accruals, 2003 to 2007
(in $ millions and % of sales)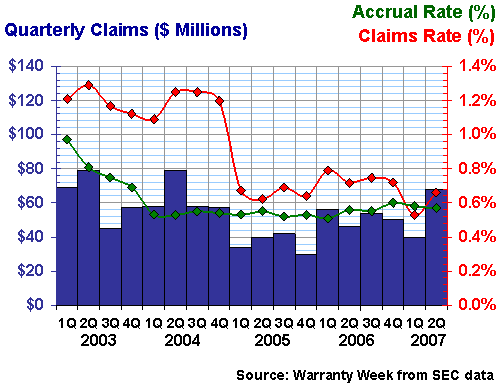 If UTC drives the supplier side, then Boeing drives the OEM side of this industry. Textron actually pays out a little more in claims than Boeing does, but we're going to assume that some of that comes from products besides small planes and helicopters. So that means Boeing is the leading warranty provider in commercial aircraft. We suspect the European aircraft maker Airbus pays out as much if not more than Boeing (after all, it's paying claims in euros, not undervalued dollars), but the company makes no warranty disclosures at all.
Most of the manufacturers of the fighter jets and bombers used by the military don't report a single dollar of warranty expense. Lockheed Martin and Northrop Grumman are among the companies that fall into that category. However, rivals such as General Dynamics and Raytheon also have product lines catering to commercial customers, and unlike the U.S. military, these buyers insist on a product warranty.
General Dynamics acquired Gulfstream Aerospace in 1999, and has incurred significant warranty expenses ever since. In Figure 5, we've detailed some of the volatility seen in the company's claims and accrual rates, which by the way are figured using only the company's commercial aircraft sales revenue as a base.
Figure 5
General Dynamics Corp.
Quarterly Warranty Claims & Accruals, 2003 to 2007
(in $ millions and % of sales)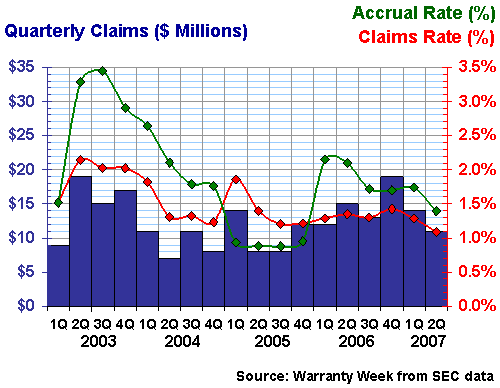 For General Dynamics/Gulfstream, the precipitous decline came not in its claims but in its warranty accruals, which dropped from the 3% range in 2003 to the 1.5% range in 2007. But let's not forget that the company opened 2003 with an unusually large $81 million one-time adjustment in its previous accruals. That preceded the jump in normal accruals pictured in Figure 5.
On the supplier side, United Technologies, General Electric, and Honeywell International are the majors, but all three also have a major presence in other industries. The manufacturer that's fourth on the list is the first that makes its living primarily from avionics. However, even Rockwell Collins, depicted in Figure 6, has operations in activities such in-flight entertainment and telecommunications. It also has operations in both civilian and military avionics, which it does not differentiate in its financial reports.
Figure 6
Rockwell Collins Inc.
Quarterly Warranty Claims & Accruals, 2003 to 2007
(in $ millions and % of sales)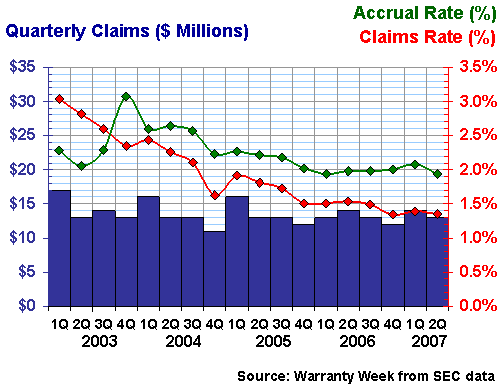 Rockwell Collins is the avionics supplier that was spun off from what is now called Rockwell Automation. Goodrich Corp., depicted in Figure 7, is the company that was left behind after tire maker B.F. Goodrich was spun off and was ultimately acquired by Michelin. As can be seen below, that is where their similarities end. Unlike Rockwell Collins, Goodrich has shown significant volatility in its warranty expenses over the past four and a half years.
Figure 7
Goodrich Corp.
Quarterly Warranty Claims & Accruals, 2003 to 2007
(in $ millions and % of sales)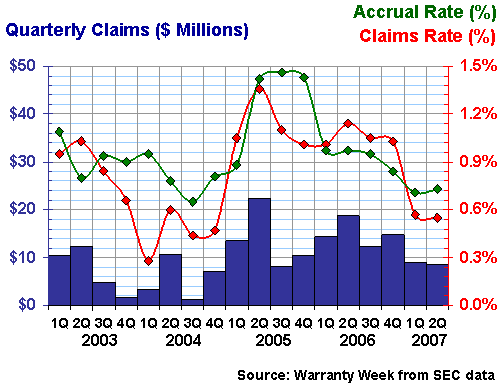 Finally, we wanted to spotlight two navigation system manufacturers, neither of which we include as part of the aerospace industry. We count Garmin Ltd. as a consumer electronics company and Trimble Navigation as an automotive supplier. However, both companies sell navigation systems that use global positioning system satellites to pinpoint locations, so they're part of at least an aerospace-dependent branch of the business.
While both companies are best known for their navigation systems, Garmin has chosen to reach consumers through retailers such as Best Buy while Trimble prefers to sell direct to customers such as Caterpillar. Garmin sells GPS units that help drivers navigate, while Trimble helps construction crews and farmers make sure they're digging in the right place.
In this comparison, Garmin is the consumer-facing brand while Trimble is selling to businesses. And, as a quick glance at Figures 8 and 9 suggests, Garmin suffers a higher rate of warranty expense precisely because it faces consumers as opposed to commercial customers.
Figure 8
Garmin Ltd.
Quarterly Warranty Claims & Accruals, 2003 to 2007
(in $ millions and % of sales)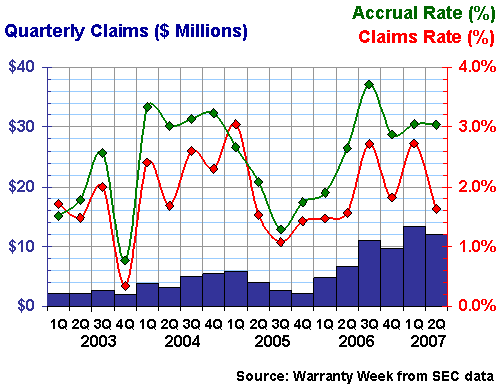 Garmin has seen claims rates that look like they belong to a maker of laptop or handheld computers. Trimble has a claims rate that looks like it belongs in the aerospace industry. Both companies are also now setting aside a higher percentage of their revenue as warranty accruals than ever before, and both are paying more claims than ever before. However, both are far below the high rates seen by warranty-prone companies such as Palm Inc.
Figure 9
Trimble Navigation Ltd.
Quarterly Warranty Claims & Accruals, 2003 to 2007
(in $ millions and % of sales)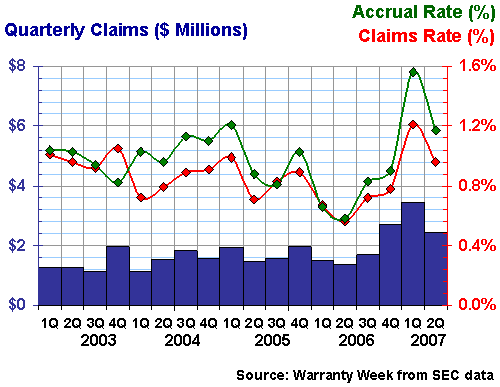 Of course, it's never that simple, but it does seem that the defining attribute of warranty rates is to what degree the brand faces consumers. In the auto and computer industries, that attribute is best expressed by the makers of passenger cars and personal computers, who also happen to be OEMs.
In the building trades, the appliance makers are the consumer-facing brands. In other words, if the washing machine leaks, you don't typically call the homebuilder first. And in the aerospace industry, there aren't any consumers besides passengers. So in these industries, there's not as much of a gap between the warranty costs of the "OEMs" and their suppliers.